There was a time when you had to hire a private detective to learn what someone is doing behind your back. However, today you can find all the most private details of a person through their Facebook account.
While most of their life can be found on their Facebook posts and pictures, to know the private life of the person you would have to check their personal messages. But how do you do that if you do not have their password?
I know what you are thinking, why not hack their Facebook account? Many people think similarly but don't try it out feeling it would be something close to impossible knowing how big sites like Facebook employ tough security measures.
This is why you need to use the most high end solutions to hack Facebook through the other person's phone. And today you will learn three awesome ways to do it within five minutes, without any knowledge of programming or anything else!
In the end you will even learn how to be safe while hacking a Facebook account. So without waiting any longer,  let us start this guide:
Part 1: How to Hack FB Account Without Password and Email
When you picture hacking an FB account without survey, the first thing you think is that you will need to secretively learn the other user's credentials like username and password.
However, that is not the case. In this section, you are going to learn a way that can hack any FB account without having to learn their password or email address. This might seem like a bit far fetched, but you will yourself learn to accomplish this once you are done reading the sections to come.
1.1 Spyier- The Facebook Hack That The World Is Using Right Now
Spyier is one of the most popular Facebook hacks that is used by people all over the world. If you need a solution that can get you into ANY Instagram account within five minutes, Spyier is what you need to try out.
It hacks through the other persons' Facebook to give you all their data. It is like accessing Facebook through their own phone. Therefore, you won't need their Facebook username or password at all.
I know you are curious how Spyier does it. And don't worry, you will know everything about it. Let us start by learning what makes Spyier different from the rest of the Facebook spy apps: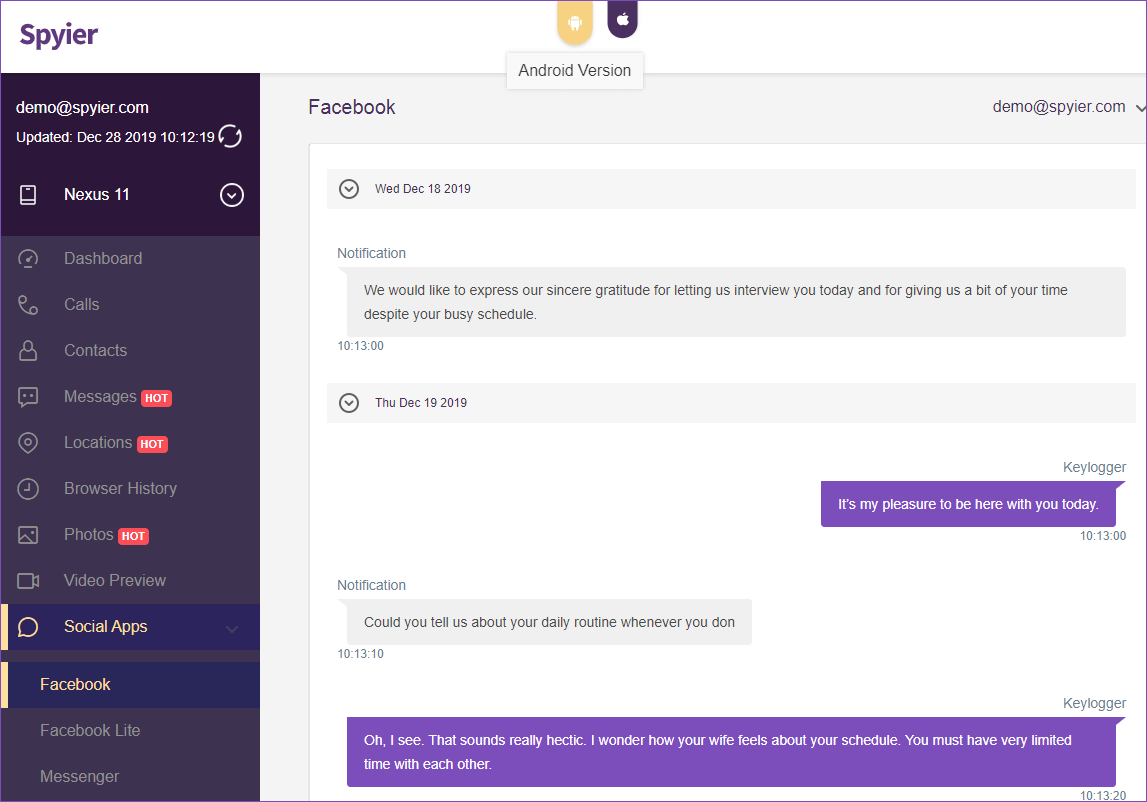 Why Spyier Is The Most Popular Facebook Spying App?
When the question is how to open Facebook account without password, Spyier is the best way to go. And the reasons for this are plenty.
No Software Download Needed on Your End
You don't need to download any app on your system (be it phone, tablet, or PC) to spy on someone's Facebook account. You can do it remotely through Spyier's dashboard, that opens in ANY web browser. There's nothing you can't do with Spyier's web interface.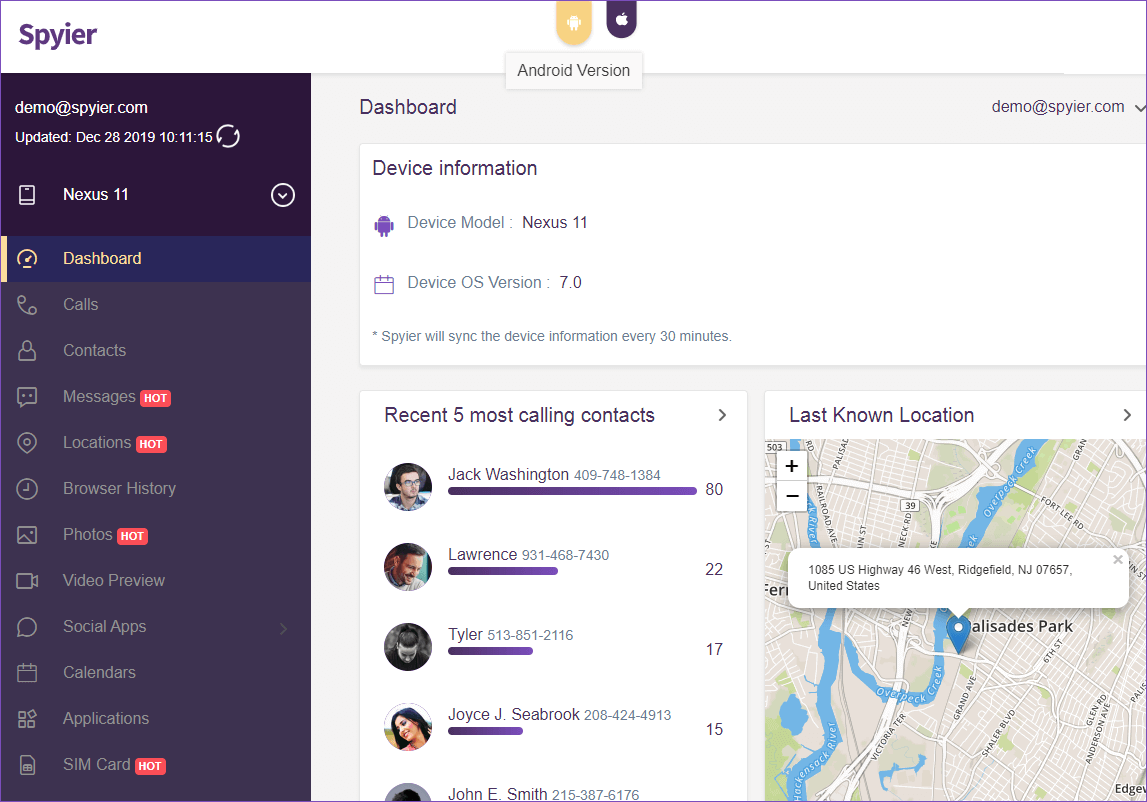 Rooting or Jailbreaking Target Phone Isn't Required
With Spyier, you don't need to root or jailbreak the target phone in order to hack Facebook Messenger. If you have basic knowledge about rooting and jailbreaking,  you will also know the dangers it poses to data safety. This is why Spyier just makes things better for you.
Next Gen Data Protection
Spyier utilizes a very high level of data encryption so that your private data is completely safe. In fact, the data you find by hacking a Facebook account is NEVER stored on Spyier's servers. It is just visible on your end only and even Spyier's team members can't see it.
No Technical Knowledge Needed
You must have seen those hacking apps in movies and TV shows where numbers and programming codes are flashing on the screen. However, Spyier doesn't need you to have any technical knowledge at all.
If all this seems too good to be true, well, you can actually find the truth for yourself by checking this free Spyier demo. You won't have to download anything or even register for it.
Hacking Facebook Account Undetected- How Spyier Works
When you are hacking a Facebook account, it is important that you never get caught doing it. So how does one accomplish this? With Spyier, it is very easy as Spyier takes care of the problem for you.
When you are hacking a Facebook account on an iPhone, you don't have to access the target phone even once. All iPhones come with the iCloud feature preinstalled on the iPhone when someone buys it. Therefore, all iPhone's data gets synced to the iCloud servers.
Spyier utilizes this iCloud data to extract the vital information and presents it to your web dashboard. You can view the entire data of the other person's Facebook account here.
When you are hacking a Facebook account on an Android phone, things are different. No matter which spy app you use to hack Facebook on an Android device, you absolutely need to install the spy app on the target phone.
However, Spyier understands your needs and this is why Spyier's Android solution is designed to be especially hidden. Here is how:
Spyier's spy app for Android phone is less than 2 MB in size. It just takes a few seconds to install. Due to this low size, the other person never even notices a difference in the storage space.
Further, once the app is installed, the app icon vanishes from the app menu. Only you can evoke it with a secret code. The app runs quietly in the background without draining any battery and without giving any notifications.
And when you wish to uninstall this app, you can do it remotely with a single click from ANY web browser. Therefore, you never need to access the target phone ever after the first time.
And to give you a glimpse of just how good it is, Spyier offers a web demo for free. All the features can be tested here without even signing up for Spyier (however, you should sign up for it anyway because of how awesome it is!).
How to Hack a Facebook Account With Spyier
Hacking a Facebook account is a child's play with Spyier. All you have to do is follow this three step procedure and the other persons' Facebook account data will be on your fingertips.
Step 1: Get a Spyier subscription plan for the target phone (Android or iOS). Enter your email address when it is prompted. Once the subscription is purchased, you will see the purchase successful message along with the login username and password.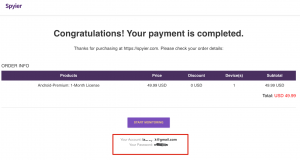 Step 2: Now that you have the username and password, you can use it to log into your Spyier account from the website. For the first time access, you will need to configure Spyier. Spyier's setup wizard will start and guide you through the configuration:
a.) If the other user uses an iOS phone, you don't even have to touch it once to access it. You can just verify its iCloud credentials and Spyier will do the rest.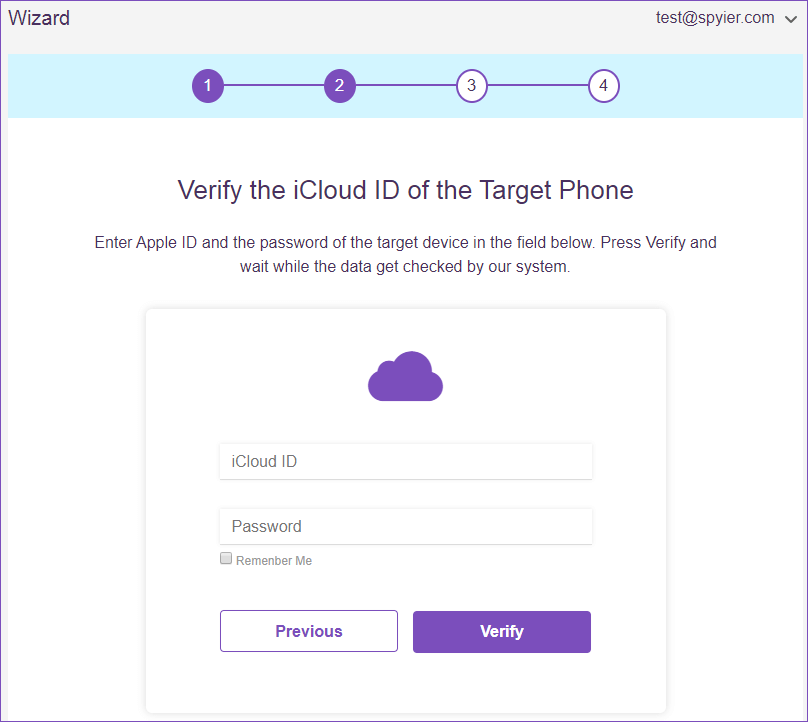 b.) If the other ser uses an Android phone, you will need to install Spyier's app from the link shown in the setup wizard. As mentioned before, Spyier for Android is 100% undetectable.
Step 3: Once Spyier has verified the details and synced the data, you will be able to see the 'Start' button. Click on this to start monitoring the device. You will be taken to your dashboard.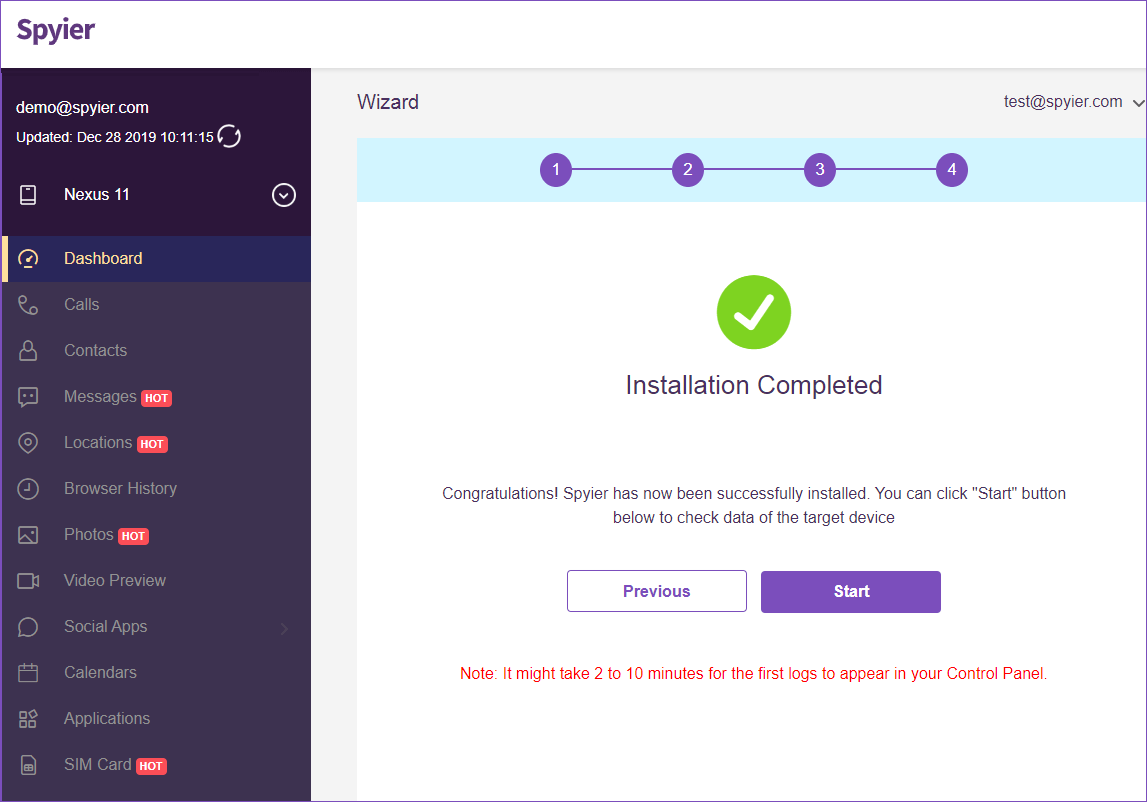 You can manage Spyier's features through your dashboard. All the features are available on the left hand side as tabs. To use any feature, you just need to click on that tab.
Now, when it comes to Facebook hacking, Spyier offers you two ways. The first way is to use Spyier's dedicated Facebook Spy. The other way is to use Spyier's Keylogger.
Spyier's Facebook Spy
The Facebook Spy feature of Spyier can be found under 'Social Media Apps' tab. This is a dedicated module that gives you all the data of the other person's Facebook account, including their messages and even the pictures they sent to others.
Spyier's Keylogger
The keylogger feature will store every keystroke that the other user makes on their Facebook account. For example, if they type a message to someone, it will be stored.
If they search for any person on Facebook, it will be stored. Therefore, with the keylogger, you can check on someone's deleted Facebook messages too.
And this is not just the end of it. Spyier isn't limited to spying on Facebook. You can also spy on other social media platforms like Snapchat, Instagram, etc. There are also a variety of other features pertaining to phone spying when it comes to Spyier.
You probably are excited about Spyier already. Well, I wouldn't hold you back. If you are keen on using it right away, you can sign up for Spyier here.
Part 2: How to Hack FB Account Without Knowing the Password
There is not just a single way to hack a Facebook account without having the password of the other person. I will tell you another good way through which you can read private messages of someone's Facebook account.
Here is another cool way through which you can penetrate any phone's security and hack their Facebook account. This is just as easy as the previous way and equally good too.
2.1 Spyic- The Spy App That James Bond Would've Endorsed
Spyic is one of the most used Facebook hacker apps that users enjoy in 190+ countries. When someone wants to know the most secret details about any Facebook account, Spyic is what they use.
In fact, it is so good that it has a user retention rate of 96%. This means that almost every user that subscribes to its services keeps renewing it. And that is just because of the quality of service that Spyic provides.
96 Out of 100 People Renew Spyic. Here is why…
When it comes to hacking a Facebook account, people not only prefer Spyic to most other spy apps but in fact keep renewing it and use it for the long term. Here is why:
User Support:
Spyic is an established web app that has a huge user base. And to handle any queries or issues, Spyic also has a dedicated user support team assisting everyone all around the clock.
Pricing:
The subscription price of Spyic is so cheap that you would feel they are practically giving it away for free. At such a cheap price, you wouldn't mind getting Spyic for the whole year.
Spyic resides on the top of the list when we are counting the best Facebook hacks available online. And the primary reason for this is that Spyic is totally quiet and never gets you caught.
And it is not just me talking good about Spyic, it's everyone.
Part 3: How to Hack Into Someone's Facebook Account Without Them Knowing
Did you know that some Facebook password crackers are so renowned that they even get a feature in media outlets like Forbes, PCMag, TechRadar, etc? Yes, it might sound surprising but it is true.
This holds true for the next Facebook hack I am going to share with it. It is the absolute authority when it comes to spying on any Facebook account secretly. You can use this app from any corner of the world and yet no data will be hidden from you.
3.1 Cocospy- The Facebook Spy App That Never Misses A Text
If you have searched for a working Facebook spy before, you must have come across Cocospy or read its name among best FB spy apps.
Cocospy brings you an array of features to give you everything hiding behind a phone's security. The private Facebook details of a person are a part of this package (along with other popular social media platforms).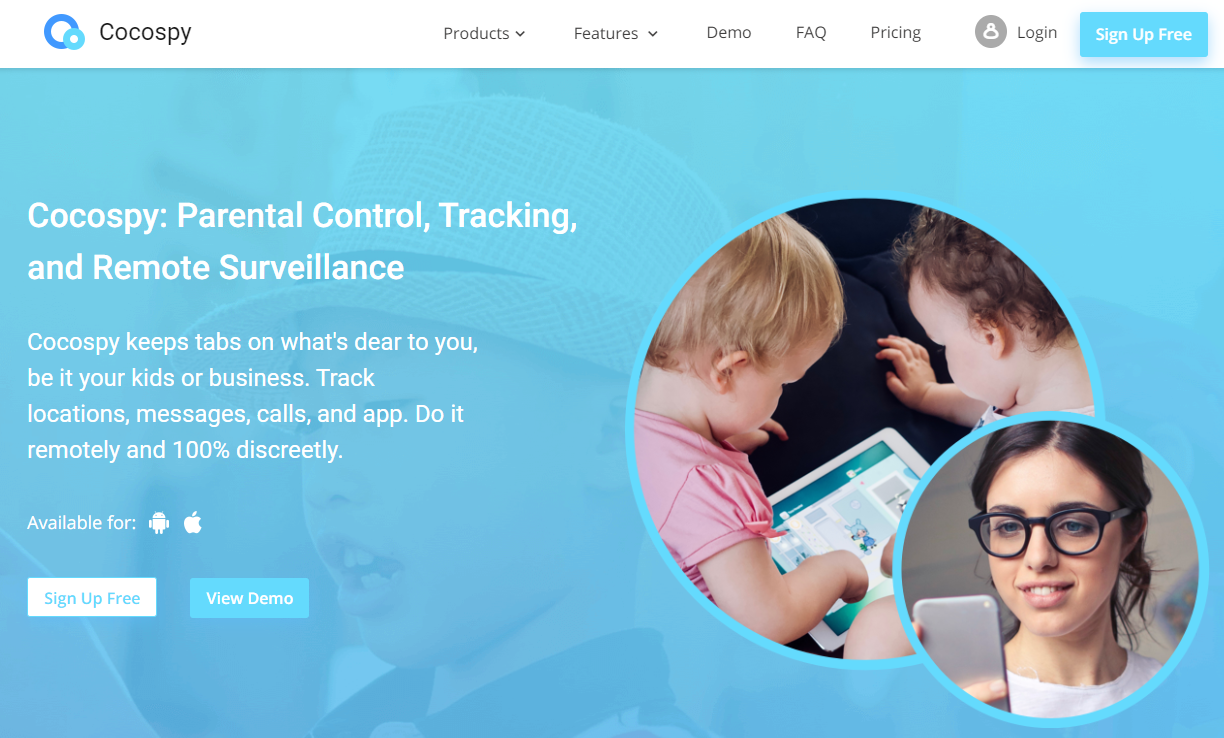 With measures ensuring data security and 100% stealth design, Cocospy is one of the best you will get out there along with Spyier and Spyic.
And if you don't believe me, you will believe the free Cocospy demo that shows you what it is capable of. I am sure you will be thanking me later.
Part 4: How To Be Safe While Hacking A Facebook Account
When you are hacking someone's Facebook password, you have to take certain measures to ensure the safety of your data. After all, loss of personal data can do a lot of bad than good.
Therefore, as long as you follow the measures below, you will have nothing to worry about.
Never Fall For Free Facebook Hacks
There are many Facebook spy apps that will offer you free FB spying. However, when you try them out, you will realize they will ask you to take a survey or human verification. These are designed to waste your time or infect your system with viruses.
Hacking Facebook on Android Phone
To hack Facebook when the other person uses an Android phone, it is compulsory to download the spy app on the target Android phone. If any app claims to hack Facebook account on Android phone without app installation, that app is not really real.
Root/Jailbreak vs No Root/No Jailbreak
Most Facebook hacks require you to root or jailbreak the target phone (based on its operating system). However, there are apps like the ones mentioned in this list where rooting or jailbreaking isn't required. Therefore, the latter is always preferable.
As long as you keep these little pointers in mind, you will have nothing to worry about. All you need is a Spyier, Spyic, or Cocospy account and consider the Facebook account hacked already.
Endnotes
If you were looking for a solution that hacks a Facebook account, I am sure this account solves your query. You probably have the Facebook account hacked already if you were following the steps.
And if you weren't, you might as well hurry. Something this good should never be missed!
This post is also available in: Deutsch (German) Español (Spanish)