We have all been in situations where we desperately wish that there was a way to track someone's cell phone in any way possible.
For some people, it is just to handle their suspicious about their partner's faithfulness towards them. For other people, tracking a cell phone can be a means to know if their child is safe when they are at school, friend's home, or any place else.
However, when people try doing it, they don't even know how to start. They end up searching on the internet for feasible working solutions but never find what they get.
In fact, it is a trend nowadays that some apps can offer you unbelievable things just to lure you into clickbait or steal your resources. This is why I thought to write this guide to help everyone out there in tracking a cell phone location by number.
You can use it for learning the location of any smartphone, be it an Android phone or iOS one. Not only that, these ways will let you track a cell phone location without the other person knowing.
Read on to find out how…
Part 1: How to Track Someone's Phone by Number
If you use a smartphone, you will find that there are many free cell phone trackers available on the app store or play store of your device. However, when it comes to functionality, all these apps are just as worthless.
They might get you the location of the other device, but this comes with a lot of shortcomings. When you use these apps, you cannot track a phone without the other person knowing about it. On top of that, there are no additional features that are offered by these apps other than location tracking.
If you know what you need, you will know what I mean. Therefore, read on to find out this cool app that is the perfect fit for you:
1.1 Spyier- The Swiss Army Knife of Phone Tracking Apps
Spyier is a phone tracking application that is considered to be one of the best in the world. It can track both Android phones and iPhones even if they are situated in a whole different corners of the world.
While most people were just wondering if phone tracking was even possible without the other person finding out about it, Spyier made that happen. You could be keeping eyes on the other phone's data through Spyier 24×7, and yet the other person will have no idea about it.
If you are doubtful or if you think that it cannot happen, just keep reading and all your doubts will be cleared. Spyier is not an app that is all about big talk with no proof. Whatever Spyier can do, you can test. Rest assured, Spyier will always come out with flying colours.
Consider some salient features of Spyier's design for instance:
What Makes Spyier So Cool:
Spyier gives you a lot of reasons to use this app. Here are a few of them:
Maintains Device Integrity
Spyier doesn't require you to root or jailbreak the target phone. This means that no matter the other phone is Android phone or an iPhone, Spyier can track it without harming the integrity of the phone.
No App Download Needed
In order to track a mobile phone with Spyier, you don't have to download any app on your phone or computer. You can use it through its dashboard interface that will open in ANY web browser of your choice. Imagine the level of portability you will have with Spyier.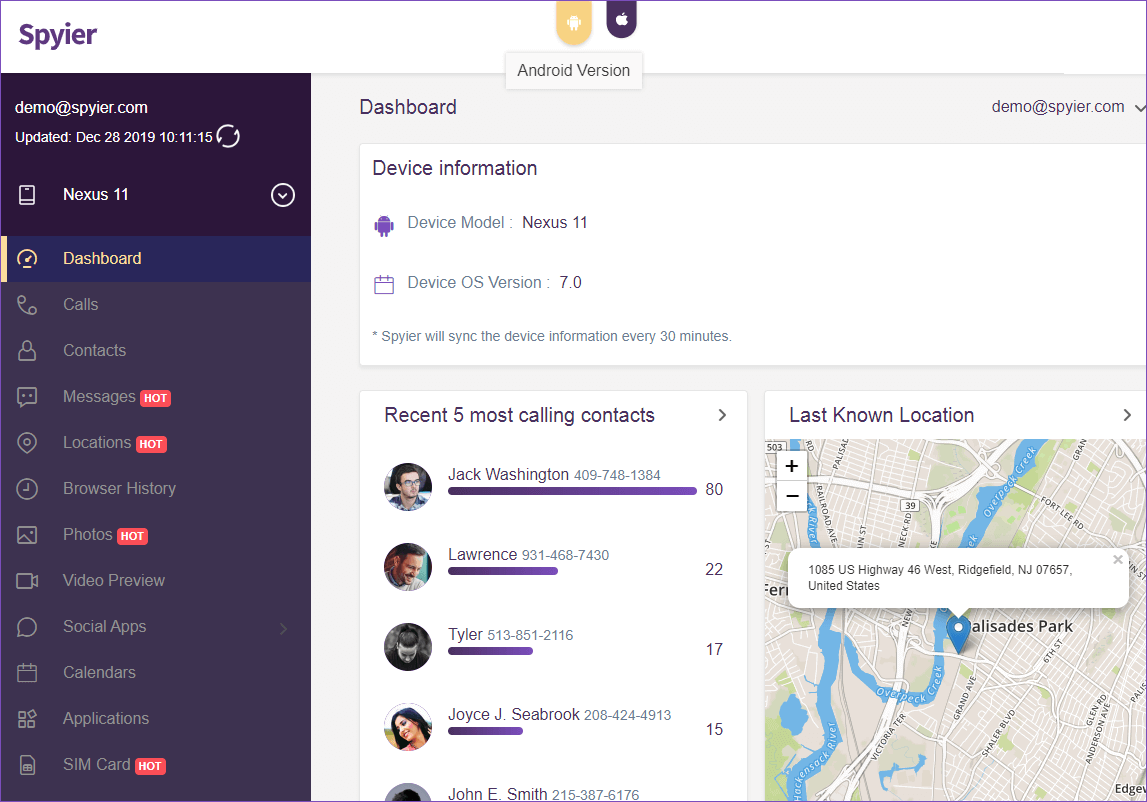 Data Privacy
Spyier makes sure that the data you are tracking is completely personal to you. This is why your private data (including the data of the device you are tracking) is not stored on Spyier's servers.
35+ Features
Spyier comes pre-equipped with more than 35 features to make your life better. There is no data on the target phone that will be hidden from your eyes when you are using Spyier.
As you can see, there is nothing better than Spyier when it comes to phone tracking. If you still don't believe it, you can check out this free Spyier demo. You won't need to register for anything or even download any app on your system.
Track Phone Secretly With Spyier
When it comes to Spyier, the other person will never find out that you have eyes on them. This is because of the unique design of Spyier.
Tracking an iPhone
When it comes to tracking iPhones, Spyier doesn't ask you to access the other iPhone even once. This is something new as there are not many apps that will work without accessing the phone that you wish to track.
And when I say no access is needed, I mean it in every way. There is not even any need to install a phone tracking app on the target iPhone. So how does Spyier accomplish this?
Well to start with, all iPhones come with the iCloud backup feature by default. Therefore, all of the data of the iPhone gets uploaded to the iCloud server.
Spyier extracts all the vital information about the device from this backup data. Therefore, you can track an iPhone without even having it or touching it (or even looking at it if that matters).
Tracking an Android Phone
When it comes to tracking Android phones, you need to install an app on the target phone to track it. This is true whether you go with Spyier phone tracker or any other phone tracking app.
However, when it comes to Spyier, it is specially designed to make sure that you never get caught spying on someone. I know you are wondering how does that figure out. Well, here is how:
Spyier's app size for Android is less than 2 MB. Therefore, it will install lightning fast in a matter of seconds. Once the app is installed, the app icon will vanish from the app menu of the target phone. Only you will know the secret code to bring it back.
The app runs only in the background without any notifications and without consuming any battery. And when you feel like uninstalling it, you can do it from your Spyier dashboard through any dashboard REMOTELY!
I dare you to find any app that is better than Spyier. You have the whole internet at your disposal; yet, you wouldn't get anything better (that actually works).
1.2 How To Track Someone's Phone With Spyier
Tracking a phone number with Spyier is a piece of cake. All you have to do is follow these three simple steps and you are good to go:
Step 1: Spyier is a subscription-based app, so you need to purchase an appropriate plan on the pricing page. The Premium plan allows you to track a device's location for an entire month from your smartphone or PC. 
When you've chosen a suitable plan, click on "Buy Now" to begin the purchase process. In the pop up window that appears, enter your email ID. This will be linked to your account. Then follow the rest of the instructions. 
Step 2: Once you pay, the confirmation page will appear. You will receive your unique password here. This is a password the server generates randomly and can only be seen by you. You have the option to change it afterward. 
You also receive an email with links to the Setup Wizard and installation guides. The Android installation process takes a little configuration on your part. You can read the installation guide if you get stuck. 
When you're ready to proceed, click on "Start Monitoring".
Step 3: Follow the steps mentioned in the on screen guide. It will guide you through Spyier's configuration:
a.) For iPhones,  you just have to verify the iCloud credentials of the target device.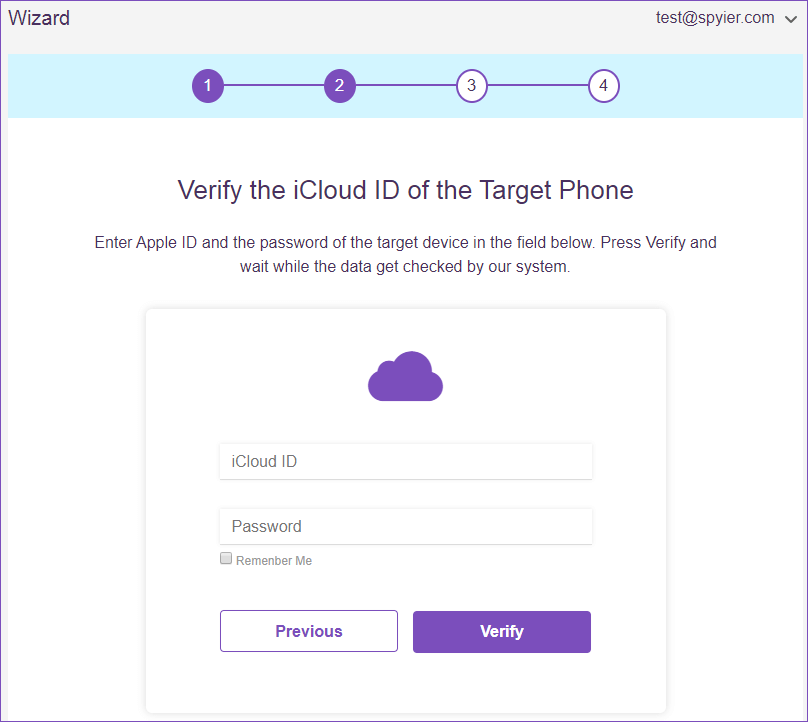 b.) For Android phones, you will need to install the Spyier app on the target phone from the link mentioned in the setup guide. As I mentioned before, it is a 100% stealth app.
Step 4: Click on 'Start' and you will be ready to monitor the target device.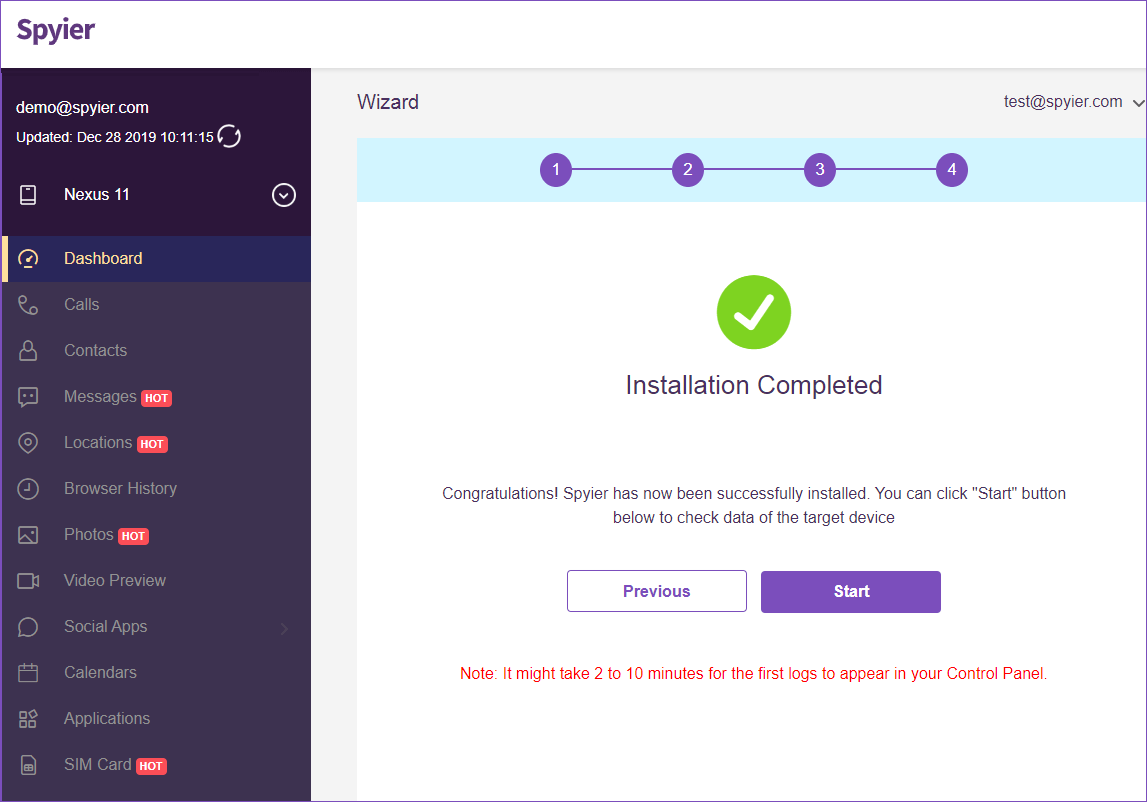 Once the configuration is finished and you hit the 'Start' button, you will be taken to your dashboard. Your dashboard is the place from where you can track someone's iPhone.
All the features can be found on the left hand side of the dashboard as easily accessible tabs. If you wish to track an iPhone, you will find the following features very useful:
Location Tracker
The location tracker will provide you with the live location of the device you are tracking. Not only that, but you will also get the recent locations along with the timestamps.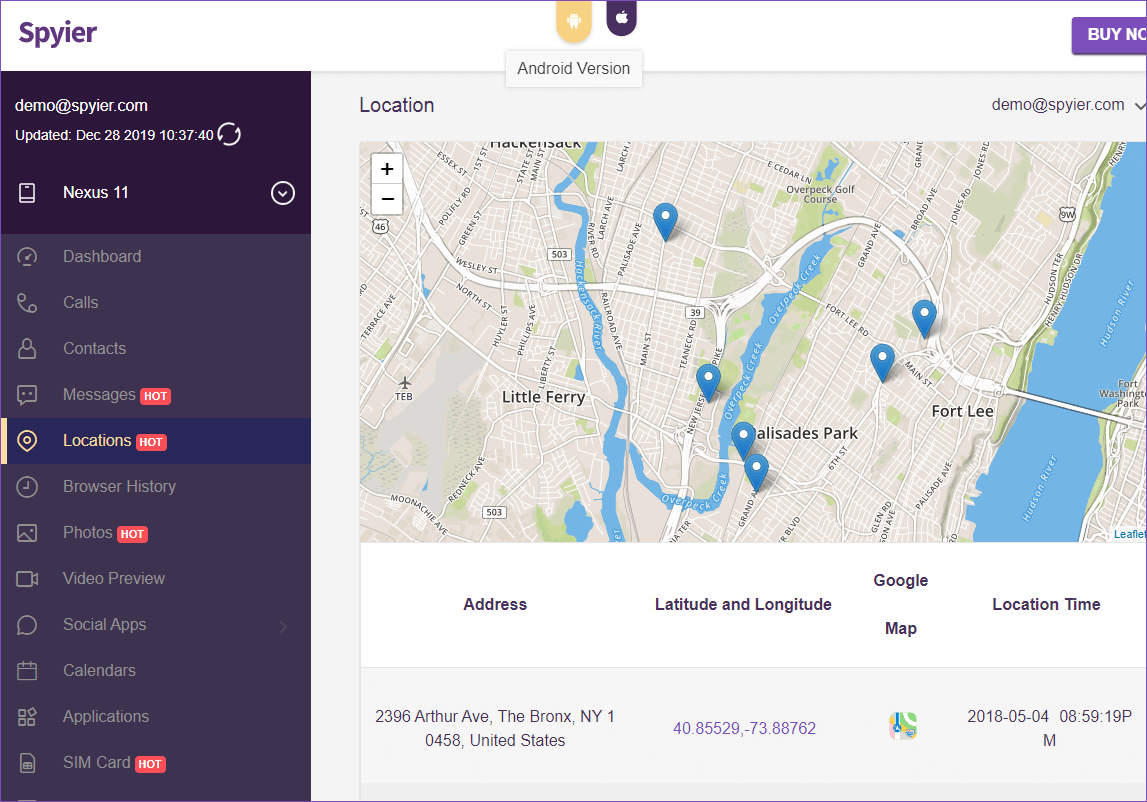 Geofencing
Geofencing is what the field of phone tracking was missing so far. It allows you to set boundaries on the device's location on the map. If the device crosses these boundaries, you will get an immediate alert.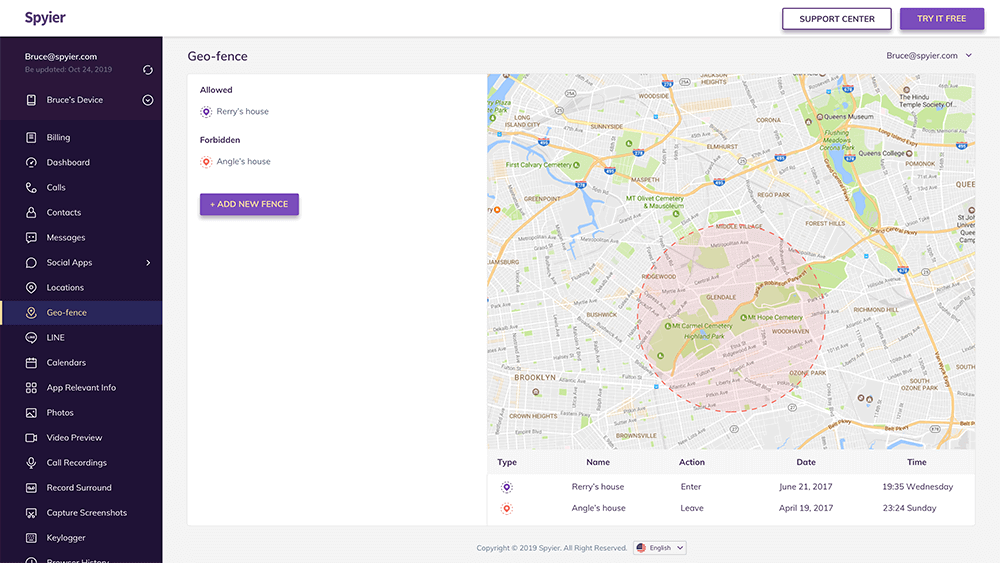 SIM Tracker
If you wish to track your partner's phone, the SIM tracker feature can turn out to be very useful. It will give you the SIM information of the device and notification if the SIM is changed.
When it comes to phone tracking, there is hardly anything in the world that Spyier cannot do. In fact, to make sure that you don't miss out on anything, you can use the Spyier demo for free.
You might find it perfect but it has no use till you try it yourself. So how about you try out these steps one by one and see how Spyier actually functions.
Part 2: How to Track a Cell Phone Location for Free with the Number of the Cell Phone
While Spyier is the best way to track a cell phone number, there other ways as well that work great too. Therefore, if for any reason you feel that Spyier isn't the right one for you, you can try out these apps and you will find your choice of app.
2.1 Cocospy- The Phone Tracker That Stays Awake When You Are Sleeping
Cocospy is an intelligent phone tracker that is suitable for both iPhones and Android phones. With its unique interface, Cocospy can give you the location updates of the device at all times.
It doesn't require you to root the target device in order to track it. Not only that,  you won't even need to install any app on your phone or PC in order to make it work. Cocospy works well through any web browser of your choice.
A thing to love about Cocospy is that it tracks the location of the target device at all times. Therefore, even if you are away or busy and you don't have time to track someone's phone location, you can just head over to Cocospy's dashboard.
On its location tracker feature, you will find out where the other person is right now and where they have been in the past (along with the date and time of the same).
If you feel that Cocospy is something that might interest you, you should see Cocospy in its free web demo. You can test out how each and every one of its features works.
Don't Miss: How to Track a Cell Phone Location Without Them Knowing
Part 3: Type in Phone Number and Find Location
Of all the people who are looking for a phone tracking application, parents make a majority of the share. There are more and more people every day who are concerned about their child's safety in the internet age.
This is especially true when you see news every day about terrible things happening to the children through the internet. I will not even talk about this horrifying side of the internet and ruin your day.
However, I will help you by telling you about this amazing app that is especially focussed on parents wishing to track their child's phone.
3.1 Fami360- Protect Your Family Remotely
Fami360 is a parental tracking app that countless parents are using to learn their kids' location at all times. In fact, there might be parents in your own friend circle who use Fami360 (obviously they won't admit it).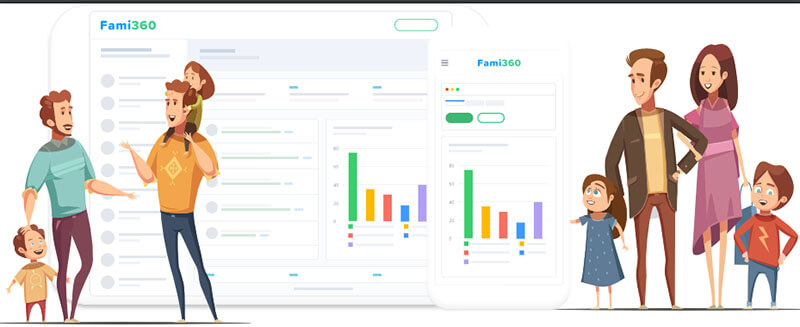 The best thing about Fami360 is that it makes sure your child never finds out that you are tracking them. If your child knows that you are tracking them, they might alter their habits to make sure that you never find out about their activities.
For example, imagine that your child is sneaking out trying to catch a late night far away concert. Of course, most children tend to do similar things in their childhood.
Now if they knew that you are keeping an eye on them through their phones, they will just leave their phone at home.
This makes Fami360 an absolute must have for parents. Kids' are getting smarter every day and you need an app that can catch up with them and still be hidden.
While talking about Fami360, an important thing to note is that it has one of the most simple dashboards that you will find very easy to use. Most parents who faced problems with technology found Fami360's dashboard to be a piece of cake.
Part 4: How to Find My Phone Location by Number
Now that you know about the best ways to track an iPhone, let us also discuss the most popular way to use it.
While Spyier, Cocospy, and Fami360 are perfect in themselves, we shouldn't forget about the most popular phone location tracker in the world too:
4.1 Spyier- The Leading Phone Tracking App
When we are covering all the major (and best) ways to track someone's phone, how can we leave out Spyic. Spyic has millions of users all over the world who are using their services at all times.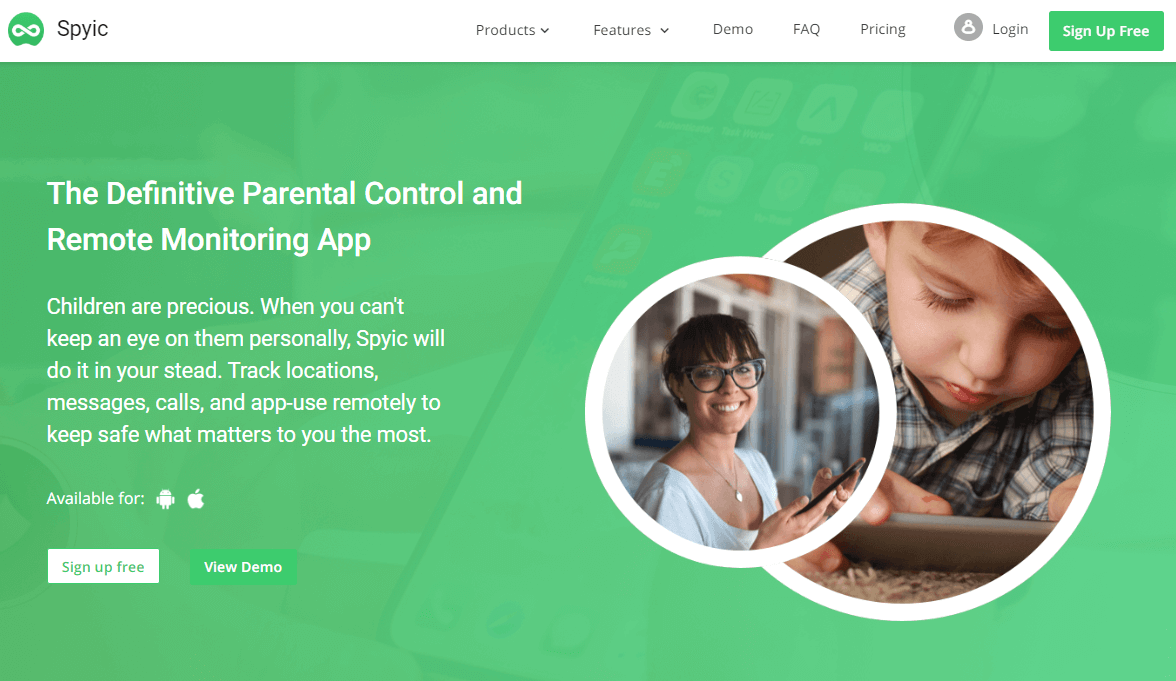 In fact, Spyic is so cool that even the biggest media outlets such as Forbes, TechRadar, and PCMag are always talking great things about Spyic. And of course, not all of these reputed sources can be wrong altogether.
Endnotes
If you had been searching for a way to track a phone number, you must have felt fortunate while reading this guide.
However, fortune will only take you this far. These apps are no good unless you use them yourself. Therefore, what are you waiting for? Get, set, go!
This post is also available in: Español (Spanish)