Has your wife been drifting away from you lately? She might not give you the time and attention she used to and is no longer as engaged in your relationship as before.
Or maybe you've seen your wife chatting away with someone all day on her phone and are worried she's cheating on you.
Regardless of your unique individual problem, you're looking for a way to spy on your wife's phone discreetly. A look at her phone and reading her messages or seeing her social media use will tell you if your marriage is in danger.
We're here to help. In this article, we show you how to spy on your wife's phone without her knowing.
Part 1: How to Spy on My Wife's Phone Without Her Knowing
The internet is chock-full of solutions that supposedly allow you to spy on your wife's phone in secret. You should know, though, that not all these methods are reliable or trustworthy.
The only legitimate way we know of spying on a phone is to use specialized programs called spyware. Spyware or spy apps are made specifically for spying. Once you set them up, they give you regular updates on what's occurring on the target device.
Still, not all spy apps are impossible to detect. If your wife is the observant type, she may find them – especially if they need you to root or jailbreak your wife's phone.
Fortunately, we have a truly stealthy solution for you that uses cutting-edge technology to remain hidden!
1.1 Spyier – The Undisputed King of Stealth
If you want to spy on your wife's iPhone or Android smartphone on the sly, you can't do better than Spyier. Not only does this app come with powerful features, but it's also very hard to detect. We'll explain why in 1.2.
First, we'll give you some background info on Spyier. It's a well-known phone monitoring and parental control solution. Over a million people worldwide use Spyier to track their loved ones.
Further, Spyier has a glowing reputation in the market. Its stealth feature has been praised in large publications such as Forbes, New York Times, Tech Advisor, and Tom's Guide.
The app works with the latest Android and iOS devices. It's easy to set up and get running.
1.2 Spyier is like a thief in the night
Spyic is the stealthiest app we've ever laid eyes on. Why do we say that? It's built with some cutting-edge technology by a team of expert developers.
The iOS version of Spyier is a fully web-based app. It works without any software downloads or installs. You don't need to jailbreak the target iPhone or iPad. Instead of working with the iOS device directly, Spyier works with its linked iCloud backup.
Because there is no software installed, your wife can't detect Spyier! You'll be able to spy on your wife's iPhone remotely without ever being found out.
Furthermore, the Android version of Spyier is a 2MB app. It's small and you can set up in minutes. Afterward, you can hide it with a single tap. The app then disappears from the app drawer and the installed apps list.
Spyier will work on the Android phone in the background in stealth mode, without draining much battery or slowing it down. Because the app is so small and hidden so well, your wife will never find it!
Did we mention that Spyier works without either jailbreak or root? You won't have to tinker with your wife's phone at all to set up Spyier, giving her less opportunity to discover you.
1.3 How to Spy on My Wife Without Her Knowing
You can set up Spyier in just 10 minutes. Here is how you can set up the app to spy on your wife's phone if she uses an iPhone or Android smartphone:
Step 1: First, register for a Spyier account. You will need to purchase an appropriate monthly plan. If your wife owns a single device that you wish to access, for example, you can use the Premium plan. View the plan details here. 
During the purchase, you will be asked to enter your email ID. This becomes linked to your account. 
Step 2: On the purchase confirmation page, you will receive a unique, random password for your account. This password is only visible to you, and you can change it later if you wish.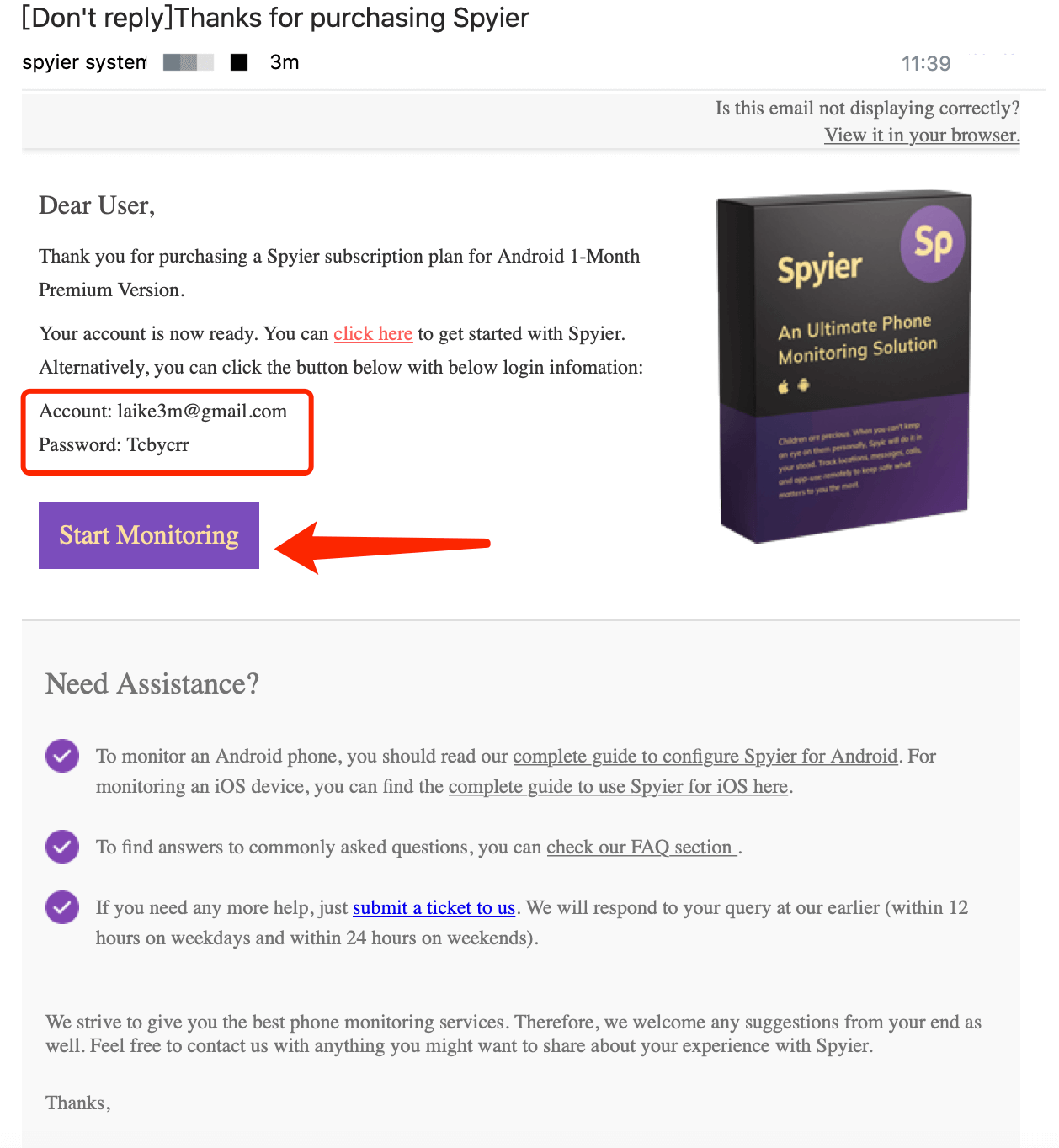 The system will send you an email with your login details and additional information, like links to the FAQ and installation guides. You might want to take a look at the Android installation guide for clarification at any time. 
To begin the installation and launch the Setup Wizard, click on "Start Monitoring".
Step 3: Check your email for the setup instructions. Then start by choosing the target platform – iOS or Android – depending on which phone your wife owns.
To install Spyier on your wife's iPhone, simply enter her iCloud details on the screen. Then wait for Spyier to sync with the device. That's all you have to do, the app takes care of the rest!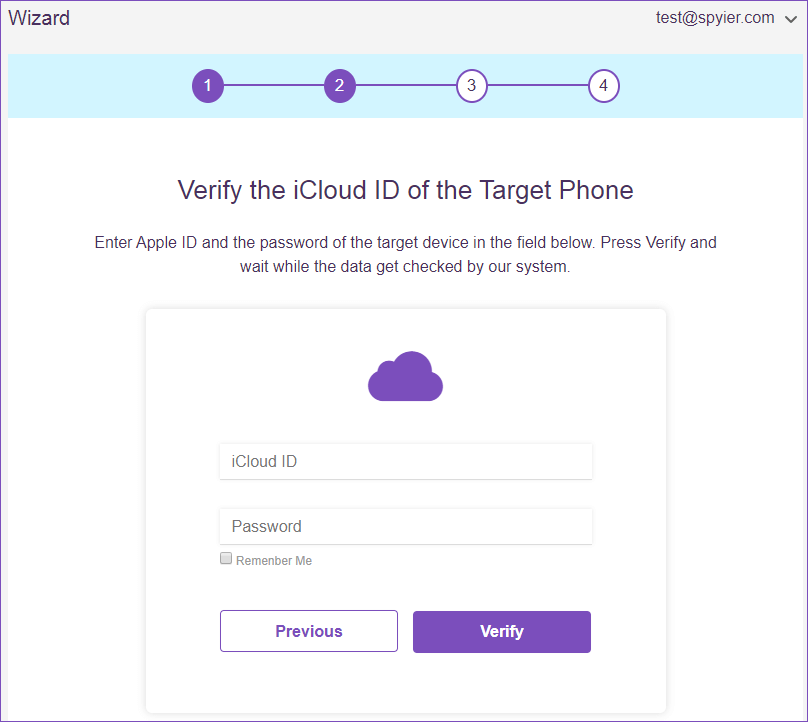 If you want to install Spyier on your wife's Android phone, download the app to her phone and install it. The app is just 2MB, as we mentioned. You can set it up and hide it in less than 5 minutes.  Once that's done, give the app time to sync with the device.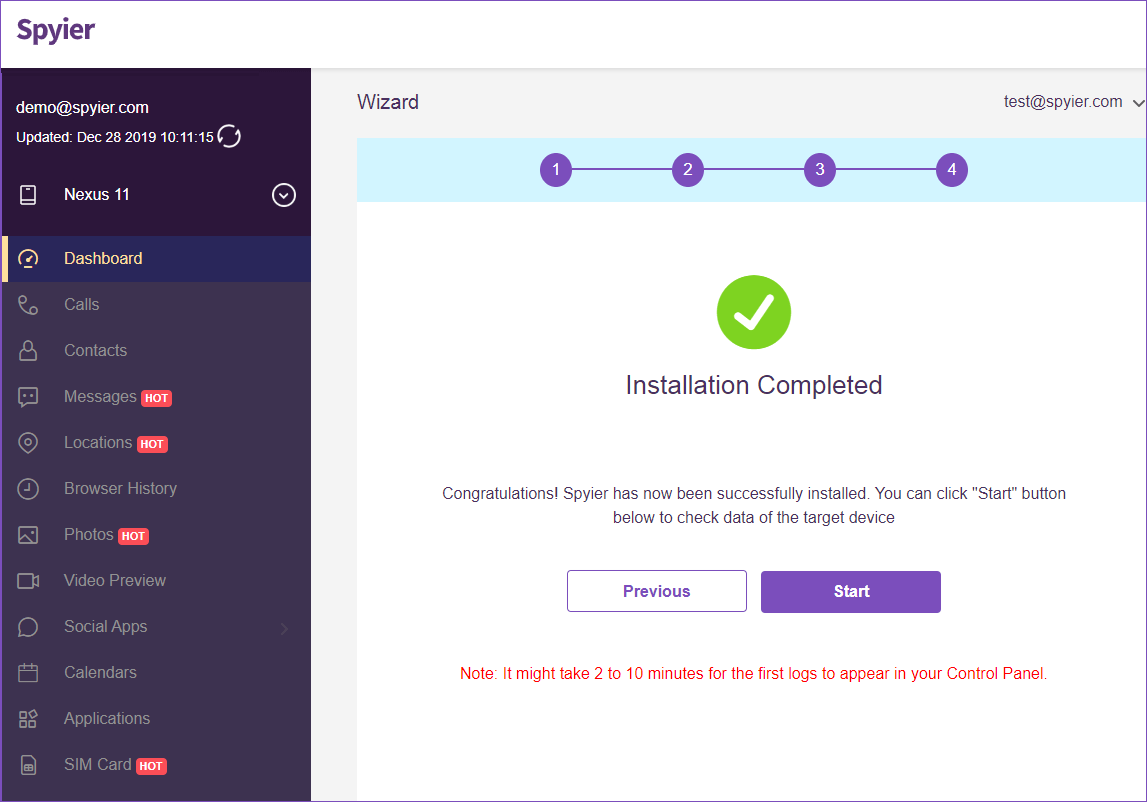 Step 4: You've now set up Spyier! You can access the Spyier dashboard from any web browser. Here, you get an overview of what your wife is up to. Check the selection panel on the left to access the phone's various features.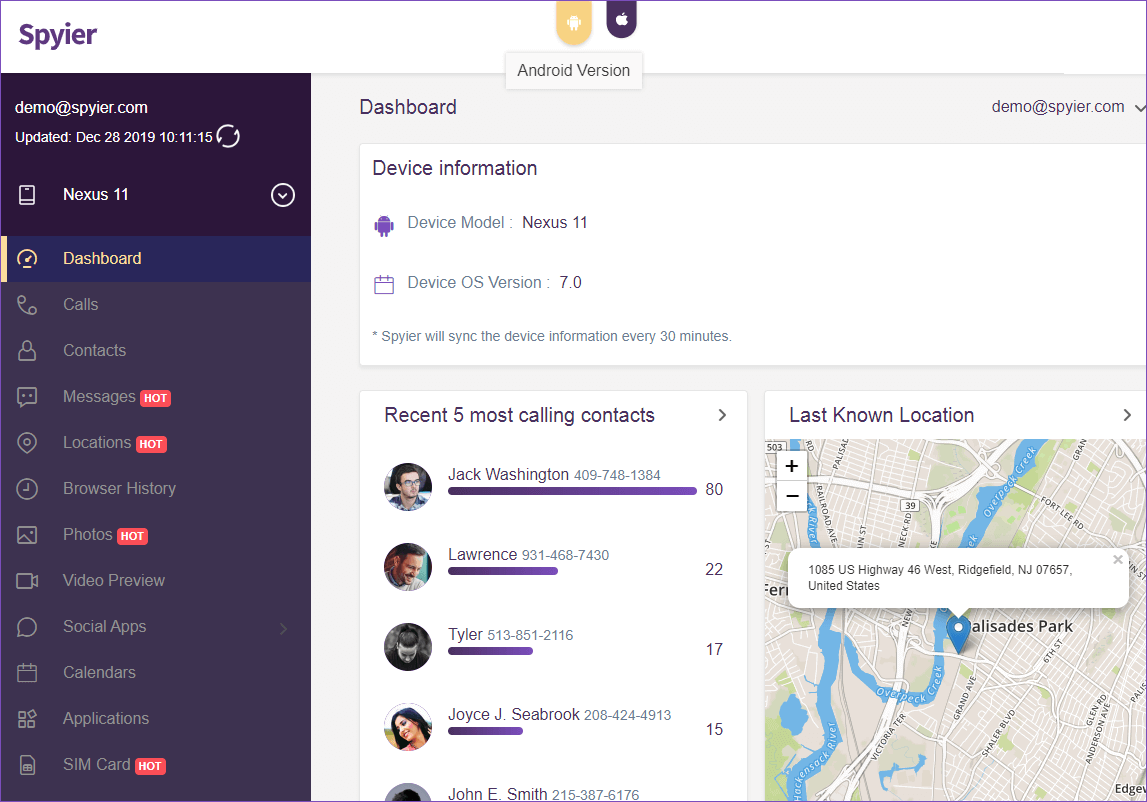 Try Spyier before you buy it with the free live demo!
1.4 Spyier offers maximum bang for your buck
Spyier is an exceptional spy app. Here's what makes the app so special:
Spyier can track your wife 24/7
The app shows you exactly what your wife gets up to when you're not with her. Here's an overview of all the activity the app can track:
Read your wife's messages: Spyier can read your wife's text messages as well as iMessages. The app can also retrieve any message she deletes from her phone and saves it to your private account.
Check her location: With Spyier, you can track your wife when she's out and about. The app can show you addresses, street names, neighborhoods, and more. You can monitor her movements in real-time on a virtual map.
View her social media activity: Is your wife talking to someone on WhatsApp, Messenger, or some other app? Spyier can access all the most popular social media apps out there. Read her social media messages and check her media files, among other things.
You get 20+ features in total with Spyier. Other notable features include a keylogger, an installed apps checker, and a media files viewer. You'll see more than enough to determine whether your wife is cheating on you.
You can monitor your wife in a hassle-free way
You can set up Spyier without rooting or jailbreak. Further, you can use the app conveniently from any device with a web browser, such as your smartphone. The app has a user-friendly web-based interface. You get periodic updates delivered straight to the dashboard.
The app is superior to most other spy apps
Other phone spy apps, as we mentioned, need you to jailbreak or root the target device first before they work. Some of them also drain the device battery, which is bound to make your wife suspicious. They also offer limited features.
Spyier is a non-jailbreak and non-root spy app that offers powerful features and works without making your wife suspicious.
You get an excellent deal
You don't need to pay a lot of money to use Spyier. It costs about as much as a meal at a restaurant. If you want to spy on multiple devices, you even get a discount. Other spy apps offer fewer features for twice or even sometimes thrice the price.
You can trust Spyier
Finally, Spyier is a reliable app. It's a known brand that's used by over a million people in 190+ countries. The app is user-verified and genuine. Further, it protects your privacy. Your personal data isn't stored on the app's servers or accessible to anyone in any way.
Also Read: How to Spy on My Girlfriend's Phone Text Messages Without Touching It
To Finish
You now know how to spy on your wife without her knowing. It's simple if you use Spyier. The app can track your wife long-term discreetly. It's also convenient to use. It's a much better option than paying a private eye $50 per hour to follow your wife around.
This post is also available in: Deutsch (German) Español (Spanish)