When Snapchat started as a fun photo sharing platform in 2011, no one could have anticipated that it would turn into the full-blown communication medium youngsters all across the world are crazy about.
Voice / video messaging and photo transformation are just a few of the many features of the social platform. With that and more it can do, we don't need to tell you that in naïve hands, Snapchat can do more harm than good.
Lest you end up at the receiving end of trouble resulting from misguided use of the app, it's crucial that you find out a Snapchat hack as quickly as possible to keep an eye on what people near to you are doing on the app.
But finding out such a method might not be so straightforward since most such hacks need you to participate in unnecessary surveys or verification procedures.
If you're looking for an easier direct way, we've got just the tool for you. This is a sure-shot Snapchat hack (no survey) to get into someone else's Snapchat account without them knowing. And using the tool will let you do much more than just hack Snapchat.
So without wasting any more time, let's get you introduced to this wonder tool.
Part 1: How to hack someone's Snapchat password, no survey
Snapchat is a great messenger app loaded with features. But with so much Internet exposure happening, you never know when it can turn into a problem for people near you.
While on the one hand, your young teenage children could get caught into indecent chat groups or leak their personal photos to miscreants, on the other hand, your employees could engage in treachery and expose company secrets to anyone who's willing to pay.
Only if you know what messages are being exchanged on Snapchat by your children or employees can you figure out if there's trouble lurking in the corner. And that's why you need to figure out how to hack someone's Snapchat (no download, no survey).
Research and comparisons with other Snapchat hack tools have led us to the decisive conclusion that the best Snapchat hack tool is Spyier. Arming you with the ability to monitor any Android or iOS phone remotely, Spyier lets you take a look at everything that happens on a target phone.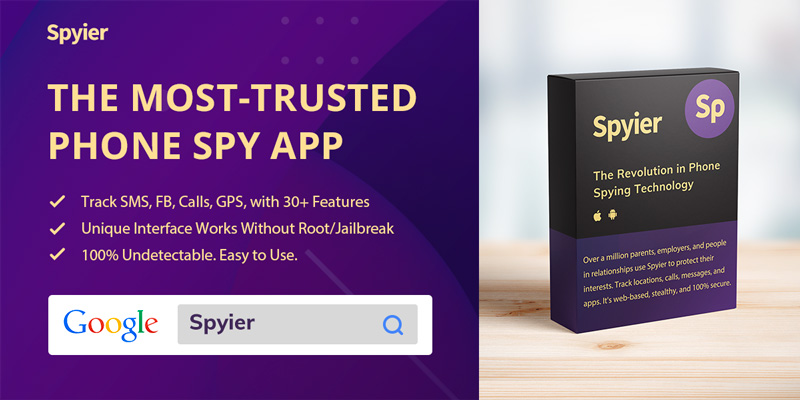 Trusted by millions across the world and hailed as the best phone spy app by big outlets like Engadget, LifeWire, The Next Web, and more, Spyier works in stealth mode without you having to intervene at any step. Just set up the app and it carries out monitoring completely remotely, running quietly in the background consuming less than 3M of resources and minimum battery.
Part 1.1: Spyier – The true stealth mode phone monitoring solution
The most significant aspect of spying on someone is not getting caught in the act, and this is where most phone spy apps fail. Either they aren't fully discrete or they consume so much memory and battery of the target phone that they get flagged.
With Spyier, you won't face any such issue. The app runs in the background without consuming too much resources of the target phone so it doesn't get detected. Once set up, you can hide it from the list of applications so the person being spied on will have zero clues about it being there.
Spyier works extremely well for both Android and iOS platforms. The app's Android version needs installation on the target phone while its iOS version doesn't need any installation. On both kinds of devices, you won't need to root or jailbreak the device and you can view all data through a web-based dashboard.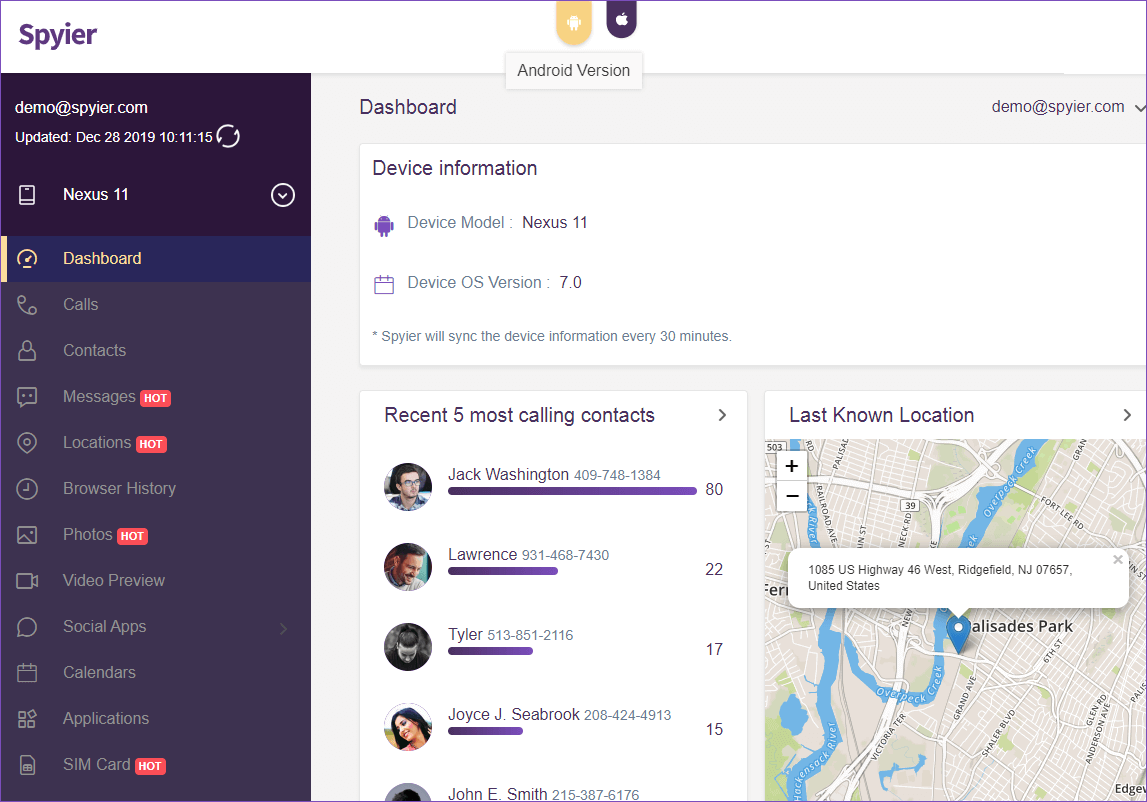 You can login to your app dashboard using any web-browser (desktop or mobile) and take a peek into the target device's call history, contacts, photos, GPS location, and more. Its keylogger feature lets you in on the credentials used to sign into social apps, and then using them, you can log into your target's social media accounts.
The specialized Snapchat spy feature lets you peep into all text messages being sent out and received on Snapchat. Using this info you can gain significant clues to your child or employee's activities and expected whereabouts.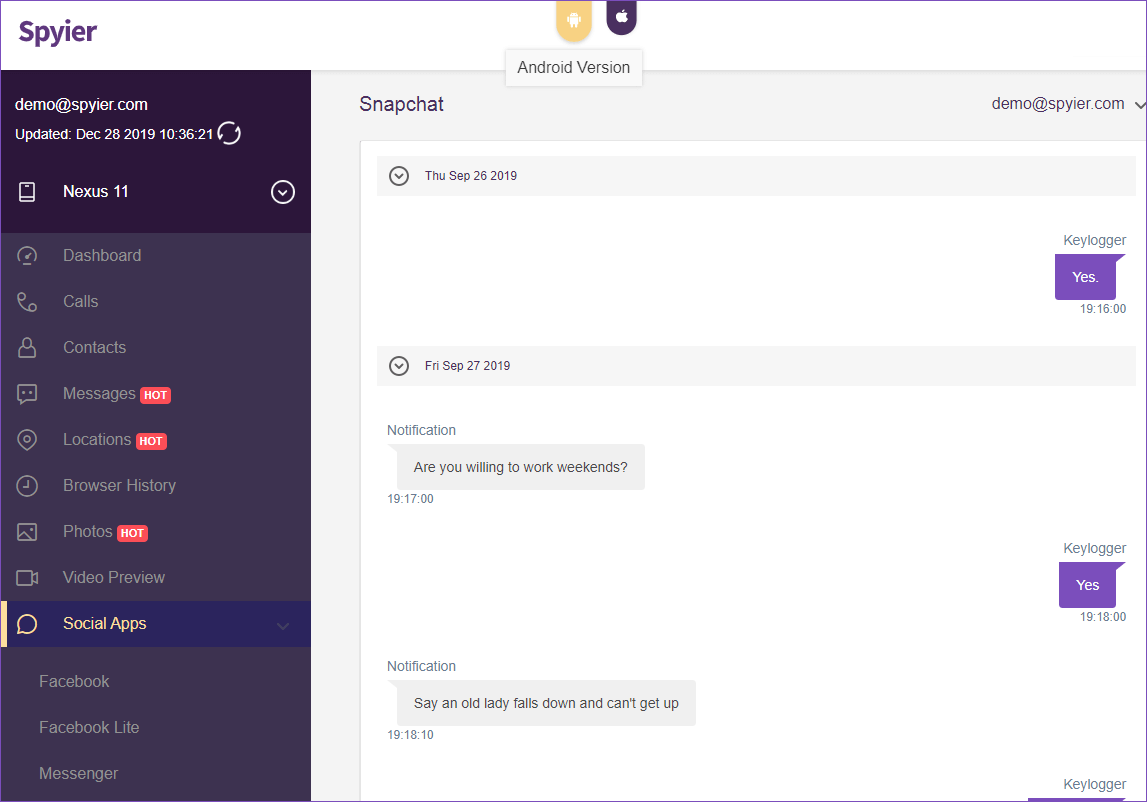 With over 35 such brilliant features in its kitty, Spyier is the one-stop solution for all your phone monitoring needs.
Part 1.2: How to hack someone's Snapchat without them knowing
Working with Spyier is extremely easy thanks to its intuitive interface and easy to understand Setup Wizard. Here's how to hack someone's Snapchat (no download) using Spyier:
Step 1: Buy a Spyier subscription plan for the target device- Android or iOS. Provide your email address when asked. Once you have completed the subscription purchase, you can view your login username and password on the screen.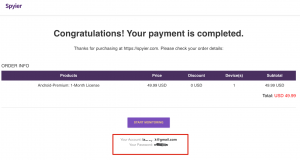 Step 2: With your login credentials, you can access your Spyier account through the dashboard. Logging into your account will take you to your dashboard. You will need to configure the dashboard if you are using it for the first time.
Provide the basic details such as the name of the device and the operating system of the target device (Android or iOS). Based on this information, you will have to follow the configuration process as mentioned in the next step.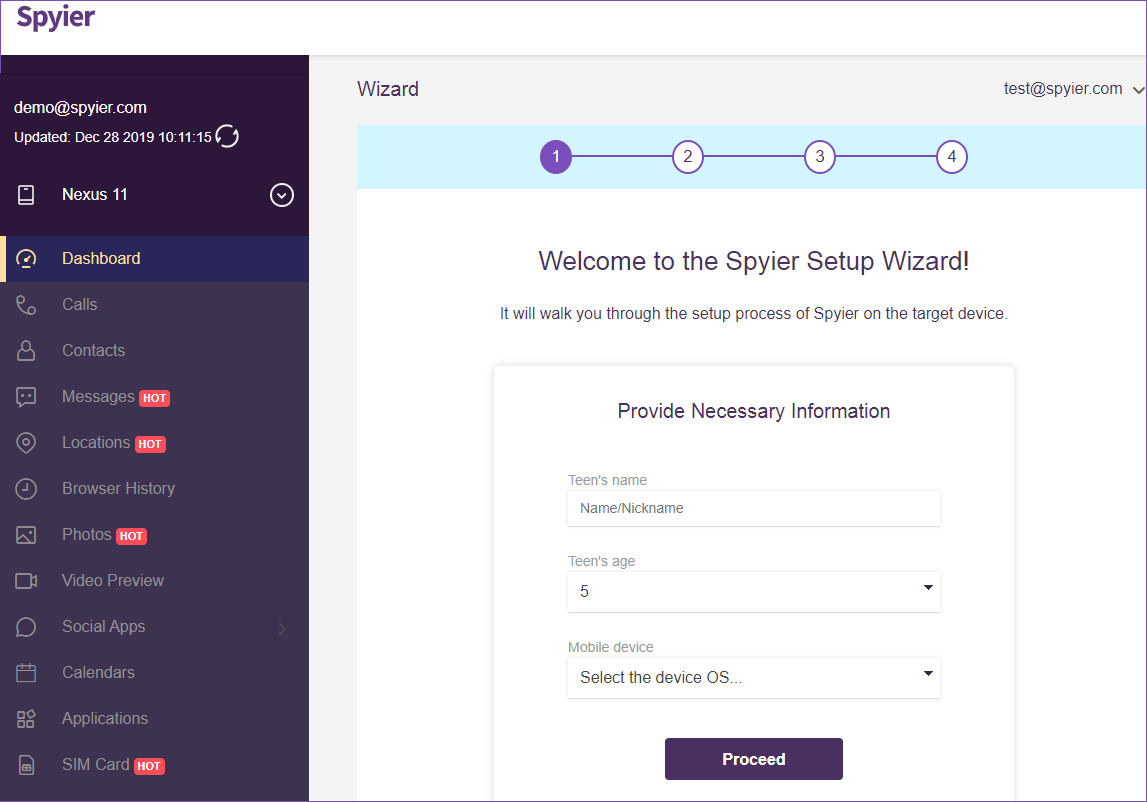 Step 3: From this point on the steps will differ according to the OS selected:
a) For Android solution:
As already mentioned, for its Android version to work, you will need to download Spyier and perform setup on the target phone. For this, obtaining a 5-minute physical access to the target phone is a must.
Once you've completed step 2 mentioned above, the Setup Wizard will guide you with the download and installation of the app on the target phone. You can find the detailed steps for the procedure here.
b) For iOS solution:
After selecting iOS as the target operating system, the next step will be to verify the target phone's iCloud credentials.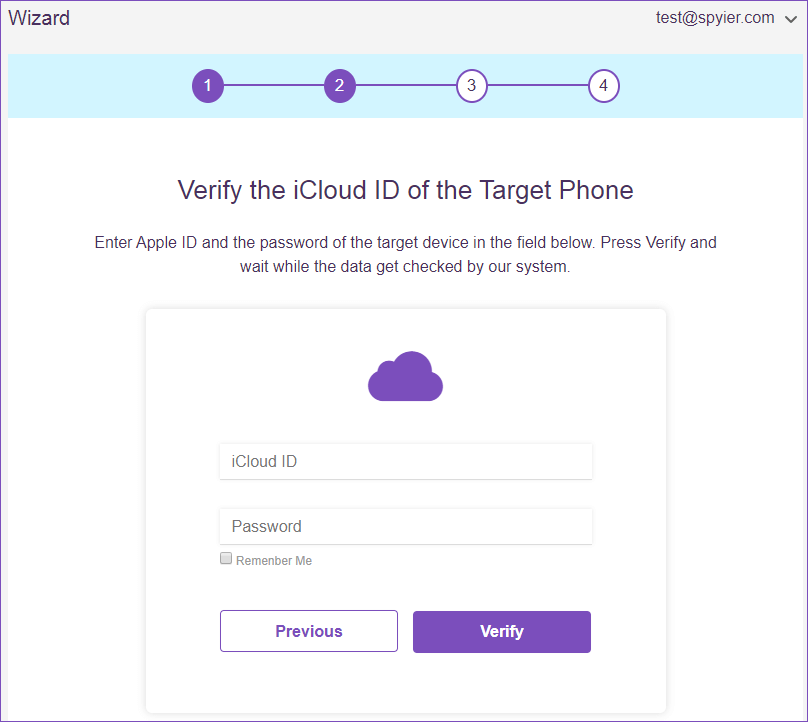 Next, Spyier will verify and sync the data to get things up and running.
Step 4: Finally, the app will present to you the finish installation screen indicating that you're good to go.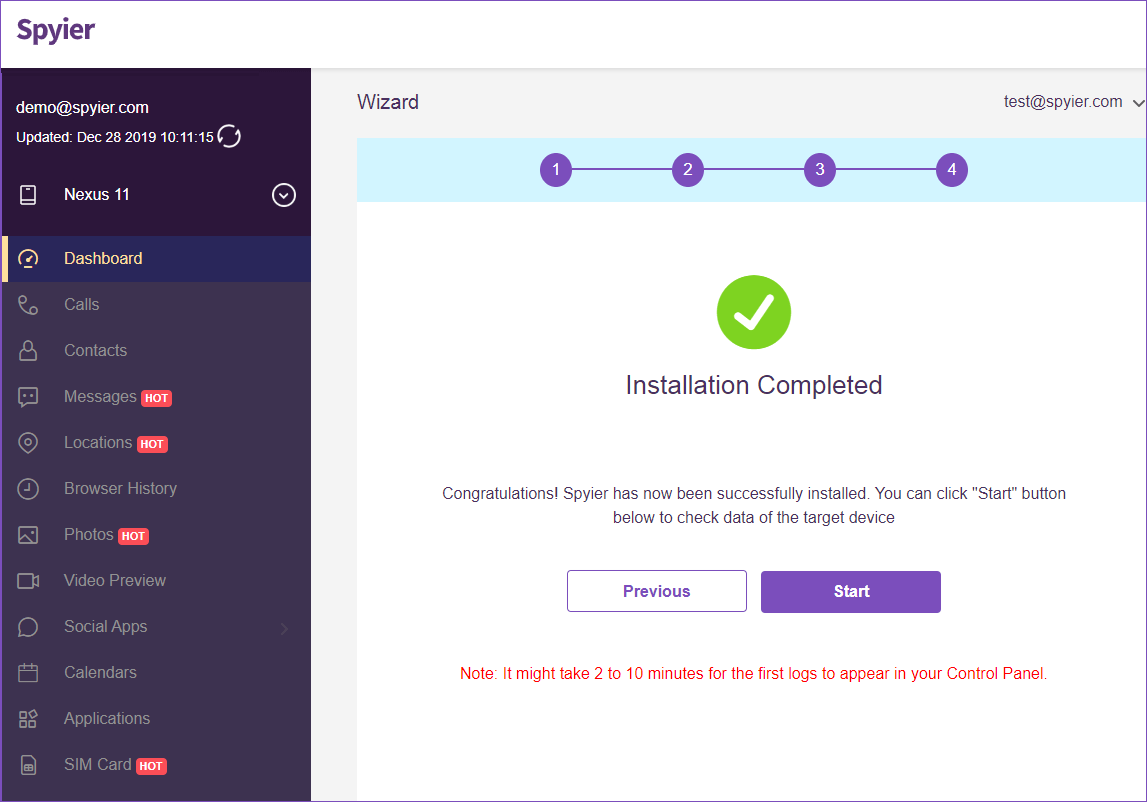 After you've configured everything, log into your Spyier dashboard using ANY web-browser and go to Social Apps -> Snapchat to check the Snapchat messages, contact details (including phone numbers), and chat start-duration-end with timestamps.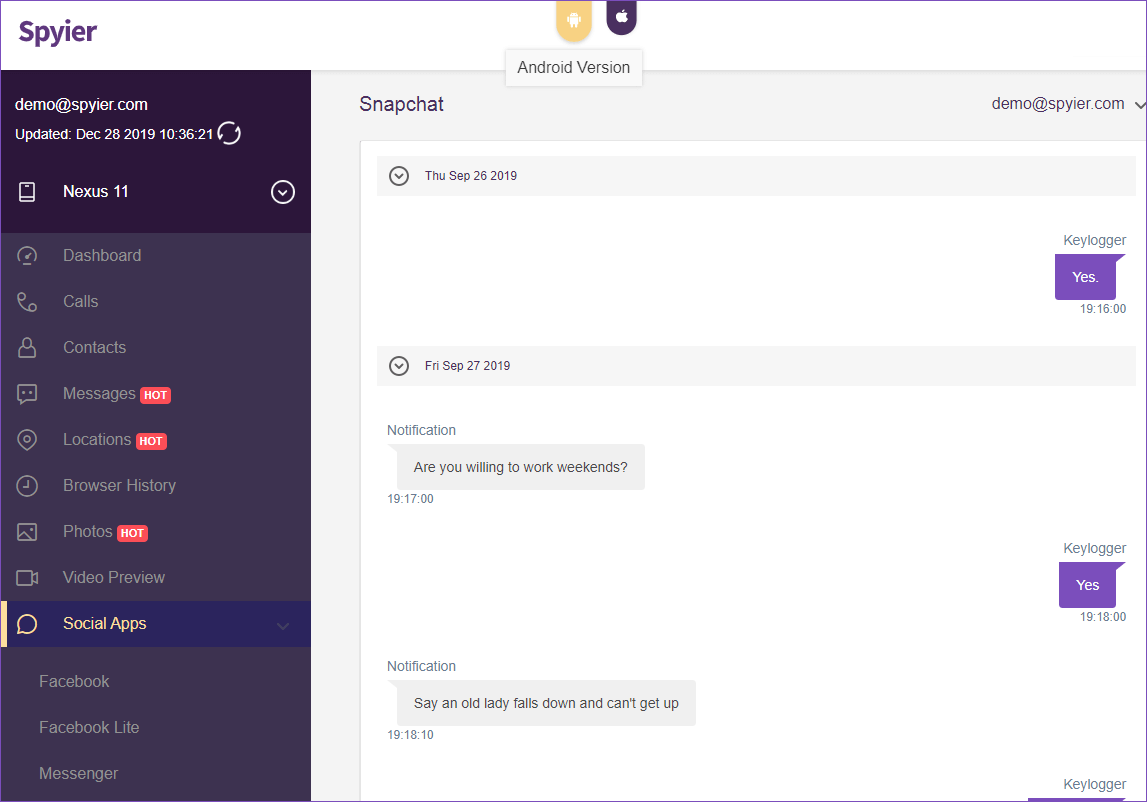 Ready to start using Spyier? If you're still unsure, head over to the tool's free live demo and get a feel of its working to gain some exposure.
Also Read: How to Hack WhatsApp by Phone Number
Part 2: How to hack someone's Snapchat, no download
If you don't have much experience with phone spy apps and are not sure about using Spyier, there's no need to worry. There's another alternate solution through which you can achieve Snapchat hack (no download).
The best alternative to Spyier is Cocospy. Imbibing the same features as Spyier, Cocospy is a trusty and effective phone spy solution for Android and iOS devices. Having gained the approval of millions across the globe, Cocospy has established quite a positive name for itself in the phone monitoring industry.
2.1: Cocospy – The best alternative to Spyier
With Cocospy, you don't have to root or jailbreak the target device. It conducts phone monitoring remotely and in stealth mode so the chances of you getting caught are none. Also, benefits like intuitive interface and easy Setup Wizard allow you to work easily with Cocospy.
If you're looking for an app that can grant you superior parental control capabilities, Cocospy is the wisest choice since it comes with an additional geo-fencing feature. With this capability, you can set up no-go zones for your children which if breached will automatically send notifications to you so that you can intervene.
2.2: How to hack someone's Snapchat account
When in need to hack Snapchat (no verification) and looking for an easy and hassle-free way to do it, Cocospy is the tool you should look to. Possessing superior phone monitoring abilities, this tool lets you hack into Snapchat without raising any red flags.
If the person whose Snapchat account you wish to hack into uses an Android phone, all it takes is a 5-minute setup procedure to get Cocospy up and running. If he uses an iOS device, all you need are his iCloud credentials and without any download you can get Cocospy to start tracking him.
Once you've started monitoring the target, login to your Cocospy dashboard and go to Social Apps -> Snapchat option in the left hand panel. Click on it to load the Snapchat window where you can find all messages exchanged using the social app.
Doesn't that sound simple? It actually is. Before purchasing Cocospy, you can work with its free live demo to take the right decision. The demo doesn't need you to sign up or give your credit information so it's absolutely risk-free.
Don't Miss: How to Hack WhatsApp Messages without Access to Phone
Part 3: How to hack someone's Snapchat
Hacking someone's Snapchat is incredibly difficult. Not only does Snapchat have excellent security, but they also delete Snapchat messages from a user's account automatically after a conversation is finished. There are some ways though.
You could hack into someone's Snapchat by figuring out their username and password from a trusted device. However, while you may be able to see their contacts, you will still not be able to check their conversations. 
The only reliable option is to use a spy app that can retrieve deleted Snapchat messages. The app we discussed in Part 1 is one example. It automatically archives the user's Snapchat messages to its online dashboard. You can read them there at your leisure. 
Part 4: How to hack a Snapchat account – tutorial
Looking for a tutorial on how to hack a Snapchat account? Our article contains this information already in Part 1. We'll summarize the steps involved here:
Find an appropriate spy app that can reliably archive or retrieve deleted Snapchat messages, like the app in part 1. 

Install the app with your smartphone or PC. You will need to install the app by borrowing the target user's device for a minute.

Give a few minutes for the app to hack the device and retrieve the data. 

Log in to the dashboard to access the hacked Snapchat data. 
You don't need any technical skills or advanced knowledge with this method. 
Part 5: How to get a Snapchat password
There are several ways to get someone's Snapchat password. You could attempt to figure it out if you know the person well. Or you could take a look at the saved passwords on their computer or smartphone if you live with them. 
If you want to do it more conveniently without being spotted, you could use a spy app with a keylogger utility (as in Part 1). An app with a keylogger function will record keystrokes as they are made on the device. This includes the passwords as they are being typed in. 
Part 6: How to hack someone's Snapchat on iPhone
You could hack someone's Snapchat on iPhone if you jailbreak the device. Be aware that this is difficult to implement and it could cause problems with the user's iPhone, including voiding its device warranty and infecting it with malware. 
It's easier to hack Snapchat on Android than iOS. You can simply download and install an app on their device and it will hack Snapchat for you. There is no rooting involved. 
Part 7: Hack Snapchat password online
Are you looking for a quick way to hack a Snapchat password online? You may encounter several websites and apps that claim to allow you to do so, but we recommend being very cautious with the ones you use. Many don't work and simply phish your information. 
You can reliably hack a Snapchat password with the help of a keylogger utility. This is a program that records the user's keystrokes. When the Snapchat user types in their username and password, the keylogger will record this information for you. 
You can use the app mentioned in Part 1 if you need a Snapchat password online hack. It comes with a reliable keylogger function and is easy to install. Further, the app also allows access to Snapchat directly, without requiring a password. 
Part 8: Android Snapchat hack
You can hack Snapchat on Android on all the newest operating systems if you have the right software at your disposal. You will need to download and install an app on the target Android device. The app will do the rest of the work, allowing you to access Snapchat remotely. 
Note that no app or service can hack the Android operating system, or Snapchat, remotely without software download and installation. This is simply not possible at the moment for various reasons. If you find such an app or service, it's a phishing attempt or worse. 
Part 9: How to see people's Snapchats without them knowing
Again, there are several ways to see people's Snapchat messages without them finding out. A creative option, as someone once suggested on the internet, is to befriend the party on the other end of the message and get them to show the messages to you!
Of course, this won't always work, and it can be traced back to you. The most stealthy way to see people's Snapchat without them knowing is to use a spy app with a stealth mode, like the one discussed in part 1. You can remain hidden and read their messages risk-free. 
Part 10: How to get into someone's Snapchat account
If you want to get into someone's Snapchat account, you will need their account username and password, and more recently access to a trusted device if they have two-factor authentication enabled. This can take some doing. 
You can figure out their username and password with the help of a phone spy app. And then you can read incoming verification messages with the same app. Finally, you could also just read their messages and see their Snapchat activity with the same app. 
Part 11: How to hack someone's Snapchat without them knowing
If you want to hack someone's Snapchat discreetly, you will need a spy app with a reliable hidden feature. The app we discussed in part 1 has just such a feature. You will be able to access their Snapchat remotely from your web browser. 
The app will run hidden in the background on the user's device while it hacks Snapchat. It doesn't drain the phone's battery noticeably. Further, it's small and doesn't have an app icon. Finally, you can delete the app remotely with a single click if necessary. 
Part 12: Snapchat hacking tools
What tools do you need to hack Snapchat? Depending on the solution you use, you don't need anything special. If you use Spyier, for example, you can hack Snapchat with only your smartphone or PC that has a stable internet connection!  
Other solutions may require more from you, such as you having to jailbreak the target device first. This is time-consuming and an overall hassle.
A few last words
Achieving Snapchat hack (no survey) isn't that difficult if you have the correct tools to assist you. Software like Spyier, Cocospy, and Spyic excel in offering remote phone monitoring features in stealth mode so you don't have to worry about being spotted while spying on your near and dear ones.
We understand how important your privacy is to you and that's why out of the plethora of apps available online, we've selected these three because they don't steal your information while providing you with superior phone spy capabilities.
So the next time you're in need of spying on your child or employee's Snapchat or other phone activities, rope in one of these apps without hesitation and get some peace of mind.
This post is also available in: Deutsch (German) Español (Spanish)