If we're being completely honest; regardless of the stock we put in the privacy of others; there are certain situations when all of us want to inspect someone's social media activity more closely.
And there are many different reasons as to why you'd want to hack someone's Instagram, and see who people are texting, liking, and following there. Concerns about your spouse's fidelity or your child's safety are just some of them.
Young people are using Facebook less and less these days, and Instagram is becoming a more ubiquitous social network in recent years. That's why it's the place where you'll see the essence of someone's online interactions.
But unfortunately, Instagram has recently shut down the Activity feature that allowed you to see what the people you follow have liked. That means you've got no way of knowing about who your partner or child is conversing with and whose pictures they're liking.
Well, not without a password, at least. Is that possible to obtain without their knowledge, however? There's no reason to worry, as we've got all the information you need to know right here!
Part 1: How to Hack Instagram Account Without Survey
So, you've found yourself in the position of searching for an Instagram password hack. Have no fear, we got you covered.
Firstly, know that although people occasionally log into Instagram from their desktop or laptop browsers, in more than 90% of cases, Instagram users are on their smartphones.
And when it comes to hacking someone's Instagram account, this is a pretty monumental piece of information to keep in mind. Why? Because it means that you require a good phone monitoring solution to do this right.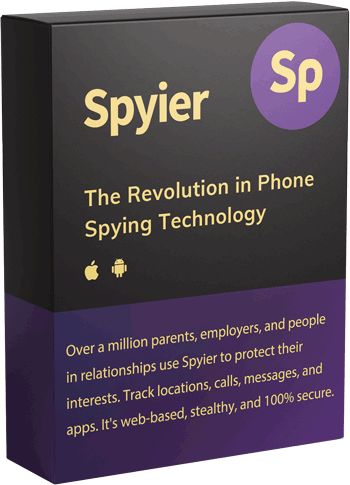 Naturally, regardless of what kind of software you start looking for; you'll find open-source, free solutions that don't cost you any money.
But while these are supposedly just as good as the apps and programs you'd pay for – in reality, this is almost never the case. That's why we believe you're far better off with checked-out, vetted, and reputable phone tracking solutions.
Considering this, we recommend taking a look at Spyier – as you'll see from our in-depth look below, this is one of the premier phone surveillance apps on the market today!
If current trends are any indication, Spyier will likely continue its run as one of the most successful phone tracking apps in the world in 2021 as well.
This possibility is alluded to by some of the most respected industry publications, like Android Authority, Mac World, New York Times, and TechCrunch.
1.2 How to get someone's Instagram password no survey
But how do Spyier's features actually get you on track to going through someone's Instagram? The answer to that question is – keylogging.
Among its myriad useful features, Spyier also gives you access to one of the best-designed phone keyloggers you'll find anywhere.
If you're not particularly tech-savvy, this naturally warrants the next question – what are keyloggers in the first place?
In short – these are pieces of software made to record every single keystroke someone makes on a specific target device. As you can imagine, this is an extremely powerful surveillance feature.
For instance, once someone logs into their Instagram account on their phone; you'll know all about their login credentials, because they had to type them in, and the keylogger records that! Genius, isn't it? And it works both on iOS and Android!
In this way, you can use Spyier to hack someone's Instagram without password.
And best of all, Spyier isn't just a simple keylogger with no other features. In fact, this is an all-encompassing phone surveillance solution.
You've got a lot of options, including following someone's GPS location, learning of their other social media activities, reading their texts, and going through their call logs!
Setting Up Spyier
Luckily, getting a hang of Spyier isn't difficult at all; you won't need any knowledge about the world of tech to do it correctly and without a hassle:
Step 1: First things first, in order to use Spyier's Instagram hack features, you need to get a Spyier subscription plan. During the subscription purchase, you will be prompted to enter your email address.
Once you are through with the purchase process, you will see a message saying the purchase was successful. You will also receive your login credentials on your screen as well in your email inbox.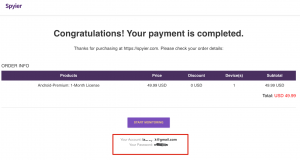 Step 2: Once you have the login credentials, you can now access your Spyier dashboard with all its features. For this purpose, login into your Spyier account with the credentials. If you are a first time user, you will be taken through a configuration process.
Step 3: For hacking Instagram account if the user is using an iOS device, there is no need to install any app. You just have to verify the iCloud credentials of the target device.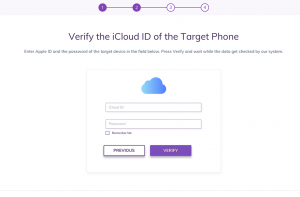 If they are using an Android phone, you need to install the Spyier Android app on their phone. This can be done by following the steps in the setup wizard. This app always remains hidden even when installed on the target device.
For example, the app icon vanishes when it is installed on their phone. Additionally, the app size is less than 3 MB and it just takes a few seconds to install it.
And that's all that you need to do! Now, you'll be fully capable of accessing any kind of Instagram account, as long as someone logs into it from the device Spyier is monitoring.
With Spyier's excellent keylogger, you'll easily learn all of someone's login information, along with their messages and other phone activities! Feel free to register your account on the official site right now.
If you're not confident enough to register right away, no problem! There is a free demo for you to check out that requires zero data. You can check it out here.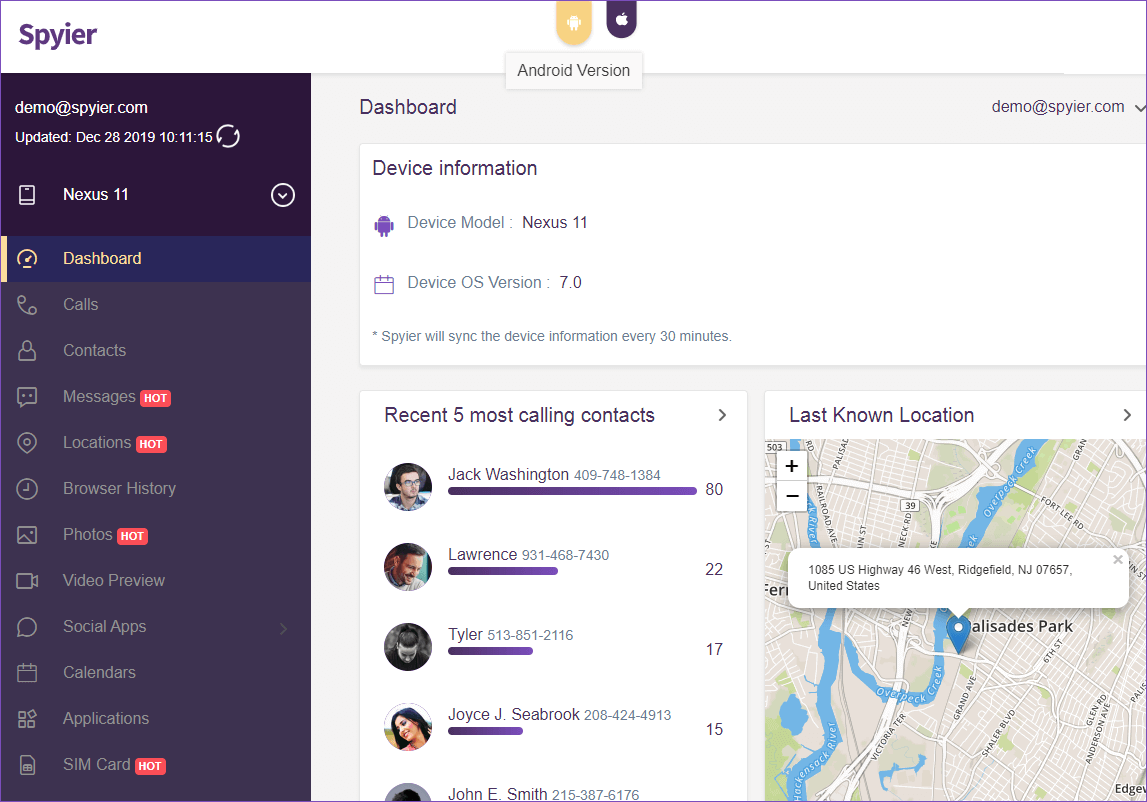 Also Read: Telegram Hack: How to Hack Telegram
Part 2: Instagram Password Hack No Human Verification
While Spyier provides great phone monitoring services, including an Instagram hack without human verification; it's far from the only option you have for this task. For example – you could also make use of Cocospy, another great phone-hacking tool!
If you're looking for an app that's capable of handling all types of phone monitoring; this is certainly an app for you. And much like Spyier – you won't need to be a tech enthusiast in order to use it well!
So, what should you know about Cocospy? Primarily, the fact that it works on all kinds of contemporary smartphone operating systems; meaning Android and iOS.
And it has both a keylogger and a dedicated Instagram spy tool; though the latter does only work on Android, and requires root access.
But apart from this, you must be wondering – can someone see that you're using Cocospy to track their phone? We're more than happy to report that the answer is a decisive "no".
One of the best features Cocospy can offer is the ultimate discretion; there's no chance of someone learning of your monitoring activities unless you tell them yourself.
And if you're not certain of the merit a single review has on the quality of Cocospy; know that this app is used by a huge global audience.
In fact, more than a million citizens of more than 190 world nations have successfully used it for all kinds of smartphone surveillance purposes! In the very least, we recommend trying their live demo.
2.2 How to Hack Someone's Instagram Password Without Human Verification
Once you set up Cocospy, register an account and pick a subscription – you'll be able to log into the service from any sort of device. And once you choose the Instagram spy option from the dashboard, you'll be greeted with all kinds of options.
Firstly, you'll be able to see a complete record of the most recent Instagram messages that your person of interest has exchanged with others on Instagram; this log gets updated in real-time, almost instantly.
Plus, you'll have access to the timestamps that accompany all conversations; meaning you'll be able to learn precisely when someone talked to someone else on Instagram. Heck, you can even print these conversations out and read them offline later on!
Part 3: How to Hack an Instagram Account No Download
As we've mentioned above, even a cursory glance at search results related to Instagram hacking with no surveys will provide you with plenty of options, many of which aren't Spyier or Cocospy.
And while we'll take a look at what these are as well, we still recommend choosing the above mentioned software solutions that come from dependable developers.
With that in mind – there are quite a few online, browser-based Instagram hacking tools and systems. Beware, however; some of these may be phishing sites, only out to get your own login information instead of providing you with someone else's.
One of the websites which are used to hack Instagram accounts from your browser is Instaleak.net. It works pretty straightforwardly, simply by having you provide the Instagram username of the individual you wish to hack.
Once you do this, the website will first check if the username exists, and then continue onto attempting to hack the password.
If it is successful, you'll get a file you can download, containing the login credentials you wanted. Bear in mind; these also contain viruses, more often than not.
At the end of the day, the best and safest way to obtain someone's Instagram password is through a trustworthy keylogger; like the ones found in Spyier and Cocospy.
Conclusion
Hacking an Instagram account is not as complicated as you might have thought it to be. After reading this guide, you will be able to hack any Instagram account within a matter of a few minutes.
There is hardly any of their Instagram data that you can't see on your screen. The best part is that these methods work for hacking other social media accounts as well. Your mission of learning how to hack Instagram is successful now!
This post is also available in: Deutsch (German) Español (Spanish)