Sometimes you really need to know where someone is going:
Your spouse claims they're headed to work, but you can tell they're lying to you. Are they cheating on you and visiting a lover's house?
Is your child really going to school or are they actually hanging out with their rowdy friends again?
Do you suspect a bunch of problem employees is leaving the building during work hours?
There are countless other cases where you may need to track people. But all these cases have one thing in common: You need to track your target in secret. If they know they're being watched, they may change their behavior until they're in the clear.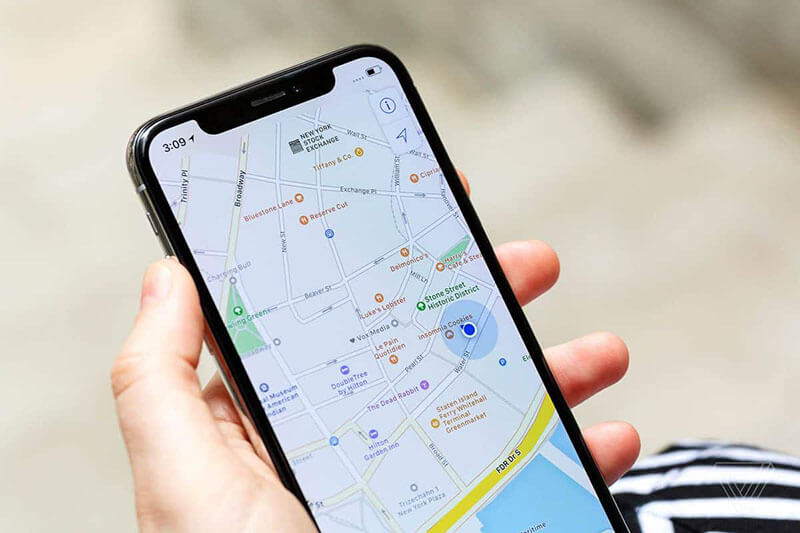 Instead of watching them directly, we recommend that you monitor their cell phone instead. If you track their cell phone, you'll be able to monitor their movements outside. It's straightforward, reliable, easy, and 100% discreet if you use the right tools. In this article, we show you how to track a cell phone location without them knowing with the help of specialized, easy-to-use spy software:
Part 1: How to Track a Cell Phone Location Online Without Them Knowing
There are many cell phone trackers on the market. Very few, however, offer a stealth feature. An even smaller number is actually reliable. If you want a truly stealthy, dependable cell phone tracker that allows you to monitor a phone's movements in secret, we recommend you go with Spyier.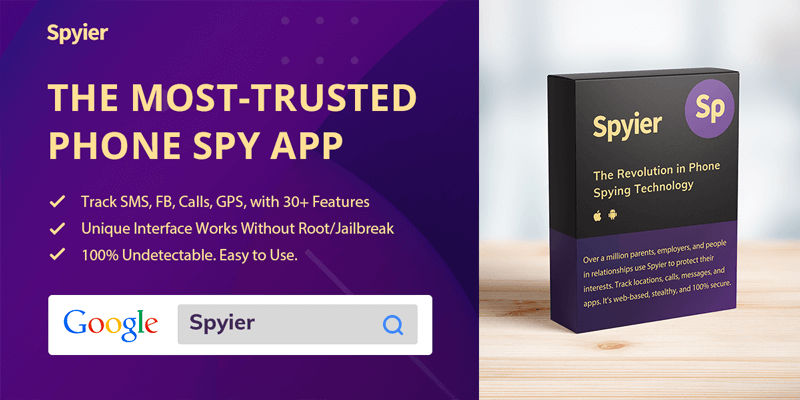 What's Spyier? It's a well-known phone tracking app for iOS and Android. It's often featured on top platforms such as Mashable, Tech Crunch, The New York Times, and LifeHacker. The app has a reputation worldwide for being an effective GPS phone location tracker. Did we mention that Spyier comes with an advanced stealth mode feature? You'll be able to track anyone's movements with them being none the wiser. You don't need their permission either.
Best Phone Tracker App Without Permission
Spyier allows you to monitor both iOS and Android devices in complete secret. How does this work? Spyier's iOS version is a fully web-based app. That means you don't need to download or install anything on the target iPhone or iPad. Instead of working with the device directly, Spyier works via the device's linked iCloud account. Because Spyier doesn't need to interact with the iPhone or iPad directly, the device user will never know it's there. You can track their cell phone location from any web browser without them finding out. Spyier's Android version is a 2MB tiny app. You need to download it and set it up on the target device, so you need brief physical access to it. This is quick and painless, though. You need less than 3 minutes to set up Spyier. After you install the app, you can hide it. Spyier will run in the background on the device, monitoring its location without the owner finding out. The app is small, lightweight, and doesn't drain the device's battery. For all these reasons, Spyier for Android is impossible to detect. You can track the device's location from your web browser.
How to Secretly Track A Cell Phone Location Without Them Knowing
You can start tracking a cell phone location in less than 10 minutes with Spyier. All you need is a phone or a computer with an internet connection. You don't need any special tech skills or gear. Here are the steps to follow to set up Spyier: Step 1: You'll need a Spyier monthly subscription. You can visit the pricing page and take a look at the options available. If you want to track a single phone, you can use the Premium plan. Otherwise, you'll want the Family plan.  When you initiate the purchase process, you will need to enter your email. Use an active one, as this will be associated with your account.  Step 2: The payment confirmation page will appear after your purchase is successful. Here, you can view your account password. This is generated randomly by the server and is safe to use. However, you can change it later if you wish. 
You will also receive an email from the server with your login details and some additional information. There will be a link to the Android installation guide, you can refer to it if you get stuck with the installation process.  When you are ready to move forward, click on "Start Monitoring". Then choose "Android" as the target platform.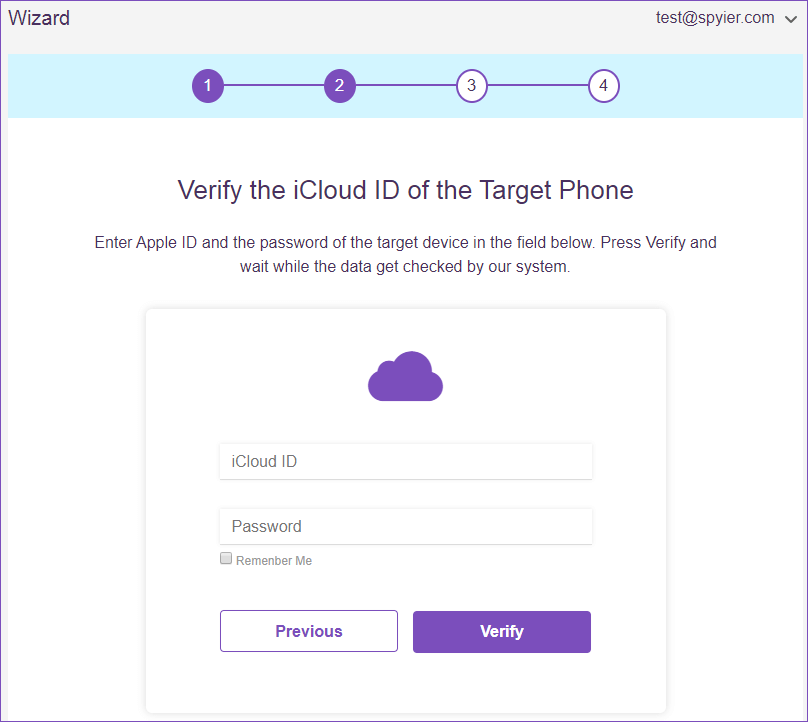 If you're tracking an Android phone, download and install Spyier on it by following the given instructions. After Spyier is set up successfully, hide the app. This whole process takes less than 5 minutes. Wait for Spyier to sync with the device.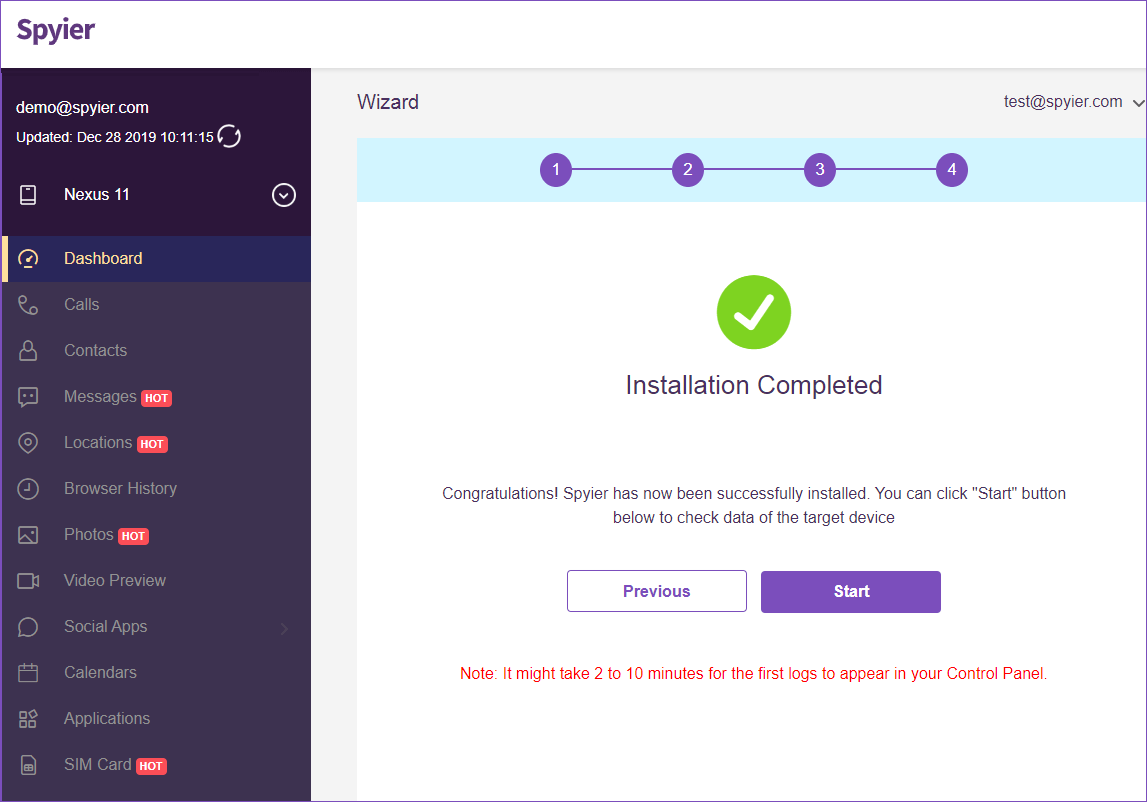 Step 3: Congratulations! You've set up Spyier successfully. You can now monitor the device's location from the dashboard. Log in to the dashboard from any web browser. Here, you'll get an overview of the device's activity. The location-related options such as location, SIM card, and geofence are in the selection menu to the left.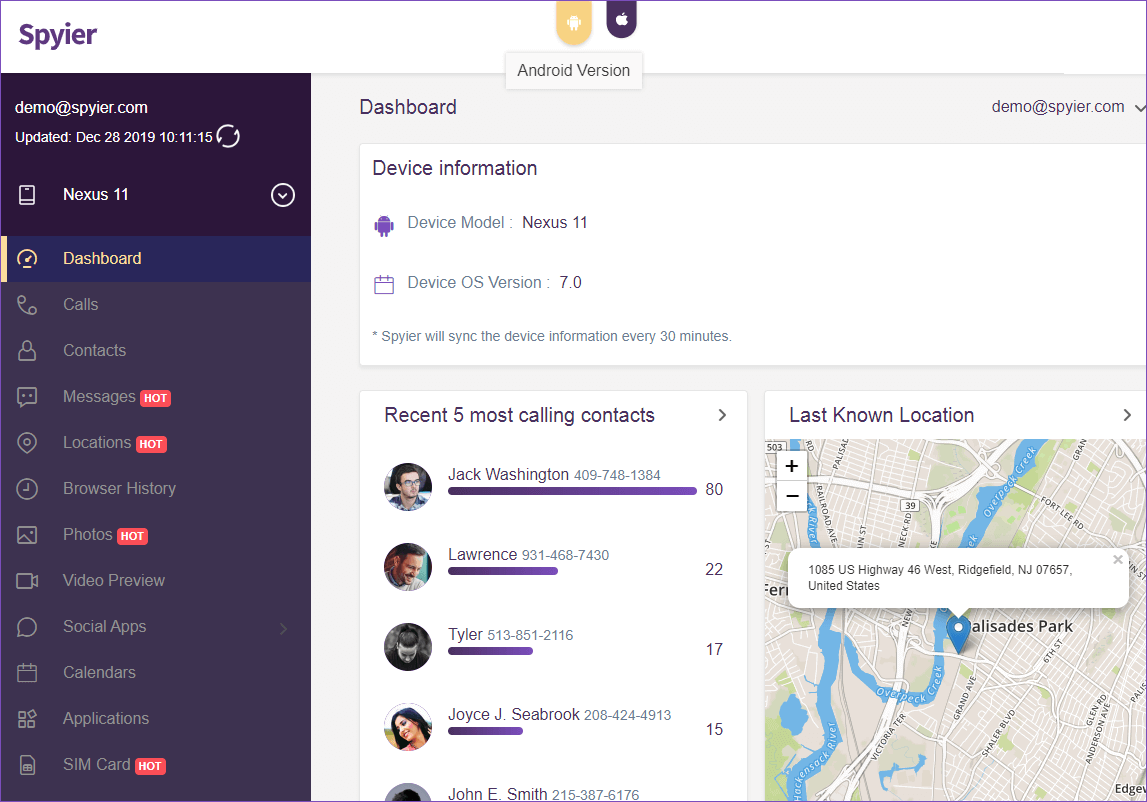 Want to see how Spyier's location tracker works? Take a look at the Spyier free live demo here to find out! Read parts 1.3 and 1.4 for an explanation.
Track A Person by Cell Phone
With Spyier, you can track your target's movements in real-time on a virtual map. Here is an overview of the features you'll receive:
Track real-time location: You can track the cell phone – and, by extension, your target – on a virtual map in real-time with Spyier. As long as they are in the range of a WiFi connection or are connected to a cell phone network, you can track them.
View location history: Spyier shows you the target's movement history. The app logs all places the target has visited in recent weeks. You can check addresses, neighborhood information, city, state, and much more.
Check time and date logs: Every location entry or exit is marked with a date and time. If your spouse told you they were working on a certain day but clearly were somewhere else, you can confront them with proof.
3D Street View: With Google's integrated 3D street view, you can take a closer look at all the locations they're visiting. Is your child visiting a bad-looking neighborhood? You'll know with Spyier.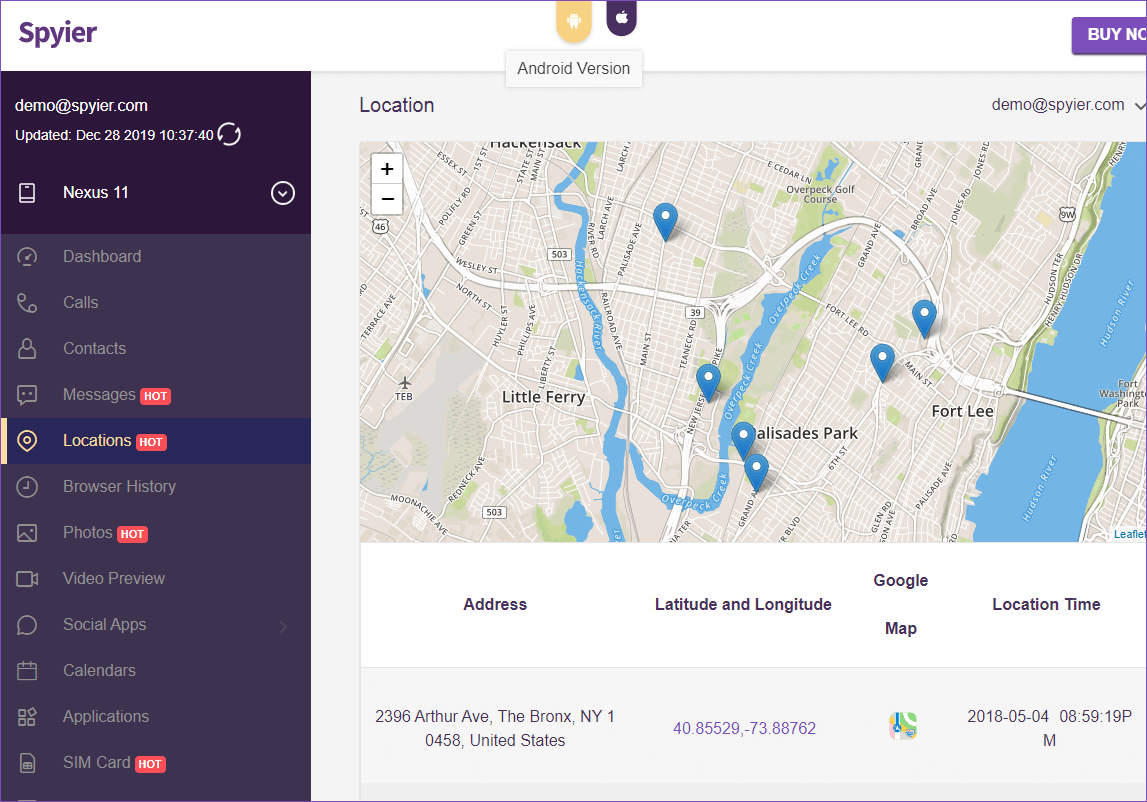 Receive an Alert When They Cross a Forbidden Zone
Spyier also gives you the ability to set up a geofence. This can be a very handy feature for parents, employers, and people in relationships. What's a geofence? It's a circular zone you can mark on a virtual map. Whenever someone enters this zone, you'll be notified. If the target leaves the zone, you'll get a notification too. Here are some examples of how you can use the geofence feature:
You can put up a zone around your child's school. Spyier will track their cell phone and if they leave school, the app will send you a notification. If this happens during school or virtual class hours, you know something is wrong.
If you put a zone around your spouse's workplace, you'll be notified when they enter the marked zone or if they leave it. If they leave work early but don't tell you, they could be cheating.
You can't realistically log in to your browser and track someone 24/7. With the geofence feature, however, you can automate most of the tracking.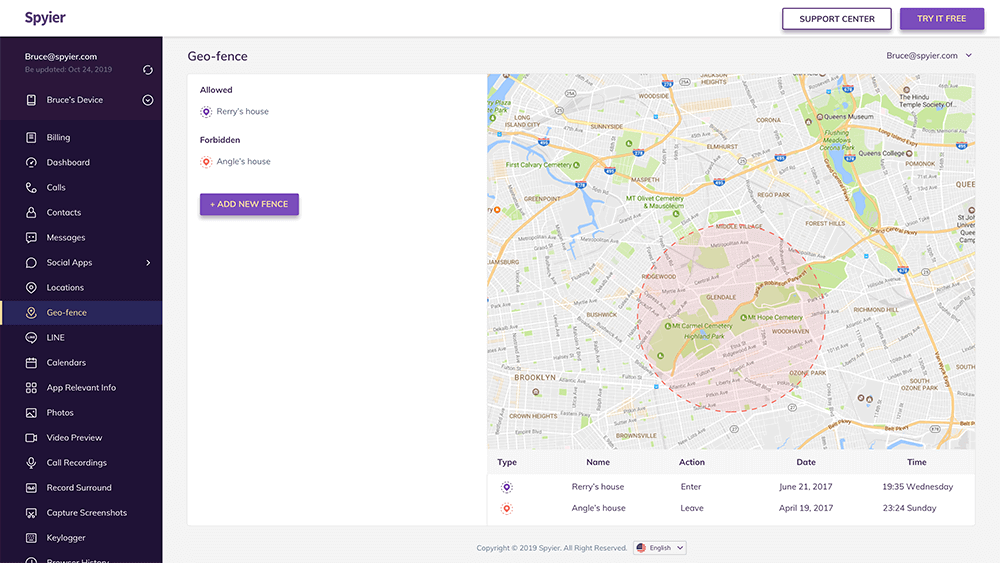 Why Spyier is the Best Covert Location Tracker Around
There aren't many reliable cover cell phone trackers on the market. We think Spyier is the best of the bunch. Here's why:
1. Spyier's GPS phone tracker feature works without root or jailbreak
Most phone trackers only work if you root or jailbreak the target device. Rooting and jailbreaking may get you caught. Also, these processes void the device's warranty. Sometimes they cause data loss. Did we mention they're hard to implement? Fortunately for you, Spyier is advanced enough to work without root or jailbreak. It's one of the only spy apps in the market that works without root or jailbreak. You can use the app to track a cell phone on stock Android and iOS devices.
2. You can set up the mobile location tracker app in a heartbeat
You don't need any special technical skills to install Spyier and start tracking the target device's location. Spyier is super easy to set up and install. You don't need any special skills, as we mentioned before, nor do you need to root or jailbreak the target device. You can set up Spyier from your web browser. Once the app is installed, you can start tracking the target device within minutes. It's super-easy, safe, and convenient.
3. The cell phone tracker is trustworthy
Over a million people use Spyier's cell phone tracking feature. Parents, people in relationships, and employers in 190+ countries swear by the app. You can trust Spyier to offer you your money's worth. The app is 100% genuine and has a great reputation.
4. You don't compromise your privacy
You can use Spyier without worrying about the safety of your personal data. At no point is your privacy compromised. The app doesn't store any of your data on its servers, nor do the developers have access to your personal data. With other spy apps, there's no guarantee your personal information will be safe. Many non-verified apps steal your personal data or are viruses in disguise.
5. Access features in addition to cell phone tracking
Spyier is more than a GPS phone tracker. It's a full-blown phone monitoring solution. The app allows you to read messages, check social media activity, view phone call logs, access the media files, view installed apps, check notes and emails, and much more! If you're worried that someone close to you is lying to you, you can use Spyier to find out the truth.
6. You can track phones without going broke
Finally, Spyier allows you to track a cell phone without emptying your wallet. Compared to most GPS phone trackers, Spyier is affordably priced. You pay only about as much as a DVD to use Spyier for a month. Spyier also comes with a discount if you want to monitor multiple devices. Want to learn more about Spyier's various features? Take a look at the feature list here! Also Read: How to Track A Phone Number: A Definitive Guide
Part 2: How to Track A Cell Phone Location Without Them Knowing
What do you do if you want to track someone's cell phone number without them knowing? You could use Spyier. If you want an alternative solution, however, we suggest Spyic. Spyic is a top-rated phone monitoring app. It has a stellar reputation and is used by people from all walks of life. The app has been featured on major platforms such as BBC, TheGuardian, and CNET.
Powerful Phone Location Tracking Features
Spyic offers handy location tracking features:
You can track someone's GPS-based location.
The app logs the device's movement history and offers address details.
You can track their SIM card related information like phone carrier network and network-based location.
You'll be notified if the person switches their cell phone number.
App to track a phone without them knowing
There aren't many mobile phone location tracking solutions as stealthy as Spyic:
1. You can set up Spyic without getting caught
Setting up Spyic takes only a few minutes. You won't need to root or jailbreak the target device. For iOS devices, you can set up Spyic remotely without touching them. If you're installing Spyic on an Android device, you only have to access it physically for 3 minutes. Afterward, you can download and install the Spyic app on it. Afterward, you can hide the app. Then you never have to touch it again.
2. Spyic works in secret
Spyic can track the target cell phone without the owner's awareness. The iOS version of Spyic is a web-based app that works without software. As a result, it can't be detected. The Android version is a hidden app that works in the background.
3. Spyic is a reliable and safe cell phone tracker
Finally, you can trust Spyic. The app has a good reputation. It's been verified by countless users. Your personal data is also safe and never stored on the app's server. You can use Spyic to monitor the phone's movements at no risk to yourself. Don't Miss: How to Find Someone's Location by Cell Phone Number
Part 3: Track a cell phone online
If you're looking for a way to track a cell phone online, you have multiple options. The three most popular ones are, arguably, tracking a phone with Google Maps or Apple's Find My, using a reverse phone lookup service, or taking advantage of a phone monitoring solution.  When you know someone's Google account credentials or have access to their iCloud details, you could potentially track them remotely. You can simply use Google Maps' history feature or use Apple's Find My iPhone service from your web browser.  Reverse phone lookup services allow you to enter the number of the phone user and then track it via your web browser. You can find the phone's approximate location and get details about the phone owner. However, it isn't real-time tracking.  If you want to track a phone in real-time and discreetly, you can use a phone spy app. Such a solution sends tracking data to you via the internet. You will be able to track anyone's phone long-term conveniently from any phone or PC. 
Part 4: How to track someone's phone
How can you track someone's phone? It depends on whether you want to do it with their permission or without. If they permit you, you can call their carrier and sign up for a family-tracking plan. You will know where they are at all times.  If you don't have their permission – or need it in case you're their parent – then you can track their phone in stealth mode with the help of an appropriate phone monitoring solution. These solutions send data to your web dashboard or another app interface.  The app we suggested in part 1 is a good option. Not only does it work hidden, but it also comes with multiple parental control features. If your kid is giving you the slip, they won't be able to anymore if you use this app. 
Part 5: How to track a cell phone
You've probably seen how police track a cell phone in movies and TV shows. They "trace" the number back to its location. Yes, this technology is real and it exists in real life. However, it's restricted to the government. Common people can't make use of the technology.  Fortunately, you can still track a cell phone, without technical knowledge, skills, and special equipment. If you have the phone user's permission, you can both use a location-sharing app and track each other's locations.  If you wish to track a cell phone without the user's awareness for personal reasons, then you can use a spy app with stealth mode. These apps can track a phone or tablet long-term. The right apps are almost undetectable and give you periodic location updates. 
Part 6: Find the location of a cell phone without them knowing
At times, you may need to find the location of a cell phone without the user knowing: 
You're a parent trying to keep tabs on a rebellious child. 

You're an employer trying to keep an eye on a rebellious employee. 

You want to know if your partner is cheating. 
You can find the location of the user's cell phone without them knowing by setting up a spy app, as mentioned in part 1. These apps are undetectable and offer periodic location-related updates. They are also easy to set up and require no technical skills or equipment.
Part 7: Frequently Asked Questions
💪 How do I track a cell phone for free without the owner knowing?
There are many free cell phone trackers on the market. However, note that these free cell phone trackers and location sharing apps aren't discreet. That means you can't use them to follow someone's movements in secret. The genuine, stealthy location tracking apps are paid solutions. It takes time and money to build and maintain a spy app. If you want to track a phone in secret, you'll have to pay for it.
📱 Are phone tracking apps expensive?
That depends on the app in question. There are many free GPS tracking and location sharing apps. But the ones that are capable of tracking a cell phone in secret are moderately expensive. The apps we mentioned in this list – Spyier and Spyic – are affordable in comparison to most of the solutions. You only pay about as much as a small lunch to track a single device's movements for a month.
🕵️ Can I legally track someone's phone without their permission?
It depends on your location. Check your country's privacy laws. Location tracking apps like Spyier are 100% legal. But you may not be able to use them legally in all cases. Parents in the US are allowed to legally track their kids without permission. Employers may need permission to track employees. Countless people spy on their spouses without permission even though it's illegal.
🧐 How do cell phone trackers work?
Most cell phone trackers use the phone's GPS to track the phone. Some advanced spy apps can also track the cell phone text messages, the device via the WiFi, and the SIM card. Usually, it's enough to be able to track a cell phone via GPS.
📋 Can I track multiple devices at once with a single cell phone tracker?
Most cell phone trackers support multi-device tracking. If you use Spyier, you can track multiple phones and iPads. However, note that you'll need either the Family or Corporate license. The Premium license is only valid for a single registered device.
Conclusion
Now you know how to quickly and easily track a cell phone location without them knowing with Spyier. The app is packed to the brim with useful features and is easy to set up. You can use the app from your smartphone or PC conveniently.  
This post is also available in: Deutsch (German) Español (Spanish)