This happened a few months ago… I had to go for a couple of weeks away to attend a tech conference and take some seminars. Therefore, I could only talk with my girlfriend at night through WhatsApp.
However, this made me notice that she used to be online at odd hours on WhatsApp for long hours. This was fishy since I knew she talks to all her friends on call.
When this kept happening for a few days, I decided something had to be done. Therefore, I began reading her WhatsApp messages from there and then.
What I found was shocking; however, still not as bad as I had expected. Yet, it made me realize how WhatsApp can be a risky thing for a relationship. Obviously, you cannot avoid using WhatsApp in today's world where most of the communication takes place there.
This is why I decided to help out all fellow men and women like me who want to make sure that their relationship is safe by reading someone's WhatsApp messages. Therefore, here is a complete guide to read WhatsApp messages without being caught.
You can use these methods on your partner's or your child's phone and I promise you will be thanking me later…
Part 1: How to Spy on WhatsApp Messages Without Target Phone
Spying on WhatsApp messages is not as hard as you thought it to be. In fact, once you get the hang of it, you will be surprised at how simple the whole process is.
And the best part is that I will be telling you how to spy on WhatsApp messages of iPhones as well as Android phones. There will be no smartphone user that will feel left out (unless you use a Windows phone or a blackberry, in which case your first priority should be to upgrade your phone to Android or iOS).
Therefore, without making you wait for this amazing method, here it goes…
1.1  Spyier- No Secrets Anymore
Spyier is the world's best WhatsApp spy app that can give you the WhatsApp messages of both iPhones and Android phones within minutes. The best part is that it can accomplish this without the other person finding out about it. If you are using Spyier, only you will know!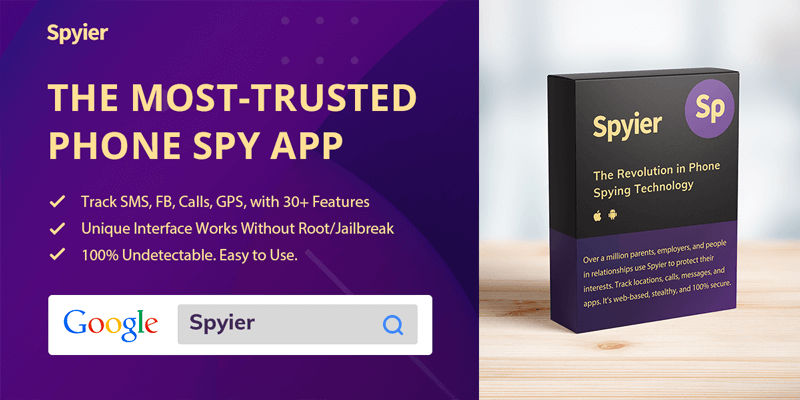 When WhatsApp bragged about all their security measures like encryption codes and whatnots, I was confused at first if Spyier would actually work. However, when I started using Spyier, it didn't take Spyier any more than five minutes to put those measures to waste.
However, I would not blame WhatsApp's security for that. Spyier utilizes phone monitoring features to make sure that you get to see all that data that resides in the other person's phone (Android or iOS).
Therefore, its basic action is that of a phone spying software, which is a good thing because it allows you to spy on way more than WhatsApp.
However, keeping our focus on WhatsApp, it is interesting to see all the data that Spyier provides you when it comes to someone's WhatsApp account. You get to see their messages (both sent and received), the sender and receiver information (along with the phone numbers), and even the images that the user has shared on the WhatsApp.
I wouldn't say that Spyier is the only app to read someone's WhatsApp messages. However, undoubtedly it is the best for the same. The reasons for these are plenty. I will mention some of them here:
Why Use Spyier To Read WhatsApp Messages
Here are a few things that make Spyier the absolute choice when it comes to spying WhatsApp conversations:
Online Spy- No App Downloads
First things first, when you are using Spyier, you won't have to download any application on your phone or computer in order to read WhatsApp messages. Spyier works through any web browser that you already have. You just need to head over to Spyier's Free Live Demo.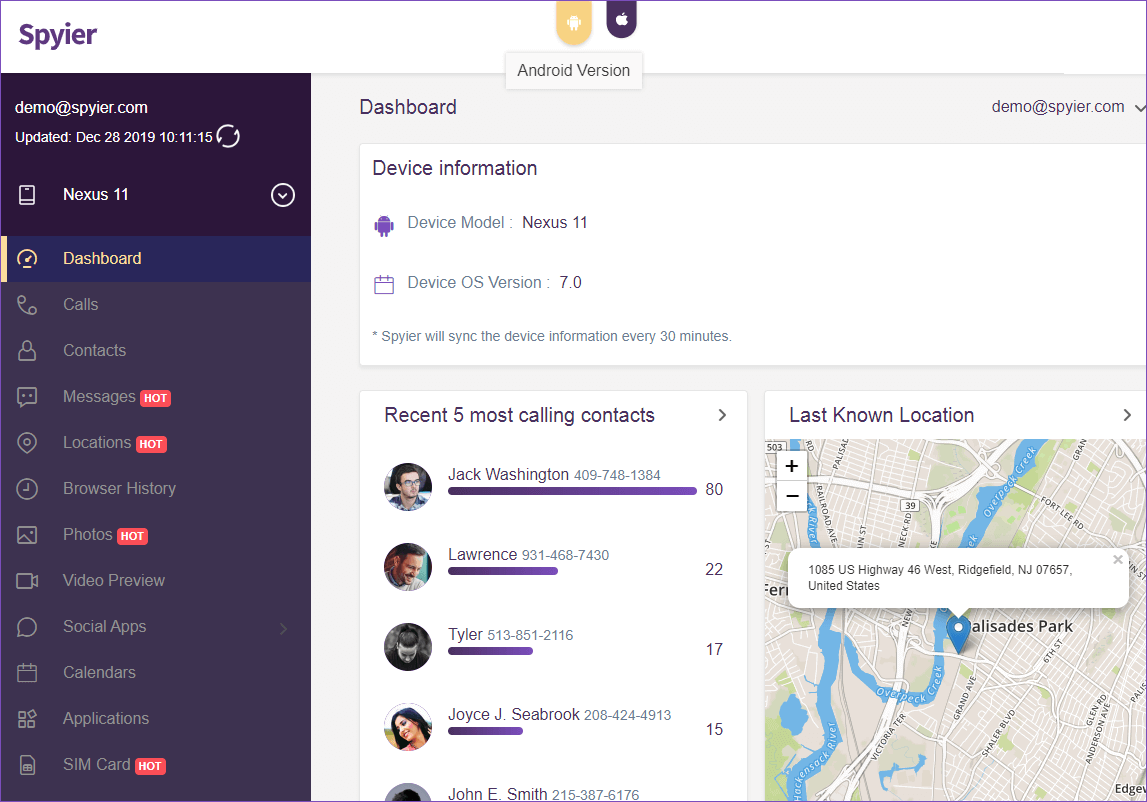 No Root or Jailbreak Needed
Rooting (for Android) and Jailbreaking (for iPhone) is the worst thing that you can do to a smartphone. It not only compromises the security of a device, but also puts it through innumerable risks.
This is why Spyier doesn't require you to jailbreak or root the target phone in order to spy on their WhatsApp conversations. This is unlike any other WhatsApp spy apps and definitely a sigh of relief.
Data Privacy
When you are spying on someone's WhatsApp, it is obvious that they are an important person to you. Therefore, you must make sure that their data is safe. Spyier makes that happen.
It has top notch data security measures that make exploiting the app impossible. In fact, it does not store any personal data on its servers. Therefore, even Spyier's own team cannot view it.
Additional Features
If you are looking for a WhatsApp spy, you got the best of them in Spyier. Additionally, Spyier has over 35 more features that you will be interested in. These enable you to view the data of every other app on the person's phone. And remember, all that is without their knowledge!
I understand that this might be a bit hard to believe for you. This is why Spyier gives you the option to check out this free Spyier demo. You won't have to register for it or download any app!
Read WhatsApp Messages Without Accessing the Other Phone
Spyier's iOS solution allows you to read WhatsApp messages of the target iPhone without even accessing it once. This is what makes the minds behind Spyier perfect geniuses.
When it comes to iOS devices, each device comes preinstalled with the iCloud backup feature out of the box. Therefore, it is assured that the person who you wish to monitor has this feature too.
This means that all their data gets synced to the iCloud servers. While a normal person cannot extract any relevant information out of this backup, Spyier's complex algorithms can.
Therefore, all you have to do is verify the iCloud credentials of the target user to Spyier and Spyier will do the rest. There is nothing more for you to worry about. Spyier will provide you with the target iPhone's WhatsApp messages right on your web browser window!
And remember that the credentials that you provide are not even stored on Spyier's own servers. All the processes are automated; therefore, you can be assured that only your human eyes will fall on that data or the credentials.
Spyier's Android solution works a bit differently due to the different structure of Android devices. Therefore, I will tell you all about its iOS solution in this part and we shall discuss Spyier's Android solution in part 2. If you want to track WhatsApp messages of an Android phone, you can skip to part to directly.
However, if you are in a hurry, you can check out the free demo too. It will show you the working of both Android phones as well as iOS phones.
1.2  How to Spy WhatsApp Messages Without Accessing the Phone
As I just explained, Spyier's iOS solution can give you the WhatsApp chats of a person without needing you to access the target phone even once. You can use it in the following steps:
Step 1: You'll need a monthly subscription to install Spyier. Take a look at the various plans on the pricing page and choose an appropriate one. The Premium plan allows you to access WhatsApp messages on a single device for an entire month.
Make the selection and initiate the payment process. In the pop-up box that appears, enter your email ID. This should be an email you're using actively. Then finish making the payment.
Step 2: After you make a payment, you are automatically redirected to a purchase confirmation page. This page generates a unique, random password for your account. You can, of course, change it later. 
Further, you will receive an email with your account details and some important information, like links to installation guides. If you ever get stuck, you can refer to the guide. 
When you are ready to configure Spyier for iOS, click on "Start Monitoring" to launch the Setup Wizard.
Step 3: Verify the iCloud credentials of the target iPhone.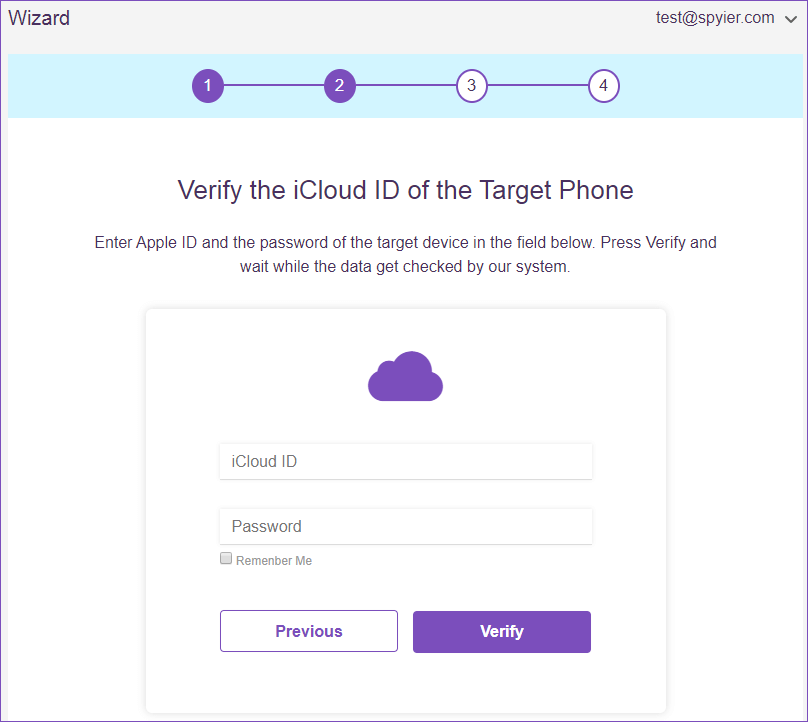 Step 4: Hit on 'Start' and you are ready to monitor the target device.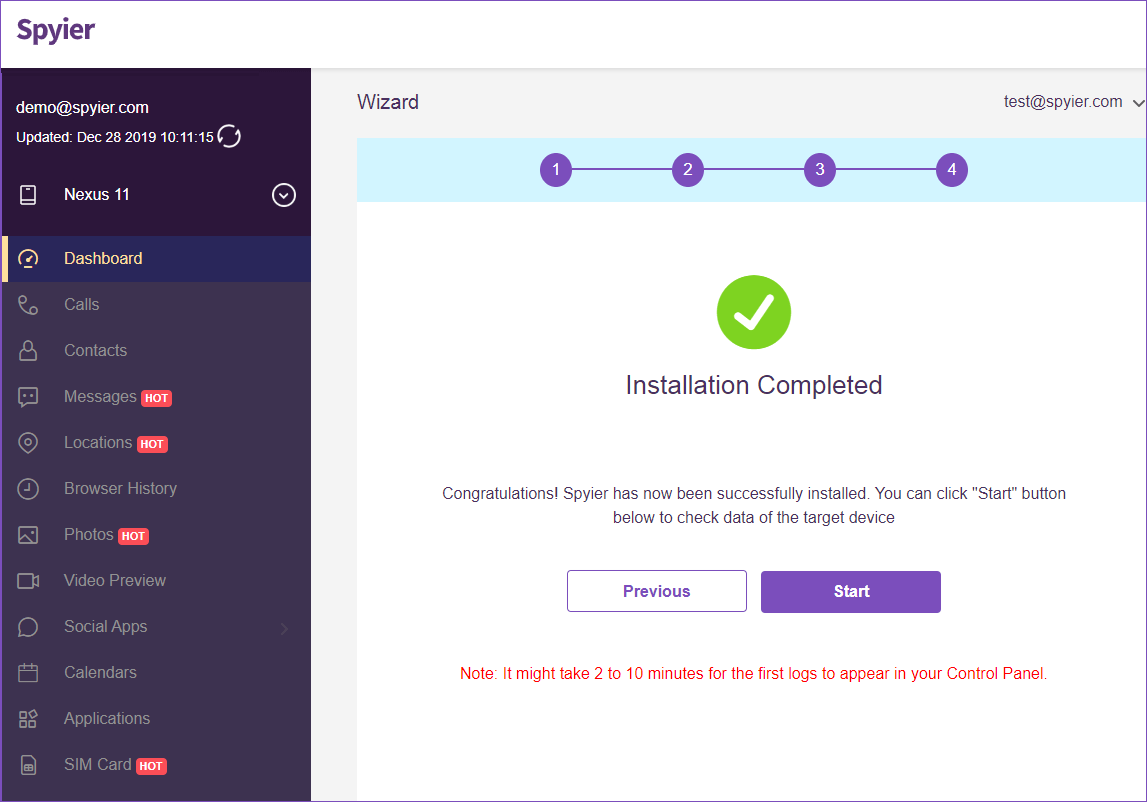 Once you hit on Start, you will be taken to your dashboard. You can find all the features on the left hand side as single click tabs. In order to use any feature, you just have to head over its tab and click on it.
The WhatsApp Spy of Spyier can be found under 'Social Media Apps'. You will also find other social media platform's spy apps here too.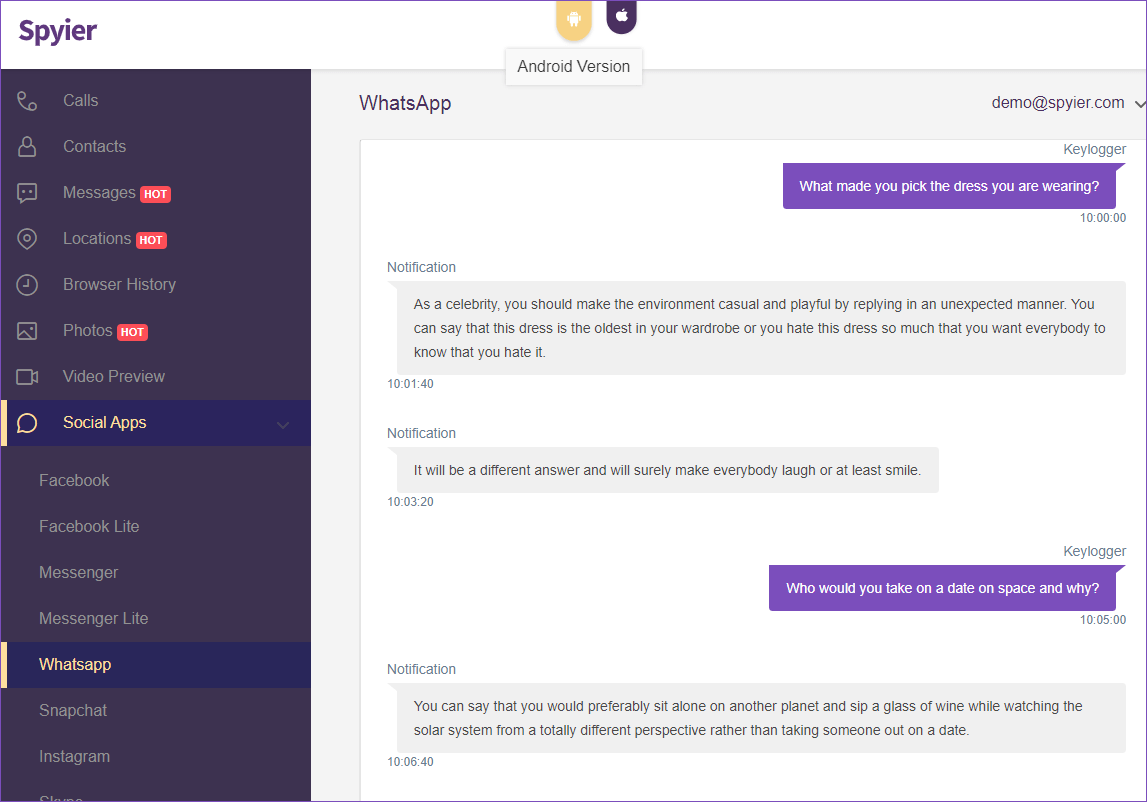 Part 2: How to Read Someone's WhatsApp Messages Without Them Knowing
When it comes to Android devices, you definitely have to install a target app on the target phone to spy on its WhatsApp messages (or anything else for that matter). This holds true whether you use Spyier or any other spy application.
In absolute terms, any app no matter how good it is cannot spy on an Android phone without installing any spy app on that phone. If an app claims to spy on an Android phone in any way, that is a false claim and cannot be possible.
However, while there is no workaround to this requirement, there is a way that makes sure you can read WhatsApp chats on Android phone without getting caught. Read on to find out what it is…
2.1 Spyier for Android- An App That Redefines Stealth
Spyier for Android is uniquely created so that you can spy on WhatsApp chats of ANY Android phone and the other person has not even the slightest idea about it.
No, I am not saying that you won't have to install the Spyier app on the target Android phone. This thing is mandatory.
However, Spyier's Android spy app is uniquely created so that you can read someone's WhatsApp chats and the other person will have no idea about it, even when Spyier's Android spy app is installed on their phone. Here's how:
How Spyier's Android Solution Works
Spyier's Android spy app has to be downloaded and installed on the target phone. However, the app size is even smaller than 2 MB. Therefore, it installs within a second (talk about lightning fast).
Once you have installed the app, the app icon will vanish from that phone's app menu like nothing ever happened. Only you can bring open that app on the target phone with a secret code (not that you would have to ever again).
The app runs quietly in the background without even providing any notifications. To top it off, it does not even consume any battery at all.
And when you feel like uninstalling this application, you can do it remotely through the Spyier's web dashboard. You won't have to EVER access the target phone again after the first time.
Sounds good, right? Well, it looks even better in action. You can check out Spyier's Android WhatsApp spy in action right here >>
2.2 How to Read WhatsApp Messages of Other Number
Reading WhatsApp messages on an Android phone is just as easy as on an iPhone. You can do it in these three easy steps and with just one time access to the target phone.
Step 1: To use Spyier for Android, you need a monthly subscription. Head over to the pricing page to view the various plans. With the Premium version of the app, you can read someone's WhatsApp messages for a month. 
When you click on the "Buy Now" button a pop-up box will appear asking for your email ID. Enter your credentials and make the payment. 
Step 2: The payment confirmation page will show up. Here, you will receive your unique Spyier password, which you can change afterward. 
Further, you also receive an email from Spyier with your login details and some important information. Before continuing with the installation, it's a good idea to read the Android Spyier installation guide to learn how to prep the target phone.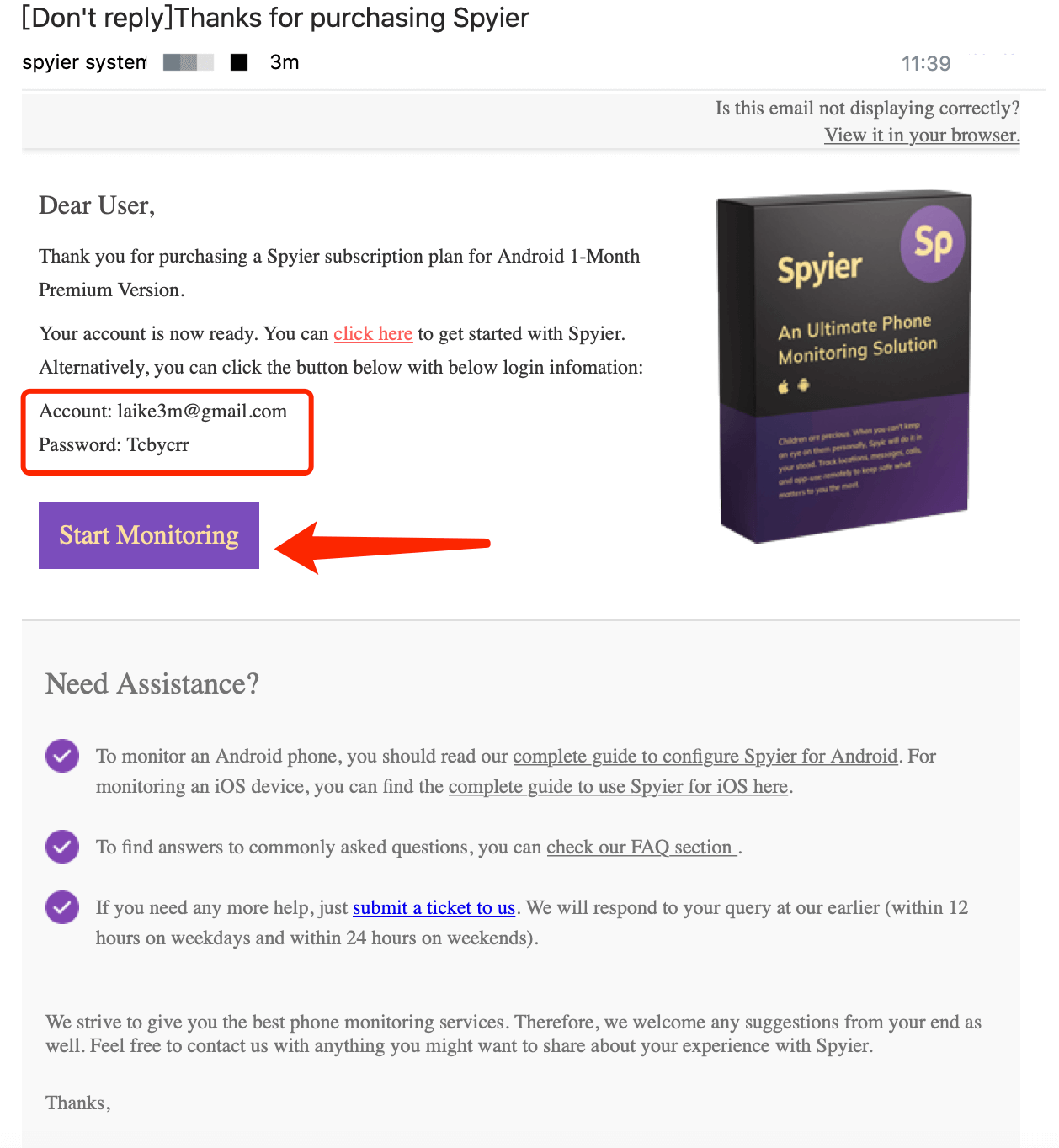 When you're ready, click on "Start Monitoring" and follow the on-screen instructions.
Step 3: Download and install the Spyier app on the target phone from the link mentioned on the screen.
Step 4: Click on 'Start' and you are ready to monitor the target Android device.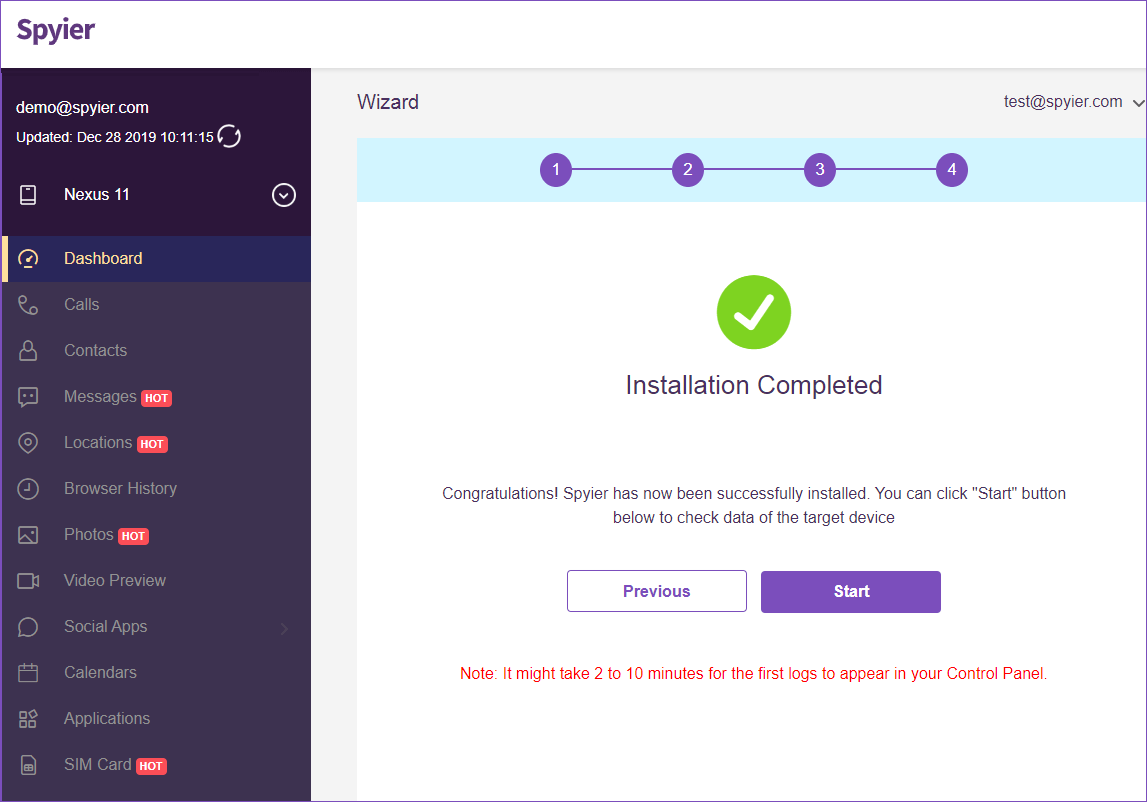 Once you hit on 'Start', you will be taken to your dashboard. You can use any feature from its tab on the left hand side.
To use the WhatsApp Spy, you can go to 'Social Media Apps' tab, and under it you will find the WhatsApp monitor of Spyier.
What else could you possibly expect from a WhatsApp spy? There is hardly any other that comes this close to perfection.
The only shortcoming of Spyier that I see so far is that it is not going to make you coffee while you read the WhatsApp chats of the target phone!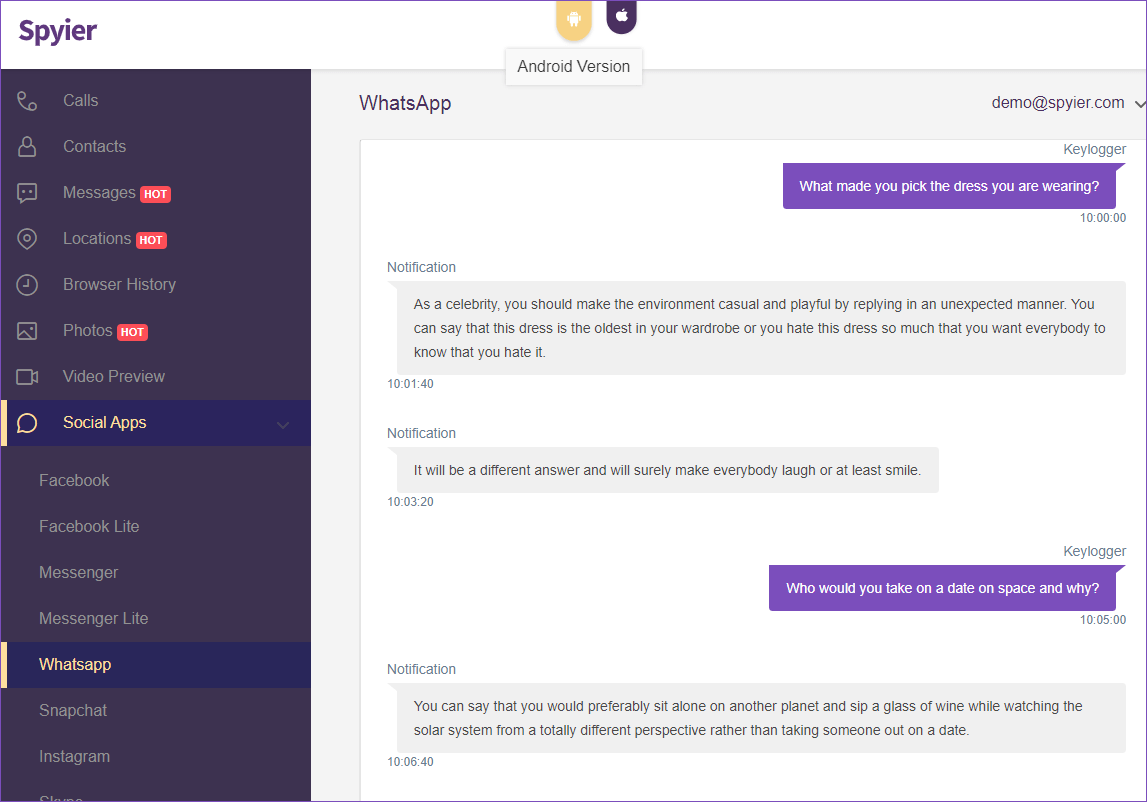 Part 3: How to Read Someone's WhatsApp Messages Without Their Phone
Of course, no matter how good something is, life does not feel that good if there are no options. This is why I am going to suggest you another way through which you can read someone's WhatsApp messages without accessing their phone (although it is very unlikely that you will need another way).
3.1 Spyic for iOS- You Never Thought Spying Could Be This Easy
If you think that Spyier is a simple way to read someone's WhatsApp chats, wait till you check out Spyic . Spyic is the most used WhatsApp spy app in the world with millions of users spread globally.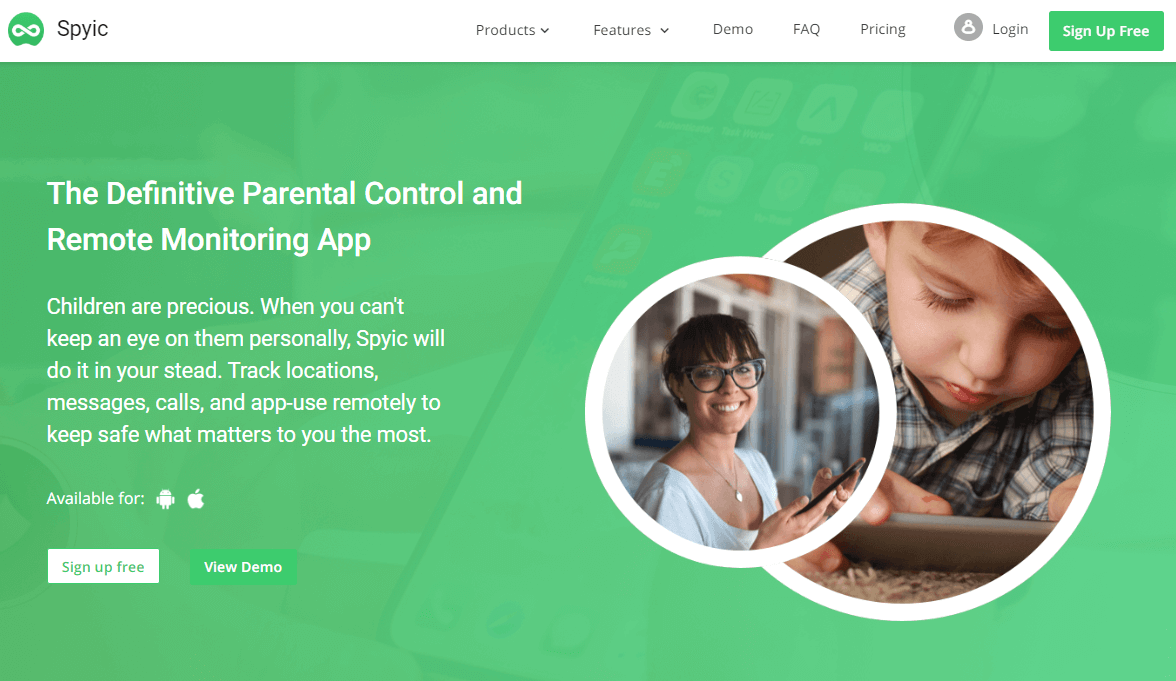 In fact, Spyic enjoys so much fame that I have even read great reviews about it in tech media outlets like PCMag, TechRadar, etc. And this popularity is rightly deserved.
Spyic offers a simple way to get into someone's phone and monitor it. In fact, this monitoring app is so good that for iOS devices, Spyic can provide you with every bit of data of the target phone without you having to touch the target phone even once!
If that doesn't make things awesome, what will? If you think that there would be a catch, there isn't. Spyic offers all of this without requiring you to jailbreak the device. And after all that, it is still able to offer all these services at the lowest price in the market.
If you think that Spyic is perfect (why wouldn't you), you can get Spyic here right now.
Part 4: How to Hack into Someone's WhatsApp and Read Their Messages
While we read about apps that have a WhatsApp spy module already inbuilt, at times there is much more to be done. A WhatsApp spy module can give you the chats of the reader, the sender and receiver information, the text timings, and whatnot. However, one might at times feel that there is something missing (if one is a perfectionist).
And if you are someone of this kind, the feature that I am about to tell you is going to interest you…
4.1 Spyier's Keylogger- Taking WhatsApp Hacking to Unimaginable Levels
We all know that person who tends to type a message, then delete it, and then send something else. Well, one is always curious about what they deleted.
What if I told you that there is a way through which you can see even the deleted messages of a user? In fact, you can see the things they typed and deleted even before they sent it!
You can even check out their WhatsApp activity and learn the person's searches on WhatsApp. And all this is achieved through the keylogger feature which is present in both Spyier and Spyic.
Through the keylogger, you will come to see every keystroke that the user has made in every app on their phone (whether it is Android or iOS). Don't worry, these keystroke logs are arranged by application in which they are made, so you don't have to go through a whole lot of mess.
So if you wish to read the WhatsApp key logs of a person, all you have to do is head over to the keylogger tab of Spyier or Spyic. There you will find a list of applications. Look for WhatsApp there and click on it.
Viola! All the key logs are right in front of your screen.
Endnotes
If you were looking for a way to read someone's WhatsApp messages, I think it is safe to assume that you got way more than you expected. All this information is a definitive guide to spy on WhatsApp messages and it is assured you will need nothing else.
However, read this guide won't do you any good unless you try out these methods for yourself. After all, imagine all the chats that can be there in your partner or your child's phone.
This post is also available in: Deutsch (German) Español (Spanish)