Daughters are very dear to their parents. As a parent, you do everything you can to raise them and give them a world of happiness. You are very protective of them in their initial years and keep a close watch on their friend circle.
However, you cannot keep your daughter with you all the time, no matter how much you wish. There comes a day when she has to step out of your comfortable home for education, job, relationship or marriage.
Thanks to modern technological innovations, gadgets like a smartphone enable you to talk to her instantly. There is a downside to it as well. People with evil intent can breach the protective cover you have around her and get into her company.
This is a worrying thought for a parent. You probably want to keep a track of her phone and know who is she interacting with and where is she at any given time. We are not surprised if you are searching the net for how to track my daughter's phone for free.
Parents around the world are as worried as you are. Once you run an internet search for how to track my daughter's phone without her knowing, you will get millions of matches. Filtering out the right match is the key, as most of those sites and apps are fake.
How to Track My Daughter's Phone Without Her Finding Out?
There are many websites and apps over the internet that claim to be the best cell phone tracking app. The number of choices available might overwhelm you, which is probably the reason you are reading this.
Our team of technical experts has picked out some of the most popular tracking apps available in order to save you the effort. You should never have to compromise on the data security while using an app to track your child's phone.
We have shortlisted the following non-negotiable features that parents expect from a phone tracking software for tracing their daughters:
Brand Reputation
Security
Dependability
Resilience
Trust
Minimal Installation
Stealthy Operation
This might look like an unrealistic Christmas wish list rather than salient features of a software. However, we have made sure we found a spy app that has all these features, and many more!
Meet Spyier – The Best Child Monitoring App to Track your Daughter
Spyier has established itself as a leading software brand around the world. Its presence spans more than a decade and it has already become the first choice spy app for more than 10 million customers in over 190 countries.
1.1 Why should I use Spyier? Is it reliable?
As a layman user, you might be wondering about Spyier's capabilities and the brand's value. Your concerns have already been answered by a number of independent tech reviewers and columnists from around the world.
Spyier has been comprehensively covered by some of the world's most popular technology websites such as Mac World, BBC, The Wall Street Journal, etc. It's stellar performance and top-notch security features have made it an absolute hit amongst users.
Now that your concerns about Spyier's global reputation are addressed, let us highlighted its best feature that is the icing on the cake. It works in the background, occupies very little space and is not easily detected – almost to the point of being invisible.
This means once it is working on your daughter's phone, she will never know a thing about it, whereas you would be able to trace her calls, her messages, location, and a lot more.
Have a look at Spyier's website to find out its wide range of phone track features.
Whether your daughter is using an Android phone or an iPhone, Spyier has you covered.
1.2 How to Track My Daughter's Phone Location Without Her Knowing?
You would have seen a number of tracking apps that are very complicated to install and even more cumbersome to use. They increase the risk of being detected and post a threat to your own security.
This is where Spyier has stood out for years. Let us have a detailed look at its installation steps for Android and iPhone that are easy to follow for a layman.
Using Spyier to Track My Daughter's iPhone Location Without Her Knowledge
Apple devices are sophisticated and it is not easy to break through them. The iPhone tracking apps available in the market require you to jailbreak the target phone and then follow a complex series of installation steps that are beyond a common man.
This is where Spyier iPhone tracking app comes up on top of every other piece of software available in the market. Here are some of its salient features:
No jailbreak required – You do not have to risk your daughter's phone by jailbreaking it. Spyier does not require it at any stage.
No Software Installation Required – You do not have to install any software on your daughter's iPhone for using Spyier. This gives you a clean, risk-free solution that is not offered by any other market player.
Easy to track – You can track your daughter's iPhone from anywhere in the world. You are not required to install anything on your phone either. Just use your favorite browser to log into your Spyier account and watch the magic unfold!
Here are the easy installation steps required to use Spyier:
You'll need a Spyier subscription to use the app. There are a few options to choose from. You can monitor your daughter's iPhone or iPad for a month with the Premium plan.

Visit the pricing page for more details

. 

Once you choose the plan and click on "Buy Now", a pop up window will appear. This is where you are required to enter your email ID. This then gets associated with your account. 

You will be redirected to the payment confirmation page.Here, you will receive a random, unique password for your account. This password is accessible only to you, but you can change it later if you wish.
The system will also send you an email with your account details and some extra information, like links to Setup Guides and FAQ on the app. When you are ready to proceed, click on "Start Monitoring" and follow the instructions.
You should get the installation completion message now, as per the screenshot below. You are now all set to start monitoring your daughter's location and other details.
Now your account is fully set up and you have started tracking a cell phone without them knowing. Just choose your option from the home screen dashboard and you will get all the details. For tracking your daughter's location, you have a dedicated location tab which looks like this: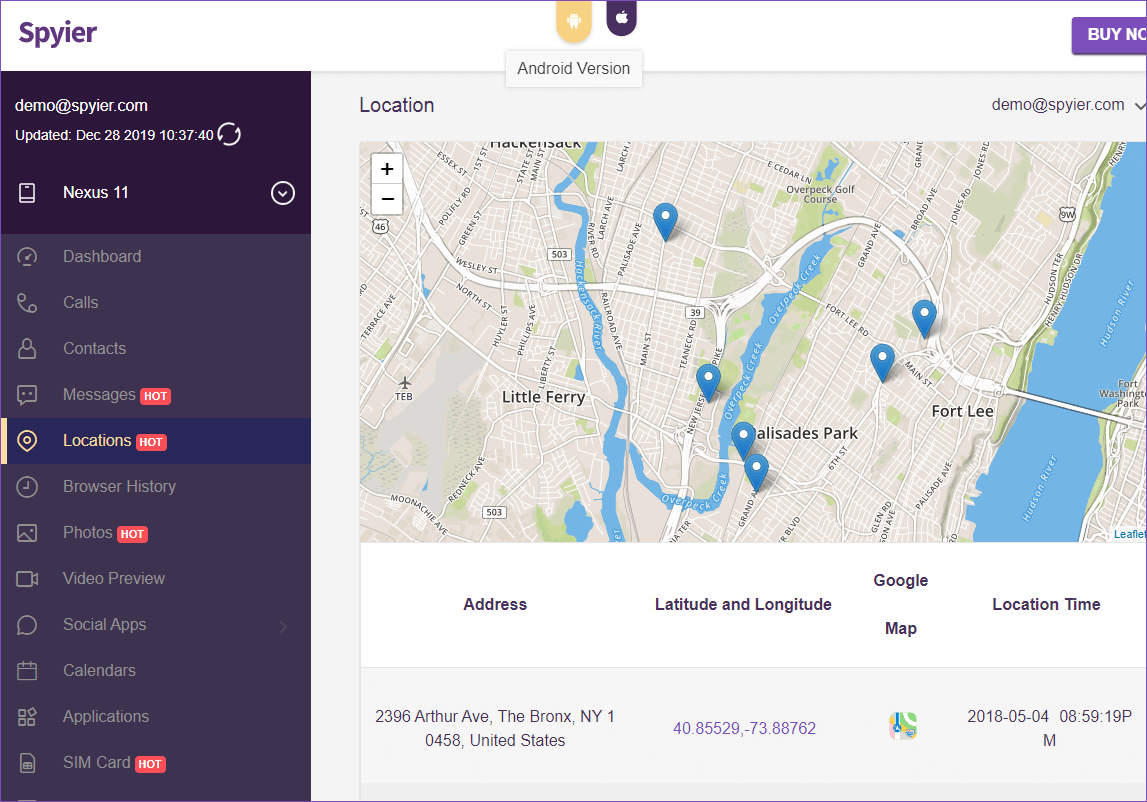 We know you might find it hard to believe but trust us. Spyier has really simplified monitoring your daughter's iPhone location and other activities.
Using Spyier To Quietly Monitor My Daughter's Android Phone
Just like with iOS, Spyier has a solution for Android phones as well. There is one additional step, though the process is as simple as it was for the iPhone.
You need to install a small piece of software on your daughter's phone. It takes less than 2 MB space and operates quietly in the background, without ever being noticed. Being a small app, it does not drain the target phone's battery, making it the ideal app for silent monitoring.
Here are the steps that you need to follow to install Spyier on your daughter's Android phone and monitor every detail without her ever knowing about it:
If you wish to monitor an Android device, you will need a monthly plan.

Go to the pricing page and choose a suitable one

. Using the Premium plan, you can monitor your daughter's Android phone or tablet for a month remotely. 

Before you pay, you will be asked to enter your email ID. This will become linked to your account, so use an active one. Then complete the rest of the process.

After your payment is successful, the payment confirmation page will appear. Your randomly-generated password will be given to you here. This password is safe to use and only accessible to you. You have the option to change it later. 

You will also receive an email with information about the app, your login details, and some additional instructions. There will be a

link to the Android installation guide

, we recommend referring to it if you get stuck. 

When you are ready to finish the rest of the installation, choose "Start Monitoring".

Install a small app, less than 2 MB in size, on your daughter's Android phone to start tracking her phone's location, messages, and many other features.
Login to your Spyier account from anywhere in the world and start monitoring your daughter's location
For your convenience, Spyier has put up an easy to follow installation guide that will help you get started.
Now that you have a top-rated, secure monitoring app at your disposal, you must be confident and relieved about your daughter's security. No matter where she goes, you could track her cell phone and have an eye on her and the best part is – she would never ever know about it! If you are a mom reading this article and searching for a job at the moment, please see the the current openings at Jooble.
This post is also available in: Deutsch (German) Español (Spanish)