In today's day and age, one thing becomes clear; the way we communicate has been completely transformed in the past couple of years. Namely – through social media such as Snapchat.
But as a parent, modes of communication like Snapchat aren't always joyful; sometimes, they are also a cause for concern.
This is the first era in the history of humankind where children could, without supervision, instantly talk to anyone all around the world! Sometimes, it's completely logical for a parent to wish to monitor Snapchat for a child's suspicious activity.
So, how can parents monitor Snapchat – and is that possible in the first place? Don't worry, we're here to explore this question and all the possibilities in great detail!
Part 1: Can Snapchat Be Monitored by Parents?
If you're reading this, you're obviously wondering – can parents monitor Snapchat? Don't worry, we're going to put you at ease right away if you're a concerned parent; it's possible.
Heck, if you learn how to do it properly, it's even possible without your child having a clue as to what you're up to!
With that in mind, think about this – how do kids use Snapchat in the first place? Precisely – via their Android and iOS smartphones, which enable them to use the Snapchat app.
And while seemingly obvious, this is an important piece of information. Because the way you're going to monitor your child's Snapchat is through a Snapchat monitoring app!
There are phone monitoring options on the market, which will allow you to obtain your child's Snapchat username and password.
This will not only allow you to log into their account, but also to track every single one of their activities on other social media platforms as well!
However, in order to do that – you'll need to pick the right smartphone surveillance app.
Part 2: How Can I Monitor My Child's Snapchat
Even a cursory online search will tell you one thing – there is an abundance of Snapchat monitoring apps out there, which allegedly give you the option of view someone's stories on Snapchat without them knowing.
Many of them are also free – meaning they won't make a dent in your personal budget.
However, simultaneously – most of these apps don't really work. That's a reality you have to grapple with right away.
And among these, the free Snapchat monitoring solutions are particularly suspect. These are complicated apps, which take a lot of talent and man-hours to create. So, it's doubtful that anyone will be able to offer such an app for free.
In most cases, these apps are malware, or they just don't work at all. If you ask us – you'd be better off going with a tried-and-true phone monitoring app.
We're talking about the on that does have a price tag, but is also vetted and trustworthy. Considering that – we recommend you take a look at Spyier!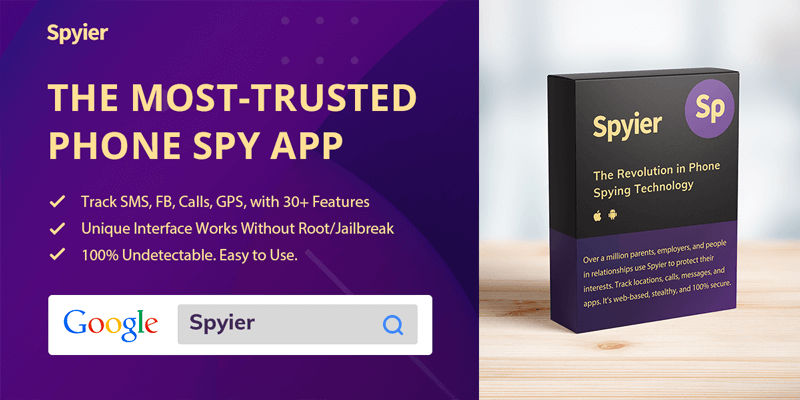 Snapchat Monitoring App
The question is – what is Spyier, and how does it work? Firstly – as you'll see after doing some online research, Spyier is a world-acclaimed phone monitoring solution.
Many trusted online publications like TheVerge, Digital Trends, Mashable, and Tech Advisor all agree that Spyier is a premium-quality app.
Most interestingly, this isn't strictly a Snapchat spy app. Although you can use Spyier to monitor Snapchat activity on the target device; it's an all-around, powerful smartphone monitoring solution.
You can use it to keep tabs on all sorts of social media platforms, along with the contents of someone's SMS messaging and even their GPS location!
The best thing about Spyier is that it's simultaneously powerful and simple. While it contains an incredibly all-encompassing set of surveillance features, you won't find it difficult to use.
Indeed, even someone with no tech background or particular knowledge about hacking will be able to set up Spyier and use it effectively.
Spyier Is Both Effective And Safe
So, how does Spyier manage to let you monitor your kid's Snapchat as if it were your own account? Obviously, these days, most people use phones with either iOS or Android operating systems.
And Spyier was designed with this in mind, as their surveillance features work on both platforms.
Also, while this phone monitoring solution gives you ample access to the target device – it won't require you to tinker with the phone too much, or make it more vulnerable to other attacks.
After all, this is your kid's device; you don't want to install any dangerous malware on it, or make it more susceptible to hacking.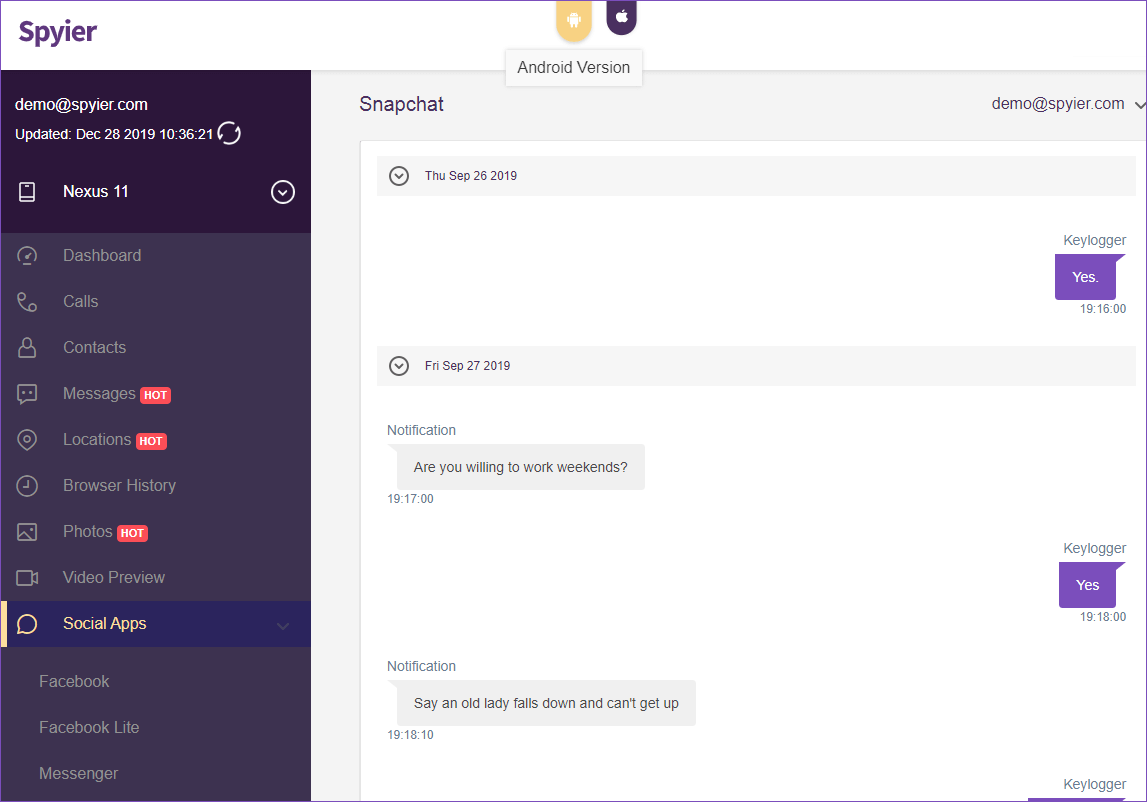 That's why Spyier was made to work without jailbreaking an iOS phone or enabling root access on an Android device.
Both rooting and jailbreaking do give you a wider range of options designed for phone designers and developers, but they also make the device more open to malicious hackers who might want to take advantage of the phone and your child.
Spyier has this in mind, so you won't need to do any of that; the phone will be just as secure as before. Plus, and perhaps even more important to you – your child will have no idea that you're monitoring their phone and Snapchat!
Spyier Stealth Mode – The Best Way to Get the Info You Need
Spyier is completely restrained and discreet, and the user of the target device has no way of knowing that it's there.
On iOS devices (most often the iPhone), you won't have to install any app in order to utilize Spyier for phone monitoring. Its phone tracking method is web-based, so your kid won't have any app to spot on their phone.
Conversely, you will have to use an app on Android target devices. But it's a small one, no more than 2MB – so the installation is quick and painless.
This combination of ultimate discretion and powerful features has led to Spyier's global popularity.
This app has more than a million users on a regular basis; from parents looking to monitor their kid's Snapchat, Facebook and Instagram, to a host of other uses. The app works in more than 190 world countries, so make sure to try their live demo.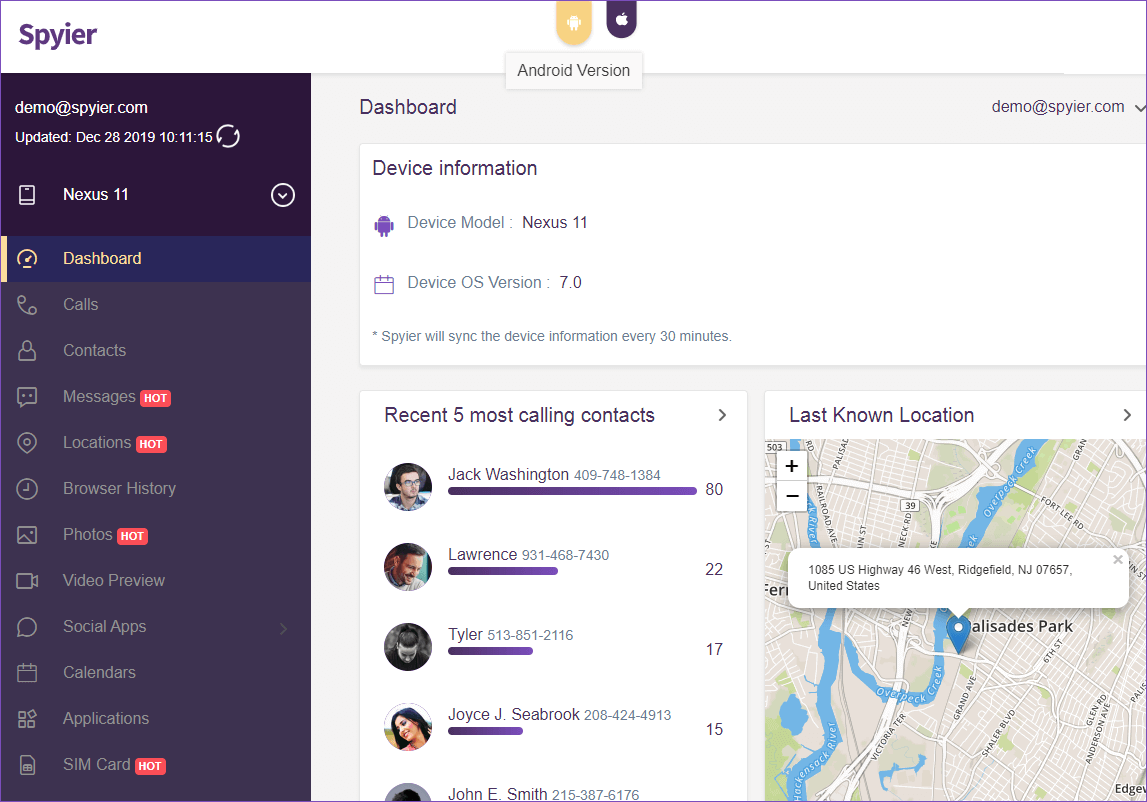 1.2 How to Monitor Snapchat on iPhone Without Jailbreak
While we've illustrated how good of a solution Spyier is – how do you actually use it for Snapchat monitoring? There are a few steps to take in order to set it up:
Step 1: If you want to use Spyier to monitor a target iPhone or iPad, then you will need to sign up for a monthly subscription. Go over to the pricing page and choose an appropriate plan. Premium allows you to monitor a single device for a month. 
Once you click the "Buy Now" button, a pop-up box will appear asking for your email ID. Be sure you enter an active email ID here. You will need it later. Complete the rest of the purchase process.
Step 2: After you pay successfully, you will be shown a payment confirmation page. This page will contain your login details, including a unique password the server has generated for you. Use this for now, you can change it later. 
Also, you will receive an email from the server with your account details. This email contains additional helpful information, like links to setup guides and some FAQs. 
When you are ready to begin monitoring the target iPhone or iPad, click on "Start Monitoring" in the email or on the purchase confirmation page. 
Step 3: After choosing your subscription, you'll need to pick the OS of the device you'll be monitoring. If your kid is using an iOS phone to access Snapchat, you'll need to go through a simple process of syncing Spyier up with the phone's iCloud data backup.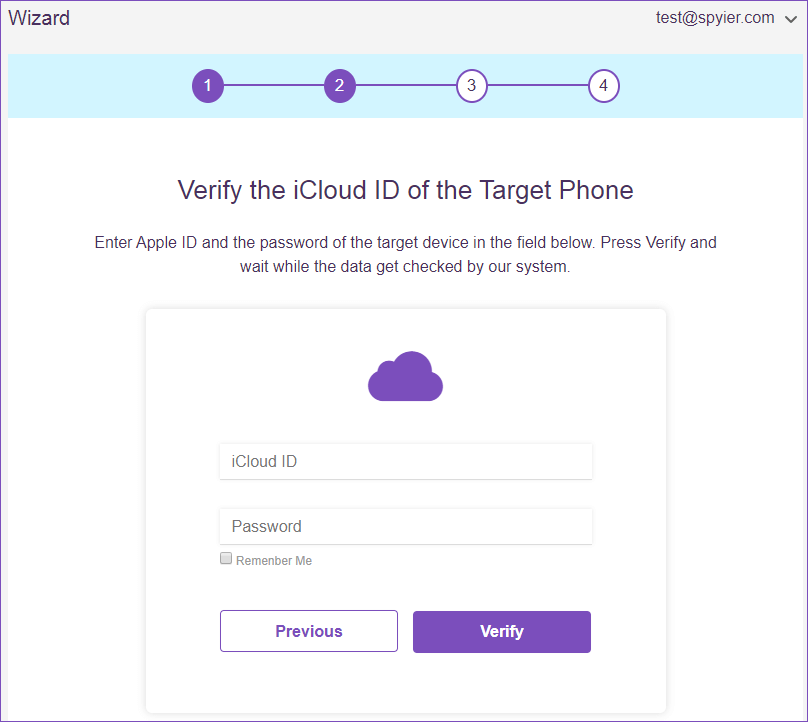 And that's pretty much all of it! Once you're done with this, you'll be able to log into Spyier from any computer or phone and choose the features you want to use from the Spyier dashboard. All the options for phone monitoring are there, including Snapchat tracking!
1.3 How to Monitor Your Kid's Snapchat on Android
If you intend on using Spyier to track an Android-based device, the installation process is equally simple; just a little different. Just like you would for an iPhone, you sign up for a monthly subscription and follow the instructions.
However, once that's done, you'll need access to the target device for a short while. We recommend reading the Android installation guide to breeze through the process.
Unlike the iOS solution, the Android one does require you to install a tiny app – as we've mentioned above. However, don't worry; seeing as it's small, it will take nothing more than a couple of seconds to download.
And after that, you can easily hide it from the app menu, so that your kid will have no idea that it's even there.
Once you log into Spyier that's you're using with an Android target device, you'll also view the same dashboard like the one described above.
From that screen, you can choose the Snapchat monitoring option, enabling you to view your kid's Snapchat history at your pleasure, at any time.
Conclusion
In the end, you'll undoubtedly run into a huge multitude of phone spying solutions out there. However, seeing as this is something you want to use to keep tabs on your kids.
Issues of data privacy and personal information are important. Only use vetted and trustworthy apps like Spyier – and you won't have any problems. Stay safe, folks!
This post is also available in: Deutsch (German) Español (Spanish)