WhatsApp needs no introduction with the way it has captured the imagination of all generations. However, with young children and teenagers using it to conveniently exchange messages, photos, and multimedia, it has become a magnet for miscreants.
Luring people into traps like forwarding indecent messages and sharing intimate details over WhatsApp isn't unheard of. And if your child or spouse is constantly glued to their Smartphone checking WhatsApp messages day and night, it's high time you found out why!
Finding a WhatsApp hacking app online isn't that big a deal with the multitude of phone spy apps available. But selecting the right app which will give you access to all the required features without revealing your identity and compromising your personal information might get challenging.
Well, you don't need to worry since we've done the work for you. We've conducted thorough research and comparisons among the most popular phone monitoring apps and picked the best one among them.
And guess what – we're revealing its name in this post! So if you've been looking for how to hack WhatsApp account, this post is a must-read for you.
Part 1: How to hack WhatsApp
It can get annoying if your child or partner hides things from you. Snooping into their WhatsApp messages can give you critical clues as to who they're interacting with and why they've been avoiding you.
The best way to hack WhatsApp account is with the help of a reliable and efficient phone monitoring app like Spyier. Spyier allows you to not only take a look at a target phone's WhatsApp messages, but also its call history, SMSs, contacts, GPS location, and much more.
And the best part is, you don't need to install anything on your phone to do it. The target phone's data can be viewed through a web-based dashboard to which you can log in using ANY web-browser. So you can do it from your laptop or even your mobile. Anywhere, and anytime!
Let's delve a little deeper into Spyier.
Spyier – The ultimate WhatsApp hacking tool
Spyier has established quite a reputation for itself by offering ingenious phone monitoring solutions for several years. Millions of people across the globe trust it to keep an eye on their loved ones and make sure they stay out of trouble.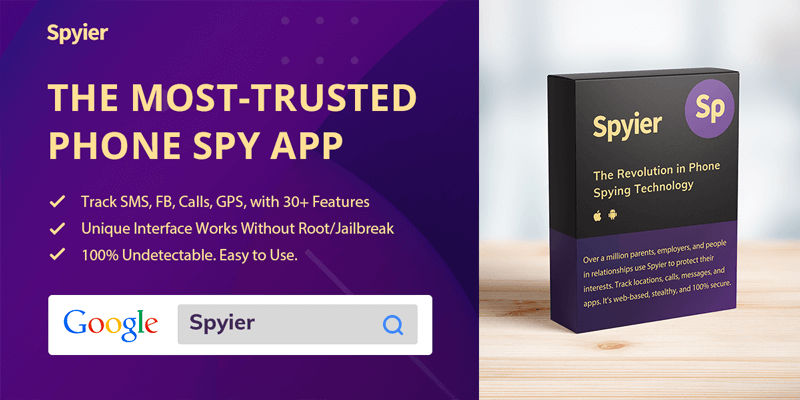 Large corporate houses including Forbes, PC World, BuzzFeed, and many more claim that Spyier is the best phone monitoring tool they've come across. And there's good reason why:
Unique Interface Works Without Root/Jailbreak. Setting up for Android takes only 5 minutes, and for iOS no installation is needed. You don't need to root or jailbreak the device to work with the app
Never Get Caught Cheating With Ninja-like Stealth Mode. It runs in the background requiring zero human intervention and you can control the app from a web-based dashboard. Once installed on a target Android device, the app icon can be hidden to give the impression that it isn't there. Moreover, since it is a lightweight app (less than 3M in size) and doesn't drain much battery, it is extremely difficult to spot. The iOS version doesn't need any installation and operates completely over the Internet. It's a true spy app which lets you monitor the target device without being anywhere near it
Top-Notch Security Measures Provides Complete Data Privacy. None of the target phone's data is saved on Spyier servers so information theft cannot happen. Your personal data is safe when working with the app
Most Popular Phone Spy App Globally. Spyier is a globally trusted brand and has hundreds of positive reviews to support its reputation. The app is extremely easy to work with thanks to its intuitive interface and easy-to-use Setup Wizard
35+ Features To Make Sure Nothing Is Hidden From You. It is much more economical than other similar apps out there. A single license purchase gives you access to more than 35 handy features
Now, if you're wondering how Spyier achieves WhatsApp hack on a target phone, let us let you in on the secret.
Spyier's Android version comes with a keylogger feature using which you can capture the exact keystrokes used to log in to social media accounts. Once you have the ID and password of the target person, you can log into their social media accounts and check every message they exchange and every status they view.
The iOS version extracts and syncs iCloud backup into your dashboard so you can not only view current WhatsApp messages, but also the ones exchanged a little while back.
Sounds brilliant doesn't it? Feel like watching the app in action. Check out its free live demo NOW!
How to hack WhatsApp on Android
Note: The steps to work with Spyier's Android version are described in this section. If the target of your investigation uses an iOS device, you can find the instructions to use Spyier's iOS version in the next section (Part 2).
To setup Spyier to work with an Android device, you'll need to obtain 5-minute physical access to the target phone. During this time you can easily install the app and configure it to monitor the phone without raising any red flags.
If you're feeling uneasy about doing this, first, relax and take a deep breath. Now remember the reason you want to spy on your child or spouse. If the reason is strong enough, you absolutely must get hold of their phone to install the app. You can do it while they're sleeping or are temporarily away.
Before you get your hands on the phone, complete these steps:
Step 1: Buy a Spyier subscription plan to get access to Spyier's features. Enter your email address when it is asked. Once you have the subscription plan, you will receive your login username and password in your email inbox. You can also see them on the screen.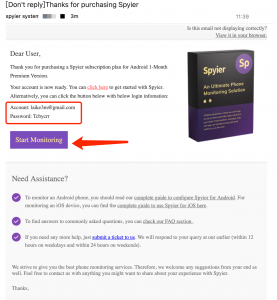 Step 2: With your username and password, login to your Spyier account through the Website. If logging in for the first time, you'll see a Setup Wizard. This wizard will guide you the rest of the way. At first, it will ask you to select the OS of the phone you wish to hack into. Select Android here.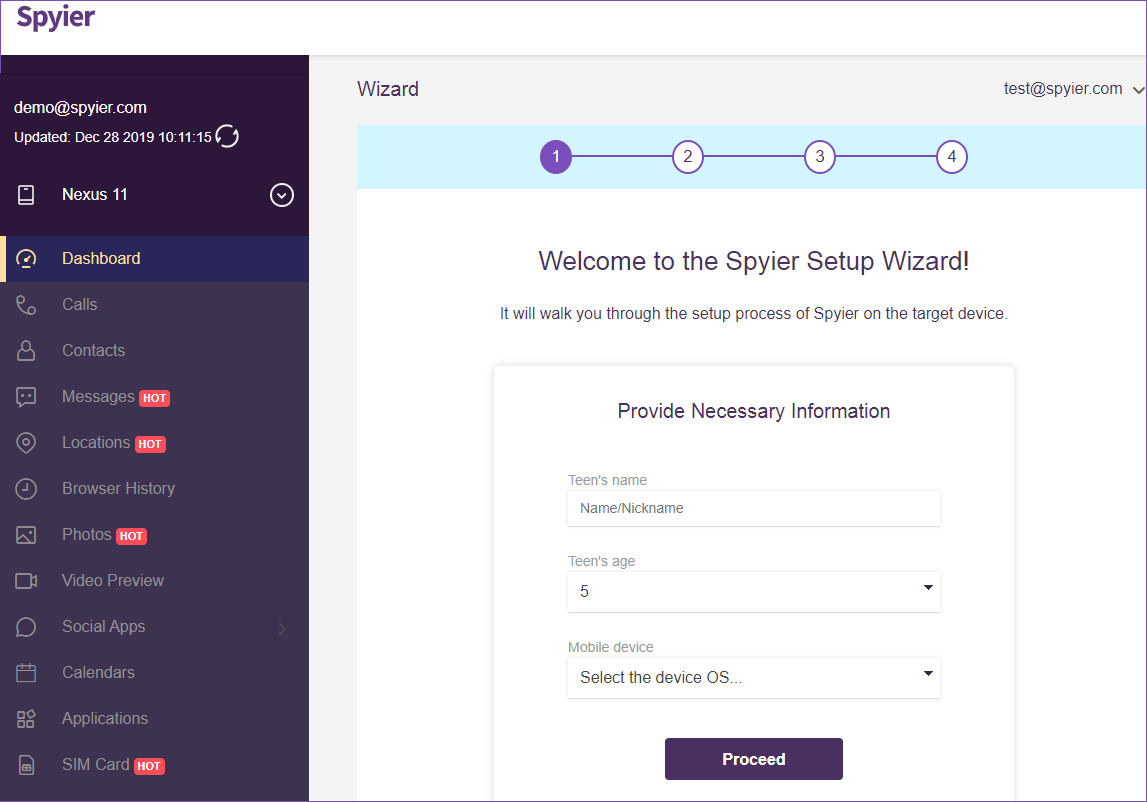 Step 3: From this point on, follow all instructions the Setup Wizard presents to you. It will let you know how to give Spyier the required permissions to work correctly. Also, once it is installed, you can hide Spyier from the list of applications so that it becomes impossible to detect. The wizard will guide how to do it as well.
You can find the detailed setup instructions here.
Step 4: Once all the above steps have been completed successfully, you will see the finish installation screen and this is an indication that you're good to go.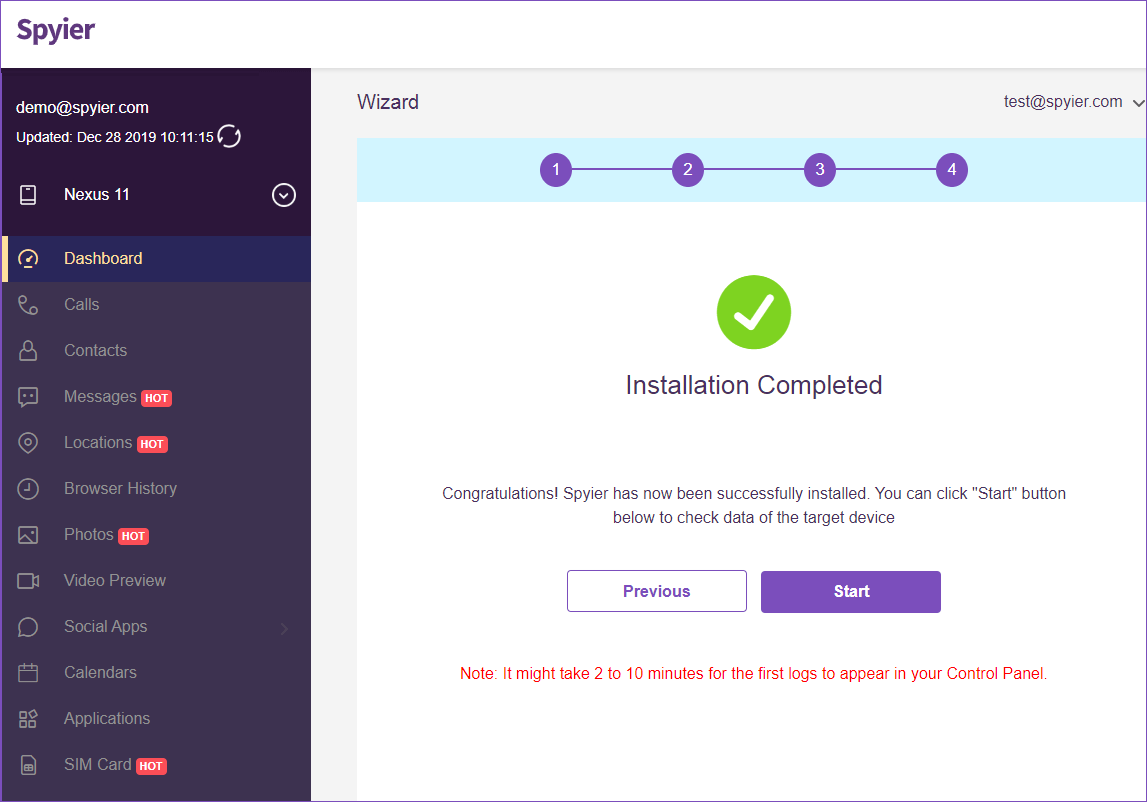 Now you may log in to your Spyier dashboard using ANY web-browser and secretly snoop into the target phone's WhatsApp details.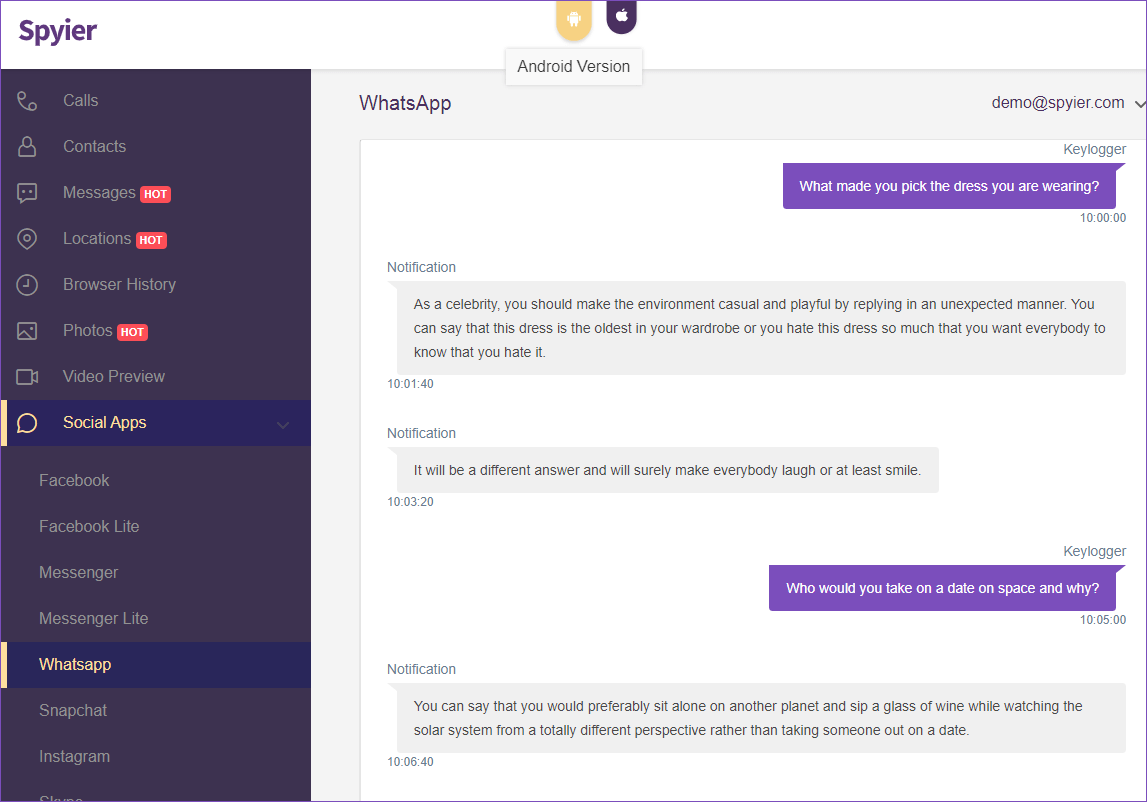 If your child or spouse uses an iPhone, you can find the instructions to use Spyier's iOS version in the next section (Part 2).
Also Read: How to Hack WhatsApp by Phone Number
Part 2: How to hack someone's WhatsApp without their phone
If the target of your investigation doesn't use an Android Smartphone but an iPhone instead, you don't need to worry. Spyier facilitates iOS phone spying as well. And it is much easier as compared to Android spying since you don't need the target phone at all!
Read on to know more.
How Spyier achieves iPhone spying "without the phone"
Spyier's iOS version works in true stealth mode. That means you don't need to manually install it on the target phone (or your own phone), and there's no need for any manual intervention (setup and configuration) to allow it to work with the right permissions.
All you need are the iCloud credentials used to sign in to the target iOS device and that's it. The Setup Wizard guides you when to enter the credentials during the sign up process and once they're given, the app syncs iCloud backup data into the dashboard so that you can view any detail of the target phone that you want.
Sounds easy doesn't it? It actually is. In the next section, find out the exact steps using which you can start monitoring the target iPhone without getting caught.
How to hack WhatsApp on iPhone
Here are the steps:
Steps 1 and 2 are the same as discussed in the Android working in section 1.2. After that, follow these steps:
Step 3: After selecting iOS as the target operating system, you will need to verify the target phone's iCloud credentials. Then Spyier will sync the data to get things up and running.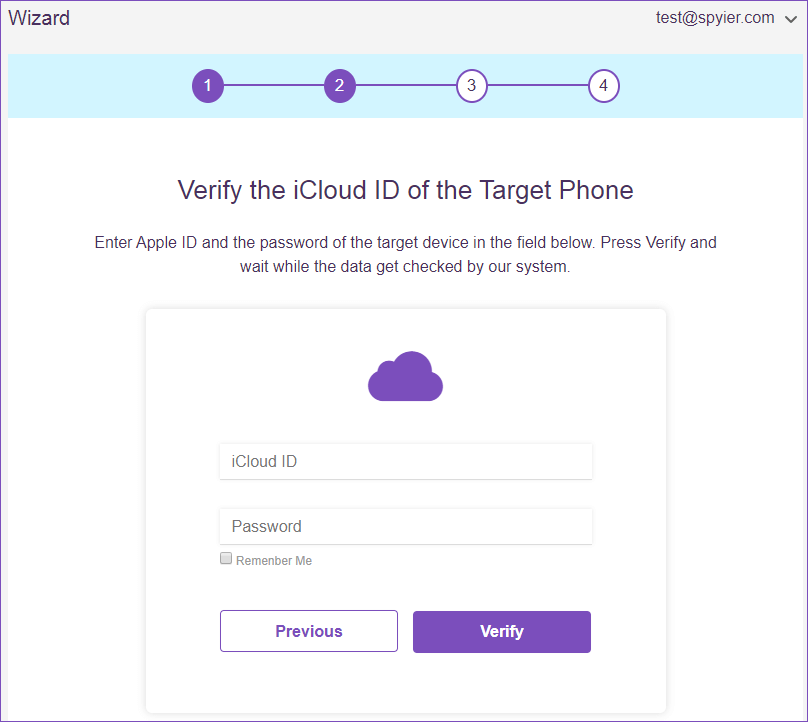 Step 4: Once all the above steps have been completed successfully, the app will present the finish installation screen to you indicating that you're good to go.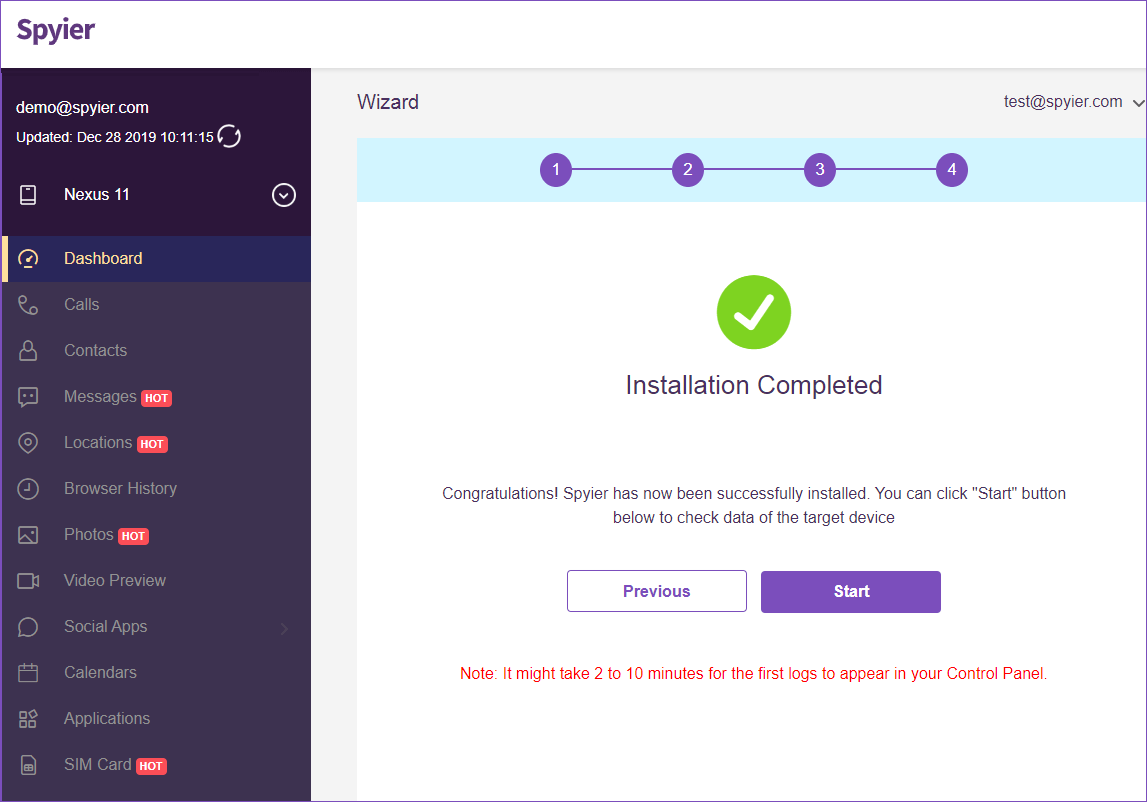 Now you can log into your Spyier dashboard using ANY web-browser and take a peek into the target phone's WhatsApp details.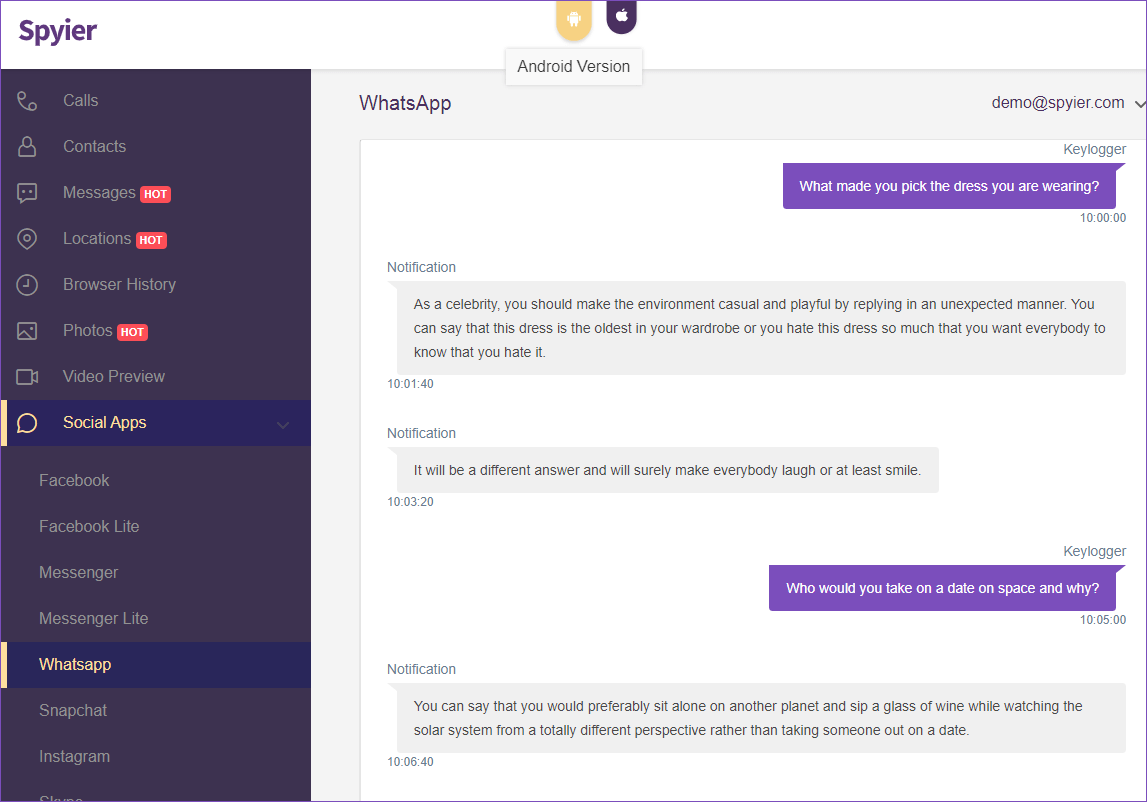 Don't Miss: Snapchat Hack: No Survey, No Download & No Human Verification
Part 3: Hack Someone's WhatsApp Without Their Phone with WhatsApp Web
You can hack someone's WhatsApp without their phone with WhatsApp web. This opens a WhatsApp web session linked to the target user's account on your web browser. You don't have to install any software.  
Be aware that you will need the target user's phone initially to open the WhatsApp web session. You will have to scan a QR code using their camera. Further, afterward, a WhatsApp web session notification link will appear in the target phone's status bar. 
You can use your PC (or phone) browser to open a WhatsApp web session. Here are the steps to follow: 
Go to web.whatsapp.com from your PC browser.
For target Android devices:

Open WhatsApp on the target phone (the one you want to hack) and select WhatsApp web.  
For target iOS devices: Open the Settings app and look for the WhatsApp Web/Desktop option.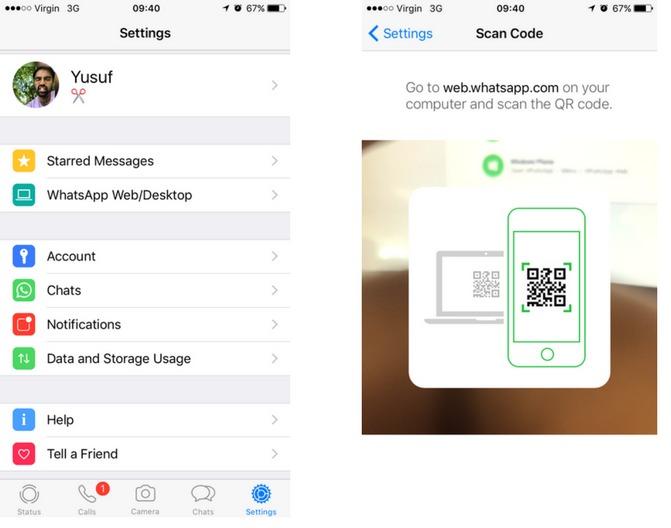 Point the target phone (the one you want to hack) at your PC browser at the open QR code. Wait for it to scan. 

You will automatically be logged into the WhatsApp web session! You have successfully hacked the device. 
Be aware that this method isn't discreet. The WhatsApp web session notification will remain active on the target user's device. They can also see which device has logged into their WhatsApp account. 
Part 4: Hack WhatsApp without Access to the Phone Using Spoofing Method
With the WiFi spoofing method, you are fooling WhatsApp into thinking it's sending messages to the target user's phone – when in reality you receive a copy of the messages on yours. 
WiFi spoofing is a complicated process and isn't guaranteed to work. You will need to access the target user's phone a couple of times, for a minute each time. 
We'll summarize the spoofing hack method for you here. You will be hacking the target device from your Android or iOS phone:
Uninstall WhatsApp from your device. Make sure to backup your messages if you wish to restore your account later.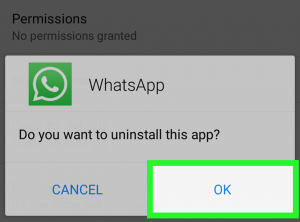 Borrow the target phone and find its Mac address. Take a look at the screenshot for an idea of what it looks like. Also, note your phone's Mac address at the same time, you will need it later. 
For Android: Settings > About Phone > Status > WiFi Mac Address. 
For iPhone: Settings > General > About > WiFi Address. 
We will install some spoofing-related apps on your phone.  
Android: Busy Box, Android Emulator 
iPhone: Mac Daddy X, WiFiSpoof 
Note that you may have to root and/or jailbreak your device first for these apps to work properly. There are many tutorials out there you can follow. Also, you can find installation links to the apps via Google.  
Change the MAC address on your phone to match the one on the target user's device with the help of the apps. Each app comes with instructions. If you can't understand them, you can Google tutorials. It only takes a few minutes. 
https://images.app.goo.gl/tEZUpHC7mSNfEFHc7 
Reinstall WhatsApp on your phone. This has to be a fresh install. During the installation, enter the target phone user's phone number (the one whom you're hacking).

WhatsApp will send the verification code onto the target user's device. Read it, type it on your phone, and then delete the message from the target user's device. 

WhatsApp is now installed and linked to the target user's phone number. You will receive their messages from now on. 

You should change back your MAC address to the original one (you noted it down in step 1). 
As you can tell, this method is complicated to pull off and requires a fair bit of technical knowledge. 
Part 5: How to hack my husband's WhatsApp
You can hack your husband's WhatsApp in several ways. For example, you can install a spy app, use the WhatsApp web session trick, or use the WiFi spoofing method. The latter two options are a bit more complicated, but all three methods work. 
The spy app method is the least complicated and most stress-free. It's also discreet, meaning your husband will never know you're reading his messages. You just need to get the app up and running first. You can follow the tutorial we included in Part 1. 
Part 6: How to hack my wife's WhatsApp
The most reliable method to hack your wife's WhatsApp is to use an appropriate spy app. The spy app will take care of the hacking for you. If you use the right app, this method will also be discreet. Your wife won't know you're reading her messages. 
If your wife owns an Android device, you will need to download and install some software on her phone. Afterward, the app will send hacking data to you via the internet, without you having to touch the device. 
If your wife owns an iPhone, you can hack your wife's WhatsApp remotely. You will need her iCloud account credentials. Once you set it up, you will be able to read her messages remotely. Read part 1 for more details on how this process works. 
Part 7: Hack someone's WhatsApp and read their chat messages
You can hack someone's WhatsApp and read their chat messages remotely with the help of a phone monitoring solution. It's fast, safe, easy, and private. You can use any phone or PC web browser to install such a solution. 
You receive several advantages: 
Their messages are accessible to you remotely. 

Deleted messages can be viewed from your account. 

You can view contacts, media files, and other related details.

You can read their messages discreetly if you wish. 
Summing it up
Spyier is an immensely powerful and useful app and thus, you should understand that it should be used for right and sensible reasons only. Spying on someone is usually illegal, but if you're a parent or spouse looking for some answers, no one can blame you.
When investing in a phone monitoring solution, keep a few considerations in mind. Select an app that's easy to use, is economical, doesn't reveal your identity, is risk-free, and doesn't expose your personal information to third-parties. In our opinion, Spyier is the only app that does all of this.
We'd advise you to head over to the app's free live demo and give it a try before investing your money. That's the only way to be sure.
This post is also available in: Deutsch (German) Español (Spanish)