Spying on an iPhone is hard. The majority of online iPhone hacks are either misleading or don't work. Your only real alternative is to use an iPhone spy app.
But if you look at the iPhone spy apps available online, you'll find that most of them require you to jailbreak the target device first. That's not such a good idea.
Why are we against jailbreaking? Once you jailbreak an iPhone, you void its warranty. You also leave the device open to malware. In rare cases, you may lose some data.
If you're trying to be discreet and spy on someone without them knowing, jailbreaking their iPhone is bound to make them suspicious. For all these reasons, you need a way to spy on an iPhone without jailbreak!
Part 1: How to Spy on iPhone Without Jailbreak
So how do you spy on an iPhone without a jailbreak? Turns out it's easy – provided you use some cutting-edge spy software for iPhone that works with stock iOS iPhones. We recommend using Spyier!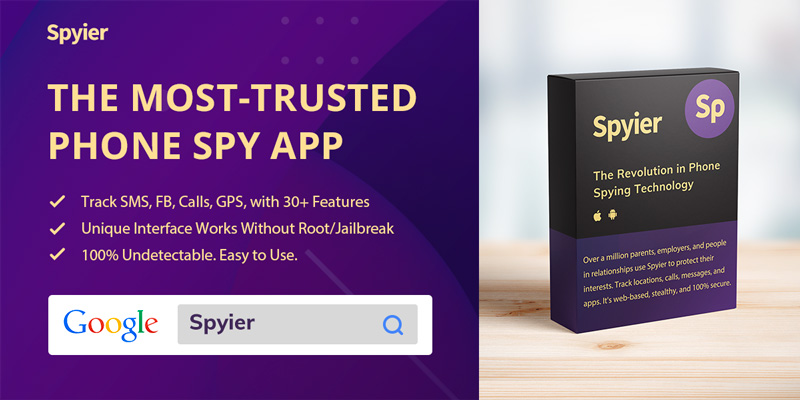 Spyier is a cutting-edge iPhone spy app. It's one of the only apps on the market that monitors iPhones without jailbreak. If you're looking for the fastest, most hassle-free way to spy on an iPhone, you can't do better than this.
Spyier is a pretty well-known iPhone spy app at this point in time. It's used globally by employers, parents, and people in relationships, among others. The app has received solid reviews from major online portals such as MacWorld, Mashable, and Digital Trends.
1.1. Spyier- The leading-edge iPhone non-jailbreak spy app
How can Spyier monitor iPhones and iPads without needing a jailbreak? Spyier's developers made the app fairly ingeniously. Instead of working directly with the iPhone, Spyier's iOS solution works indirectly with it via its linked iCloud account!
The app extracts the iCloud account to show you what's happening on the iPhone or iPad. The app can do so from any web browser. Consequently, you don't need to download or install any software to use Spyier!
There's also another major advantage to Spyier – the app is impossible to detect! Why? You don't download or install any software, so Spyier leaves no trace for the iPhone owner to find.
Further, you can use the app remotely from any web browser to monitor the iPhone. That means you don't need to be in the same room as the iPhone to be able to spy on it.
1.2. How to spy on an iPhone without jailbreak
Wondering how to set up Spyier? You can set the app up remotely via your web browser as we mentioned. You can use either your smartphone or laptop. You just need 10 minutes to set it up.
Step 1: You will need to configure Spyier to work with the target iPhone. That means you purchase a subscription, get an account, and follow the provided instructions. Go to the pricing page for a look at the plans on offer. 
You can use the Premium plan to spy on a single iPhone without jailbreak. Once you choose any plan and click on the "Buy Now" button, a pop up box will appear asking for your email ID. Enter your email ID to link it with your account, then continue with the payment. 
Step 2: You will be taken to the payment confirmation page. The server will generate a unique, random password for you here. You will be given the option of changing it later. 
You should also receive an email with your login credentials and other important information. This will be at the address you registered in step 1. There will be links to installation guides.
When you're ready to spy on the target iPhone, click on "Start Monitoring" to initiate the configuration process.
Step 3: You first have to choose iOS as the target platform. Then just enter the iPhone's linked iCloud credentials. Wait 10 minutes until Spyier syncs with the iPhone.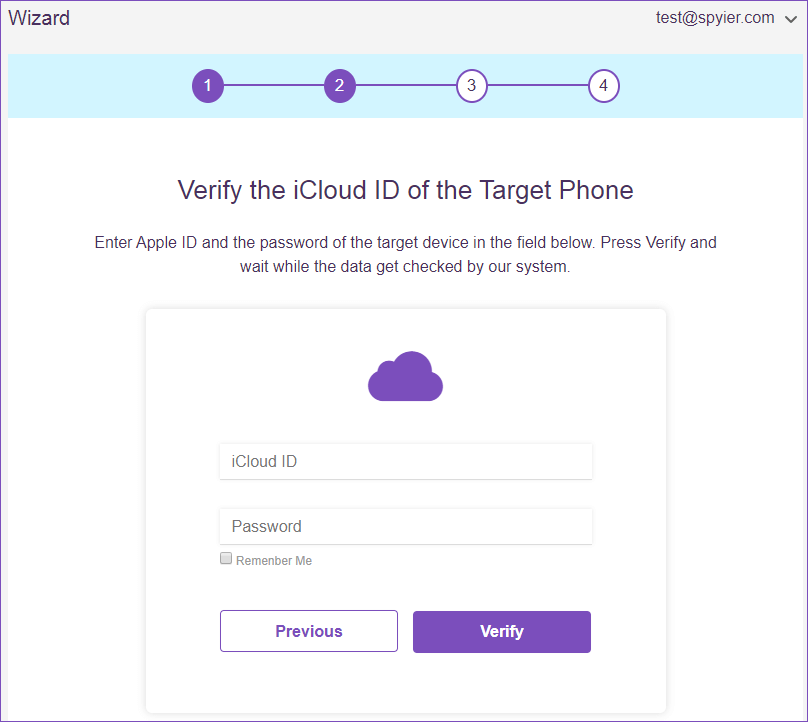 Step 4: Congrats! Spyier is now up and running. You can access the Spyier dashboard remotely from any web browser. The dashboard shows you what's happening on the target device. You can select its various features from the selection panel to the left.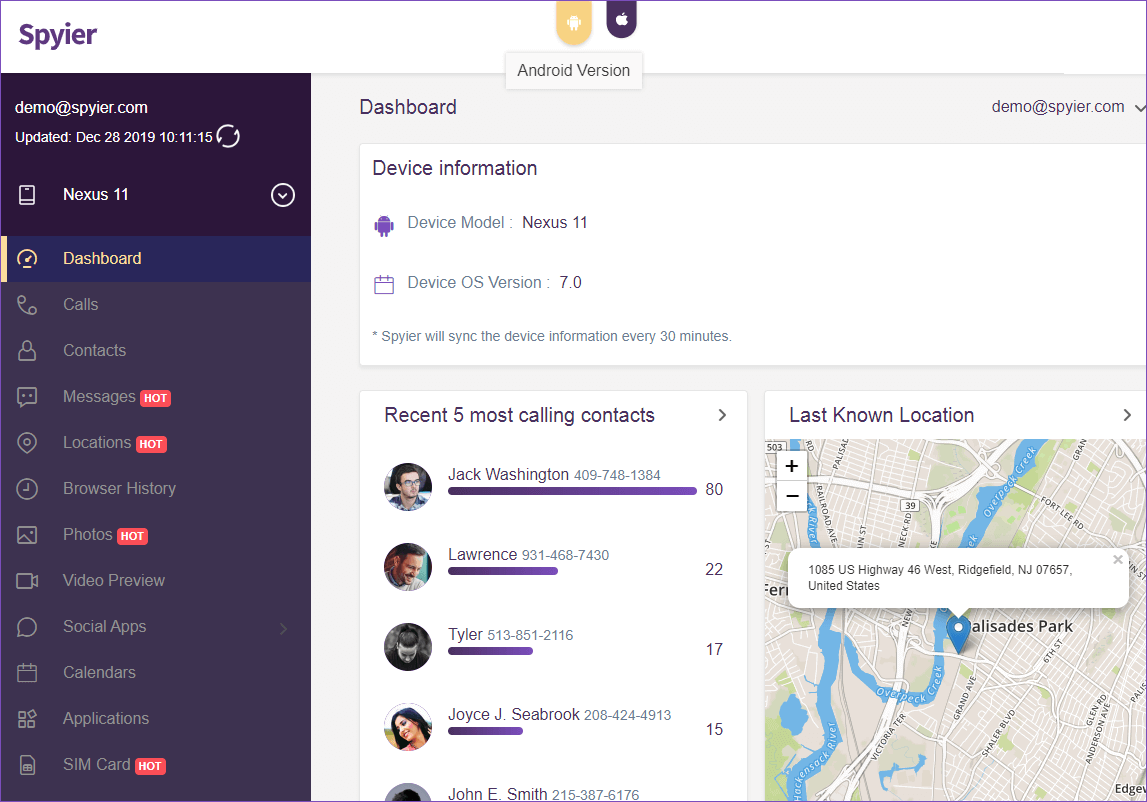 Try out the free Spyier for iOS online live demo first before you commit to a purchase.
Also Read: How to Spy on iPhone Without Installing Software
1.3 Spyier is a wildly popular iPhone spy app worldwide
What makes Spyier an outstanding iPhone non-jailbreak app? Not only does the app have a great reputation, but it also comes with amazing features:
Spyier has the trust of users worldwide
Over a million people worldwide trust Spyier to keep tabs on their loved ones. The app is used in over 190 countries around the world at the moment. You can trust Spyier to give you your money's worth and work right.
The app is super-secure
Not all iPhone spy apps are secure. Spyier, however, is. It doesn't store user data on its servers, so you get maximum privacy. The app is also tested by countless users and found to be fully virus-free.
With other iPhone spy apps on the market, you never know what you're paying for. Some of them are viruses while others just steal your personal information.
You don't pay a lot of money
You can buy Spyier for about the cost of a DVD. You pay a reasonable monthly fee to spy on a single device and you get a discount if you want to spy on multiple devices. Other spy apps cost twice or even thrice as much and don't always offer comparable features.
The app is user-friendly
Spyier was designed to be easy-to-use. Anyone can use the app. It has a web-based interface that you can access from anywhere, on any device. The user interface is intuitive and easy to navigate. Both setting up the app and using it is a breeze.
You get some nifty features
What kind of features do you get with Spyier? The app gives you access to almost the entirety of the target device – Spyier for iOS offers over dozen-plus unique features. Here's an overview of Spyier's top features:
Read texts and iMessages: With Spyier, you can read all the texts and iMessages received on the iPhone or send out from it.
View call logs: You can check the iPhone's call logs and get details like the call history, call durations, contact details, a list of most popular callers, and much more.
Check locations: Spyier shows you all the places the iPhone has been to lately. You can check addresses, building names, street names, neighborhood info, and even see a 3D view.
Social media access: If the iPhone has social media apps such as WhatsApp installed, you can check what the person gets up to on those apps.
Download media files: Spyier can show you the person's media reel. You can download photos, videos, and more.
See web browser history: Spyier shows you the person's web browser history, including a list of often visited websites and website descriptions.
SIM card tracker: Finally, Spyier has a built-in SIM card tracker that offers relevant details such as the SIM card's location, IMEI number, carrier information, and a notifier that tells you if the card is replaced.
Spyier also offers other features you might find useful such as a web browser history scanner, a calendar reader, a contact book viewer, and more! For a full list of supported features, visit the official Spyier website by clicking on this link.
Don't Miss: Top 10 Best iPhone Keylogger
Conclusion
So now you know how to spy on an iPhone without a jailbreak. Spyier is the easiest way to spy on an iPhone without too much effort on your part. You could use it to read someone's text messages. You can set up the app quickly and use its various features remotely without being found out.
This post is also available in: Deutsch (German) Español (Spanish)