Spying on an iPhone can be an uphill battle. Apple is very tight with security when it comes to iOS. The iCloud backups are also very secure.
Fortunately, a handful of spy apps have managed to find workarounds and crack Apple's uber-secure defenses. Some of the most advanced, best iPhone spy apps work without software installation or jailbreak.
And in case you're aware of online iPhone spy services and are wondering if they work, they don't. Most of these websites and services are scams designed to steal your money or phishing attempts.
In this article, we bring you 10 of the most legitimate, best spy apps for iPhones on the market:
Part 1: Spyier – The Sensational No-Jailbreak iPhone Spy Solution
Spyier is a top-rated iPhone spy app. It's made waves in the market recently, making appearances on major platforms like Digital Trends, LifeHacker, Mashable, and CNET. The app is popular with users and is used around the world.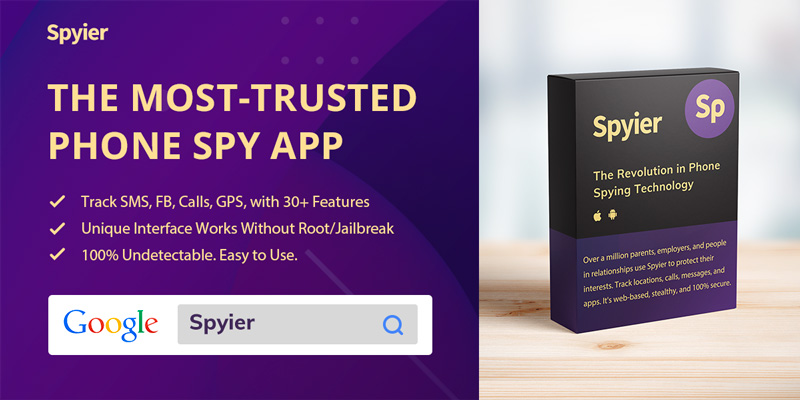 The app is easy to use. It also offers some cutting-edge features you don't find in other spy apps. It's why we think Spyier is the best iPhone spy software around right now.
1.1 Spyier is a super-stealthy, web-based iPhone spy app
When you spy on someone's iPhone, you don't want to be caught. It could lead to a heap of trouble. If you use Spyier, however, you don't have to worry about being found out. It's one of the stealthiest iPhone spy apps ever made.
Why is Spyier stealthy? Spyier for iOS is a web-based spy app. You can set it up remotely via any web browser. You don't need to download or install any software on the target iPhone. You won't need to jailbreak it either.
Spyier works with the phone iCloud backup directly instead of with the device physically. As a result, there is no physical copy of the app to detect! You can use Spyier remotely and discreetly without the user knowing.
The app brings you periodic updates of any activity taking place on the target iPhone.
1.2 Setting up Spyier is a breeze
How do you set up Spyier? It's simple. You can install the app via any web browser, from your smartphone or your PC.
Given below are the steps to follow to install the spy app:
Step 1: Spyier allows you to monitor a single device for a month if you purchase the Premium plan. There are other plans available too, in case you wish to monitor more devices. Go to the pricing page to take a look at the various options. 
You will need to purchase a plan to install the app. Choose any suitable plan and click on the "Buy Now" button. Enter your email ID here in the popup window. This email will become associated with your account. Follow the rest of the purchase instructions.
Step 2: The browser will automatically take you to the purchase confirmation page after you make the payment. This is where you receive your Spyier login credentials, which includes a new, randomly-generated password. 
The system will also send you an email on the address you registered in step 1 with your login details and some helpful information. You can choose to change your password later if you wish. The email will also include links to the iOS setup guide. 
Click on "Start Monitoring" when you're ready to install the app.
Step 3: Check your email for the setup instructions. Installing Spyier is a breeze. All you need to do is enter the target iPhone's iCloud credentials in the blank form field.
Wait for 10 minutes until Spyier syncs with the target iPhone.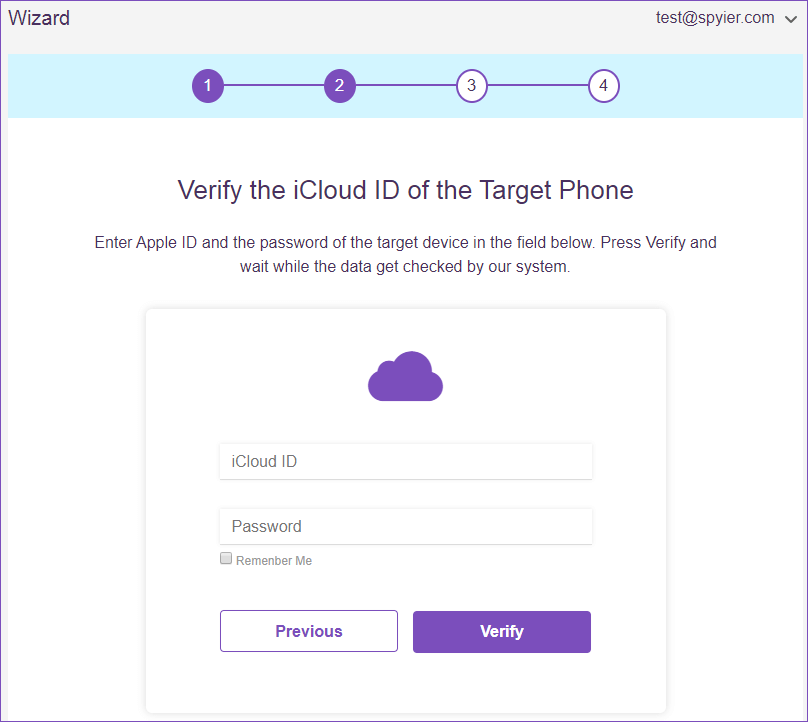 Step 4: Congratulations! You have now set up Spyier successfully. You can access the Spyier dashboard from a web browser. Here, you can see what's happening on the target iPhone. For an in-depth look at the phone, click on an option in the selection panel on the left.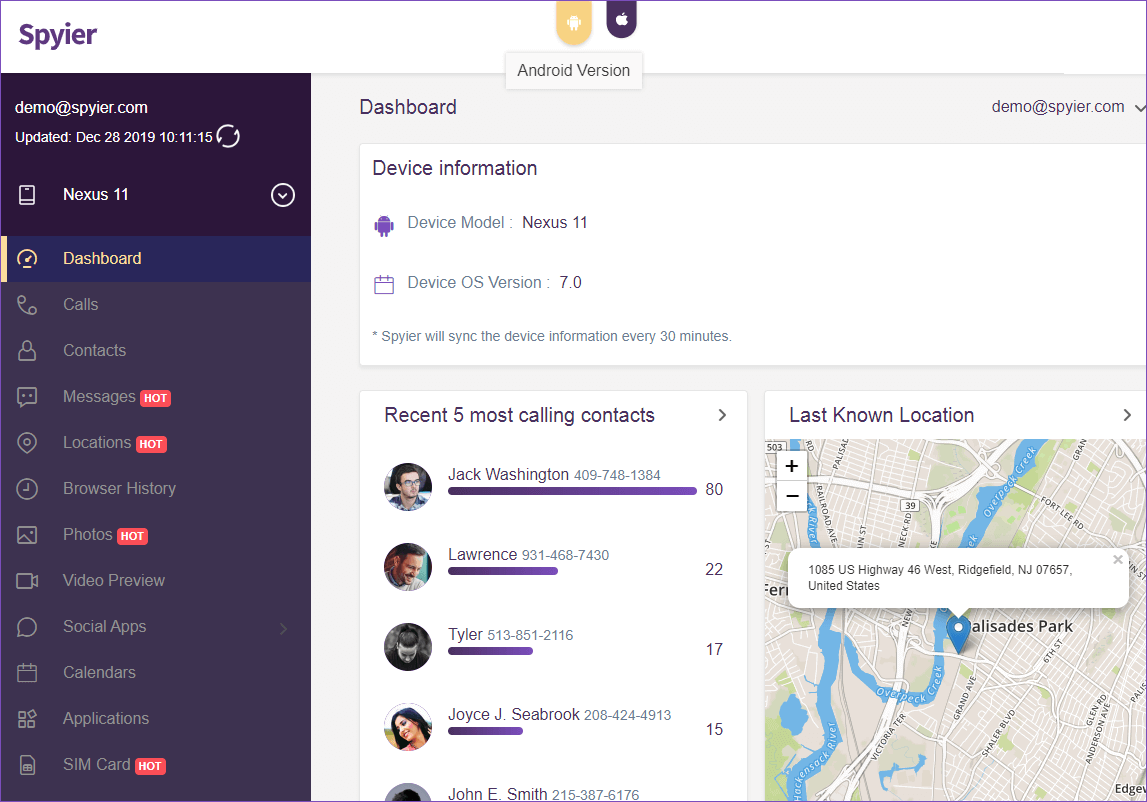 Check out the free Spyier for iOS online live demo here before you buy the app!
1.3 You get excellent iPhone spy features
What sort of spying can Spyier do for you essentially? The app offers some phenomenal iPhone spy features:
Read messages: Spyier allows you to read all the texts and iMessages sent or received on the iPhone. If the user deletes any message, a copy will still be preserved for you in your account!
Check iPhone call records: The app gives you a detailed call log, with a list of all incoming and outgoing calls. You can view call durations, access contacts, see top contacted people, and more.
View locations: You can track the iPhone's movements with Spyier. The app will track the iPhone's movements on a virtual map. You can see details like addresses, geographical coordinates, and more.
Monitor apps: Spyier can show you which apps have been installed on the iPhone. You can block or delete inappropriate ones.
View social media: You can view activity on social media apps such as WhatsApp, LINE, and more. The app can track private messages, photos, videos, group chat activity, and contacts.
See media files: The app gives you access to all the photos or videos stored on the iPhone. You can download these files for later viewing.
In addition to the features mentioned above, Spyier also offers additional features such as a keylogger, a geofence utility, a web browser history checker, a SIM card tracker, and much more!
1.4 What makes Spyier an amazing iPhone spy app
Having good features doesn't make an iPhone spy app special. It needs to offer something a little extra like Spyier:
You need zero technical skills
You don't need any technical skills to either set up Spyier or to use the app. The app was designed to be easy to use. You can access the app conveniently and remotely from your web browser. Controlling the app is simple.
Spyier has an intuitive, web-based interface. It has a well-designed dashboard, with everything clearly explained and labeled.
The app has a glowing reputation
With other spy apps, you can't be sure you're getting what you paid for. And there are always some spy apps that are viruses in disguise. Either that or they steal your personal information. It's hard to find an app you can trust.
Spyier, however, is a genuine iPhone spy app. It's used by over a million people in 190+ countries worldwide. It's backed by people from all walks of life, including parents, employers, and people in relationships.  
Your privacy is secured
Spyier goes to great lengths to protect your privacy. It offers up-to-date, standardized privacy protection. Your personal data isn't stored on the Spyier server. The developers or anyone else can't access your private data either.
The app needs no jailbreak
Most iPhone spy apps require a jailbreak to run, as we mentioned. Jailbreaking is difficult. If it goes wrong, it can cause data loss. Also, jailbroken devices are vulnerable to malware. Finally, the user may get suspicious if their iPhone is suddenly jailbroken!
Spyier is a rare iPhone spy app because it works 100% without jailbreak. It gives you access to almost everything happening on the target device without any of the usual hassles.
Spyier gives you your money's worth
Lastly, iPhone spy apps tend to be expensive. You pay a hefty amount each month to spy on a single iPhone or iPad. If you want to spy on multiple devices, you have to pay extra.
Spyier is reasonably priced, compared to most iPhone spy apps out there. It gives you solid features for a monthly fee. If you want to monitor multiple iPhones, you get a discount.
Visit the official Spyier website for a summary of all its features!
Part 2: Spyic –Pushing the Boundaries of Spyware
Spyic is an top-rated app that regularly exceeds user expectations. It's one of the best iPhone spy software on the planet and is a good alternative to Spyier.
If you haven't heard of Spyic before, it's a well-known spy app that's been around for a while. It's been reviewed in major media channels such as Forbes, BBC, and The New York Times. It's mainly used as a cheater-catcher tool.
2.1 Spyic is a famous iPhone spy app
As we mentioned before, Spyic is a pretty well-known spy app. Here's why the app is so popular around the world:
The app is made by a known company
Spyic is made by an expert team of developers with many years of development experience. The app is popular with users worldwide, including parents, employers, people in relationships, and even cybersecurity experts.
Spyic is a discreet iPhone spy app
It's important not get caught when spying on someone's iPhone without installing software. Spyic, fortunately, offers top-of-the-line stealth. The app works with the iCloud backup instead of directly with the iPhone and is impossible to detect.
You get some excellent features
Spyic gives you complete access to the target iPhone. Here's what the app can do for you:
Monitor iMessages and text messages.
Check call logs and call durations.
View contact information, including names, professions, and addresses.
See the web browser history and track often-visited websites.
Track locations and get details like addresses, geographical coordinates, and more.
2.2 It remotely monitors iPhones and iPads
One of Spyic's main advantages is that the app is capable of remotely monitoring iPhones and iPads. You can not only set up Spyic remotely but also use it remotely from any web browser.
As a result, you can use Spyic from anywhere – like when you step outside – to spy on any target iPhone and iPad without jailbreak. Even when the device is some other city or town, Spyic will still be able to spy on it.
Part 3: Cocospy
The third best iPhone spy app for iPhone in our books is Cocospy. Cocospy is a top phone monitoring and remote surveillance tool. It's popular with employees who want to keep an eye on their subordinates.
You can use Cocospy with any iPhone or iPad. It offers cutting-edge features and remote monitoring support.
Cocospy is a premier iPhone spy app
Good iPhone spy apps are few and far in between. Cocospy happens to be one of the best, both by its feature list and popularity:
Cocospy is used by countless people in both the western world and the eastern.
The app is discreet – you can monitor iPhones and iPads without being discovered.
Cocospy is an advanced spy app. It works without you needing to jailbreak the iPhone.
It offers a truckload of powerful features
Cocospy also offers competitive spy features out-of-the-box. Here's what the app can do for you:
Cocospy allows you to view someone's messages, social media activity, and call logs.
You can use the Cocospy keylogger for iPhone to find someone's login credentials.
Cocospy also offers handy features like a location tracker with a 3D street view.
Cocospy is available at a pocket-friendly price, compared to most other spy apps on the market. Its strong feature list and price make it easy to recommend.
Part 4: Fami360
Fami360 is a parental control app with an extensive list of child monitoring features. Parents from major countries worldwide use Fami360 to keep tabs on their kids. The app is trustworthy and user-verified. It offers multiple powerful features to boot.
Fami360 is the dream iPhone parental control app
If you're a parent who wants to keep an eye on your children, this app offers some very nice tools for you. It's also a reliable app in general:
Fami360 works stealthily via a web-browser. Your children will never know.
The app gives you regular updates, so you'll always know what your child is up to.
You can access the app conveniently from your smartphone.
It brings nifty child monitoring features to the table
Fami360 brings you all the child monitoring features you could ever need:
Fami360 can track your children's texts, social media app activity, and app use.
The app can track locations and create virtual geofences.
Fami360 offers a free trial too. You can use the app on one device for an affordable price.
Part 5:
Minspy Globa
Minspy Global is an iPhone spy app with a good reputation. It offers advanced iPhone spy features and is a breeze to use. It's very stealthy too, so you can use the app without the risk of getting caught.
 Here are the top features of Minspy Global:
Minspy Global is compatible with all the latest iOS versions.

The app gives you full access to the iPhone activity.
It's a good app, but perhaps less user-friendly when compared to an app like Cocospy.
Part 6: Mobistealth
Mobistealth is another parental control app that makes it to our list. It's been featured on platforms like MSN, Wired, and Newsweek. It's a genuine product with a good reputation.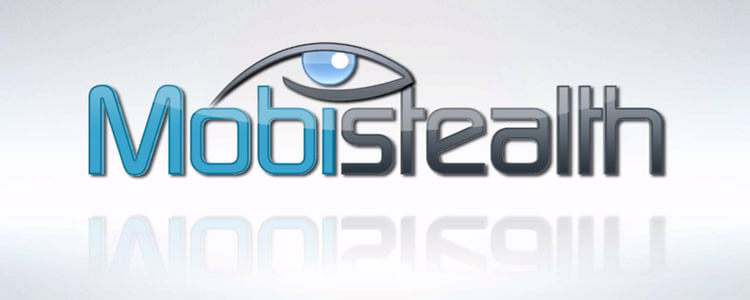 The app offers some noteworthy features:
Mobistealth offers better-than-average stealth.
It comes with an iOS keylogger.
Mobistealth is super-expensive
If you want to use Mobistealth, be prepared to pay:
You pay $69.99 per device per month.
You don't get discounts to spy on multiple devices.
The steep asking price makes Mobistealth hard to recommend, though it's a great app otherwise.
Part 7: HelloSpy
HelloSpy is a popular, user-vetted iPhone spy app. It has a somewhat dated interface but makes up for it with the sheer amount of features on offer.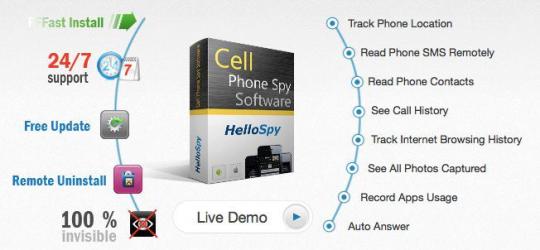 These are the highlights of HelloSpy:
HelloSpy can track locations, calls, and messages.
It offers unique features like an iOS auto answer.
HelloSpy is a hassle to set up and isn't 100% discreet
Despite its nice features, HelloSpy is a chore to set up:
You will need to jailbreak the iPhone to access some features.
Note that jailbreak is risky because you might be discovered.
HelloSpy will work, but you'll have to make some sacrifices.
Part 8: Highster Mobile
Highster Mobile is a multi-platform app. It's one of the only apps that can spy on not just iOS, but also Mac OS and Windows. The app has a good reputation and provides great features.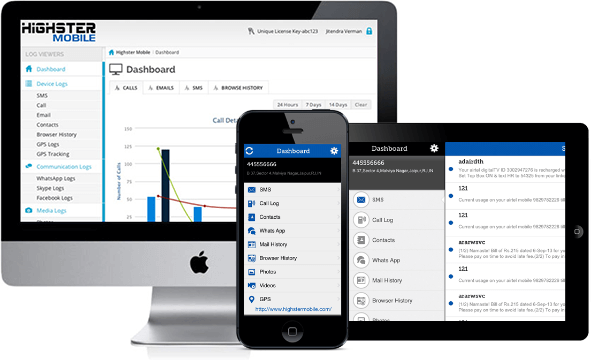 The app offers a good number of features:
Highster Mobile will secretly spy on any iOS device.
You get unique features like a stealth camera recorder.
Highster Mobile will empty your wallet
There are some major drawbacks to using Highster Mobile:
The Premium version of Highster Mobile with the best features costs $69.99 per month.
You pay extra to monitor multiple devices.
You get good features, but an app such as Spyier gives you the same features for a much more reasonable price.
Part 9: PhoneSheriff
PhoneSheriff is a popular spy app, made by the same company that has released other major spyware for iPhones such as Teen Shield, Mobile Spy, and Sniper Spy. This app had an excellent reputation until fairly recently.
You'll get some solid features from PhoneSheriff:
PhoneSheriff offers real-time iOS GPS tracking.
Check iMessages, photos, and calls.
PhoneSheriff no longer has a good reputation
Unfortunately, PhoneSheriff may not be trustworthy anymore:
PhoneSheriff was hacked recently multiple times.
Some user data was stolen.
PhoneSheriff is a great app, but you might prefer to use a safer solution.
Part 10: SpyBubble
SpyBubble is the final entry on our list. It's a multi-platform app that is capable of monitoring not just iOS devices, but also Mac and Windows PCs.
SpyBubble has been around for a while and has a good reputation. Here's what you get:
SpyBubble offers basic iOS phone tracking features.
You can monitor iOS devices remotely, without being discovered.
SpyBubble is a bit dated and offers limited features
However, SpyBubble isn't the app it used to be:
SpyBubble has a dated interface that's not very pretty.
The app is missing some key features like a WhatsApp spy or SIM card tracker.
If you want a basic app, SpyBubble fits the bill. For more advanced features, you'll need an app such as Spyic.
Part 11: FAQs
Haven't used an iPhone spy app before? You may need some basic background info first. Reading these FAQs should help:
1. Can't I get an iPhone spy app for free?
Spy apps for iPhones – the legit ones with good features – are difficult to make. They also need to be constantly updated. It costs a lot of money. So no, you aren't going to get a spy app for free. At least, it won't be a good one.
2. Is it legal for me to use an iPhone spy app?
You can legally use an iPhone spy app in most countries worldwide. It depends on your country. In the US, such apps are 100% legal to use. You may need permission from the person you're monitoring first, though.
Note that countless people spy on iPhones or iPads without permission and don't get caught.
3. Isn't it better to hire a hacker or a private eye?
Hackers for hire online are mostly scammers who take your money and then disappear. Real hackers are going to cost a lot of money to hire. The same goes for private eyes. Instead of paying $50 per hour, it's smarter to just purchase iPhone spyware for less than that.
4. What happens to my private data?
It depends on the app you use. The best iPhone spyware apps such as Spyic keep your private data safe, without storing it on a server. Others, less secure apps such as PhoneSheriff may not protect your data so well.
5. Should I jailbreak to install an iPhone spy app?
The choice is yours. We advise against jailbreaking, though. The process is complicated and can go wrong, causing data loss. If you want to monitor someone discreetly, jailbreaking their iPhone is likely to get you caught.
It's smarter to use a no-jailbreak solution such as Spyier instead.
To Sum It Up
That concludes our list of the 10 best spy apps for iPhones in 2021. You can trust all the apps on our list. They're all reliable and user-friendly. We recommend the first few apps – Spyier and Spyic – because they're affordable, powerful, and no-jailbreak solutions.
This post is also available in: Deutsch (German) Español (Spanish)