Gone are the days when your kid had to use the 4 x 6 landline phones to connect with their friends or mates. Today, every one in four kids below the age of six, use (almost own) a smartphone. Yes, the figure is absolutely correct.
Odds are your kids, too, use a smartphone, and with such smartness that you cannot even anticipate. And if your kid is a teenager, he or she must have excelled using smartphones by now.
Thinking about how to track your child's phone? There should be no shame in it. As a parent, it is your right to know what your kid is up to, not for bad but to ensure that he doesn't land up in something bad.
You might have had crossed thousands of posts expecting to find a solution that could track your child's phone for free but knocked down by heavy subscription charges. To help you ease your worry, we have outlined this article that will take you down the spying road.
Part 1: How to Track My Child's Phone without Them Knowing
To start with, we would like to introduce you to Spyier, one of the most widely used cell phone tracking apps and the one-stop solution to your 'how do I track my child's phone without them knowing' worries. And here is the best app, we would suggest for the same –
Spyier solution: A Perfect Child Monitoring Aid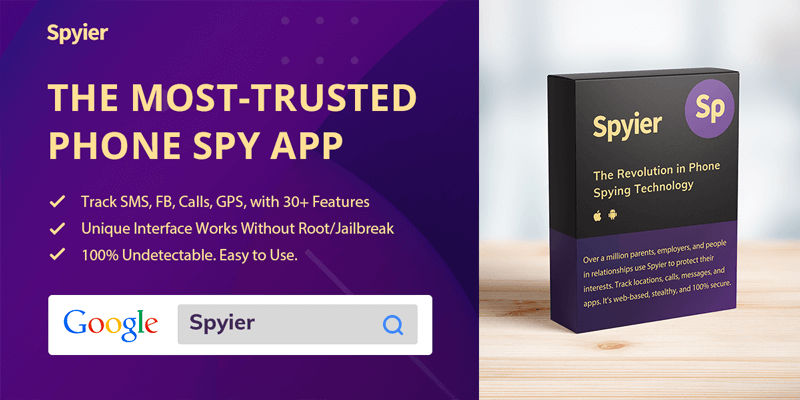 An easy to use tracking app, Spyier helps you keep an eye on each and every activity of your child, even the minutest one. Owing to its efficiency, the app is trusted by millions of people in 190+ countries, and has got mentions is a good number of notable online platforms.
As you want to track your kids' smartphone without letting them know, Spyier makes a perfect choice. The app works in stealth mode and is too easy to install on the target's phone.
Oh, wait. Did we say 'install'?
Yes, Spyier needs installation (that takes almost no time).
** Here, we would like to tell you that any solution (Specially, in case of Android), promising to record key logs or track target's device without installation, is fake. Due to Android's design, it is almost impossible to do so. Hence, never purchase or use such risky solutions.
How Spyier works in Stealth mode?
Spyier's Android app size is less than 3M and it won't ever drain your child's phone battery. The app takes less than 5 minutes in installation (the process is explained in the article itself) and allows remote uninstallation. Spyier stays perfectly hidden after the installation.
On the other hand, the iOS solution doesn't even require any installation. You just need the right iCloud credentials to enable it for iPhone of your kid. Thereafter, it synchronization with iCloud backup data and fetches the needed information for you.
After the successful configuration of Spyier for iOS solution, you will be able to track location, SMSs, photos, Whatsapp, LINE and other such applications from your Spyier login, using any browser.
Overall, the app has its stealth mode technology of advanced level. So, you need not worry about anything. You can easily track your kids using it – without them knowing.
What all can be tracked using Spyier?
Whether it's a text sent or call placed, a social media accessed or a website surfed, with the Spyier cell phone tracking solution, you can remotely monitor your child's phone and yes, without them knowing.
For spying the Android or iOS target device that your kid has, use any web browser or device & log in to Spyier account. You do not need access to the target device anymore.
Worry Not!
Spyier is a highly secured child monitoring solution, adhering to strict privacy standards. It does not intrude into the target phone's data or store it. So, it is totally safe to use the app.
Well, this is just the tip of the iceberg and the application has much more to offer, wondering what?
Worried about where your child goes after class or is he missing one?
With this feature-rich cell phone tracking app, you can embed locations, creating a fence across the important ones. So if your child crosses the particular geographical region, you will be notified then and there.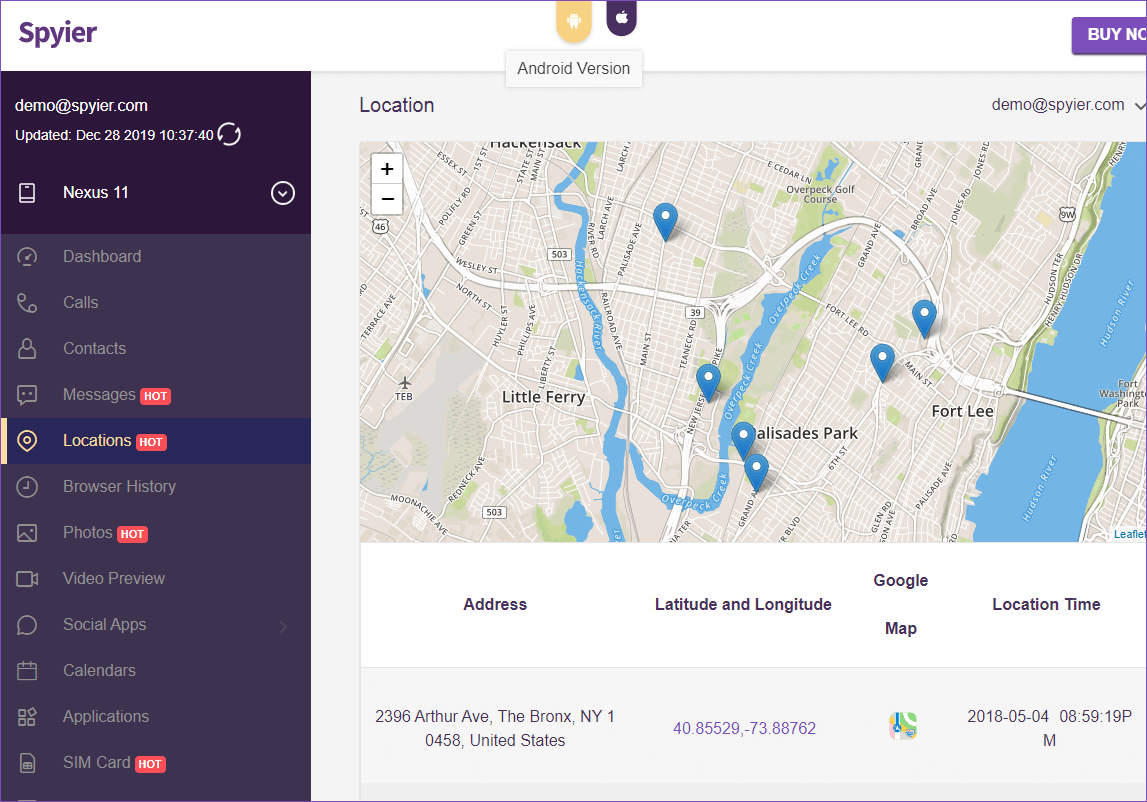 Also, you can track your child's movement, identifying his/her destination.
You may/may not have any knowledge of which apps stay in the app drawer of your child's phone. But no more does this restriction prevail. Spyier comes with the exclusive social media monitor feature that enables tracking all of your social media activities on the go.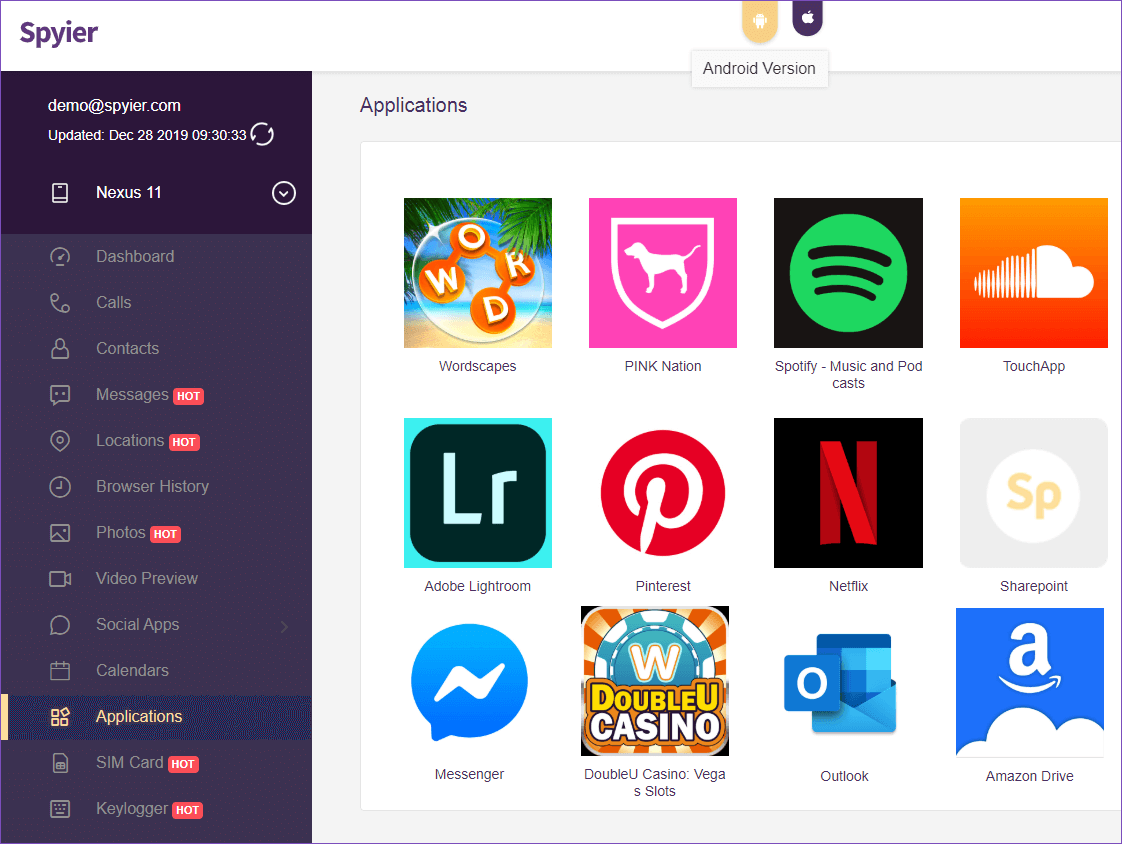 Not just the apps or the location, but the cellphone tracking app can also intrude on the keyboard on Android phones. Everything that your child types in the device, from account credentials to text messages or Google searches, the tracker would notify you on all.
Of course, you cannot eye on your child's device throughout the day.
Don't worry, Spyier has got you covered. You can log in and browse through the search engine history of your child's device, keeping you informed.
Intimidating enough! But how does it work? How are you going to use the Spyier application?
Let's have a look:
You will need a Spyier subscription to track your child's phone. You can

purchase one on the pricing page

. Choose a plan, enter your email, and proceed. You will receive a password on the payment confirmation page and by email.

The email will contain some useful information about Spyier. The password you receive is randomly-generated. You have the option of changing it.. Click on "Start Monitoring" when you are ready to proceed.

The setup wizard would pop on screen. All you've got to do is walk along with the process, as per the target device's OS –
After you have successfully installed the software/verified credentials, you can now navigate to the dashboard and have all the activities of your child right in front of you.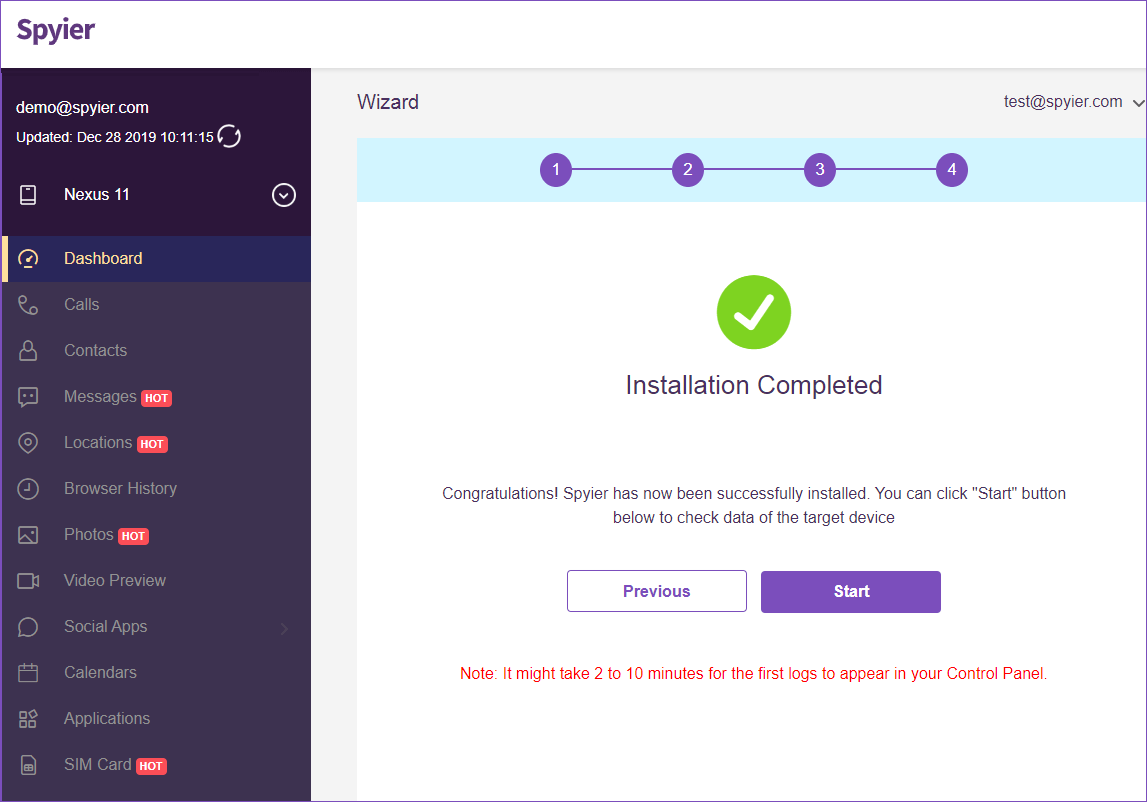 Don't worry. It's hidden if you've followed the installation guide properly. Your child won't come to know that you are snooping on his/her smartphone.
Quick Tip – Try Spyier live demo to understand the solution well.
What makes Spyier Application a Perfect Child Tracking App?
We are sure you would have by now received an answer to how can I track my child's phone without them knowing. But if you are still concerned about why Spyier, the below-mentioned qualities of this app would eliminate that too –
Accessing the application and navigating through the different features is pretty simple and easy. The dashboard displays all of the aspects, right from geo-fencing to tracking location, keylogging, app information and social apps. All you need to do is scroll left and start using it.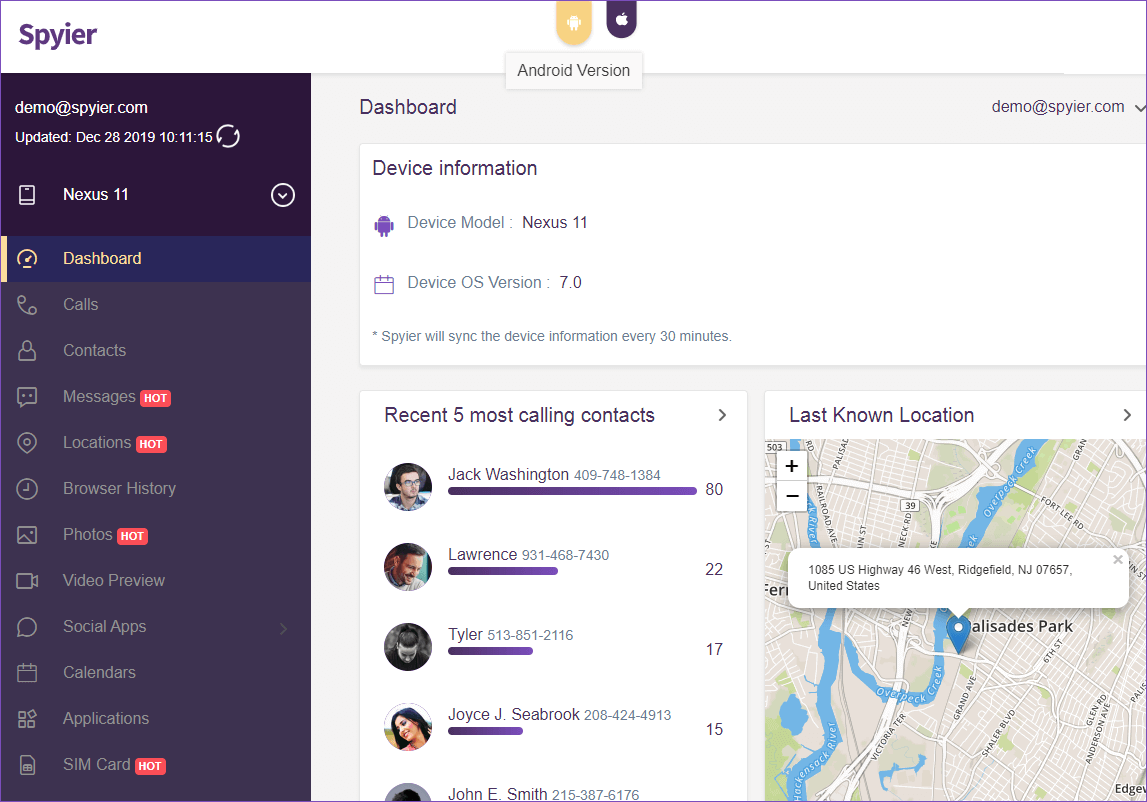 No doubt you need to pay but the fee is nominal and would not bother you much. Also, given the deck of features, the application encompasses, it is worth paying.
You Need Not Be An Expert
Coming this far, you would have realized that using the application is no rocket science. In fact, it is easy and one can engage swiftly.
You need not download any app or software. Instead, use the application through any of the available web browsers.
A single software bundle that helps you achieve seamless tracking of your child's smartphone, Spyier – Sign up today!
Don't Miss: How to Track My Daughter's Phone Without Her Knowing?
Part 2: How to Track My Child's Phone for Free?
Popularly known as one of the best cellphone tracking apps, fami360 is a trusted application and used by millions of parents. The application allows you to snoop on your child's device and keeps an eye on their activities without jailbreak.
Wondering why fami360? We will get into the specs but before that let's see how does this application works?
It doesn't take more than five minutes to install the application and start with tracking your child's phone. The installation and usage process is almost similar to that of Spyier (explained in previous section).
To use the application, you can either download their app or browse through a web. Just log in using the appropriate credentials and get started.
The application is easy to use and involves the following features:
Phone Activity Tracking: keeping an eye on the text, calls, calendar, photos, etc.
Social Media Monitoring: Staying updated on the interaction of your child with different social media apps.
Device Tracking: Trace the location, spy on the keyword, geofence the device, etc.
Obtain 360° of your child's activity with fami360 software.
Also Read: How to Track a Cell Phone Location Without Them Knowing
Part 3: How to Track My Child's Phone without them knowing for Free
Ok, we agree paying might not appeal to you and so we have a solution to how to track my child's phone for free. You need to understand the basics of using smartphones and your job would be done.
When your kid is using Android device
Note that you do not need an Android device to monitor an Android device. You can also use your iPhone for this. Just follow these steps –
Download Google Family Link for Parents app from Android Play Store or iTunes on your phone. This app will let you track your kid's location, and will give additional control on your kid's smartphone, once you add children to your app.
Now, to see his/her location, click on a child's name.
In 'Location > Setup', turn on the required settings on target's phone, as it is needed to track your child without them knowing.
Save settings.
This configuration will start working after 30 minutes and give you live location of your kid whenever you'll want.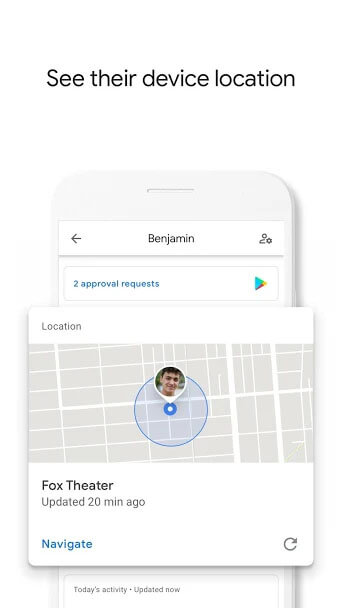 When your kid is using an iOS device
Go to settings > [Your name] > Family sharing. Here, add your kid as family member and finish all verifications that are required for the same.
Access your child's phone for a minute and enable location sharing.
Now, using Find my Friends app on your iPhone or iPad or using Find my iPhone feature, you will be able to track your kid without them knowing.
Now, this may not be the best way but when you are looking for how to track my child's phone for free, these are the most reliable options.
Don't Miss: How to Track A Phone Number: A Definitive Guide
The Final Word
No wonder what your thoughts are on how to track someone's phone without them knowing, however, if you ask us, we would bet on Spyier. Tons of features, plenty of benefits, nominally priced easy to use. Definitely, it is worth using!\
This post is also available in: Español (Spanish)