A friend of mine was upset for a while and I couldn't figure out why. Then one day, he disclosed to me that her wife has been behaving differently lately and he suspected she was keeping secrets from him.
This had been keeping him up for nights, especially since he couldn't know for sure if his suspicions were true or not. Obviously, confronting her directly wouldn't have done any good as people who cheat don't find lying to be a hard thing.
While I tried to clear his suspicions away, his disappointment wouldn't go away. Therefore, I decided that I need to help him since he is my friend just like you people.
I suggested him a way to track his wife's cell phone without her knowing about it. He followed by advice and the step by step method I told him. It worked like a charm and within five minutes he had all the data and the location of his wife's phone.
While his predicament was solved, I realized that he was not the only one facing this problem. There are many other friends among readers like you who are in a similar problem.
Therefore, I have written this detailed guide to help each and every one of you:
Part 1: How to Track My Wife's Phone Without Her Knowing
Tracking your wife's cell phone isn't as hard as you think. Well, it could have been hard if you didn't have me and this guide to help you out with it. But now it is going to be a piece of cake.
Therefore, just stick with the steps that I mention here and the process is going to be smooth for you. Your wife is not going to have secrets any longer.
1.1 Spyier- Best App to Track Your Wife's Phone
Spyier is a phone monitoring solution that will reveal to you all that your wife has been hiding. It works to track your wife's phone whether it is Android or iOS one.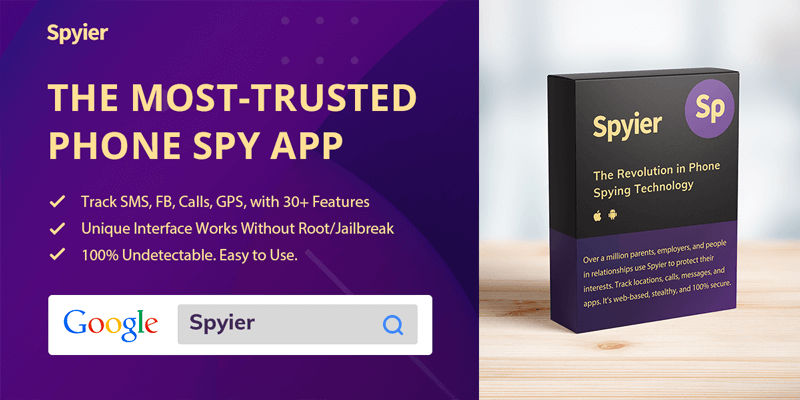 It has helped countless relationships by making clear all the suspicions of people. It has also helped in exposing several cheating spouses as well. If you think that your wife has been cheating on you, Spyier is what you need too.
And it is not just me who thinks that. Spyier has a very high retention rate, meaning that people who get Spyier once keep getting it over and over. Therefore, you are going to never regret using it as well.
Keep reading to find out a few of the things that make Spyier so awesome:
Why People Are Using Spyier to Track their Wife
Of course, there might be other ways possible to track your wife's phone. After all, the world is full of possibilities. Here is why I find Spyier to be better than any other way:
Web App
Spyier is a web application that works through any web browser you choose. You won't have to download Spyier on your phone or computer in order to use it. This means that you can use it from anywhere through any device.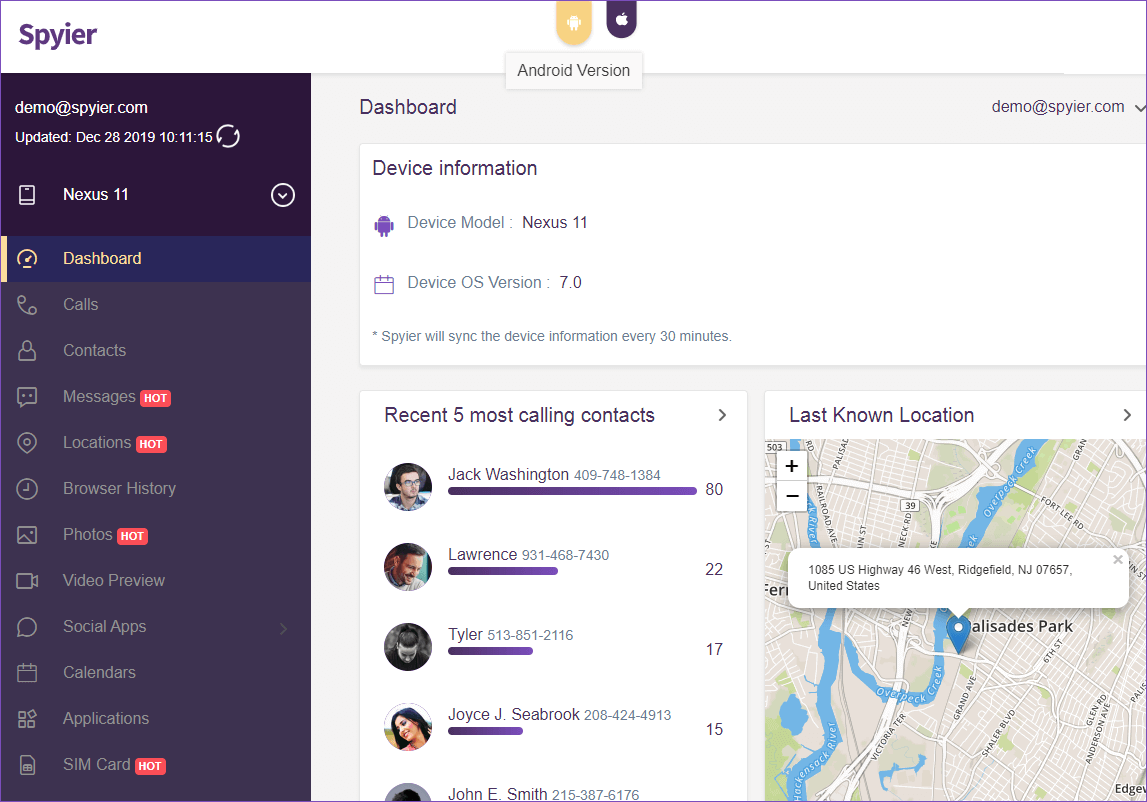 Rooting/Jailbreaking Not Required
Unlike most other phone monitoring apps, you won't have to root or jailbreak your wife's phone if you are using Spyier. Rooting or jailbreaking a device can make it prone to external threats and loss of data.
Data Security
Spyier employs top notch security protocols to ensure that your private data is actually private. In fact, none of your private data is stored on Spyier's servers. There are no third eyes on your wife's private data other than yours and hers.
Pricing
You can get Spyier for a negligible amount which feels like it comes totally free. For just a few bucks you get to use Spyier for a complete month. Imagine how much you would be saving as compared to hiring a private detective to keep an eye on your wife.
When it comes to Spyier, there are several other things to love. However, we might stray off topic if I started listed each one of them. Therefore, how about you check out this free Spyier demo and see for yourself what Spyier is worth.
Track Your Wife's Phone WITHOUT HER KNOWLEDGE
The important thing while tracking your wife's phone is that she should never find out about it. If she does, you are going to be the one in the wrong light. Spyier understands this, and this is why its solution is designed to be completely hidden for Android and iOS phones.
If your wife uses an iOS phone, you don't have to access her phone even once to track it. Spyier employs an ingenious method of iPhone tracking that few other apps do.
All iOS devices have iCloud feature in them to upload all of the device's data to the iCloud server. Spyier utilizes this backup data to extract valuable information about the target device. All you have to do is verify the iCloud credentials of the other user, Spyier does the rest.
If your wife uses an Android phone, you will need a one time access to the target phone in order to install the tracking app on it. This is true for all GPS phone tracking apps when it comes to Android devices, due to the special design of Android phones.
However, when it comes to Spyier tracking app for Android, it is specially designed to be completely hidden. To start with, the app size is less than 2 MB and it installs within seconds. Once installed, the app icon will vanish from the target phone's app menu.
The app runs in the background without triggering any notifications. It won't even consume any battery at all. Therefore, your wife will never get suspicious that you are tracking her cell phone.
And if you ever feel like uninstalling Spyier from her phone, you will never have to access it again for that. You can uninstall Spyier through its web dashboard from any web browser remotely.
As you can see, this special design makes sure that your wife never finds out that you have eyes on her.
**For Android devices, you need to install a tracking app on your wife's phone whether you are using Spyier or any other tracker. If any app claims to track your wife's Android phone without installing an app on it, you should be wary as it might be a scam to steal your data or money.**
1.2 How to Track My Wife's Cell Phone GPS
To track your wife's location, the steps are easy and simple:
Step 1: You need a subscription to Spyier to use the app. First, go to the pricing page and take a look at the plans on offer. If your wife owns a single device you'd like to track, the Premium plan is a suitable choice. 
After you pick a plan and initiate the purchase process, a pop up window will appear. Here, you need to enter your email ID. This is used to make your account.
Step 2: You will be taken to the confirmation page. You can view your login credentials here. Your email ID is the username and you will be assigned a random password by the server. This password is unique and visible only to you. 
You also receive an email with details about your account and extra information about this app, including links to the installation guides. Take a look at the Android installation guide if you get stuck later. 
When you are ready to continue, choose "Start Monitoring". 
a.) If your wife uses an iOS device (like an iPhone), you will have to verify her iCloud credentials with Spyier.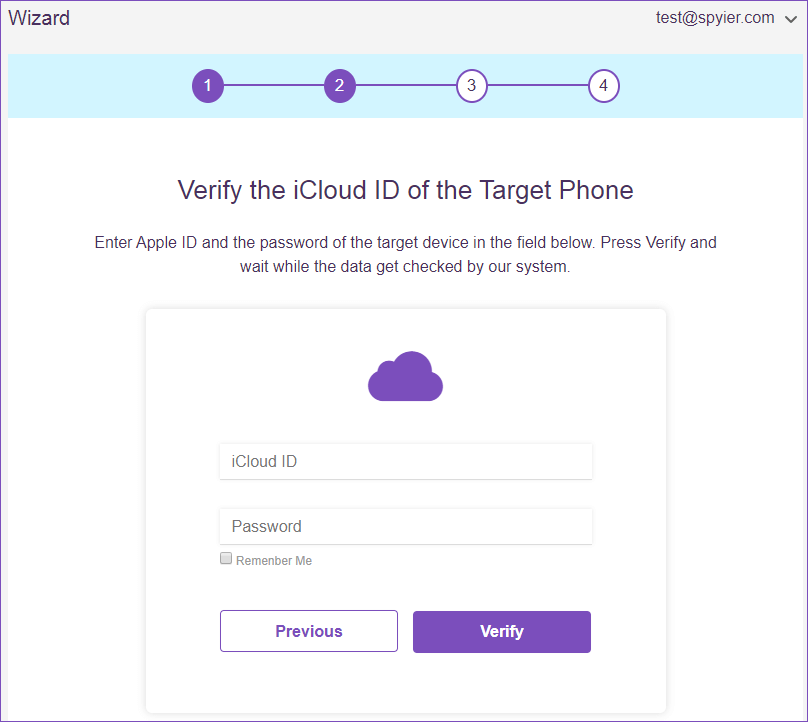 b.) If your wife uses an Android device, you will need to install the Spyier app on her phone. This can be done through the download link mentioned in the setup wizard.
Step 3: Click on 'Start' and you are ready to monitor the target device. You will be taken to your own personalized dashboard now.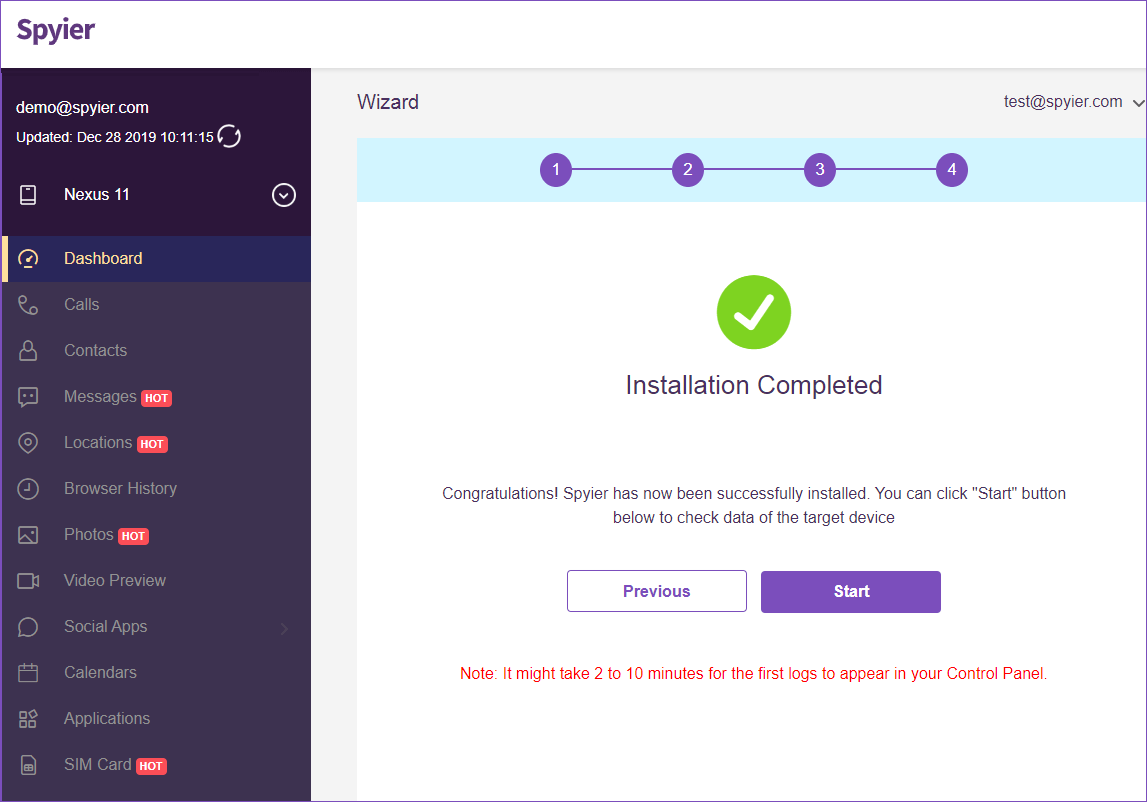 Your dashboard is the place from where you can manage all your Spyier features. The features are available as tabs on the left hand side of the dashboard. If you want to track your wife's phone, the following features are going to be helpful for you:
Location Tracker
Spyier's location tracker gives you 24×7 live location of your wife's phone. You also get to see her recent locations along with the timestamps. Therefore, even when you are busy and can't see your wife's location, Spyier will still get it for you later.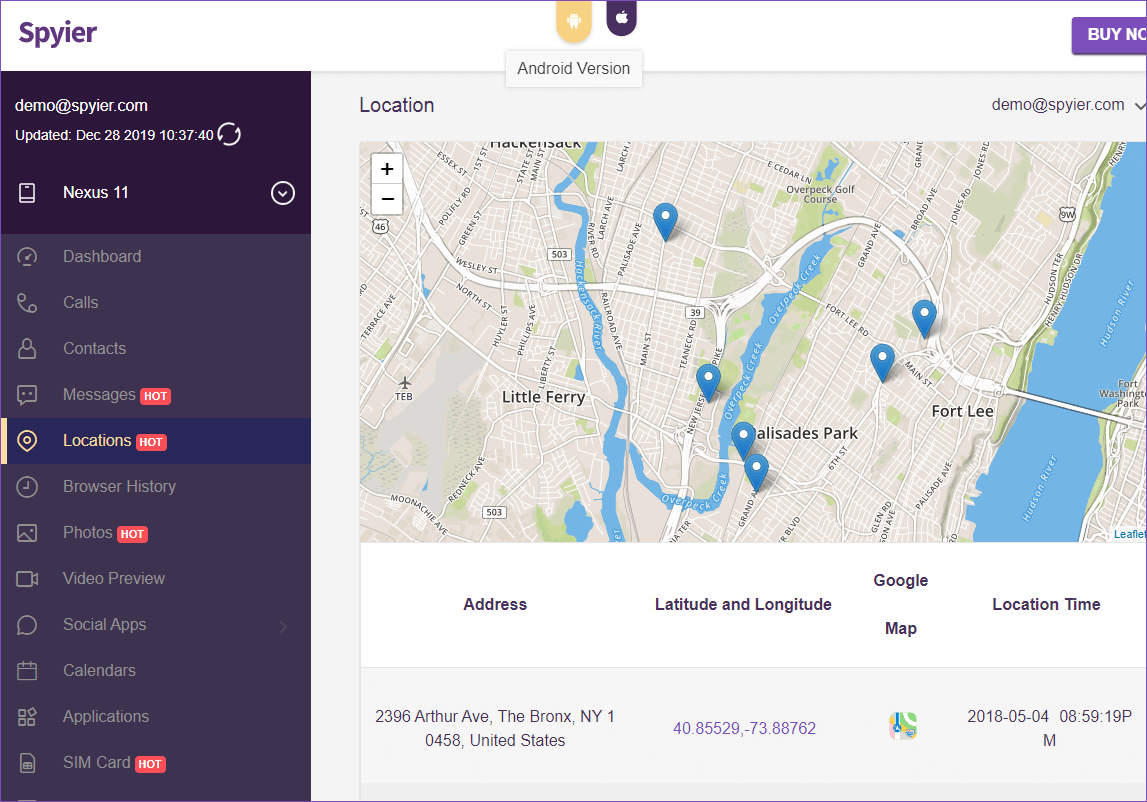 Geofencing
Geofencing takes location tracking to the next level. With Spyier's Geofencing feature, you can set boundaries on the map for your wife's location. If your wife crosses these set boundaries, you get an immediate alert.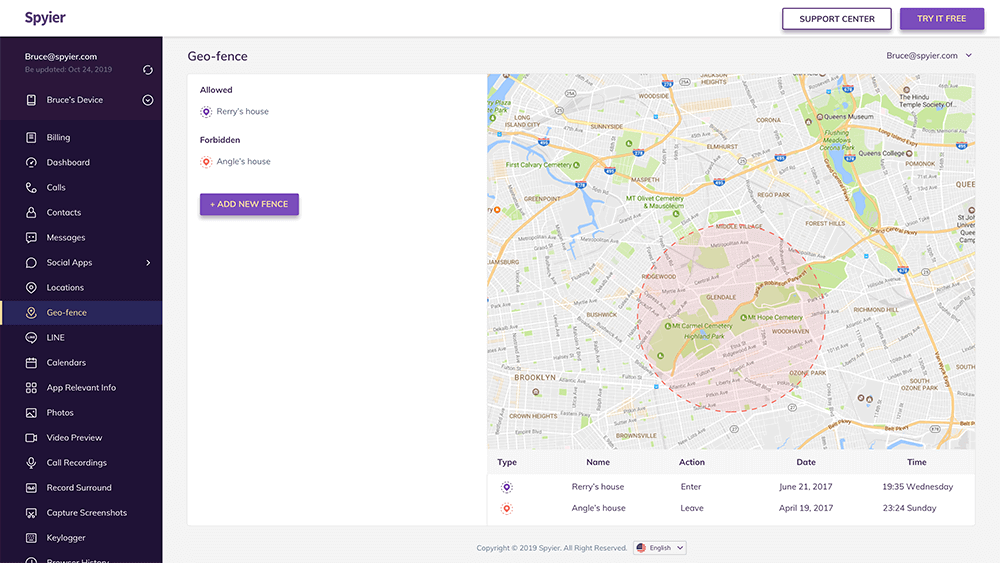 Call and Message Tracker
Spyier gets you the complete call logs of your wife. You can also read her social media messages of any platform and so much more.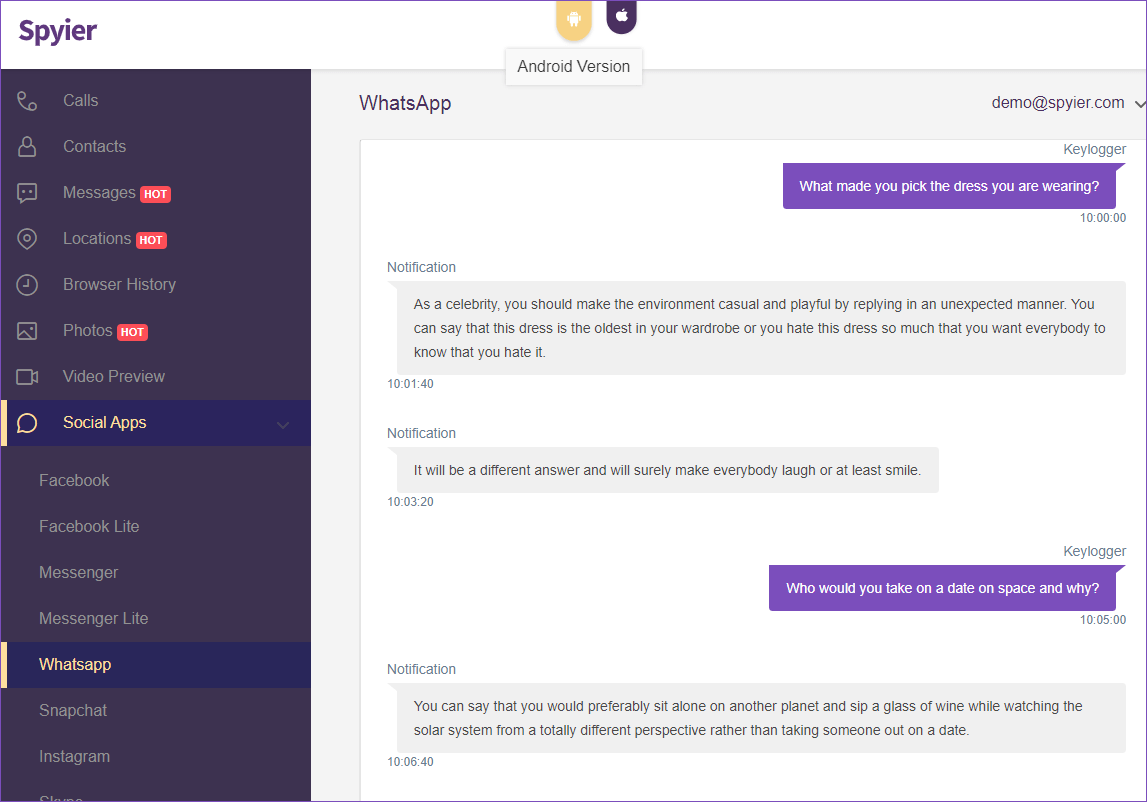 There are more than 35 features that you get with Spyier. You can check all of them in the Spyier's free web demo. You won't have to register to try it out.
Don't Miss: How to Track Someone by Cell Phone Number Without Them Knowing
Part 2: What to Do After You Tracked Your Wife's Phone
Now you know how to track your wife's phone. What you don't know is all the things you will find after tracking her phone. If you find out that your wife is lying to you or cheating, how you proceed is important.
The first and foremost thing to keep in mind is that you maintain your calm. Losing your temper and being impulsive isn't going to do you or your wife any good. Therefore, you should tread carefully from here.
Everyone deserves a second chance. If you feel that your relationship hasn't come to a breaking point yet, you should be sure to hear out what your wife has to say and give it another try.
Otherwise, if your wife cheated on you and you feel that it has gone beyond a point of no return, the wise thing to do is call it off and have a clean break up. However, I suggest you talk about things with her properly and discuss the state of your relationship before taking any one sided action.
Also Read: How to Track My Boyfriend's Phone Messages Without Him Knowing
Endnotes
If you were wondering how to track your wife's phone, this detailed guide today is going to be more than enough. My work is done and what is left is for you to try out the steps mentioned here for yourself. It might give you a good night's sleep and end your nightmares.
This post is also available in: Deutsch (German)