'How to hack an iPhone camera?' 'Can iPhone camera be hacked?' Questions like this are common. People from all walks of life often find the need to hack an iPhone camera, sometimes because of personal requirement and at times because of curiousity.
However, when it comes to finding the answer to the question, the various sources on the internet can point you in different directions. This can lead to a lot of confusion among readers who want a simple approach to the problem.
The unfortunate part is that most of these guides point towards jailbreaking the iPhone to hack its camera. What they don't tell you is that it can actually harm the iPhone's integrity. Luckily, through this guide, there would be no such requirement to jailbreak it.
After you have read all the information provided here, you will know about the best way to hack an iPhone camera and the pitfalls to avoid. Therefore, read this guide till the end:
Part 1: Can iPhone Camera Be Hacked?
The internet will return millions of results for a simple search phrase like iPhone camera hack. You need to be really careful about the product you choose, as most of these are fake and all they want is your hard-earned money.
Although there is nothing like 100% security, you must thoroughly scrutinize the available options and choose the one that actually works. We simplified it for you by doing deep research on the iPhone camera hack to bring you a secure, affordable and working solution.
Part 2: How to Hack iPhone Camera
Many applications that can actually help you hack someone else's iPhone are complicated to use. They require you to install complicated apps and jailbreak the target device. It will void its warranty and you run the risk of ruining it forever.
Even if you manage to install the app on the target iPhone to spy on its camera, you run the risk of being detected. Monitoring the target iPhone is another long-drawn process, where you are required to install some shady app on your own iPhone, compromising your security.
None of these solutions are ideal and they might well end up compromising your own digital life rather than tracking somebody else's. Some of the most important things about a spy software claiming to hack iPhone camera are:
Security
Brand identity
Affordability
Simplified monitoring
Ease of use
Universal access
2.1. Spyier: The Reputed, Secure iPhone Camera Hack App
Spyier is your one-stop app for all your spying needs. It comes from a reputed brand operational in over 190 countries and has been in business for more than 10 years. This is enough to give you the confidence you need for using Spyier. Isn't it?
A number of reputed technology websites such as TechRadar, Engadget, and LifeWire have given it a thumbs up. The best part is that Spyier's iOS solution does not require you to root the target device or install any shady software, making it completely safe to use.
Spyier works on the iCloud backup generated by the iPhone you are targeting. You get universal access to the camera of the target iPhone and access it from anywhere in the world. All you need is an active internet connection. Therefore, you can use Spyier to directly hack into an iPhone from your computer.
These are the salient iPhone features of Spyier that you are going to love:
No installation required
No jailbreak required
Global access to target iPhone camera
Easy, 3-step registration
Universal access through cloud-hosted dashboard
No security concerns
Data security
Peace of mind
It might sound too good to be true but it really does what we have mentioned above. In fact, you will be pleasantly surprised to know that it does a lot more than this when it comes to spying on a target iPhone – without ever installing any data anywhere!
So, what are you waiting for? Visit the Spyier website, register using your email address and get set to hack the iPhone camera of the people you want.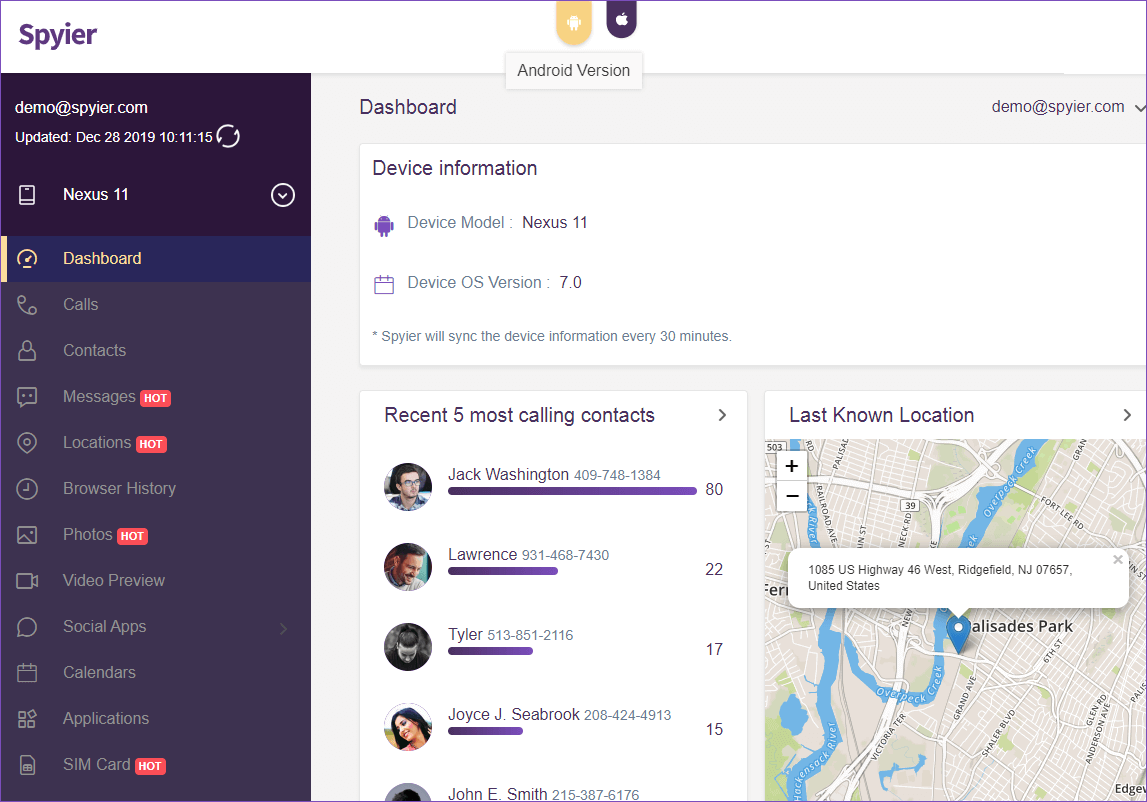 2.2. How to Hack Into Someone's iPhone Pictures
Spyier is so simple to use that you do not have to worry about bricking iPhones or getting caught while monitoring the target device. As there is no software to be installed anywhere, you can simply create your profile on Spyier website and get going.
Here are the easy steps through which you can follow to hack and monitor any iPhone camera:
Step 1: Avail a Spyier subscription for iOS devices. Enter your email address during the purchase. Once the purchase is completed, you will see your login username and password on the screen and in your email inbox.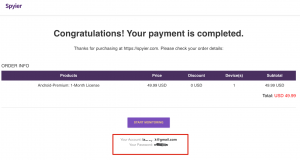 Step 2: Login to your Spyier account through the username and password. For the first time login, you will need to configure Spyier through the auto setup wizard. Enter the iCloud credentials of the target iPhone here.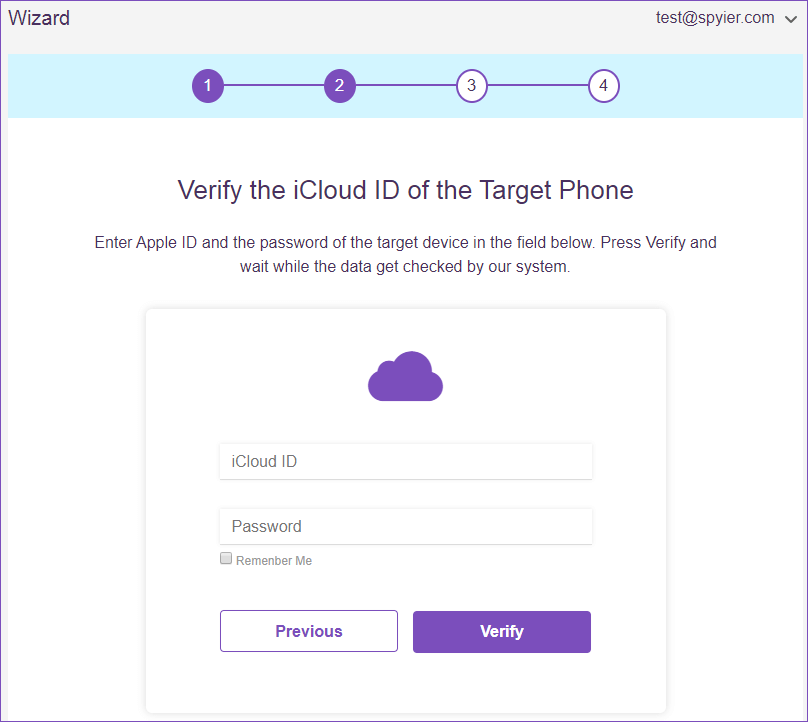 Step 3: Once the configuration is finished, click on the 'Start' button. You will then get access to your Spyier dashboard along with all of the features.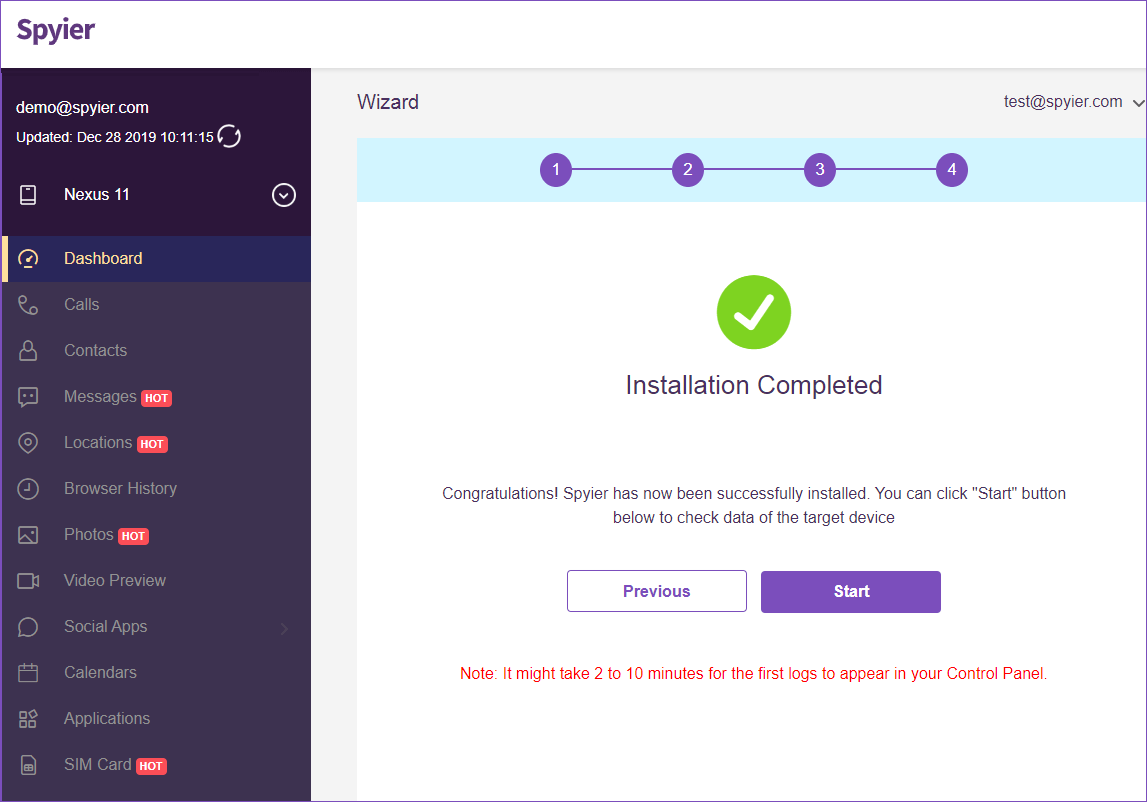 Once you complete these easy steps, your account is set up and you can hack any iPhone camera you want to. It does not stop there – you can access a lot of additional data such as social media account, SMS, call records and much more. You can check this guide about how to hack iPhone messages.
You might not believe it but it really is this simple. Say NO to those expensive apps that promise you the moon while pitching their expensive products but end up stealing your data.