In an era of digitization, we are surrounded by various digital services that claim to make our life better than before – in some way or another. Though some have really met the claims, no one has changed our life the way Gmail has changed.
The biggest and most loved digital mailing service, Gmail has held various secrets about a person's personal and professional life. Sometimes, you might want the access someone's Gmail. Read this post to learn how to hack Gmail, and do so.
Gmail Hack: How to Hack Gmail?
A Gmail account is the goldmine of various personal and official information of a person. Depending upon the usage, a Gmail account has hold tons of secrets of its user.
If you want to learn about how to hack a Gmail account of your loved ones, or want to keep track of employees' Business Gmail accounts for a legit reason, read this article. We've given 5 best ways of doing this without falling foul of anything.
Part 1: How to Hack a Gmail Account?
Technology is really amazing. While using it the Gmail developers have made it a tough nut to crack, it can be your hammer to break this nut. So, let's begin with our first choice for doing the same.
It is Spyier. Spyier is where you will find the technology using which you can hack a Gmail account without even letting anyone know about it.
Spyier – Your personal Gmail Password Finder
Spyier is a feature-rich remote monitoring app that comes with commendable iOS and Android related spying/hacking compatibilities. With more than 30 phone monitoring features, it is leading the league.
It has gained name and fame in more than 190 countries and swells with pride as its satisfied customer database as crossed the mark of 1 million in a short period.
Unlike various other fake remote monitoring apps, Spyier doesn't save user's data on its server. Whatever the details you enter remains behind the curtains throughout the process. So, be assured that you are not going to be a victim of any cyber fraud or a virus attack with Spyier.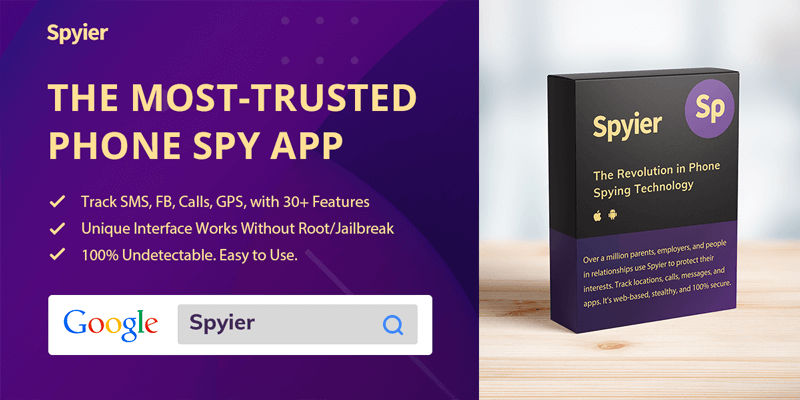 How Spyier Gmail Hack works for Android Devices, without the target knowing?
Other Android Gmail monitoring apps tend to heat-up the device as if it is boiling, hamper the performance, and consume the battery like anything. All these attributes make things fishy for the targeted person and s/he realized that someone is spying on her/him.
Thank God this is not the case with Spyier.
The Spyier app for Android stuns you with its impeccable performance. Keeping its promise of risk-free Gmail hack assistance, Spyier offers you an ultra-light, user-friendly, and highly precise remote monitoring app for executing Gmail hacking for Android-based devices.
Note: Android's OS design prevents phone monitoring activities without app installation. Claims to do so, without any app on the target's device, are false. Keep them at hand's distance is the right thing to do as it may drag you or your device into cyber fraud. 
By gaining one-time access to the targeted device, you can track all of the activities happening over it while being physically miles away.
With its compact (< 3MB) size and bug-free operations, it is not going to impact the targeted device's performance. Neither has it consumed much of the phone's battery nor does it make it boil. Hence, no one can ever find out that they are watched all the time.
The app installation will hardly consume 5-minutes and works in stealth mode. You can always uninstall it from your user dashboard remotely, later on. No other Gmail password cracker does the job with such perfection and ensures you about your safety.
How Spyier Gmail Hack works for iOS Devices, without the target knowing?
iOS is known for its security features. However, Spyier can swiftly barge into it too. Spyier's iOS solution is 100% web-based, and therefore needs no installation. It means, your target won't ever know that you are spying on them, or have hacked their Gmail.
Right iCloud credentials and valid Spyier account will fetch iOS device backup data and render it for you in the Spyier dashboard.
Spyier just doesn't hack Gmail of your target's iOS device, it can also fetch details related to calls, text messages, iMessages, photos, videos, Whatsapp conversations, LINE data, calendars and browser history. So, if this much data is enough for you, use Spyier.
Why choosing Spyier is an intelligent move? 
It's not only the features that make Spyier stand out of the crowd. It's its impeccable performance that never disappoints you and assists you all the way through. Gmail hack can be a migraine or create tons of hassles for you. Here are the causes:
The two-factor authentication is enabled on the targeted device
Yes. Gmail has adopted an innovative way to protect the account and i.e. two-way authentication.
As per this facility, a user receives an OTP on the attached mobile phone number to access the Gmail account. Now, if you are going via any other online way for Gmail hack then you will fail big time if two-factor authentication is enabled on the targeted account.
However, pulling the wool over somebody's eyes, even if two-factor authentication is enabled, is possible with Spyier. This remote monitoring tool gives you full access to the targeted device.
You need to jailbreak/rooting the targeted device 
Jailbreaking (on iOS) and rooting (on Android) are two things that unlock the targeted device's terminal and gives full access to the outsider. They can control the targeted device from a remote location. However, doing this is highly perilous for the device's safety.
If anything goes wrong, you can turn the pricy and dear phone into a dump-piece, damaging its OS's core. If successful, it makes the targeted device more prone to malicious hardware available in abundance. Also, you may lose your crucial data forever.
So, if a Gmail hack solution is taking you on this path then there is no end of your agony.
It's better to play safe with Spyier as it doesn't put forward the demand for these two activities at any stage. This solution has its very own advanced algorithm which works on the bases of iCloud back-up data (in case of iOS) and device tracking tool (in case of Android).
Both these ways are risk-free and legal while giving you admin-like control over the targeted phone's activity from miles apart.
Gmail Password Hack – How to log into someone's Gmail account without them knowing?
Note: This section only talks about the theoritics of our Gmail hack. For detailed understanding of how Spyier works, scroll down to the section 'How to Hack a Gmail Account Password Easily?'.
Well, it can be possible with the Keylogger feature of Spyier.
Keylogger is an advanced, compact, highly powerful, and legitimate program that runs in stealth mode in the background (so the target can never find out it) and saves all the keystrokes made on the targeted device.
Each time the target will type anything, Spyier's Keylogger will transfer the data on your dashboard. All the data can be reviewed directly from the dashboard. You can also choose to receive the data directly on your email address as well.
To find out the relevant data, Spyier's Keylogger comes with an advanced search filter. Just made the relevant search, get the Gmail password and you are good to go.
Throughout this process, Spyier's Keylogger maintains your anonymity and keeps you away from harm's way. Also, its Keylogger operations are not stopped by the HTTPs encryption. Thus, you can be sure about the in-transit data safety.
Unlike any other ordinary Keylogger, Spyier's Keylogger doesn't slow down the web-pages and never shows an error screen while it is in action.
How to Hack a Gmail Account Password Easily?
No matter how important it is to use a Gmail password cracker, you won't like to get caught in the action. That is why using Spyier for the job is the ideal move here. Now, learn how to execute a Gmail hack process successfully using Spyier –
Step 1 – Getting a Spyier Account
In order to use Spyier's services, you will need to have an account ready with it. For this reason, you need to get a Spyier subscription plan first. A Spyier subscription plan ensures you get access to all of its services.
Enter your email address when it is required during subscription purchase. Once you have purchased the subscription, you will see a successful message along with your login username and password.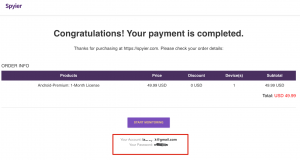 Step 2 – Configure Spyier.
Now that you have the login credentials, you can log into your Spyier account. When you login, you will be taken to your dashboard where all the features reside. If you are accessing this dashboard for the very first time, you will need to setup the application.
The setup process varies from application to application. You can learn how to setup the app in the next step.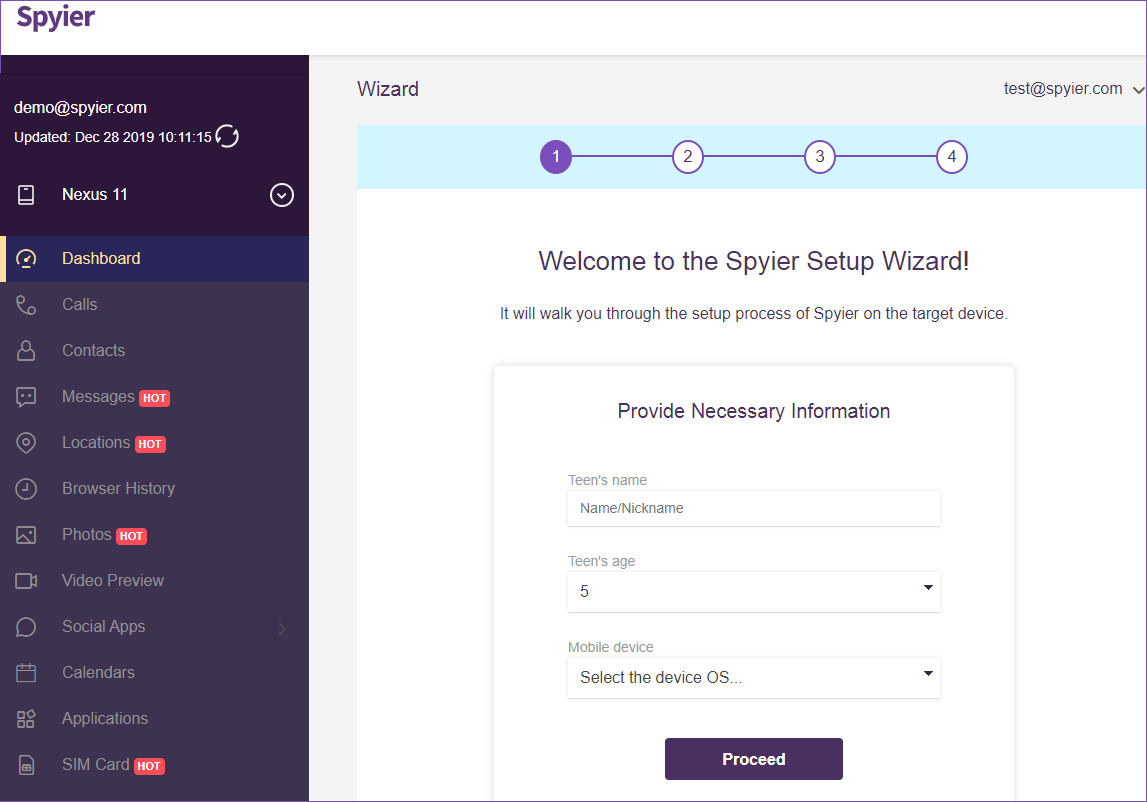 Step 3 – Bring Spyier on the Work Floor
i. To Use Gmail Password Finder while he/she uses an iOS device
After successful registration, you will receive an email from Spyier's side in your mailbox. Click on the link in the mail and you will be redirected to the Spyier's web-page wherein you need to fill the targeted device's iCloud credentials and verify them. It will be configured.
Check this demo link to have better clarity over how things work.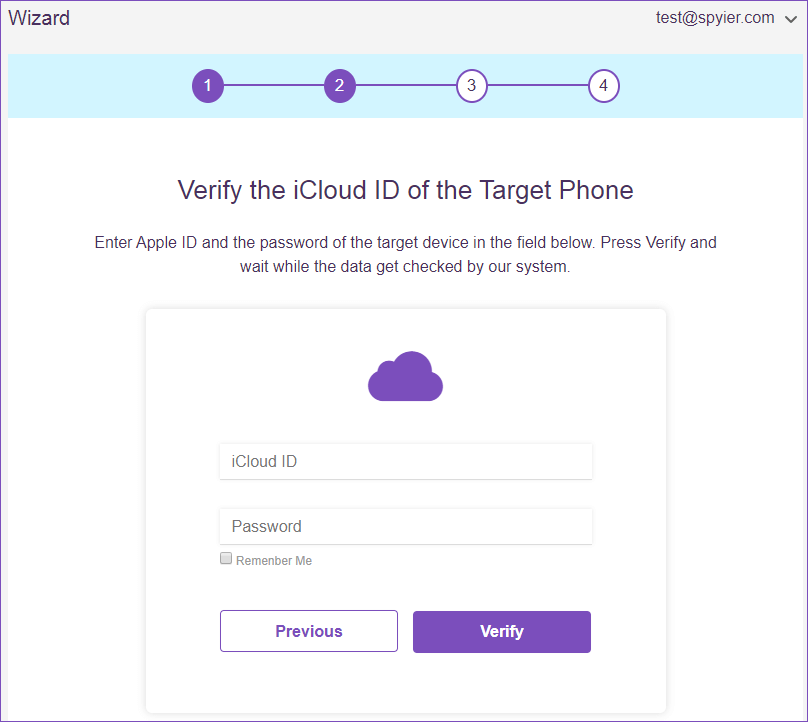 ii. To Use Gmail Password Finder while he/she uses an Android device
This Android app installation guide is what you need to make the targeted device Spyier ready. Make the setting changes as directed by the guide and go to your Spyier account. Set the app download link from the Set-up Wizard and install the app.
Configure the app as directed and grant the permissions asked. Now, you are good to go for Gmail hack on the targeted device. Use this free live demo link to understand how it works.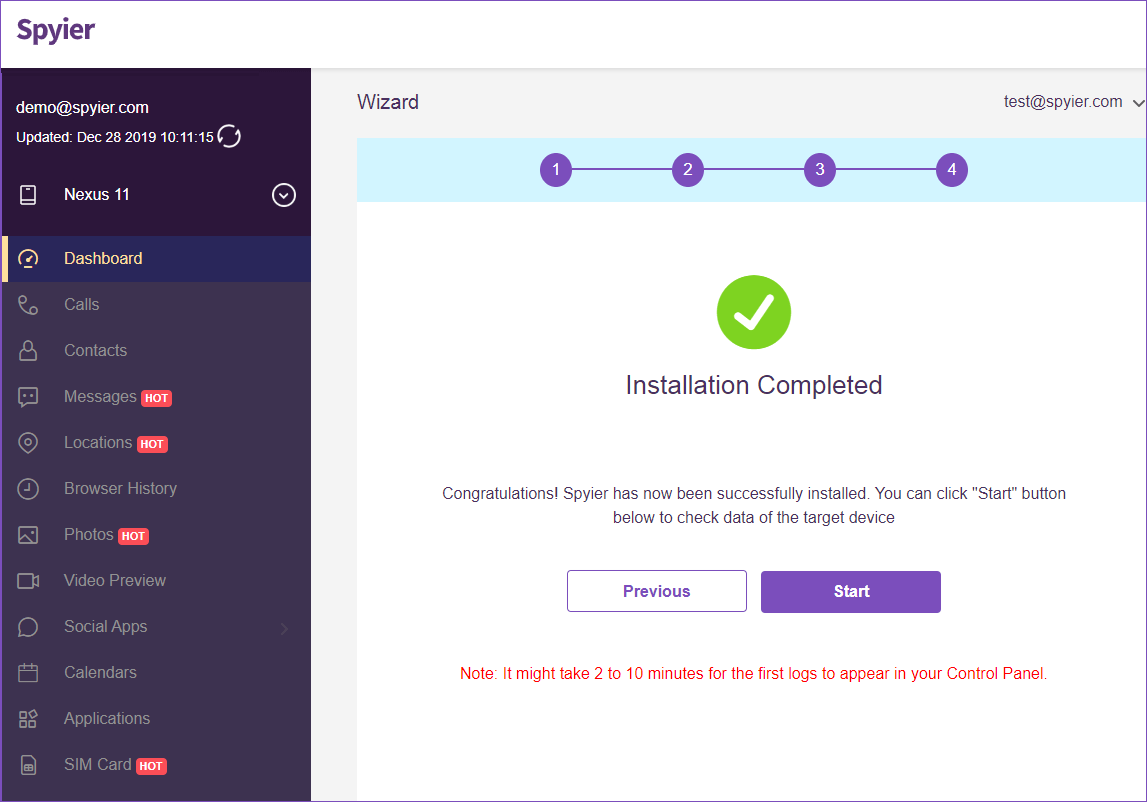 Step 4 – How to hack a Gmail account?
You must have configured the Spyier's Gmail password cracker easily using the respective installation guide by now. Visit your Spyier account using any of the devices/browsers. On the dashboard, you can see the target device's data rendered for you.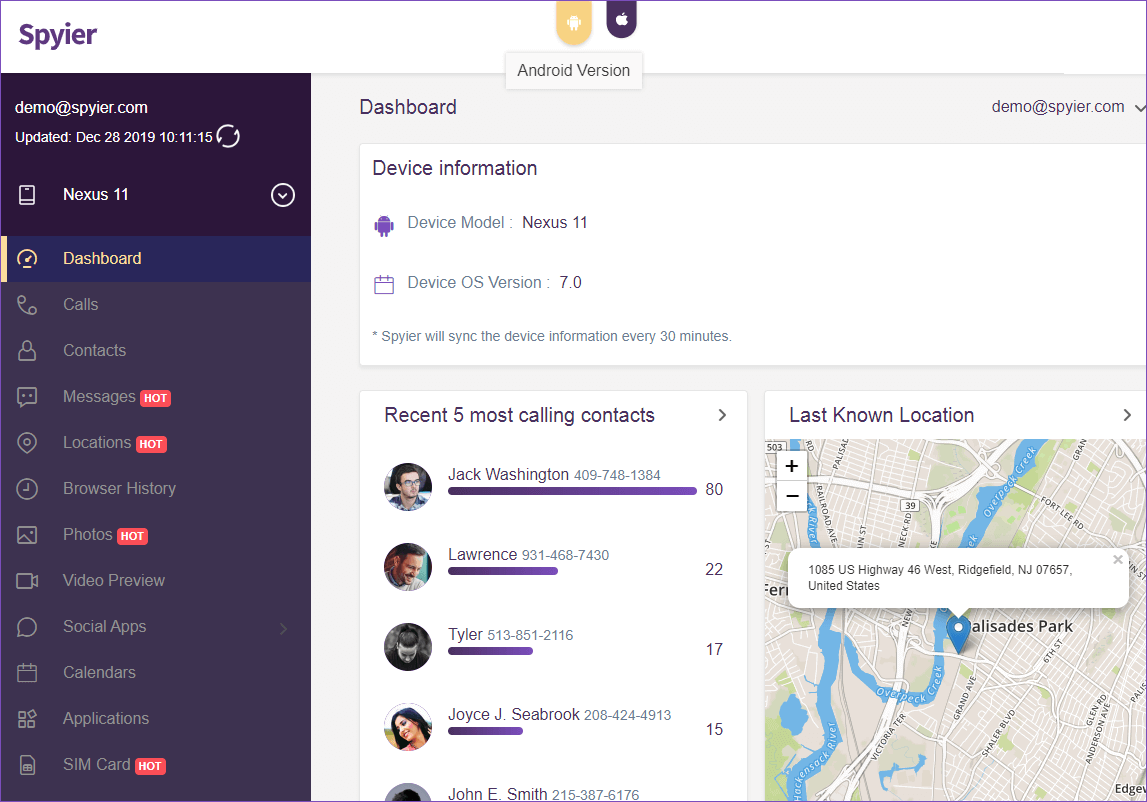 Step 5 – Use Keylogger
Gmail password hacking for Android and iOS phones is pretty easy using this method. If you've read this article thoroughly, you must know about Spyier's Android Keylogger (scroll up to find, if you skipped) already.
Click on the 'Keylogger' feature displaying on the left side of the dashboard and trace the password typed by the target for the Gmail account.
What are you waiting for now?
Sign up for Spyier today and get the best Gmail password finder assistance.
Part 2: How to Hack into Someone's Email without Their Password
Though Spyier will help you throughout your Gmail hack journey, we have other similar and equally potential ways to get this done. Cocospy is another popular and trustworthy remote monitoring app/software that can hack the Gmail account without asking you the target's password.
Packed with 35+ monitoring features Cocospy has gained prominence in more than 190 countries and enjoys over a million satisfied customer databases. Just like Spyier, it also offers compressive Gmail hack assistance for both iOS and Android devices.
The reason why it has made entry into our list is its ability to extract all the Gmail data starting from the password, email sent/received/drafted, contact lists, events created, and so on. Apart from Gmail hack, it can assist you in:
Call Monitoring (incoming & outgoing calls, call duration, and contact lists)
Camera Monitoring (pictures/ videos filmed)
Social Media Platforms Monitoring
App installed and used
Browsing History Monitoring
Live Location Monitoring
Also Read: How to Hack Yahoo Mail
Part 3: How to Hack Gmail Password?
If you want to know about how to hack someone's email then you must require the Gmail password for this. But getting it is not as easy as it sounds. However, Spyic, the leading remote monitoring app, will surely help you out in this. Using Spyic, you can gain full access to the target's Gmail account and read the emails exchanged.
You can bring Spyic at your service for both iOS and Android platforms. In both cases, Spyic works without putting forward the need for jailbreak and rooting. Whatever you will be doing will keep you away from harm's way.
Apart from your personal Gmail password finder, it can also be used to track the calls, SMS, social media activities, browsing history, and love location. Spyic gives you the facility to use its Gmail password hack facility on more than one device at a time.
Depending upon the plan chosen, you can bring more than 3 Gmail accounts under your radar. It also has a powerful Keylogger facility to fetch every keystroke activity made on the targeted device.
You May Like: KiK Hack: How to Hack Someone's Kik
Part 4: How to Get into Someones Gmail without Password
You must have seen a notification 'This website uses cookies' popping-up now and then whenever you visit any website. Though you may be ignoring it till now, it is your best bet to learn about how to log into someone's Gmail account without them knowing.
Cookies are basically small files stored on any computer that holds a specific amount of crucial information about the computer used and websites visited on the targeted device. One can access cookies either by using the web-server or the user's computer. So, for the Gmail hack, you need to hack the cookies sent to the targeted computer.
You can do it by getting connected to the same network as of the targeted one. To extract the information via cookies, you need to take a cookie capturing tool that will sniff the data for you.
Once you have the relevant cookies capturing tool, you can decode the packets sued over the targeted device. Here, we will explain this process about the Wireshark cookies capturing tool.
Here are the steps that you need to follow for this process.
Step 1: Download Wireshark software. It is available for Windows, Linux, or Mac. Choose the one which you require and install it on your PC.
Step2: Alongside this, you need to install TShark and WinPcap components in your PC to ensure proper cookies grab transferred over the targeted network.
Step 3: Download Java Cookie Cadger. This software requires finding out and intercepting the targeted cookies.
Step 4: Now, connect the PC with the same network as your target is using.
Step 5: Launch the Wireshark and Cookie Cadger while the selected network is the same as you are using. Now, you must be able to see the transferred cookies.
Step 6: Find out the cookies containing the Gmail account details or Google account. Click on 'replay this request' to bring these cookies on your device's browser. Once the cookies will be transferred on your browser, you can get the password for the targeted account.
Though this process seems easy-to-follow, it has its own limitations. For example, cookies have a very short life. They expire automatically after some time. So, if you are trying to Gmail hack once the relevant cookie has expired, you will never succeed.
Also, all your efforts will go in vain if the targeted person is browsing in SSL encrypted environment. Hence, chances of success are bleak via this process.
You May Like: How to Hack a Twitter Account
Part 5: How to Log into Someone's Gmail Account without Them Knowing
It is a very common practice that browsers like Firefox and Chrome ask the users to save password of frequently visited websites for end-users' continence. This facility can be really helpful for you if you want to learn about how to hack Gmail account password online free.
All you need to do is use the browser's password manager and retrieve that saved Gmail password for you.
Step 1: To get started with this method, you need to enable the password saving on the relevant browser. Then launch the available browser on the targeted PC and open enabled password manager. You can do it by following below-mentioned steps:
For Chrome – Click on the menu key>setting option> 'show an advanced setting' > 'Passwords and forms'> 'manage password'.
For Firefox – Click on the Menu key and then go to 'options'. Now, you have to unlock the security tab followed by the 'Saved Passwords'.
For Safari – Go to the Safari menu and select the 'preferences' >'Password' tab.
Step 2: Once the browser password manager is enabled, you need to search for the browser account lookout for the Gmail account.
Step 3: Click onto the 'show'/'show password' button as per the browser on your dashboard.
You will not be able to hack the Gmail account if you want to get access to the targeted person's PC/laptop. Hence, this is a very limited process.
The Final Word
Getting access to someone else's Gmail account is indeed a risky job. Though many online solutions claim to do the job for you free, the only handful is worth your money and trust.
Spyier's high-end technology and algorithm is the only thing that can break the security shield created by Google without putting you in the risk. The Keylogger by Spyier is indeed deserves a huge round of applause.
Without leaving a trace of remote monitoring, it gains you full access over the targeted device. Apart from this, Cocospy and Spyic are also trustworthy. However, we don't suggest you adopt the cookies stealing and browser's password manager way.
Both our bottom two come with high risks and low success rates. Adopt them only if you want to jeopardize your data or would like to get caught in the act.
Caution – All these methods discussed here are safe and risk-free. This post should be used for educational/reference purpose only. We are big-time supporters of only law-bided activities.