'Lately, my teen daughter is spending too much time on her cell phone. I have even heard her on call late at night, which is kind of troubling me because she is secretive about it. Is there a way to learn how to tap a cell phone so I can find out who she talks to?'
A lot of people ask this question as they want to find out who their child or partner talks to. Asking the person directly will not answer your query since people tend to lie and hide if they are on the wrong path.
However, if you knew a way through which you can tap a cell phone, imagine how easy things would be? You could know who they talk to and you could even listen to their phone calls.
Therefore, this guide is written to provide you with a solution to tap a cell phone secretly without the phone owner knowing about it. You can use the methods provided here to tap Android phones as well as iPhones from anywhere in the world.
The best part is that you do not need any technical expertise to make these methods work. They can be used by anyone and everyone, including you. Some of these are as easy as using your Facebook account.
Without waiting any longer, let us get into how to tap a cell phone with these easy and simple ways:
Part 1 – How to Tap a Cell Phone?
Unless you are a skilled technical guru, cell phone tapping requires you to use an app or a service that can handle the technical aspect. The internet is full of services that claim to do it, but fail when you try it out for real. Here is one service that actually works wonders:
App 1: Spyier- The Premium Phone Tapping Solution
When you are looking for a call tapping service, there is hardly any app that can be better than Spyier. Spyier is the leader in phone monitoring solutions and provides you access to all the call data of a cell phone remotely and secretly.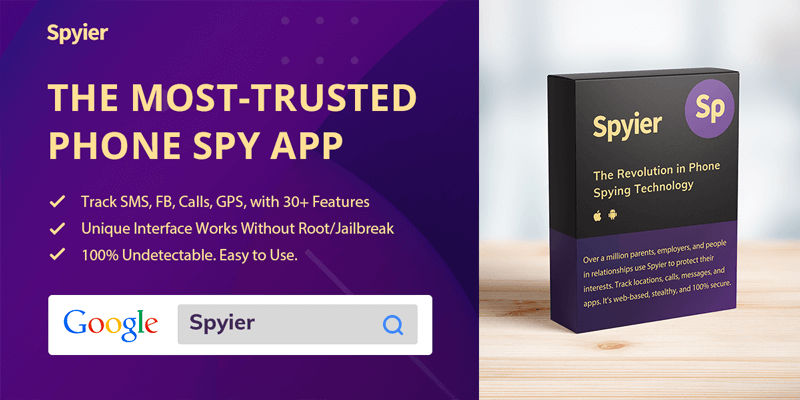 Spyier is a features-packed remote tapping app that allows you to have a sneak peek of targeted phone's activity from miles apart.
If the target phone runs Android, with Spyier, you can be ready to tap a cell phone in a blink of an eye as the app comes with a 5-minutes installation facility. As it is less than 3MB size, it doesn't consume much of phone storage.
In case of iOS, it is much easier to use Spyier as it doesn't demand any installation. Apple ID and password are enough to gain access to the target device, if he or she is using an iPhone. Later, you can login from any device and any browser for cell phone tapping.
Because of all these features and facilities, millions of users across 190 countries have already shown trust in Spyier and have used it to tap mobile phones.
Want to know more about Spyier? Click on this free live demo link and know it better.
What makes Spyier grab the first place on our list?
You must be thinking why we have kept Spyier at the top of our list. Well, there are reasons behind so which can be stated as:
There are many fake spying apps that are making the rounds at the name of hassle-free phone tapping aids. Those who are in dearth need to tap a mobile phone start using them and loss crucial information.
With Spyier, you need not be worried about all this as the app never saves any of the user's information. Mark our words. No information like email passwords, online banking passwords, browsing history, etc. will be exposed.
Its unbeatable performance
When it comes to performance, Spyier stands second to none. It has a bug-free and ultra-light configuration. The app has a very user-friendly interface that any hacking greenhorn can easily operate.
All you need to have some basic knowledge about browser usage and app downloading. That's it. You are all set to be a Sherlock Holmes.
You will always work from behind the scenes 
Getting caught red-handed while using Spyier is not possible, as it comes with 100% discreet operations and web-based interface!
For iOS devices, Spyier is 100% web-based since the beginning. It works on the iCloud back-up directly and doesn't bring the targeted device into the action.
In fact for Android devices also, it's fully web-based except the initial app installation process. Now, you must be thinking that why web-based interface matters when you tap mobile phones. Once the installation is done, the app works in stealth mode and choose to hide the app icon.
Well, because of this feature, you can monitor the targeted devices from anywhere. You need not be around or using the targeted. This makes phone tapping effortless and 100% discreet. No one can ever find out that you are spying on them.
With less battery drainage and bug-free performance, it leaves no signs your phone is tapped. As far as uninstallation is concerned, it doesn't demand access to the targeted device at all.
You can do it directly from the control panel of the app after a successful login made from any browser. In short, you will never get caught in the action with Spyier.
Spyier is the power-house of powerful features. Keylogger is what grabs the most attention. With the help of this feature, you can take note of keyboard activities happening on the targeted device.
You can learn about which words are typed and decode the password of anything used by the target.
How to Tap a Cell Phone Without Touching It
If the targeted person is using an iPhone then you must be thinking that tapping it must be a tough nut. Yes, of course, it is unless you use Spyier.
The point to ponder here is that you do not need to jailbreak or root the iPhone.
Spyier uses a web-based interface to tap the iPhone. All you need to have is the iPhone credentials of the targeted device. Get them at their best and leave the rest on Spyier.
The best thing about Spyier's iOS solution is that it is 100% download free.
You do not need to physically access or touch the targeted device. You can log in to the software from any device and any browser.
It works wonderfully on all the leading browsers like Safari, Chrome, Opera, and Microsoft Edge. Live iPhone tapping was never as easy as it is with Spyier.
Here is how you can tap an iPhone using Spyier –
Step 1: Get a Spyier subscription plan for iPhones. Enter your email address when it is required. Once you have finished the purchase, you will see a purchase successful message along with your login credentials.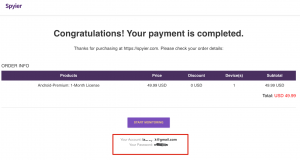 Step 2: Login into your Spyier account using the username and password that you get during the purchase process. For the first time login, you will have to configure Spyier. For tapping an iPhone, enter the iCloud credentials of the iPhone during the setup process.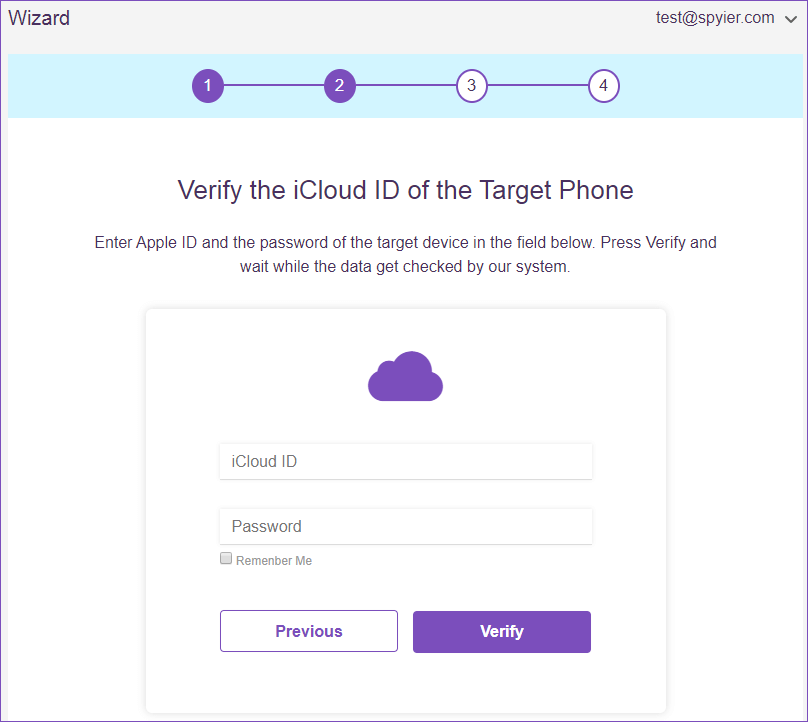 Step 3: Once the configuration is finished, you will see the setup successful screen. Click on the 'Start' button to go to your dashboard and use the features of Spyier.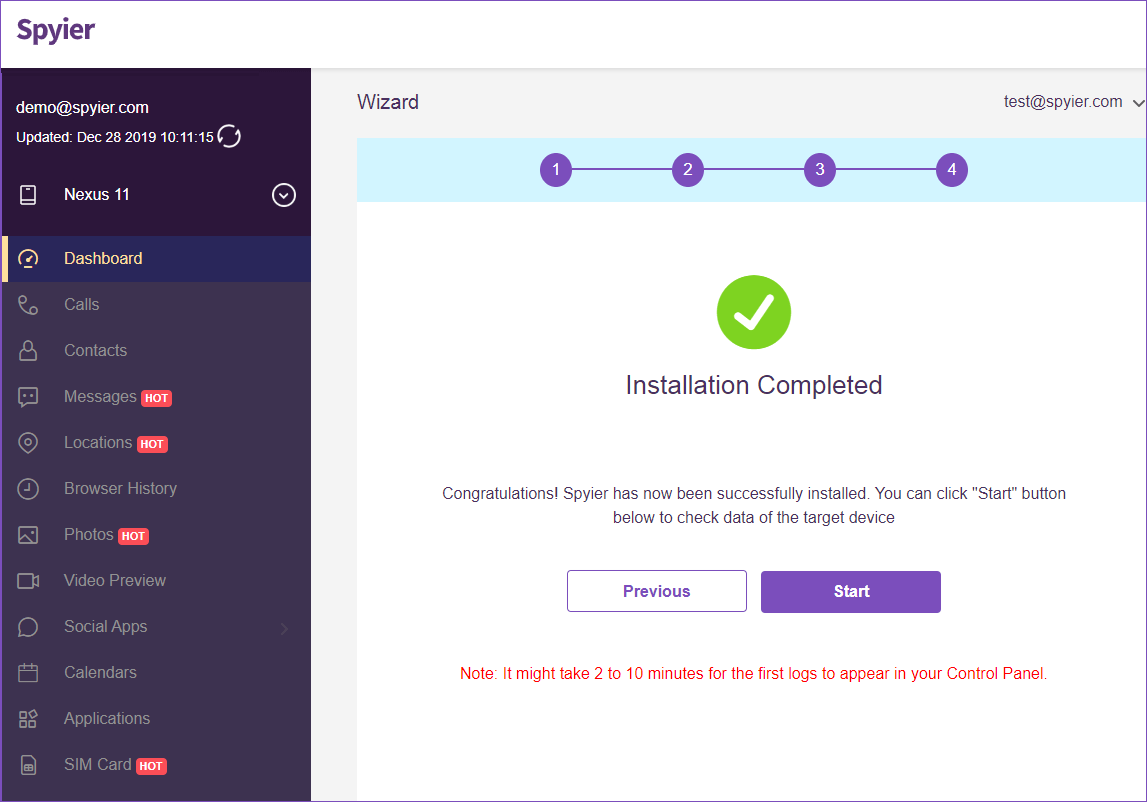 Spyier's dashboard holds all the features of Spyier. In order to use any of its features, you can click on its tab and the feature interface will open.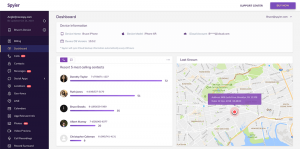 To have a better idea of how Spyier works for the iOS platform, click on this demo link.
How to Tap Someone's Phone (For Android)
So, the iPhone is not the targeted device. Are you thinking if you can still tap a phone from another phone?
Yes.
With Spyier, you can tap an Android device with equal ease and security as you can do it on an iOS device.
However, the app works a little different in the case of the Android platform. Here, you need to install this call tapping app on the targeted device. For this, you need to gain one-time access to the targeted device.
Note: Always remember that tapping Android phones will require app installation mandatorily, because Android OS is built this way. If a solution promises to do it without app installation, consider it is super-risky for your data and your money will be wasted too. So, never go with it.
Here are the steps that you should follow while you want to tap an Android phone –
Step 1: Get a Spyier subscription for Android phones. Enter your email address when required. Once subscription is purchased, you will see your login credentials on the screen and in your email inbox.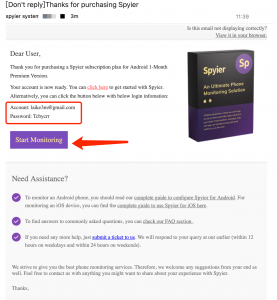 Step 2: Login into your Spyier account using the username and password. For the first time login, you will need to configure Spyier for Android devices. Configuration mainly involves downloading and installing the Spyier app on the target Android phone which you wish to tap.
Step 3: Click on the 'Start' button to complete installation and start using all the cool features of Spyier.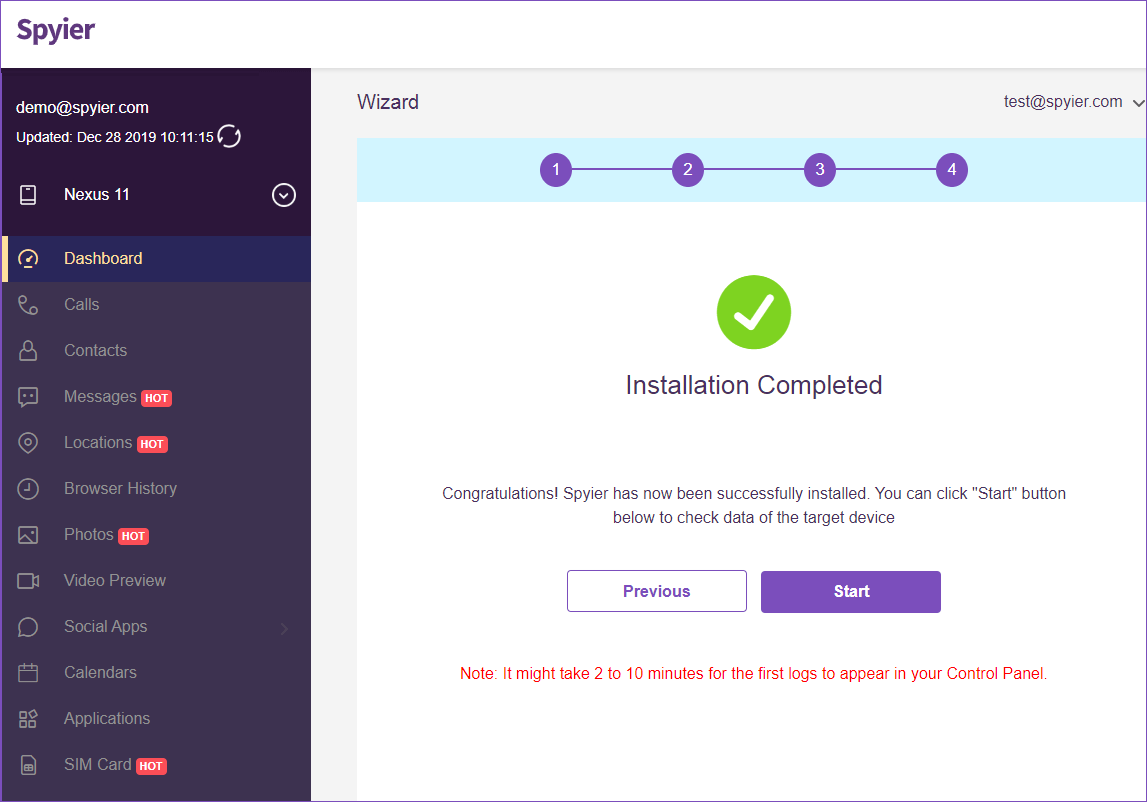 Special Feature
To gain access to the targeted device activity, you need to login to your Spyier account from any web browser and visit the control panel. Choose the operations you want to monitor and Spyier will work as or you will want. So, the target phone isn't required for tapping.
Is Spyier a mere cell phone tapping software?
Of course not! In fact, it is the best tapping tool that can do multiple tasks. Have a look on it on your own.
It can track the live GPS location 
Spyier comes with a powerful and data-driven GPS tracking interface that gives you live whereabouts of the targeted device. Alongside this, it gives you a detailed view of route history.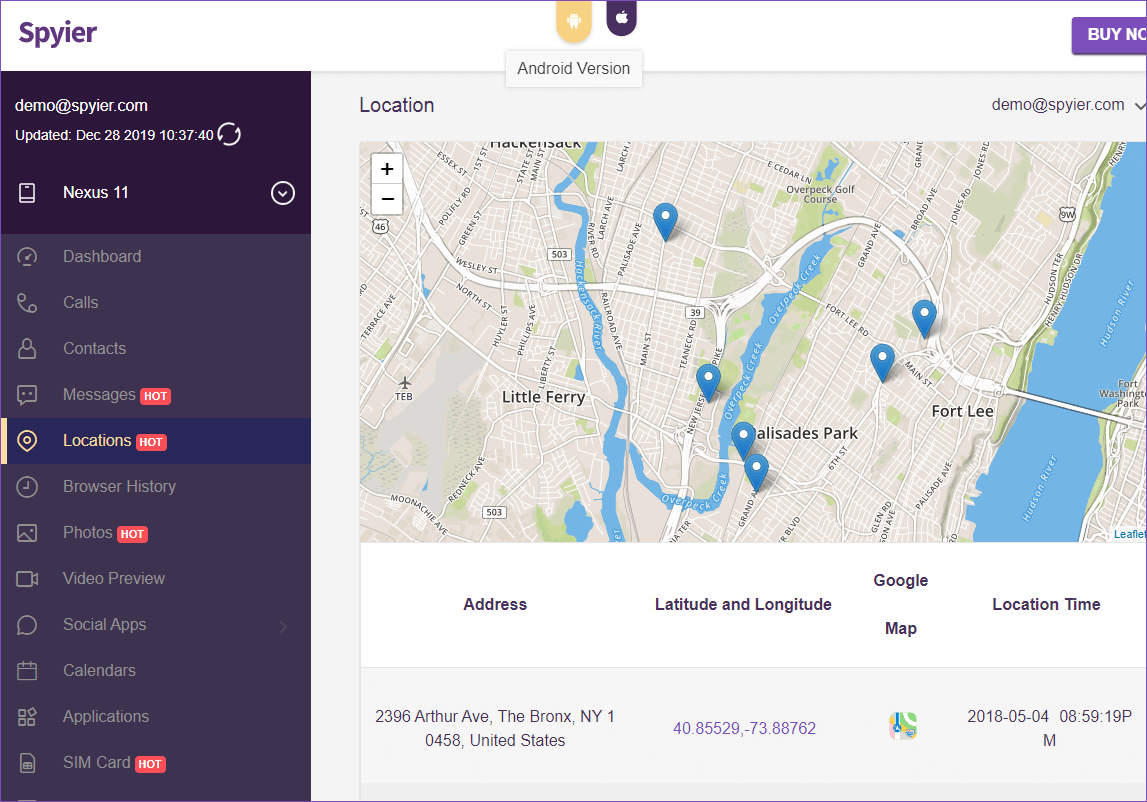 You can also build virtual geofence on the targeted device and ensure that the user of the targeted device never goes at places which are not mended for him/her. If the user crosses these physical location boundaries, Spyier will send notification on your phone.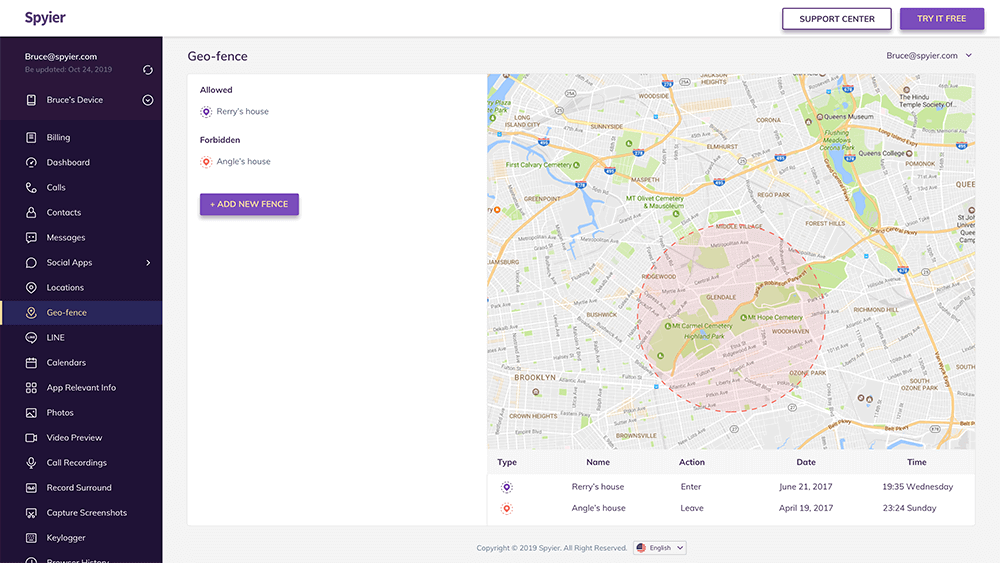 You can keep an eye on the social media activity of the targeted device 
It can track the message sent/received, images/videos uploads, contacts and friend lists, personal messaging, and liked posts on all the leading social media platforms like Facebook, Instagram, Whatsapp, LINE, snapchat and Twitter.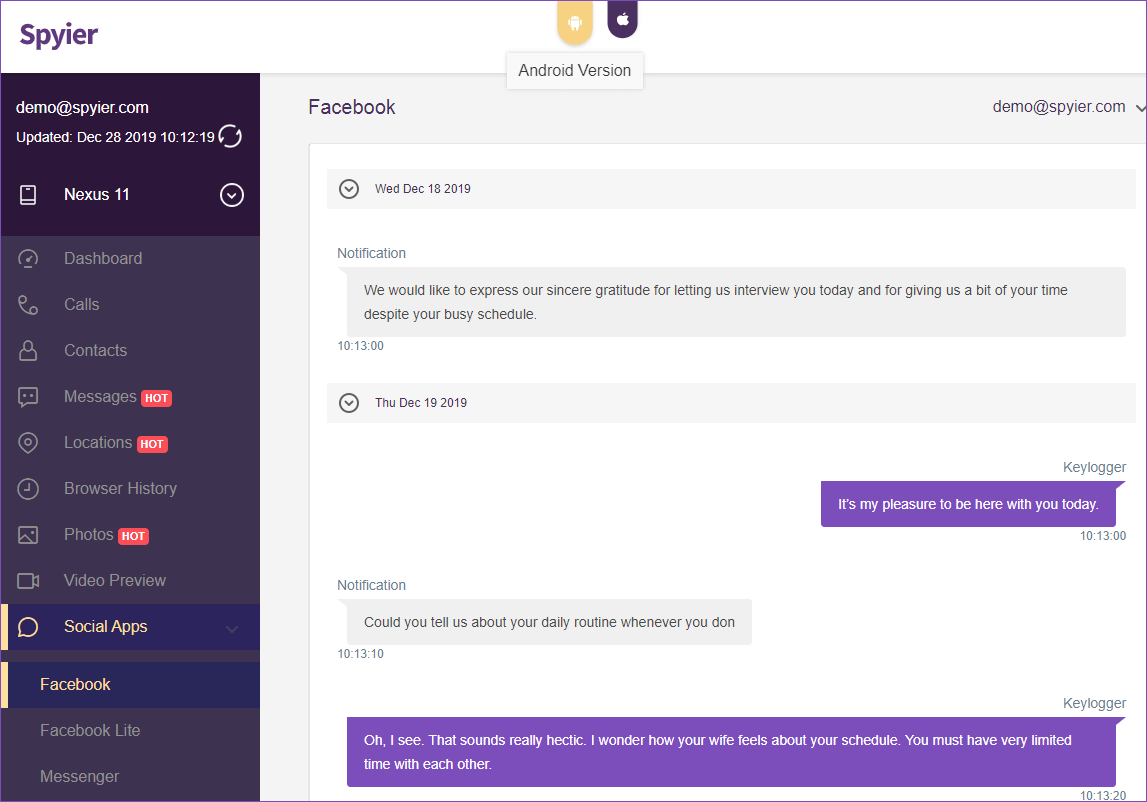 Keeps a check on the browser history
The Internet can turn into a direct gateway to hell on earth if not used properly.  Tap your kid, employee, partner or loved one with Spyier. With it, you can know about all the visiting websites on the targeted device.
Keeps an eye on apps installed and used 
With Spyier, you can be aware of the apps downloads on the targeted device.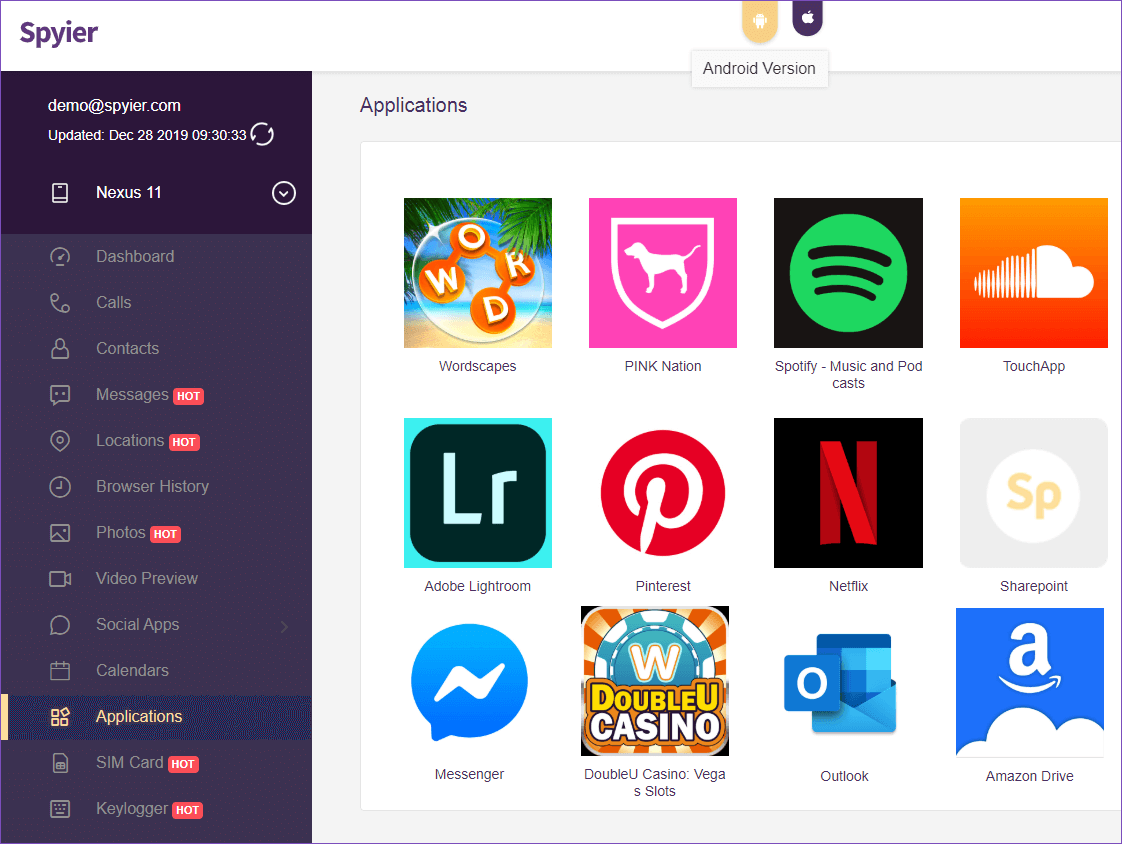 Spy on the media clicked, downloaded, and shared 
Spyier allows you to hack phone pictures saved on the targeted device. You can also get to know which all images are downloaded and which are shared with whom. This feature is a boon for parents of teenagers.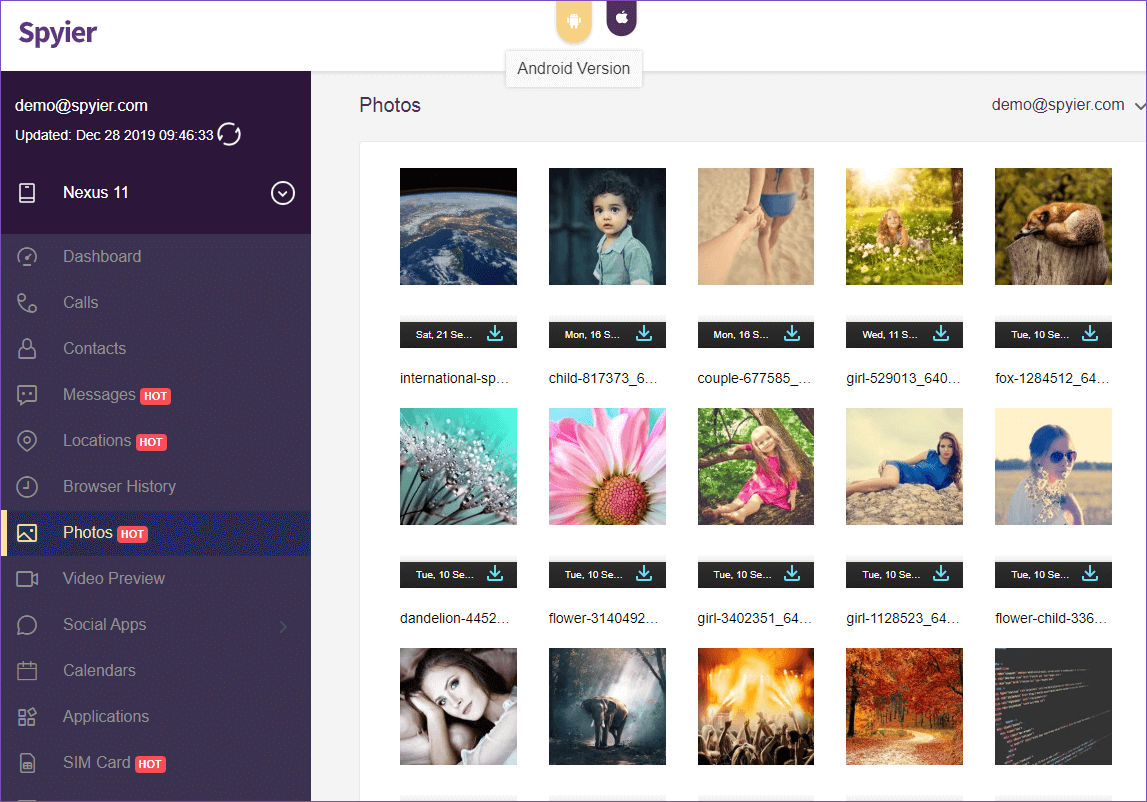 It is just a brief overview. Spyier can also hack and view text messages, call logs, calendars and notes, and can do various such monitoring and tapping operations easily.
To know more about it what all it can do, click on this link.
Part 2: How to Tap a Phone Call?
If there is anything after Spyier that is trustworthy and reliable phone tapper, it is Spyic.
This remote tapping app is on par with Spyier in every sense. Be it its excellent performance or 100% discreet operations, Spyic is the best bet that you can make after Spyier. Therefore, it comes at second position in our list.
App 2 – Spyic – The second best option to resolve 'how to tap a phone' question mark!
Spyic is a comprehensive and secure tapping solution for iOS and Android mobile phones and tablets. This app comes with a very intuitive user-interface that makes everyone's cup of tea.
Powered by AI, Spyic can easily track, social media activities, call logs and messaging, live location, browsing the history, and various similar 25+ activities from a remote location.
Key Features
Powerful keylogger facility.
Web-based interface.
100% stealth mode operations.
Can put restrictions on app download and website usage.
Where it lacks?
Honestly speaking, it doesn't lack anywhere and can be trusted blindly if you want to learn about how to tap a call from another phone without putting yourself into any danger.
Also Read: How to Hack Someone's Cell Phone with Just their Number
Part 3 – How to Tap A Cell Phone with Just the Number?
By now, you know about 2 best tapping apps to tap a cell phone. Now, we are going to introduce you to the third app in our list i.e. ZoSearch.
App 3 – ZoSearch – Your personal reverse phone look-up assistant
ZoSearch lands on spot three because of its highly secured operations. The website is backed up with Norton's security and comes with top-security encryption. Hence, you can use it for personal and professional usages without being worried about data stealing.
It offers you a 100% discreet reverse phone number and address look-up facility. It is also a good option to do reliable email reverse look-up. You can find details about people staying in a particular area and get to know whether the locality is safe or not.
Key Features
It offers a detailed information look-up facility.
Can start instant white pages searches.
Trusted by millions all across the world.
Safeguard your personal data during the process.
Where it lacks?
It has limited operations that can't assist you all the time.
Don't Miss: How to Remotely Hack Someone's Phone Without Touching It
Part 4: 7 Other Phone Tapping Apps
App 4 – Fami360
The fourth-place of our list is grabbed by Fami360, another remote tapping marvel. This parenting control app makes sure that your children are untouched by internet vulnerabilities by filtering out their online activities.
With the help of Fami360, you can keep a tab on the live location of the targeted device, view interacting activity on social media apps like Facebook and Whatsapp, and put website restrictions.
It offers free and regular software updates for Android and iOS platforms and can tap the calls made from tablets and mobile phones.
As the app comes with a 30-days money-back guarantee, it surely deserves one try if you want to learn about how to tap a call without splurging investments.
The app keeps on sending you timely updates about the targeted device's activity on various platforms and never let you miss any details. You can also customize your update sending time duration like whether you want updates every one hour or the end of the day.
Another reason why it has grabbed top place in our list is its multiple languages. Though English is the global language, not everyone is comfortable and prefers it over the native language. Hence, Fami360 comes in Spanish, Portuguese, Japanese, and Russian language. So, it is ready to assist you anyhow.
Key features
Highly polished user-interface.
It offers a visually-rich phone activity graph.
Bug-free performance.
Multiple payment options.
Works without jailbreak/rooting.
Where it lacks?
Its app can be a little buggy at times.
Don't Miss: How to Hack Someone's Phone Camera
App 5 – SpyToMobile
SpyToMobile makes an entry in our list due to its detailed SMS, call, location, browser, and social media tapping without any risks. It can keep a check on the cell phone usage and can give you detailed logs.
Key Features
Secure data backup.
Ability to set notification preferences.
Centralized dashboard to manage all the activities.
Available in 15 languages.
Where it lacks?
You can't view details if GPS is disabled on the targeted device.
App 6 – ZabaSearch
Backed by the security of Norton, ZabaSearch allows you to conduct a safe and secure reverse phone number and address lookup. That is why it is in 5th place in our list.
This app can trace landline numbers, do background criminal check, fetch business details, and can also so financial background checks. However, it lacks reliability in call tapping.
It is more of a background check app than a call tapping software. The main reason behind its limited viability is that it collects information which is mentioned somewhere or other on the internet.
It can't give you detailed monitoring like out top two options Spyier and Spyic. However, you can give it a chance you want to have absolutely free service.
Key Features
SSL encrypted website to safe browsing and usage experience.
100% free service.
Nearly 1 billion data to search from
Where is lacks?
It is moreover a phone number reverse app rather than a call tapping app. So, you may get disappointed if you exclusively want to tap a phone with ZabaSearch.
App 7 – Mobile SPY – An Android dedicated call tapping app
If you are looking to tap only an Android phone then using Mobile SPY can be a good option it offers remote monitoring only on the Android devices.
This hybrid tapping software has a Live Control Panel that gives you a detailed view of an array of phone activities like calls made, messages sent/received, Facebook posts, and chat on social media platforms.
As it doesn't depend on the targeted phones' internal logging system, using it is entirely safe and secure. With this app, you can get a detailed view of calls, contacts, cameras, videos, and live location of the targeted phone.
You can also choose to insert the logs over WI-FI connection and reduce your mobile data consumption.
Key Features
Can export all the phone logs into CSV files.
Can lock the device from a remote location.
Actual screen's updated view in every 90 seconds.
Can fetch SIM information if the targeted device is lost or damaged.
Can do Gmail tapping as well.
Can track the targeted device in three ways: via SMS, by location tags, and giving you a live tracking view.
Where it lacks?
It can't do remote tapping on iOS and Blackberry platforms.
App 8 – Spy Dialer
A free number search engine, Spy Dialer has delivered 10 million number reverse searches since 2012. It can multiple conduct Google phone number searches in a blink of an eye.
Key Features
It's absolutely free.
Can fetch number details from various directories like yellow pages and white pages.
Where it lacks?
It's only good for phone number reverse lookup.
App 9 – GuestSpy- Record not only the calls but also the surrounding
If you want to tap the surrounding of the targeted phone then GuestSpy is the best bet. This remote tapping app has an interactive online live control panel to assist you by all means.
Just like Spyier and Spyic, it works in stealth mode and prevents you from being caught red-handed. However, you can't use it to intercept the voice calls.
 Key features
Impressive auto answering facility.
Different subscriptions to meet all your requirements.
Jailbreaking and rooting free tapping on iOS and Android-based devices
Where it lacks?
It can't monitor the online chat. Hence, it's only half good.
App 10 – Flexispy – Sends instant logs
The last place is grabbed by Flexispy which is a powerful remote tapping software that can trace the activities happening on computers, mobile phones, and tablets.
It can monitor digital and audio communications from beginning to end and it a trusted tool for remote parental control over the kids' activities in the digital world. You can also check the device battery status with this app.
Key Features
Can manage website password and bandwidth used over a targeted device.
2FA secure login facility.
Instant alerts and log reports.
Comes with visibility options.
Where it lacks?
You can gain the whole suite of features only if you avail the Extreme subscription which is too pricy when compared with Spyier.
The Final Word
Certain conditions demand to tap a cell phone. Though it seems a tedious task, there are some tech-driven call tapping software that does the job effortlessly and without putting jeopardize you and your identity.
Spyier, Spyic, and ZoSearch our top three picks.  Spyier is the leader because it lets you tap a phone from a remote location on iOS and Android device without any jailbreak and rooting the targeted devices.
So, next time when you need to tap a call, don't get lured by free hacking software and get into the nippers of cyber fraud.  Buy Spyier and get the job done 100% legally and discreetly.