The best way to know about someone's hidden interests is to take a look at the pictures they click using their phone. And if you want to make sure someone's interests don't turn into a problem for them, peeking into their phone pictures becomes a must!
More often than not, if you want to know how to hack a phone, you're either a concerned parent or a worried spouse. But wanting to do it and actually doing it are two different things.
While you might think it would be next to impossible to anonymously hack into a cell phone's pictures, it's actually quite possible with the help of the right tools and software. A reliable phone monitoring solution can not only help you track the pictures someone uploads, shares, or exchanges, but do much more.
If you've been looking for such an app, read on to find out all about it.
Part 1: How to hack a cell phone pictures remotely?
When you think of a phone monitoring app, the first logical question that pops up into the mind is, "will I be able to do it while keeping my identity hidden?" Well, the app we're about to discuss works remotely, and that means you can hack a target phone's pictures without getting caught.
In our opinion, the best phone spy app that lets you remotely hack someone's phone camera is Spyier. Having delivered superior phone tracking capabilities to millions of users across 190 countries, Spyier has carved out quite a strong reputation for itself.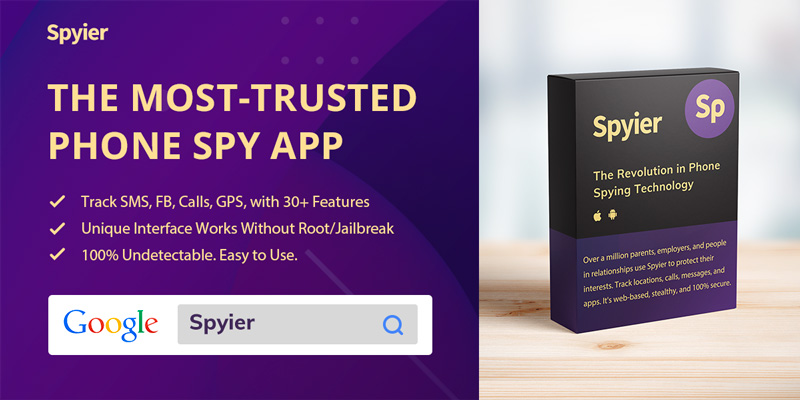 Large corporate houses such as Tech Advisor, Mac World, The Next Web, New York Times, Tech Crunch, and many more have applauded Spyier's phone monitoring abilities as being the best and most secure in the market.
With Spyier in tow, you can catch a clean look of a target cell phone's pictures, call logs, text messages, contacts, GPS location and much more. And you can do it all from a web-based dashboard to which you can log in using ANY web-browser.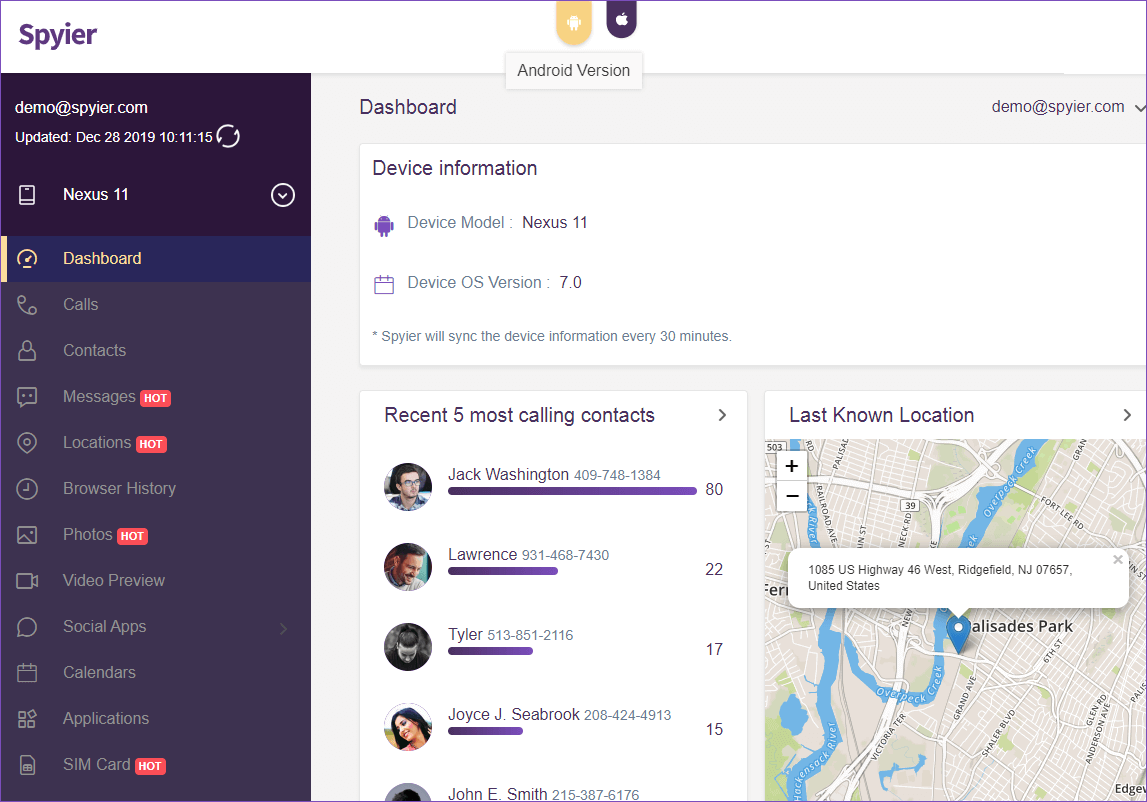 There are several benefits to using Spyier for phone monitoring:
Spyier can spy on both Android and iOS devices and doesn't need you to root or jailbreak the device to facilitate monitoring
The app works in stealth mode. Spyier's Android version needs to be installed on the target phone but it can be hidden from the list of installed applications. Its iOS version doesn't need any installation on any phone.
For both Android and iOS devices, you don't need to install anything on your own phone to monitor another phone. You can view the target phone's data remotely through a web-based dashboard
For iOS devices, the app isn't installed on the target phone so there's no questions of it consuming any resources. For the Android version, while it is installed on the target phone, it doesn't consume noticeable resources and hence, detecting it is not easy
None of the target phone's data is saved on Spyier's server so your data is absolutely safe
These are only a few among the huge list of advantages that you can derive by using Spyier for your phone spying needs. To know more about the app, check out its free live demo.
Working with Spyier is as easy as child's play, for both Android and iOS. Thanks to its intuitive interface and easy Setup Wizard, you can get well-versed with the app in no time.
Here's how to hack someone's phone pictures with Spyier's Android version:
Step 1: Head to the sign up page and create a free account. Complete the registration by selecting a subscription plan and purchase the license.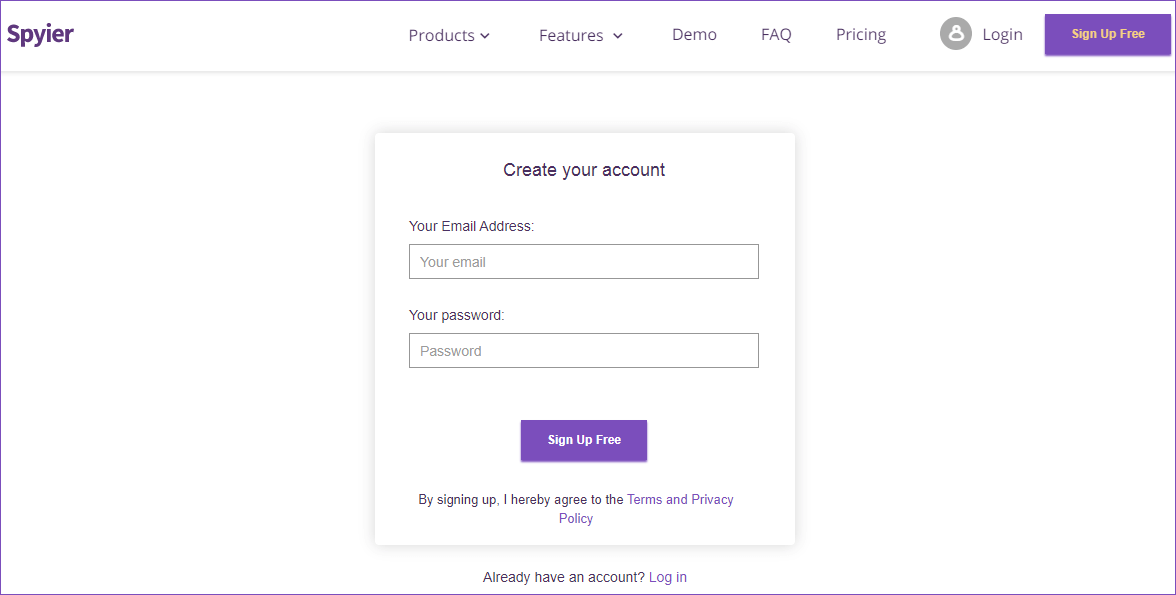 Step 2: Now you'll see a Setup Wizard. To complete setup, you'll need to follow the instructions it presents. The first thing it will ask you to do is to select the OS of the target phone.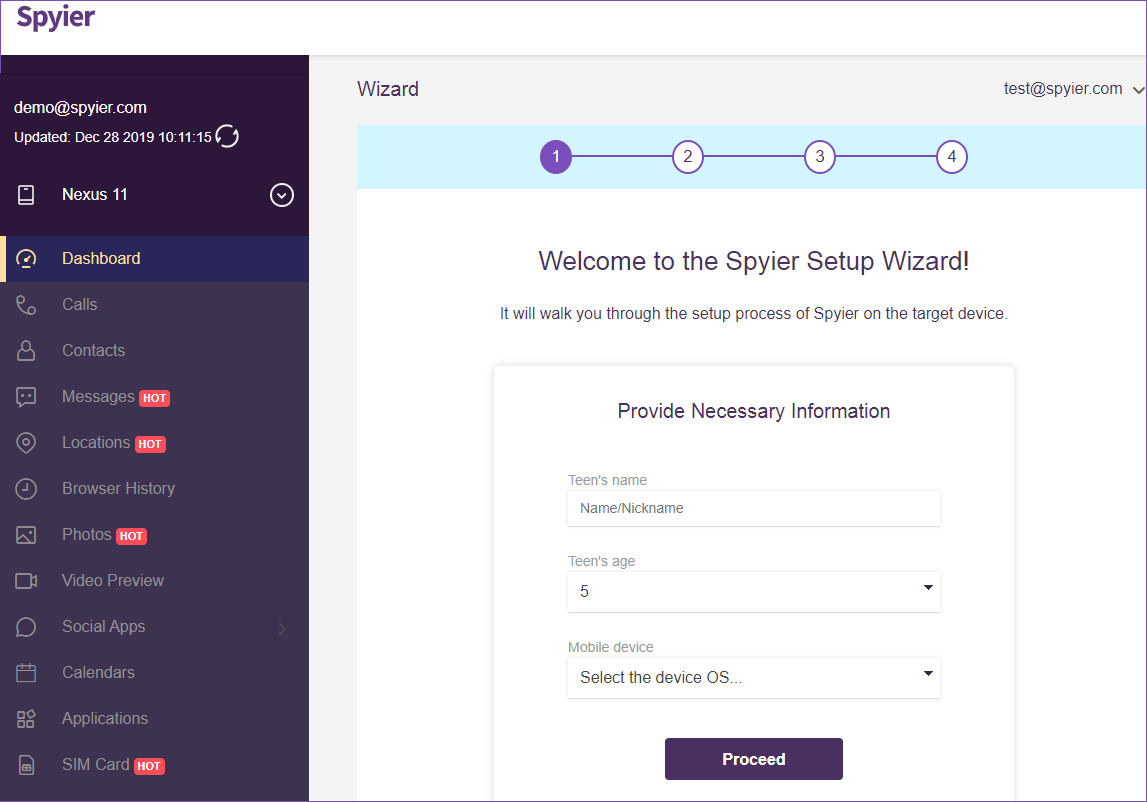 Here, you'll need to select Android.
Step 3: To proceed from here, you'll need physical access to the target phone. It will take only 5-minutes to complete the rest of the steps so you need not worry. Follow the instructions mentioned on this link to complete setup.
Step 4: Once setup is done, the app will present the finish installation screen.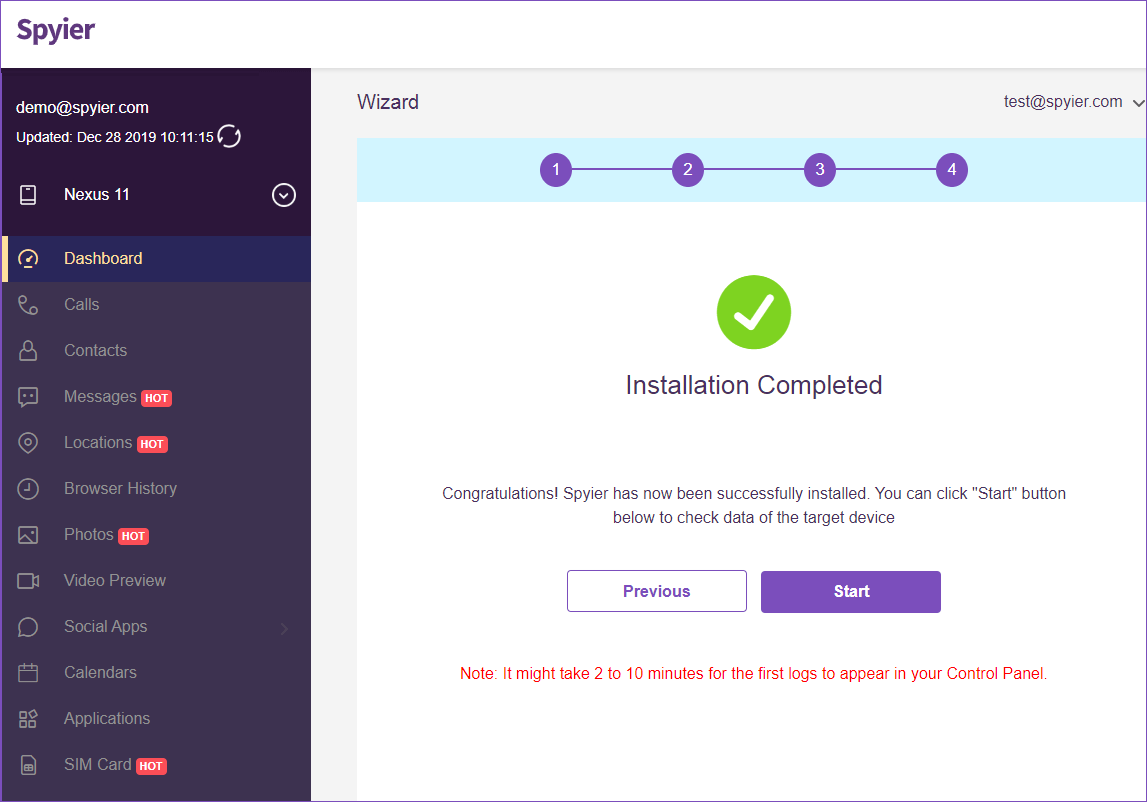 After this you can log into your Spyier dashboard using ANY web-browser (desktop or mobile) and check the target phone's pictures easily.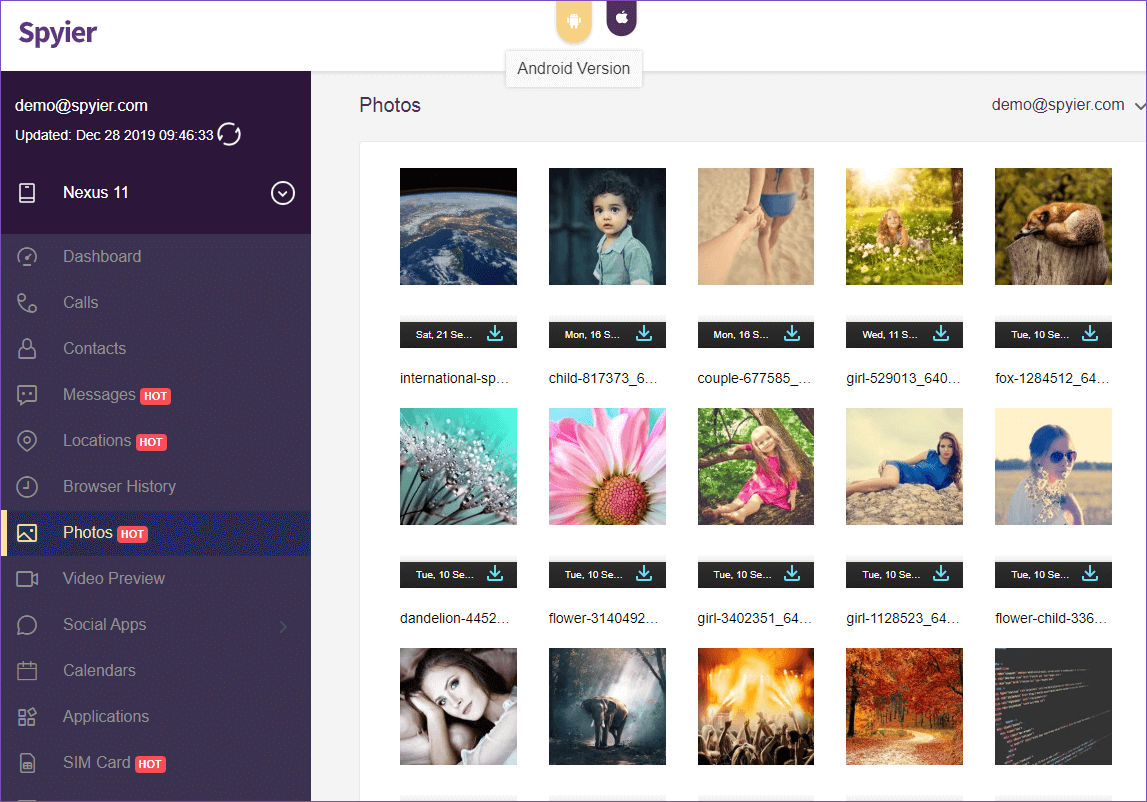 And now, let's take a look at the working of Spyier's iOS version.
Steps 1 and 2 are the same as mentioned in the procedure above with the only difference that you need to select iOS as the OS of the target phone in step 2. After that, follow these steps:
Step 3: Verify the target phone's iCloud credentials.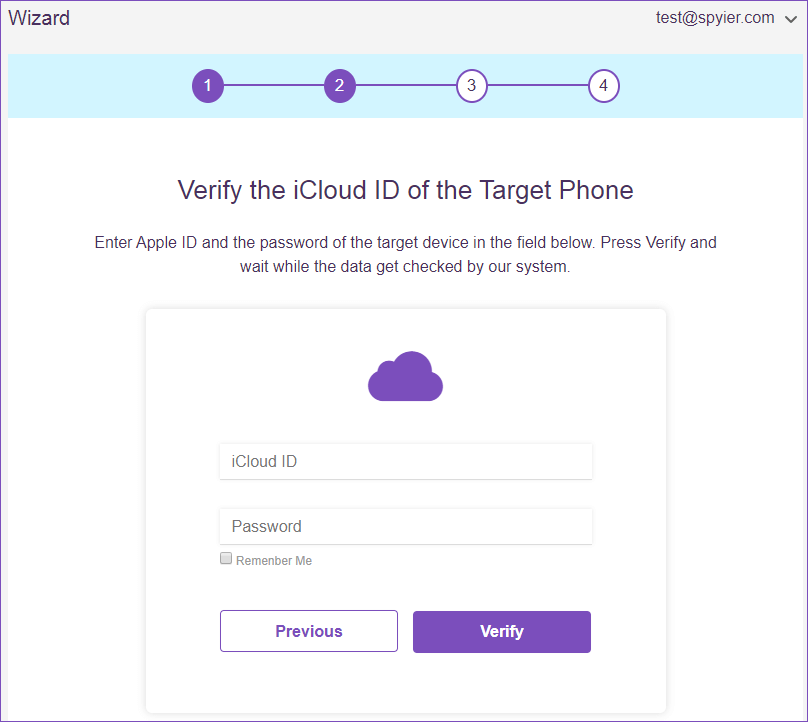 Step 4: Now Spyier will verify and sync the data to get things up and running and when done, it will present the finish installation screen to you.
That's how easy it is to set up, configure, and start using Spyier.
Still not convinced? You don't need to have second thoughts. Spyier is way more economical than other similar apps out there and it is 100% secure and reliable. Before making a purchase, you can always play around with the free live demo of Spyier to get a feel of its working.
Also Read: How to Hack Someone's Cell Phone with Just their Number
A few last lines
The main criterion of success for any phone spy app is that it should be able to achieve the spying discreetly. Spyier lets you track a target phone's pictures and do much more while keeping your identity a secret.
With this trusty app, you can let go of all queries regarding how to hack a phone pictures. Simply sign up, register, and start monitoring any Android or iOS phone quickly with Spyier.