Spying on someone is sometimes the only way to acquire much-needed information:
Has your child been distressed lately but won't say why? A look at their phone activity may help you pinpoint the cause – like bullying.
Are your employees passing information about your business to a competitor? Spying on their chats should help you figure it out.
Is your partner lying to you or seeing someone behind your back? Reading their messages will help you find out.
A spy app is a lifesaver in cases like the one above. It can help you monitor someone's phone usage 24/7. Also, being "spy" apps, these apps are discreet. You can use them without being found out.
Note that all spy apps aren't reliable. The market is rife with duds and scams. Your personal information may be at risk if you download the first spy app you come across.
To help you find the most reliable and user-vetted apps, we've come up with a list of the 10 best spy apps on the market. All the apps we feature here are legitimate and worth your time and money.
#1 Spyier – The Phone Spy App that Gives Ghosts a Run for Their Money
The number 1 spot on our list of best spy apps goes to Spyier. Spyier happens to be one of the stealthiest apps for iOS and Android we've ever come across. Further, the app offers solid phone spy features and is easy to use.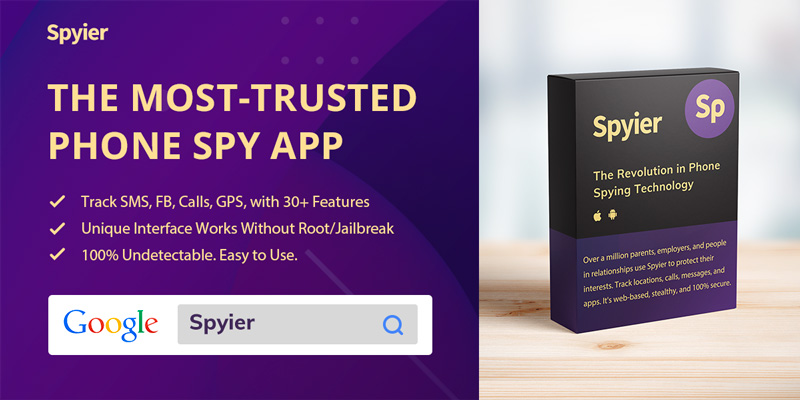 Spyier is a well-known brand around the world, with users in both the west and the east. Top outlets such as CNET, Wired, Forbes, and Tom's Guide have good things to say about the spy app.
1.1 Spyier is an impossible-to-detect spy app
Spyier comes with an excellent stealth feature. As a result, the app can't be detected after you install it on either target Android or iOS devices. How does the stealth feature work?
For iOS target devices, Spyier for iOS is a fully web-based app. Instead of working directly with the iPhone, Spyier works remotely via the iCloud backup. You don't need to download or install any software. Because of this web-based nature, the user can't detect Spyier at all!
For Android devices, Spyier is a 2MB app. You will need to install this app physically to the target device. Once you install the app, you can hide it. The app icon disappears from the phone. The app works in the background, without draining the phone's battery.
The Android version of Spyier is small and doesn't leave any traces. It operates stealthily in the background. You can also access it remotely from a web-browser. As a result, the app is 100% hidden.
**Beware: You can't spy on target Android phones or tablets without installing a spy on them first. If an app or a service says it can spy on Android devices without any software, it's a scam or an attempt to steal your personal information!**
1.2 You get full remote access to the target device
What kind of activity can Spyier track? You get full – and remote – access to almost everything occurring on the target device:
Read messages: You can read someone's text messages as well as iMessages. This includes any messages that are deleted, as Spyier makes a backup on your account automatically.
Check social media: Spyier allows you to spy on a range of popular social media apps like WhatsApp, Facebook, and Twitter. You can track user activity, read their messages, check contacts, and more.
View media files: What photos and videos does the target have on their device? You can view and download their gallery with the app.
Check call logs: Spyier allows you to check the target's call logs. You get details like call duration, contact details, list of the most popular callers, and more.
Track locations: Spyier offers an advanced GPS-based location tracking feature. You can monitor the target's movements on a virtual map and get details like addresses, location history, 3D street view, and more.
Keylog passwords: Thanks to the Android keylogger feature, you can capture anyone's username and password credentials when they enter them. The keylogger keeps tracks of all keystrokes typed on the device.
Other noteworthy features Spyier offers are a web browser history viewer, a SIM card tracker, and a contact book reader. You get over 24 unique features in total!
1.3 You can set up Spyier in 10 minutes
You can install Spyier on target devices in a flash. Here are the steps to follow to set up the app:
Step 1: Head to the purchase page to sign up for a monthly subscription to Spyier. You'll need it to get your account details, which allows you to set up the app and begin spying on the target device. With the Premium plan, you can monitor a single device for a month. 
When you're ready to purchase the app, click on the "Buy Now" button. In the window that appears, enter your email ID. Use an active one, as this will be linked to your account. Then complete the payment.
Step 2: When you make the payment, you will be taken to the confirmation page. This page will contain your system-generated random password. Note it down for later. You can also change this password from within your account settings.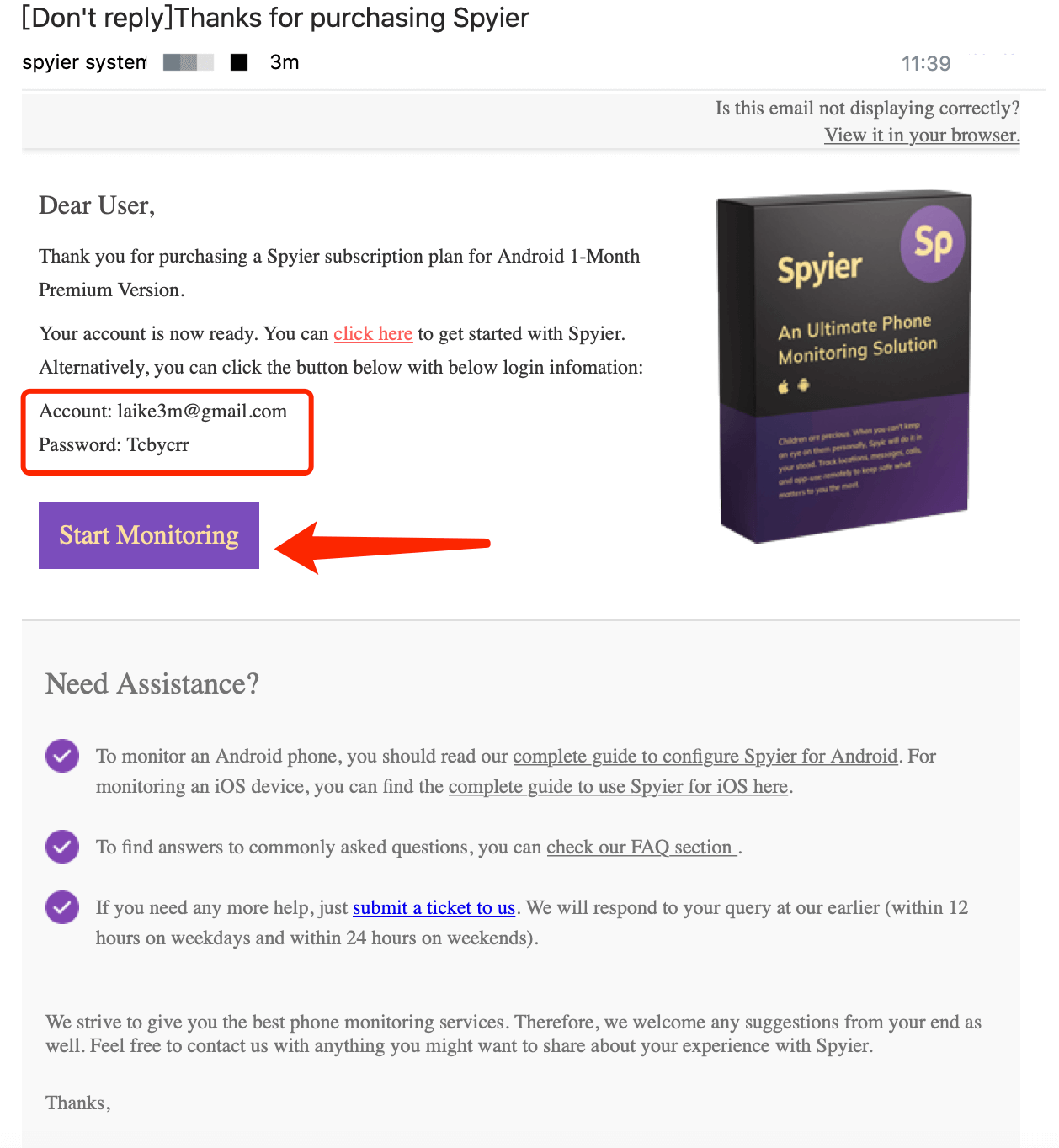 Further, you will receive an email at the same time with your login details and some other important information. The email contains links to the Setup Wizard, where you can install the app, as well as the Android installation guide.
Installing the app on iOS is straightforward. We recommend reading the instructions for Android first though. Click on "Begin Monitoring" to prep the app. 
Step 3: The setup instructions will be emailed to you. Essentially, you need to choose the target platform: iOS and Android. Then follow the on-screen setup instructions.
To install Spyier on iOS devices, simply enter the iCloud credentials of the linked target iPhone. Then wait for Spyier to sync with the device. That's all there is to it!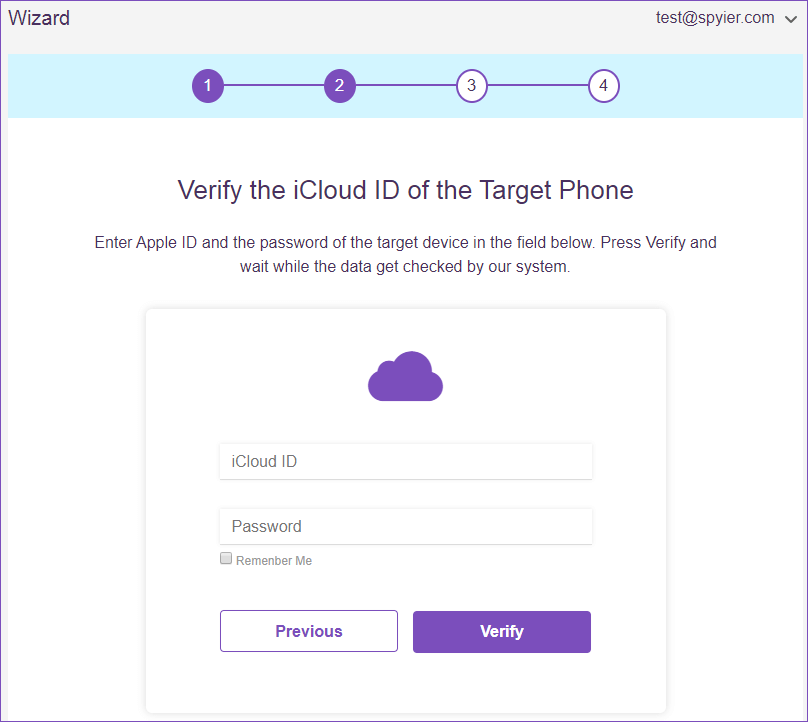 To install Spyier on Android devices, you will need to download and install a 2MB app on the target device. This is easy and can be done in 3 minutes. Once the app is set up, you can hide it. Then wait for Spyier to sync with it.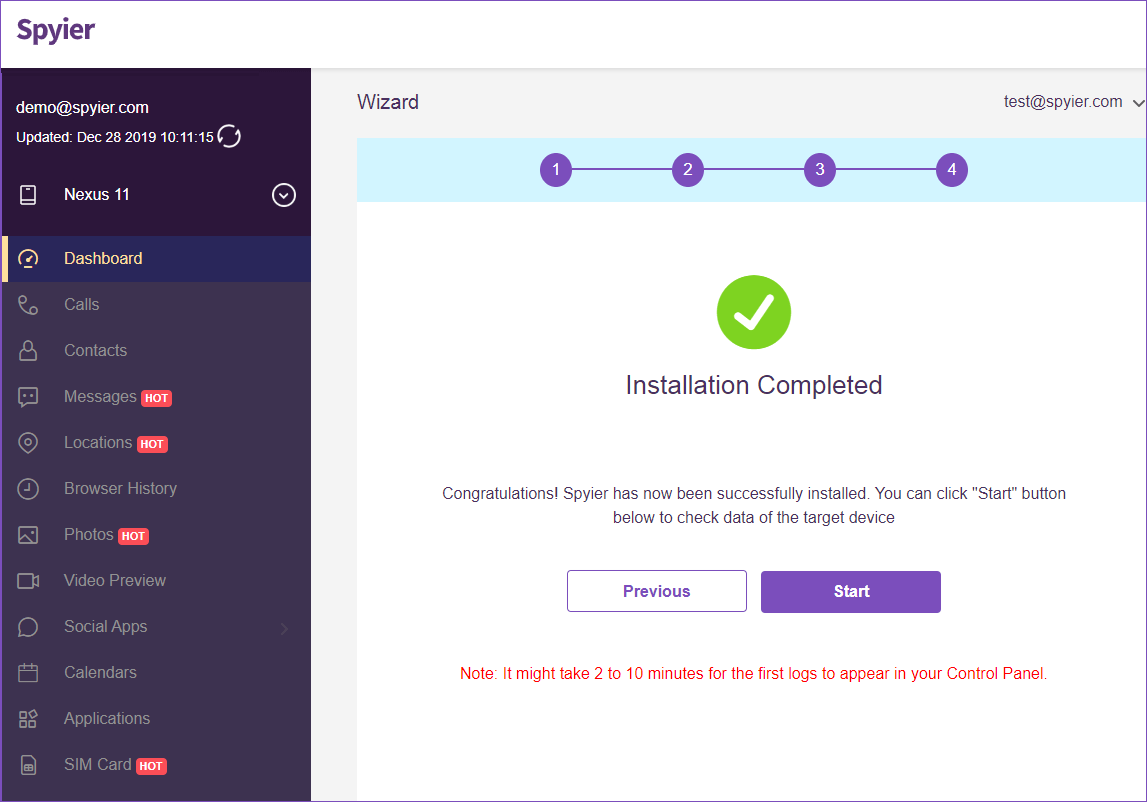 Step 4: You can now log in to the Spyier control panel from any web browser! The dashboard gives you an overview of the phone activity. You can see Spyier's various features in the selection panel on the left.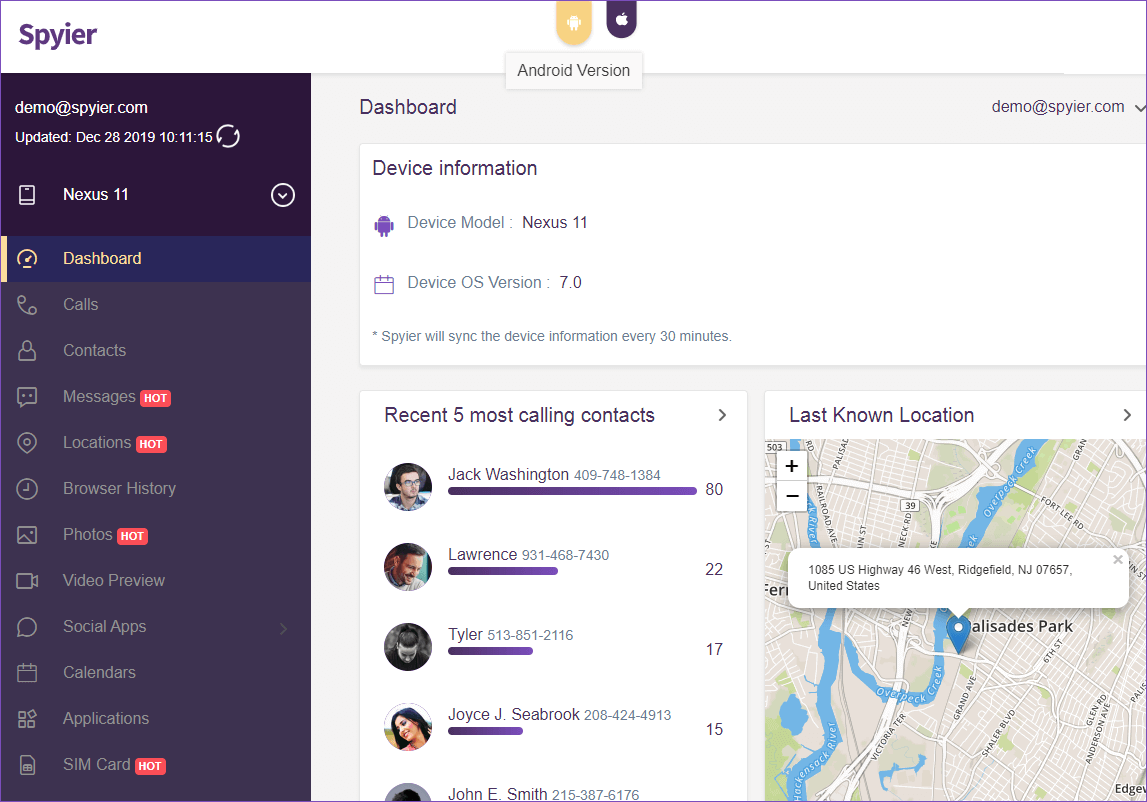 Want to try the Spyier spy app first before you buy it? Take a look at the Spyier free live demo here!
1.4 Compelling reasons why Spyier is so good
Here's why Spyier makes for an excellent spy app:
Spyier is a genuine, trusted brand
Over a million people from 190+ countries actively use Spyier for their phone monitoring needs. The user base includes parents, employers, and people struggling with relationships. The app is user-verified and trustworthy.
With many other spy apps, you can never be sure they'll work as advertised.
The app doesn't need root or jailbreak
Spyier was designed by expert developers. It's one of the only apps on the market that work without root or jailbreak. As a result, you can set up in a matter of minutes. You don't need any technical skills as such. All you need is a phone or a computer.
The web-based interface offers remote access
With Spyier, you can spy on any iOS or Android phone or tablet remotely. You don't need to be in the same room or even the same country as the phone. You can access the target device remotely via the web-based interface.
You get your money's worth
Most spy apps cost a ton of money and don't give you a discount if you want to spy on multiple devices. Spyier, however, is much more reasonably priced. It offers competitive features for a modest monthly fee. You also get discounts when spying on multiple devices.
Your privacy is safeguarded
Finally, Spyier is a legitimate brand that offers solid privacy protection. Your personal data is always safe and never stored on a server directly. The app has also never been hacked, as is the case with many popular spy apps these days.
Take a look at all of Spyier's supported features on the official website here!
#2 Spyic – As Bleeding-Edge as a Military Stealth Fighter Aircraft
The second name on our list of best spy apps around is Spyic. Spyic is a well-known spy app and employee monitoring utility. It's been featured on top platforms such as Life Hacker, Engadget, and Android Authority.
Spyic is a powerful, advanced spy app in our experience. It offers multiple solid features out-of-the-box. Thanks to its cutting-edge design, the app is extremely stealthy. You can monitor someone's phone use without being found out.
2.1 Spyic offers a myriad of powerful features
With Spyic, you get regular updates on the target smartphone or tablet's activity:
You can read all incoming and outgoing texts and iMessages.
The app allows you to track a smartphone in real-time.
You can check all incoming and outgoing calls.
The phone spy app can download media files for you, including photos and videos.
You get an advanced keylogger to potentially find someone's usernames and passwords.
2.2 Top Reasons why Spyic beats out the competition
Why is Spyic #2 in our books? The spy app offers solid features at a hard-to-beat price. It's well-designed and works like a charm.
Here are other reasons why we think Spyic is such a good app:
Spyic is remarkably stealthy
Spyic is a very stealthy app. This is important – you don't want to be caught spying on someone, after all. The iOS version of Spyic is a remote, web-based app. You can use it without downloading or installing any software. As a result, it can't be detected.
The Android version of Spyic, however, is a small 2MB app. You can install it and then hide it. It will then work in the background without the user's awareness.
You can rely on the app to deliver
As we mentioned before, not all spy apps on the market are genuine. Spyic, however, is a legitimate app with a great reputation. The app is used by countless users worldwide, including security experts. It's virus-free and works reliably.
Spyic is an advanced spy app
Spyic is one of the rare spy apps that work without rooting or jailbreak. You get full access to the phone without all of the usual hassle. Rooting and jailbreak is complicated and can cause data. Luckily, you won't have to take the risk with Spyic.
You may like: Top 10 Best Free Hidden Spy Apps For Android Undetectable
#3 Cocospy
Cocospy is another well-known spy app. It works with target Android and iOS devices. You can see what your target gets up to remotely from any web browser. Cocospy is simple to set up and use and offers great features.
3.1 Cocospy has a solid reputation
Reputation is crucial in the spy app market, seeing as it's full of scam apps. Cocospy, luckily, comes with a great reputation:
3.2 The app offers a competitive array of features
Cocospy also offers a range of competitive features:
You can monitor someone's messages, social media, and call logs.
The app offers a keylogger feature to record login credentials as well as read emails.
The app works remotely, can be set up quickly, and doesn't need root or jailbreak.
You can purchase Cocospy for a reasonable monthly price too. You get solid features and you'll be able to spy on any supported modern smartphone without being found out.
#4 Fami360
Next up on our spy phone app list is Fami360. Fami360, as the name suggests, is a parental control app designed to keep tabs on children remotely. While the app is originally designed with parents in mind, you can also use it to spy on anyone.
4.1 Fami360 offers effortless parental control
Children don't like being monitored. With Fami360, you can monitor them without finding out:
Fami360 offers useful parental control features like a visual activity tracker.
You get phone monitoring features like a call tracker, message reader, and media files scanner.
4.2 You can monitor kids without being detected
Fami360 makes for a good spy app because it's discreet:
Fami360 works discreetly and offers regular updates on the phone's activity.
The app is a root-free and jailbreak-free solution.
Fami360 has an intuitive user-interface and can be accessed from any web browser.
Fami360 is reasonably priced compared to many other parental control apps with a stealth feature, making it easy to recommend.
Also Read: 10 Free Android Spy Apps for Cheating Spouse
#5 Spyine
Spyine is a part of a popular range of spy apps released by the same company – namely Phonesheriff, Teen Shield, and Sniper Spy. The makers of Spyine offer reliable products with good features at a reasonable price.
Here are the highlights of Spyine:
The app is capable of tracking iOS and Android smartphones.
It comes with unique features like a live screen viewer and a location tracker.
Spyine was the victim of many hacking attacks
Be aware that Spyine and its parent company has been the victim of repeated hackings recently. Some private user data was stolen and the company is still buffering up its security. If you want to purchase the app, it's something you need to know.
The other apps on this list like Cocospy and Fami360 have never been hacked.
#6 SpyToMobile
SpyToMobile is an Android spy phone app without target phone that's been around for a few years. It's mainly a parental control and employee monitoring tool. It offers a decent amount of features if you want to spy on Android devices.
These are the top features of SpyToMobile:
The app allows you to track anyone's Android phone live.
You can read messages and check social media activity.
SpyToMobile needs a root
A major drawback of SpyToMobile is that it requires rooting. You can't access the target device otherwise. Also, note that SpyToMobile only works with Android devices. You can't monitor iOS devices with it.
Don't Miss: How to Spy on Someone's Phone Without Touching It
#7 Minspy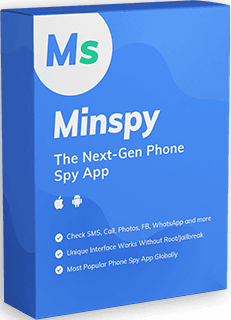 Minspy is a feature-rich spy app that's compatible with Android as well as iOS devices. Minspy is also guaranteed to be legit, seeing as it's made appearances on outlets like USA Today and Reader's Digest.
Minspy offers some nice features:
You can monitor texts, social media, and media files.
The app offers a useful live location tracker.
Minspy is hard to set up
A major drawback of Minspy is that the app is difficult to set up. You need to root or jailbreak the target device first, which requires some technical skills. Also, note that Minspy is only compatible with iOS 9 and lower.
#8 Auto Forward
Auto Forward is another top-rated Android spy app. It offers some nifty features at a competitive price.
Auto Forward offers all the features you'll ever need:
You can check messages, social media apps, and calls.
View GPS locations and check contact information.
Rooting or jailbreak is a prerequisite
However, despite its excellent features, Auto Forward isn't easy to recommend because you'll need to root or jailbreak to unlock all features. We don't recommend rooting or jailbreak. Still, it's a solid app if you want to take the risk.
Don't Miss: How to Spy on My Wife's Phone Without Her Knowing
#9 SpyHuman
SpyHuman is one of the best parental control apps on the market. It also doubles as a data backup as well as an anti-theft safeguard. You can use the app with all the latest Android phones and tablets.
You can use SpyHuman to monitor any Android device without trouble:
Check social media activity, call logs and more.
SpyHuman is a hidden spy app.
SpyHuman is only for Android devices
However, a significant disadvantage of SpyHuman is that it only works on Android devices. If you want to spy on iOS devices, you'll need some other solution.
You may like: How to Spy on My Husband's Cell Phone Text Messages Without His Phone
#10 FlexiSPY
The final entry on the list is FlexiSPY. FlexiSPY is a spy app not just for Android and iOS devices, but also for computers, including Windows and Mac. FlexiSPY has been in the phone spy app industry for a long time and is reliable.
Here's what you can do with FlexiSPY:
You can monitor calls, messages, and locations.
Intercept calls and record ambient sounds.
FlexiSpy comes with major drawbacks
While FlexiSPY offers some great features, you need to root or jailbreak the target device first to access them. Rooting and jailbreak can go wrong. They may cause data loss, not to mention leave you open to being discovered.
Part 11: FAQs
Haven't used spy apps before? These FAQs provide useful information for new users:
1. Are spy apps legal?
Spy apps are 100% legal. Still, that doesn't mean you can use them however you like. You can use a spy app to monitor kids without any trouble, for example. To monitor other people, you may need permission first.
Having said that, a lot of people use spy apps illegally and never get found out, seeing as these apps are designed to be hidden.
2. Do I have to update spy apps often?
It depends on the spy app you buy. Apps such as Cocospy or Spyier update automatically and remotely. Some apps need you to physically install the update. Updates are periodic for all apps, especially if the phone's OS got changed recently.
3. Where is the data from the monitored phone stored?
This depends on the spy app. For the majority of the spy apps on this list, the data will be stored on your private account or dashboard. You can access it remotely at any time. The app developers can't access this data.
4. Can I monitor multiple phones at once?
You can monitor multiple phones at once, yes, but you may have to purchase subscriptions for every phone separately. Most spy apps only offer one license which is valid on a single device.
5. Someone offered to hack a phone for $30. Isn't that better than a spy app?
Be careful with these so-called hackers. In our experience, most of them just steal your money and disappear. Spy apps are much more reliable. They're also a long-term solution – you can spy on someone for weeks on end.
Conclusion
The best spy apps in the market, from our research and experience, are the first few entries on this list: Spyier, Spyic, Cocospy, and Fami360. These apps offer a truckload of features for an affordable price. They are also a breeze to set up and use.
The other apps on this spy apps list also work but come with some drawbacks.
This post is also available in: Deutsch (German) Español (Spanish)