In the AI era, crafting online content has become the focus of many writers who find that AI can revolutionize content creation. But there are also challenges such as the detection of AI written material by advanced AI detecting software, and tools such as Undetectable AI are becoming so important. Read Undetectable AI review to find out why.
Is Undetectable AI Truly Effective?
The development of artificial intelligence (AI) has introduced exciting changes in many fields of industry and commerce, particularly in the creation of online content in terms of articles, ad copy, blog posts, and marketing web content.
However, there is still a demand for authentic, human-written content; many people like to think that what they are reading has been written by a real person, not a machine and research shows that AI generated text may be ranked lower on search engines when it is flagged by AI detecting software.
There are a number of tools that can help to overcome this, and one that stands out currently on the market is Undetectable AI.
Undetectable AI can rewrite AI-generated text so that it bypasses AI detectors and looks like human-written text. It has been specifically developed to help marketing professionals, article writers, bloggers, and web content creators to bypass AI detection by rewriting AI content that is less likely to be flagged as AI generated, with a natural and human-like quality.
How Does Undetectable AI Function?
Built on a foundation of machine learning models trained by experienced writers and using the processing power of advanced AI algorithms, Undetectable AI uses natural language processing (NLP) to transform your AI written content into text that can easily pass for human written material and evade AI detection software.
Many similar AI applications use a combination of paraphrasing and synonyms to rewrite the text, but this can still be identified by AI detectors. Undetectable AI does more than that and completely reprocesses your content to produce text that is virtually indistinguishable from human writing.
This all sounds complex, but using the tool is really a simple exercise, even for a beginner.
You start by copying and pasting your content into the input box on the web portal.
Next, you can choose the various options for tone and style to suit your target audience.
Then with the click of a button, Undetectable AI will process your content, and within seconds you will get the result – a completely rewritten version of the text that will avoid detection by the best AI detectors on the market.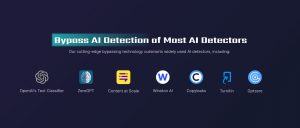 Pros and Cons of Undetectable AI
The advantages of Undetectable AI certainly outweigh the disadvantages, but it is worth considering all pros and cons;
Pros:
Easy to use, fast and efficient
Improves your original content by making it more readable and plagiarism-free
Customizable for different audiences and use cases
Cons:
May contravene some platforms' policies on the use of AI written material
Could be used to disguise fake news or misleading information
Is Undetectable AI Genuinely Worthwhile?
As possibly the most outstanding AI detection remover tool currently available, Undetectable AI should be the first consideration when you are looking to transform your AI written content, and its key features provide a number of benefits for all online content creators, including
The ability to create humanized content that can rank higher on search engines.
The rewritten content will still preserve the intent and meaning of the original text.
You can freely express your creativity by using AI writing tools, saving time and resources and streamlining your work processes.
Content rewritten by Undetectable AI can bypass commonly used AI detector tools, such as Winston AI, Copyleaks, Turnitin, OpenAI's Text Classifier, ZeroGPT, Content at Scale, and Gptzero.
The content is assured to be high quality with zero errors, and free of grammar or syntax mistakes.
The complete rewritten text is guaranteed to be original, authentic, and plagiarism-free
Final thoughts
AI writing tools can bring enormous benefits to any business whether for creating web content, blogs, emails, articles, or social media posts. However, it is becoming essential for the content to bypass AI detectors and appear to be human-written and authentic.
Undetectable AI can meet this need and will help to gain higher rankings on Google, and e-commerce platforms. However, it is important that the tool is used ethically and responsibly, and not for the provision of false or misleading information, in scams or spam.