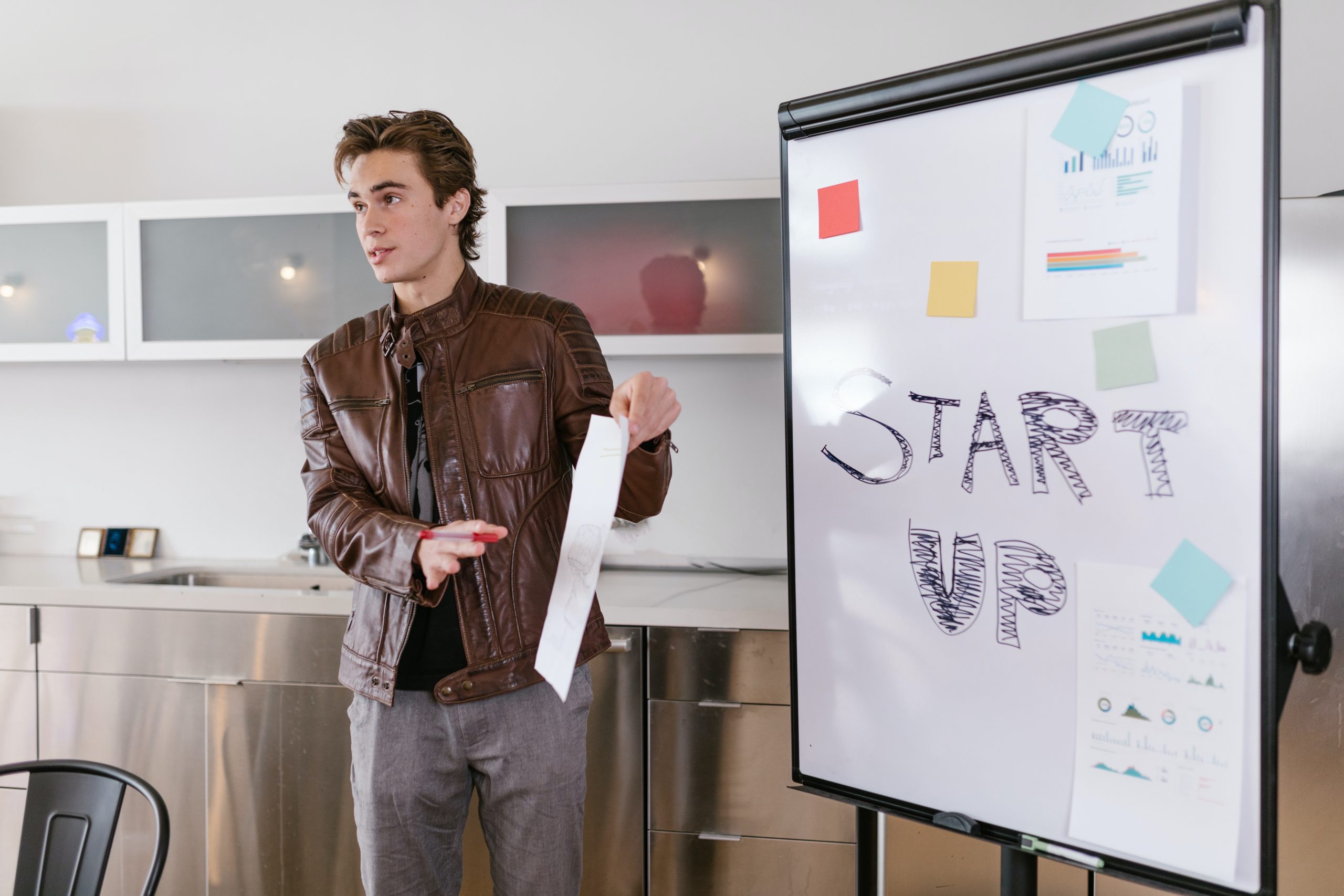 Marketing a business is no longer what it used to be   This is especially the case with marketing a startup. Everything about marketing your business, be it a startup, or an established brand has changed due to the pandemic, and a massive shift in how people interact with brands.
For many marketers, 2022 portends a chance to rethink their marketing. But not so fast. Some businesses may stick with the tried and tested methods.  Some will go with new and innovative hacks. Only time will prove which methods will work, and which ones won't.
We asked twenty marketing experts and successful business owners how they would market a startup if they started the business today, and here are the major startup marketing trends for 2022.
Short-form videos
" The best way to grow and stand out amongst your competition in 2022 is to jump on the short-form video trend (aka TikTok, Reels) and use the Stories feature on Facebook or Instagram.
Instagram recently stated that reach in their feed is down but over 500 million are spending time in video portions of the app like Reels and Stories. Go where the masses are and spend less time on curating content for Instagram and Facebook feeds.
Shannon Hinderberger-  Social Media Strategist and mentor at Shannon Lee Strategy. 
" Over this past year so much has changed with every social platform. The rise of TikTok spurred the development of IG reels and YouTube shorts. Consumers' attention span is decreasing and they are looking for short-form content for their serotonin boost. If businesses can learn how to use short-form content on these platforms effectively they can grow rapidly and gain a very engaged community as so many brands are struggling in trying to figure out how to participate."
Arun Grewal- Founder and Editor-in-chief, CoffeeBrewingPro
"Traditionally, long-form videos have been used to market a brand and its image, but with the rise of TikTok and other social media platforms using the same short-form videos that TikTok does, it's been an effective strategy to take advantage of it. Being one of the most effective marketing trends in the past couple of years, short-form video content appeals to the modern audience's fleeting attention spans. With this, it's quick and simple to make, taking less production time than long-form videos."
Adrian Pereira- Co-founder and CEO, The Eco Pea Company
" A major marketing trend for startups in 2022 is going to be video marketing. TikTok and Instagram Reels are some of the top content channels today and both are video-based. Short content has the ability to capture viewers' attention and lead to stronger engagement than other visual and text-based content. Startups can participate in this trend by investing time in producing high-quality video content and creating brand profiles on platforms like TikTok and Instagram."
Ravi Parikh- CEO of RoverPass
Marketing on TikTok
"TikTok is going to be even more in focus next year. Whilst this may seem like old news to consumers, to businesses it's brand new. TikTok has only just launched its ad platform.
As native content is consumed more and more, advertisers are going to see a dominant shift away from Facebook for the first time to TikTok's platform. I wouldn't be surprised to see purchase optimization relatively soon and that is going to lead to a lot more businesses jumping on the bandwagon and trying to take advantage of the TikTok hype. Today Facebook's advertising allows you to take products to a certain market – TikTok is going to go one step further and take your product to the right market, at the right time – when the consumer will emotionally need your product most."
Ryan Walton- Founder, Aura Ads
Lots of Social Media Marketing
" Social media will still continue to play an essential role in every businesses' success, especially for startups. We'll be seeing more newly formed businesses not only do one-on-one interaction with customers via their social media platforms but take advantage of user-generated content in enhancing customer experience as well. To be precise, two-way interaction will be the name of the game next year.
Engaging customers on social media in the form of UGC will be seen everywhere. Instead of just posting company-sponsored content to convince customers, the power of users will be tapped this time. And brands that will capitalize on this trend will surely have not only more loyal customers but have an increase in repeat purchases as well."
Robert Gate- Founder and Chief Editor, Archery Topic
" I believe every business understands that social media is an excellent tool for connecting with customers. That's why the fertile field is so densely populated. In order to stand out, startups must be innovative. To begin, don't limit yourself to simply posting text about your products on social media. Use movies, images, customer tales, quizzes, and entertaining information. Don't force something on your audience without asking for feedback or actions such as shares and likes. Second, don't just stick to the obvious suspects. Alternatives to Twitter, Facebook, and Instagram are constantly appearing on the market, providing companies with an opportunity to stand out in a less congested environment.
Gerrid Smith- CEO & Founder of Property Tax Loan Pros
" Startups are going to heavily focus on their social media presence for marketing in 2022. This past year has shown just how successful one viral video can be for a company in reaching a massive audience and getting a ton of sales. Marketers who know how to use platforms like TikTok well have the opportunity to quickly get a large following, and thus quickly have success."
Carter Seuthe- CEO, Credit Summit
"I think startups will really focus on their social media presence. Paid advertising isn't always the most effective way to market as a startup because it's hard to reach your target audience, but social media is probably the easiest way to connect with your target audience. Whether it's with hashtags, partnerships with influencers, or simply trying to go viral, social media can help startups achieve success at a much faster rate than
ever before."
Jeremy Yamaguchi-CEO, Lawnlove
Marketing Automation
" In 2022, we will see more data-driven marketing campaigns used across a broader scope of industries. For example, adding marketing automation to the digital marketing strategy will be more effective since marketers would automate their workflows and spend minimal time on repetitive tasks."
Avinash Chandra-  Founder and CEO, Brandloom
Artificial Intelligence
"One of the tricks and hacks I will be using in 2022 is adopting more AI in my content marketing and I see lots of startups adopting this as well.
We all know how tedious and time-consuming content curation is. That's why it can be relatively expensive to get quality content nowadays. But with the rise of AI content writing tools in 2021, I only see more adoption in 2022 as marketers, especially new ones, use them to take the research work out of content creation and drastically speed up the process from beginning to end.
Most marketers also use AI content creation tools to generate topic ideas with high search volume or are rising in popularity in search engines. AI content creation tools will make startup marketing completely different in 2022 as more entrepreneurs will start using them to ease and expedite their content creation processes."
Valentine Okoronkwo- Digital Marketing Manager, Passive Secrets
" Artificial intelligence (AI) is going to be one of the biggest game-changers in 2022. We're already seeing how AI is taking over the marketing world. Using AI in a company's marketing strategy will have a huge impact on sales and marketing.
Artificial intelligence can help businesses optimize their marketing efforts by providing customers with personalized experiences that are relevant to them and their needs. AI can also help businesses find new customers by leveraging data collection on website visitors and correlating it with other information about those visitors that a business may not have access to."
Mohamed Hassaan- CEO and Founder, Style Recap
" Artificial Intelligence is on the rise. The fantastic progress made in artificial intelligence over the previous few years is no longer a mystery to the public. We must, in the meanwhile, prepare ourselves to make the most of such artificial intelligence systems and software in digital marketing. It is unequaled in data processing, content automation, and performance optimization, to name a few areas of expertise. It can assist you in understanding your customers' purchasing patterns and provide you with information to help you better your approach."
Chris Muller- Director of Audience Growth, Dough Roller
" In the twenty-first century, artificial intelligence has become a game-changer. It has altered not only company practices, but also how clients are contacted. It's the most important trend to monitor in 2022; late adopters of AI will face a significant competitive disadvantage during the next decade. To help businesses understand how customers find their products and services, AI can evaluate consumer behavior and search patterns, as well as user data from social media platforms and blog postings.
Bram Jansen, Chief Editor, VPNAlert
Chatbots
" In 2022, chatbots will remain an important aspect of digital marketing. This AI-based solution employs instant messaging to speak with your customers or site visitors in real-time, day or night. Many customers enjoy engaging with chatbots since they are available 24 hours a day, respond quickly, retain your whole purchase history properly, and never lose patience. These virtual assistants provide excellent customer service by anticipating and automating repetitive chores, allowing you to focus on more important responsibilities."
Zaeem Chaudhary- Architectural Draftsman at AC Design Solutions
Programmatic Advertising
"Businesses may now easily target a certain audience thanks to artificial intelligence. It examines data from their social media presence, as well as their likes, dislikes, and most-watched videos, as well as their general attitude toward products and services. This automation is far more efficient and quick, resulting in increased conversions and cheaper customer acquisition costs. It's transforming the face of digital advertising so quickly that 86.2 percent of digital display ads in the United States will be programmatic by 2020, according to research."
Daniel Foley- SEO Manager at MCS Rental Software
Local SEO
" Local SEO  will be more important than ever for startups in 2022. This is especially true if they only provide a service for several counties. They might not want people outside of that area to see the website and this is why local SEO will generate more qualified prospects since these people are closer."
Brenton Thomas- Founder and CEO, The Twibi Agency
Valuable Content Will Continue Dominating
"Content is king in building a brand in any area. Content is amazing for many reasons. Think searchable, findable, relevant, engaging, impactful, and actionable. Great content is undoubtedly the most powerful weapon for entrepreneurs to stand out. Make sure you're regularly searching for your audience's information needs. Examine existing information before coming up with new ideas. Keep moving if you can't improve it or make it more relevant to your audience. It is this type of information that will be rewarded in the industry. It combines a table of contents, general information, and an exchange rating system. The best way to learn from industry publications is to read their material."
Gavin Johnson- Managing Director at EV Cable
"Content marketing refers to creating and sharing relevant and consistent content with the target audience. By doing this, you will gain their trust and become a thought leader in your industry. You will be able to boost sales by positioning yourself as an authority."
Emir Bacic- Co-founder and marketing expert, Pricelisto
Personalized Marketing
"Personalization will be the way to consumers' hearts in 2022. When a buyer is presented with two relatively comparable products and must choose which one to purchase, my money is on the brand that won her heart. Personalizing marketing to your client's needs is one method to engage their hearts and minds.
Technological advancements such as artificial intelligence, paired with increased data collection and insights from social media and other sources, have enabled and simplified hyper-personalization of everything from content to design to product suggestions and everything in between."
Kyle Richards- Co-founder, Best Overland Park Painters
"Personalization, of course, has been around for decades. Marketers have long kept track of customer data and used it to target ads, send special offers, and more. But today's technology lets marketers go far beyond that basic concept. Now, with tools like machine learning algorithms and AI-powered chatbots, marketers can run individualized marketing campaigns and that's exactly what I'm working on and going to implement soon."
Austin Dowse- CEO, Aimevin
"Personalize your marketing in 2022 if you want to stand out, which implies tailored content, products, emails, and more. Statistics show that 63 percent of customers are irritated by generic advertising blitzes. In addition, 80% think they are more likely to do business with a company that provides individualized experiences. Furthermore, 90 percent of buyers say that personalization appeals to them."
Lauren Cook-McKay – Director of Marketing & Content, Divorce Answers
Social Media For Social Commerce
" With individuals being forced to stay at home for most of 2020 and into 2021, social media has become one of our favorite ways to stay in touch. The social media market is large, and its global audience is still growing, with billions of daily users. These platforms are becoming more social commerce-friendly.
On social networking networks, users may now buy and sell goods and services directly. Social media marketing is now more accessible and important than it has ever been. Platforms continue to offer innovative techniques for businesses to boost their portion of the digital marketplace as the market grows. When you invest in social media marketing as a startup, you can kill two birds with one stone."
Arianna Flynn- Marketing and Communications Manager at ProxyRack
Influencer Marketing
" The truth is, consumers, trust the opinion of an influencer on a brand or product much more than they trust brands themselves. Influencer marketing will also be affected by AI as it makes it easier to find the right influencers to partner with by identifying those with better engagement and a positive ROI. You might want to consider working with an influencer if your market is an active consumer of influencer content on social media."
Sean Kelly- Co-Founder at BookRetreats
"Influencer marketing is a growing trend that startups should pay close attention to. Influencers can be a great way to reach a wider audience and promote your product or service. Startups should identify the right Influencers and work with them to create effective campaigns. Influencers offer startups the opportunity to target a niche audience while providing personalized interaction."
Sam Santa- CEO, Zeitholz
" It is a perfect blend of traditional and modern marketing tools. Today several business owners use influence marketing to increase brand awareness and drive engagement, reach their target audience, generate authentic content and improve brand reputation."
Rahul Vij- CEO, Webspero
" In 2022, I think we'll continue to see an increase in the success of influencer marketing. Investing in this line of marketing for a startup is a smart decision, as influencers have proven to be a top ROI-generating trend."
Brian Donovan- CEO, Timeshatter
Optimization for Voice Search
" In an age where mobile devices and speech services like Amazon's Alexa are becoming more popular, voice recognition is one area in which your small company may differentiate
itself from the competition. There is an increasing likelihood that customers will discover your homepage or content marketing materials using voice search in 2022 and beyond if your organization is online."
Jeff Mains- CEO, Champion Leadership Group
"Speaking occurs more readily and is relatively easier than typing. That is why voice search performs perfect sense. Applying direct, conversational inquiries is the best method to do voice search. This method permits your audience to experience better, more accurate solutions to the question they proposed. This trend is convincing you to  have what every business should do is to make your brand optimized for voice searches."
Shiv Gupta- Incrementors Web Solutions
Socially Responsible Marketing
" In 2022, we will be seeing more and more organizations prioritizing social responsibility. With everything our world has gone through over the last few years, ethics and transparency have become paramount to the modern consumer. People want to buy products from socially responsible brands that care about their customers, employees, and shared causes. Social media strategies will focus on more inclusive initiatives and highlight missions they support."
Kyle MacDonald- Director of Operations, Force by Mojio
Conversational Marketing
" Once upon a time, sales and customer service were structured processes. Representatives addressed customers as sir and ma'am and submitting a question took time — a phone call, a visit to the store, or, more recently, an email or online form. However, today's sales and customer service representatives communicate with customers via instant message. The interactions are similar to those with our friends."
Rithy Rul-  Co-Founder at  Selendra
" With all of the chatbot rhetoric, the truth of current marketing emerges: it's more conversational. People want it that way, therefore brands are catering to them. When customers have a question, 82 percent want a quick answer. Conversational marketing allows marketers and customers to communicate one-on-one in real-time. People prefer to communicate and get rapid answers to their inquiries to assist them to decide whether or not to buy something."
Gerrid Smith- Founder of Corporate Investigation Consulting
" It's a good idea to use a conversational approach to assist increase personal interactions between customers and companies. Implementing conversational marketing helps you to address your customers' demands through nearly any channel. This includes personalized emails, customer support chatbots, videos, and other forms of communication.
By incorporating conversational marketing into your website, you can minimize guessing and guarantee that your clients get exactly what they need when interacting with your business. This is accomplished by employing a dialogue-focused communication approach to boost engagement and convert more leads. As new trends arise, it is critical to understand what they are and how you can leverage them to expand your brand and business. In certain circumstances, new trends may need a rethinking of your complete marketing plan."
 David Farkas- Founder | CEO, Theupperranks.com
Storytelling
" Narrative marketing works because it creates an emotional connection to the viewer. In addition, new businesses who are looking beyond traditional marketing techniques provide a new angle by using information that is unique to their business. Whether it is a customer journey, an owner's story, or a human interest piece, narrative marketing is a trend for small businesses that will be big in 2022."
David Sweet- VP of Marketing, Eterneva
Micro-influencing
"Startups will reach out to people who post answers on Quora, Reddit, and more, about the solution that the startup offers. These people don't have to be heavyweight influencers; they'll just be regular people who are either passionate to solve a particular problem or care deeply about what features they'd like in a solution.
Mayank Kumar- Head of Marketing and Partnerships, QuickEmailVerification
"Brands may be better served by working with micro-influencers who offer smaller follower counts but post around niche interests, leading to more meaningful one-on-one connections with audience members. Input from the brand should flow seamlessly with their other content which comes down to an understanding of micro-influencers core messaging, with brands seeking to match campaign posts with the micro-influencers usual look and feel. It should not feel like a paid opportunity, slapping on the #ad to a post. You want to give them the freedom to create their own content too, but ensure it's still getting the message across."
Paige Arnof-Fenn- Founder & CEO, Mavens and Moguls
Data and Analytics
" The top startup marketing trends for 2022 are likely to be more focused on data and analytics. This trend is likely to be driven by the increasing availability of data and the increasing sophistication of marketing tools. Marketers will need to be able to use data to understand their customers and track the success of their campaigns."
Daniel Chan – CTO Marketplace Fairness
Community-based engagement as a marketing strategy
"With new privacy and security measures, remarketing (display ads, social media ads) is becoming less and less effective. That's why community engagement will become more important than ever in 2022.
Long gone are the days when you could grow your social media following just by posting daily — and mindless engagement no longer cut it either. Companies that put building communities (on social media, email, podcasts, audio content platforms) at the forefront of their marketing strategy will have a huge competitive advantage in 2022."
Annie Singer- Founder, Reciple
Virtual Events
" Those who are on a tight marketing budget plan virtual events to reach their audience and promote their products and services. It provides business owners an opportunity to create a good image on their customer's minds and get good leads."
Rahul Vij- CEO, Webspero
Brand Customer Experience
"I believe one of the key trends in startup marketing in 2022 for the B2C or D2C space will be building customer experiences that go beyond a website visit or lead forms. Startups are actively trying new tactics to build rich customer experiences consisting of chatbots, self-serving workflows, and highly-targeted campaigns leveraged through deep data analytics."
Nandini Sharma-  Marketing Manager, ProofHub
" Put your dollars on elevating the customer experience. This also often means investing in seamless UI/UX design, conversational marketing, and a solution-driven content marketing strategy, designed to answer the real-life questions consumers have regarding your product or service."
Xiao daCunha- CEO, Westerlund.co
Product-based marketing
" In 2022, the startup marketing trend will be that the product is the marketing. In the past, entrepreneurs relied heavily on traditional marketing methods such as advertising, public relations, word of mouth, and so on, but in the future, the product itself is the marketing. A good product is able to attract users without having to spend too much on
marketing."
Farzad Rashidi- Co-founder, Respona
Customer-centric Marketing
"  I think the most important startup marketing trend for 2022 is going to be customer experience. As a startup, you're going to want to know what you're doing right and what you're doing wrong from the perspective of actual customers. Having this information allows you to refine your customer experience to keep current clients coming back while attracting new ones. Customer experience covers all interactions that someone has with your brand. To derive actionable insights, startups will want to collect data through surveys, online polls, and customer interactions with employees. This data can then be used to identify problems and opportunities for improvement."
Todd Ramlin- Manager of CableCompare
" I expect to see a big shift from the product to a customer-centric approach in marketing. Instead of thinking about what type of advertising the product requires, marketers will now have to pay more attention to customers and their interests and needs.
The only way for startups to succeed is to attract a solid audience and have it test a product or use specific services. However, people will engage only if they come across a brand that satisfies their needs. Marketing will have to become more real and oriented towards people. This means that product design will have to be aligned with realistic market requirements and that the target audience will have to be very well defined. There will be no space for experiments and startups will need to be very clear with their intentions and expectations."
Malte Scholz- CEO and CPO of Airfocus
User-Generated Content
" It will be important to encourage user-generated content and get as many people on social media as possible talking about your brand. Make sure to use the power of social media to increase your reach and bring in more customers into your funnel."
Mile Zivkovic- Marketing Manager, Better Proposals
QR Codes
" Digital marketing is expensive and comes in an overcrowded space, making it difficult for start-ups, which is why many new businesses are utilizing QR codes. Instead of hoping someone finds your business through a search engine, QR codes place your website directly into the hands of your audience.
The latest studies report that 90% of smartphone users have accessed QR codes, and nearly a third of them do so once a week. What makes them such an attractive option is they are inexpensive, portable, and can be strategically placed in opportune locations to maximize promotional impact. QR codes allow start-ups with tight budgets to be competitive and not dependent upon complex marketing campaigns."
Jeff Meeks – VP of Sales and Marketing, EnergyFit
Experimental Marketing
" Experiential marketing campaigns are a great way to share your company's story with audiences. People in-person or on AR/VR platforms can step into the immersive experience and learn more about who you are at any time."
Farhan Advani- Director of Marketing, Buy Here Pay Here
Push Notifications
"Push notifications as a digital marketing trend is being fueled by two factors. First, the email marketing landscape is becoming increasingly congested, making it difficult to establish genuine connections with your audience via that channel. Second, mobile phones are rapidly being used for internet activity, including brand research and online buying.
Therefore, it's understandable why marketers are turning to push notifications as a more effective method of capturing customer attention. Push notifications, when used properly, can increase open rates, conversions, and overall audience engagement."
Vannak Lach- Founder, SpaceMazing