If you're a business owner and you haven't considered taking advantage of technological advancements via digital platforms to improve business growth and brand visibility, you're missing out on something really big. Whether you're improving your marketing plan or evaluating your business goals this new year, here are some tips from members of the small business community to help you make the most of your business transformations.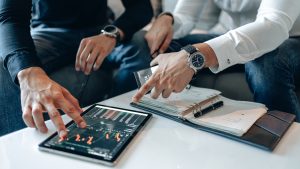 Technology is the Ultimate Equalizer
In today's world, technology has become one of the driving factors for many business advancements, and technology itself is advancing at a rapid pace. Digitalization helps businesses operate more effectively, can cut costs, and improves a variety of other aspects of the business. In the future, I believe digitalization is going to be essential for the success of any business, which is why it's better to get on top of it now. By digitizing your business now, you'll avoid issues down the line and will likely avoid needing to make even more big changes to the business. Rather, you'll be able to keep up with advancing tech, provide a better experience to your customers, and improve your employees' experiences too. Just make sure you choose the right tech for your business and have a good adoption strategy," says Sean Nguyen – Director of Internet Advisor
"For maintaining a business, focus on technology that helps you better track and analyze your operations to identify areas of potential improvement. Stagnation is a significant risk for companies that aren't actively pushing for growth. Just because you're happy with your current performance doesn't mean everything is perfect. Technology can be a huge help for collecting and interpreting data on both the internal and customer/client-facing sides of the equation and prevent you from becoming complacent," says Debbie Winkelbauer – CEO of Surf Search
The first and most crucial step to digitize your business is creating an effective strategy. Identify which functions can go digital and develop a plan for integrating the required technologies into your business. I use technology to enhance almost all aspects of my business. I use tools like Trello and Basecamp to manage projects more efficiently; Zoom to conduct video conferences; Google Workspace to simultaneously work on different documents with my team and Slack for internal communication. Moreover, tools like Google Analytics help me measure user engagement and loyalty, and social media platforms such as Facebook and Twitter help me increase my brand awareness. Use technology to its maximum potential if you want to grow your business. It's a very competitive market out there, and if you don't make the most of all the digital tools you have at your disposal, you will certainly be overtaken by your competitors," says Jessica Kats – E-commerce and Retail Expert at Soxy
"To digitize your business, you need a strategy and goals. By establishing goals from the outset, you can ensure that your company's growth trajectory stays on track to meet your goals. The development of an effective plan is one of the most critical phases in accomplishing key company milestones. When it comes to digitizing your startup, this entails determining which digital tools will be integrated into your business operations, determining where current functions can be replaced with more efficient online options, and devising a strategy for flawlessly integrating technologies into your company. By tracking time and progress, technology has helped company owners and executives to keep on top of their initiatives," says Imani Francies – Business consultant with USInsuranceAgents.com
"Examining ways to make your daily practices more streamlined using technology is one of the best ways to modernize. The advantage of utilizing modern technology is that it frequently resolves issues you may not even be aware of just yet. Furthermore, it can speed up time-consuming operations like data entry, and productivity levels can increase tenfold by implementing technology advancements," says James Dyble – Managing Director at Global Sound Group
"The market nowadays is more competitive. As CEO, we need to rethink our business strategies to gain an advantage over the competition. That's why there is a need to be adaptive and innovative. Digitizing your business is one way to do so; the disadvantages are outweighed by using technology to grow your business. One of the best advantages of using technology is that it makes establishing connections easier. With just one click, you can gain access to your target market. Having an online presence improves your business's reputation and increases the opportunity to reach out to your community," says April Maccario – Founder of AskApril
Get the Latest Apps and Tech
"Modern business demands modern tools, and the top two that can radically improve your horizon are cloud technologies and mobile applications. Cloud technologies have significantly increased productivity for businesses in many different industries. Nearly one-half of small businesses are already using cloud technology to help their operations," says Kevin Joubin – VP Growth Marketing at Branded Research, Inc.
"Businesses that don't invest in the latest technologies will be left behind, remember that. There are many apps and software that can help with almost any aspect of your business, like accounting, CRM, supply chain. These can help you save a lot of time, so you can focus on tasks that will add value for your business. Hence, technology is now the backbone of every successful business enterprise and is indisputable," says Karl Commissariat – Marketing Head of Wealth Dynamics
"A constant stream of new apps, smart start-ups, and increasingly easy-to-use digital tools are helping us streamline our operations and make a greater splash for less money in an ever-changing technology landscape," says Keith Mint – Founder of Minted Empire
"In order to keep up with the competition and drive business efficiency, a CRM is essential for the modernization of business processes because it provides a system for managing customer interactions and relationships. It enables companies to track all customer interactions, from initial contact through the sale and after-sale support, in a single system thus providing valuable insights into customer behavior, allowing businesses to better understand what products and services customers most are interested in and how they can best appeal to them. It can also help improve marketing effectiveness by tracking campaign performance and identifying best-performing channels and content. Overall, a CRM system is a powerful tool that can help reduce costs by optimizing workforce utilization and automating administrative tasks," says Randy VanderVaate – CEO and Founder of Funeral Funds
"Google Analytics is a popular tool for monitoring user engagement and loyalty, particularly for small and medium-sized businesses. It provides statistics on your active user readership's engagement and loyalty, which you can use to boost your conversion rate. Hiring a virtual assistant can provide your organization with intelligent technological solutions that have a human touch. Virtual assistants are widely available on freelance websites and are economical for small firms as well. They can take on time-consuming chores, allowing you to focus on building your firm," says Sara Johansson – Customer Success Manager at Onsiter
Selling Services and Products Online
With the rise of e-commerce, the convenience of online shopping, and having your purchases delivered to your doorstep, consumers expect the same hassle-free experience in-store. Many clients shop online, but many more go to a real store, restaurant, or other business. "Try to provide the unique, engaging, and personalized shopping experiences that consumers are looking for when they choose to visit your physical store. Build a bridge that connects the digital and physical by being consistent with your business' visuals and tone, while also exploring reduced touchpoints and integrating more app-based smartphone solutions for a more streamlined process that'll let customers make the best purchasing decisions as quickly as possible," says Gary Beckham – Marketing Specialist and Financial Consultant for MetalicCards
"With more people buying goods online, it's time for small businesses to expand outside of their brick-and-mortar walls to build an online presence and reach more customers in the process. Having a modernized website that's easy to use and buy goods on is essential for businesses looking to modernize and expand into the future. Selling services and products online can ensure that a business can maintain and thrive in the digital world," says Martin Kelly – Founder and Editor of Actively Outdoor
Digital transformation is essential to modernize your business, yes, but seamlessly integrating it with the physical experience is what will separate your business from others. "The ordinary customer now has a supercomputer in their pocket, which they utilize to check up company ratings, locations, and directions, buy links, and other information. As a consequence, incorporating digital technology into your business through an online marketplace, customer reviews, and other vital information on your website is very critical," says Adam Crossling – Marketing Manager – ZenZero
Era of Automation
"The biggest tip for businesses who haven't already done so is to start on their digital transformation. In 2022, automation is going to be key – particularly for businesses that are having to tighten their belts. We'll also be seeing a lot less formality in the workplace with more relaxed work culture and more hybrid working options," says Dima Suponau – CEO & Founder at numberforliveperson.com
"The main reason to digitalize your business is to cut costs on various operations by automating them instead of delegating them to employees. Besides, digitalization can significantly improve customer service and make the overall flow of business operations much more efficient for your company. If your business is local, nationwide, or even worldwide, you need to invest a lot in brand awareness growth and maintenance to create a bond with your brand in the minds of regular and potential clients. This means that you should not underestimate the power of modern digital marketing as it's a savior of any business today," says Dmytro Serheeiv – Tax Consultant & Co-Owner at PDF Liner
"Most organizations including mine use software and applications on a regular basis, and this is a wonderful method to automate, simplify, decrease mistakes, and free up time. It may also be difficult to remain current because so many various software programs and apps are continually being produced, which means that there is frequently a newer and better alternative accessible. Spend time exploring new software and apps that might help your business, and then put them into action in the new year," says David Farkas – CEO of The Upper Ranks
"Better services are now carried by convenience and efficiency which is the primary goal of digitalization. It is commonly presented through automation, robotics, and artificial intelligence and admitting it to the whole work process. Investing in these technological advancements often allows entities to have a grasp of a smoother and faster workforce. By adopting these technologies, complicated and repetitive tasks became easier and automated. And since its overall purpose is to improve the business as a whole, you will see its effect on the overall performance of the business," says Hays Bailey – Director of Sheqsy
"Next year will be the year where companies ramp up their use of AI and technology in recruiting qualified candidates that can support company growth. These technologies help identify traits that will increase the probability of a candidate becoming a high performer that sticks around. Personality traits, cognitive competencies, and working styles are all relevant determinants that can be examined to predict future performance and longevity. This AI-driven approach can not only create better matches but also dramatically reduce the time it takes for hiring decision-makers to make their way down the recruiting funnel, says Matthew – Co-founder and CEO of Suited
Familiarization with the Equipment and Software
"My company has employees coming from different age brackets and when we first implemented high-tech efforts, I noticed that adjusting to the new system was tough for our older team members. Because they are so used to the analog version, they resented the new ways and didn't see the big picture of its advantages. From then on, I gave them enough buffer of time to properly be familiarized with the equipment and other software*. Our transition became more gradual than what we originally planned but it paid off as our productivity rate soared by the end of the year. It turns out they just needed time to adapt and learn about the complexities of digitalization, says Robert Johnson – Founder of Sawinery
"Using real-time technologies like social media, apps and even Google AdWords might help marketers communicate with customers in less time and with better results. Twitter and Facebook are two fantastic examples of how firms may obtain real-time data for a low cost and with no effort. "What your consumers prefer, when they go online, and even how their connections with your company are evolving over time may all be discovered through social media," says Lauren Cook-McKay – Director of Marketing & Content – Divorce Answers
"By investing in a customized app, you are opening a new network to your target audience and modernizing your business. Studies indicate people are quickly moving to mobile applications for purchasing. Oftentimes, businesses will find few options for applications specific to their business, causing many to try to shove a square peg into a round hole. However, by creating your own custom app, you can match it perfectly to your business needs, and impact everything from marketing and sales, to invoicing and stock levels. Customized applications can create channels for those customers to engage with your business, ask questions, and make purchases. They can also provide new avenues for marketing by allowing for direct emails and specialized promotions," says Woody Sears – Founder of Hearhere
"We have to find new tools to do a variety of things for our company, but they don't have to be completely on their own. Take a look at the tools you use and see if they are working together to make things easier for your team. In fact, everything should work together to enhance their effectiveness, eliminate wasted time shuffling between different platforms, and make things as routine as possible for everyone in your company, "says Lindsey Allard CEO & Co-Founder of Playbook UX
Increase Your Marketing Efforts
if you plan to modernize your business this year, take a long, hard look at your marketing strategies. However, if you're hoping to really disrupt your industry, that means shaking things up. Let your data be your North Star. When performance isn't where you want it, knowing where, when, and how to pivot can really separate the best from the rest," says Sean Kelly – Co-Founder of BookRetreats.com
"My advice for many businesses has been that you start in the most obvious place – marketing. Marketing is a great area to start digitizing because it has such a strong ability to thrive from it. Whether you implement CRM software, focus more on SEO strategies, or automate certain marketing processes, it's a great place to start getting comfortable with digital change," says Josh Wright – CEO of Cell Phone Deal
A great way to use technology to modernize your business is to jump into the world of social media. Create a business profile for your organization and work on ways to market yourself through social media platforms. This could be as simple as paid advertisements or posting updates or blog posts in your feed for followers to read. It's also a great way to engage with customers in a relaxed space and build brand awareness," says Devon Fata – CEO of Pixoul
"Gain new customers on social media. Customers are on social media like never before, and this has only increased as a result of the pandemic. Advertising online and having a dedicated online presence can make all the difference in the success of your business. Having a concerted online campaign for 2022 is vital," says Bill Glaser – CEO of Outstanding Foods
"Your website should utilize email marketing and SEO techniques to reach and retain the widest audience possible. You should also consider processing payments in multiple currencies to increase your sales potential. You can hire the services of an IT support company to help you design a professional website that accepts various currency payments. The use of social media, yet another product of technology, has now evolved beyond personal communication," says Cary Hastings – Head of Content – Bonsai
"Start a blog on your website. Blogging is a tried-and-true tactic for generating leads to your website. It gives you the chance to show off your industry knowledge and connect with others in your field. If you write good content that readers actually get value from, they're likely to share it with friends. This gets your business's name out there. It's great for SEO, too. You can use your blog to answer all of the questions that your ideal customer might type into the search engine when they're considering a purchase. When your site shows up at the top of the search engine results, you'll be able to capture their attention during the research phase," says Chris Zacher – Content Marketing Strategist at Intergrowth
"One simple and effective way to digitize your business is to switch from paper to digital business cards. Not only is this more cost-effective and sustainable than paper cards, but businesses will also be able to view all their contacts in one place and nurture warm leads easily," says Matt Strutte – Blinq
"Always take advantage of the fantastic free marketing tool which is available to us and that is Social Media. Whether you want to be on Facebook, Instagram, or Twitter, these are all great tools that you can use to drive traffic back to your site. So anytime you create high-value content, you can share it out on social media and drive traffic that way. I recommend repurposing that content that you're creating for social media, so for example, if you're doing videos, you share little clips of it that link back to the main video on your website. This is like giving your potential viewers or visitors curiosity. Remember to use social media as much as you can and to always link back because one mistake that some content creators make is just sharing it once on social media and assuming that people will see it," says Sylvie Coleman – Head of Marketing of Family Destinations Guide
Focus towards Cloud Technology
"In order to thrive in today's hybrid work environment, businesses need the flexibility to work from wherever they are. This flexibility is achieved through the use of various cloud technology platforms. Some of the must-haves are from companies such as Microsoft and RingCentral. Microsoft 365 for email and file sharing, RingCentral for telephone communication and collaboration. Both these platforms allow the business to operate fully in the cloud and do not anchor any single employee to a specific location. As long as a good internet connection is available, you are in business and operating efficiently," says Joe Cannata – Techsperts
"Using cloud and automation services and apps are just the top of the list factors that need to be adopted to ensure a successful business. In the ever-growing business competitiveness, it's necessary to use real-time channels to stay abreast, because the contingent case of waiting for your customer is no more. These may include marketing activities like social media engagement, paid ads, even longer goals like SEO, to keep your business/brand heard. This is especially the case lately for brick-and-mortar businesses due to the pandemic, and the growth of new tech," says George Mouratidis – Stasher
Build a Bridge between the Physical and Digital
"Communicating the tangible benefits of your product or service will undoubtedly convert your prospects into serious purchasers. If you work in the renovation, repair, or construction industry, or a similar profession, showcasing before and after photographs demonstrates the value your service or product can contribute." Says Jake Carter – CEO at Webcitz
"If you're looking for ways to integrate technology into your business growth plan, start by optimizing everything for mobile. Consumers have been using their mobile devices more and more to surf the web, make purchases, and organize their lives. Companies that want to remain relevant need to reflect this by optimizing their processes to fit this medium. From mobile recruiting to having a more mobile-friendly site, there are a million ways to make sure that your business is prepared for the mobile consumer," says Kyle MacDonald – Director of Operations at Force By Mojio
"In the digital age of business, you need to cope up with the different trends online. As a founder, there are different ways to digitize your business. Digitizing your website can save you money, time and can achieve a better customer experience with the help of technology. To attract new customers, you can create your website for free, you just need to search for a website that allows you to create your website. You can also use different social networking sites and published content. To maintain your business, take advantage of the benefits the technology could give to the company. Engage more with your customers and know them better. This way you can produce products or services that match their interest and tastes," says Sonya Schwartz – Founder of Her Norm
"Mobile payment technology is worth the investment. Use mobile payment technology as often as possible. Applications such as PayPal, Venmo, Apple Pay, and Square are great tools. Mobile payments are also considered to be secure, so customers can feel safe. Many companies witness an increase in sales as a result of using mobile payment technology as well," says Adam Reed – CEO of Crown & Paw
"The pandemic has taught us the importance of evolving one's business with time. You should not be afraid to innovate and recreate your strategy. You can digitize your business with the help of CRM software. This tool's integration with your company could help manage, track, and manage audience data. Before deciding on the perfect CRM software for your business, be sure to set clear goals and objectives. For a business, technology is its friend rather than a foe. I use technology to measure user engagement across different social media platforms. This tactic has proved an essential aspect for us when strategizing for the future. Information such as demographics and location help us understand our audience's behavior. We then use this information to place targeted ads, allowing users to make the purchase decision. Hence, increasing our organization's revenue each quarter," says Irene McConnel MD of Arielle Executive
"Recent studies have shown that over the past year, 90% of smartphone users have accessed QR codes, and nearly a fifth of them do so once a week. As the world of digital marketing becomes more crowded, and producing promotional content increases in costs, many are turning to QR codes as a way to market and modernize their business. QR codes are an excellent way to modernize your marketing and reduce costs at the same time as they bring your website to the public, instead of them having to access search engines to find you. They are inexpensive to produce, are portable, and can easily be moved to optimal marketing areas. In addition, they are superb for cross-promotions. QR codes are an inexpensive and effective way to modernize your business," says Cody Crawford – Founder and CEO of Low Offset
Modernize your working environment
"If you're hoping to bring a modern touch to your business this year, really look at your company culture. After all, it's important to realize just how important company culture truly is and how it affects every aspect of your work environment. It provides a sense of identity for many of your team members, while it offers the support that's needed to actually play out that identity. Be sure to be as inclusive as possible and lean on anonymous employee surveys so that you can implement new strategies from the feedback that you receive. This will also drive your productivity through the roof," says Marc Atiyeh – CEO of Pawp
"The team you form to assist your organization on a daily basis is an excellent location to begin the modernization process. This does not imply instituting a whole new regime or removing individuals from their existing positions and reorganizing departments. However, devoting time, energy, and perhaps money to enable your present workers to learn new things will move your company into the modern era. If that feels inapplicable or out of reach right now, then starting with yourself is a better option. The ROI potential is favorable and returning to a learning environment may help you refresh your frame of reference as your small business grows and develops," says Shiv Gupta – Marketing Director of Incrementors
"For the last twenty years, many businesses have been stuck in the cubicle culture. An eight-hour 9-5 workday taking place in a drab office. For many, the most desirable workplaces in today's age are those with unique benefits and opportunities, flex scheduling, and hybrid work opportunities. Creating these opportunities is one of the best ways to modernize your business in the coming years," says Boye Fajinmi – Co-Founder and President of Future Party
"The main reasons for every firm to digitize their business, in my experience, are that technology helps to decrease expenses by eliminating the need for a large workforce, improving service quality, and streamlining corporate processes. My best tip, understand your company's objectives first so you can figure out what needs to be modernized. Remember that automating a business can help it achieve greater success because technology is a firm's greatest servant," says Michelle Devani – Founder of Love Devani
With the intensity of the digital age, hybrid and remote work, and flex scheduling, the ability to communicate internally effectively regardless of the office environment is becoming one of the most important features of a modern workplace. "In focusing on modernizing your business for the new year, spend time finding the best communication software(s) and methodology for your team to function best. A team that communicates well not only performs better but tends to be happier and more honest," says Karina Karassev – Co-Founder and COO of Stori
"Switch to cloud-based technology mail communication is fading day by day. Sometimes, emails end up in the spam folder or people forget to read and reply, and spending hours sorting through useless emails can be a waste of time while they can be used for other important tasks. That's the sign for you to upgrade to other cloud-based forms of communication. I recommend you try Slack as you can do anything from setting up custom alerts, archiving conversations, and adding comments. Remember that consumers don't want to be sold, they want to connect with your brands, so, use social media to tell the story of your business, cause Fact tells, Story sells, make announcements on events or deals. By sharing some of your business life will help you bond stronger with your customers," says Julian Goldie – CEO of Goldie Agency
"Digital communication technologies can improve organizational communication in various ways. For example, online project management tools can help team members collaborate more effectively by providing a common workspace to share files, messages, and comments. This allows for a more streamlined and coordinated workflow, saving time, and reducing the chances of mistakes. With the recent trend of remote work, digital communication technologies are becoming increasingly crucial for businesses," says Chris Thompson – Editor-in-Chief of Backdoor Survival
Automated skills come in handy for businesses across all sectors. "No matter how hands-on you are on your business, there are always some processes that you are not an expert at. Hiring a virtual assistant is a great innovation for small businesses because it optimizes time and resources. Equivalent to many employees, a virtual assistant is efficient in doing more than one task at a time. Their wide range of built-in skills and knowledge makes it possible for non-core jobs to be taken care of, thus freeing up headspace for more projects to come," says Bob Scott – Founder of Sell Land
"Designing your workplace, both digitally and in-person, to improve employee flow, comfort, and productivity. When you are able to create a space that is more enjoyable to be in, your employees will feel more cared for and will better participate in the company. Modernizing your space can also make job seekers more likely to apply to your position and seek what your business and community has to offer," says Ari Sherman – Co-Founder of evo hemp
Adding value to Cybersecurity
Malicious software and hackers are wreaking havoc on businesses the globe over. The majority of organizations that suffer a data breach suffer a loss of customer trust and brand reputation. A data breach can be extremely costly for businesses of any size. "Maintain vigilance as an executive or owner and get enterprise backup software, as well as recovery and continuity tools. These are tools that employ artificial intelligence (AI) to identify potentially dangerous files and software. The goal is to make your business more accessible and convenient for customers while also increasing the efficiency of your day-to-day operations," says Patrick Sinclair – Founder and Tech Blogger of All Home Robotics