When anyone thinks about hacking a cell phone, the first thing that comes to the mind is how tough it must be. After all, no one has the technical expertise or the hours of time to break the tight security standards of a cell phone.
In reality, hacking a phone is pretty easy. In fact, people do it all the time. Here are some common real-world scenarios where people hack others' phones:
People often think their partner is cheating on them. A look at their partner's phone is going to give them the clues they need to know for sure.
Occasionally, children get into trouble, but they don't want to talk about it. Parents hack their phones to find out what's happening.
Sometimes employers hack their employees' phones to ensure they aren't passing on company secrets.
Now that you know you need to hack a cell phone, how do you accomplish it with positive results? The answer is simple and you will discover the simple and easy phone hacking solution if you keep reading the article below:
Part 1: How to Hack Someone's Phone Remotely
In order to hack a cell phone remotely, you need to use a phone hacking service. There are many apps that claim to do the job for you. However, most of them are not as reliable as you would want them to be.
If you do careful research, you will find the following service to be the best phone hacker on the internet:
1.1 Spyier – The Invisible Ghost Phone Hacker
Spyier is a web service that is used for hacking Android phones and iPhones remotely. It can work from any web browser you use and give you every bit of data of a cell phone without the phone owner knowing about it.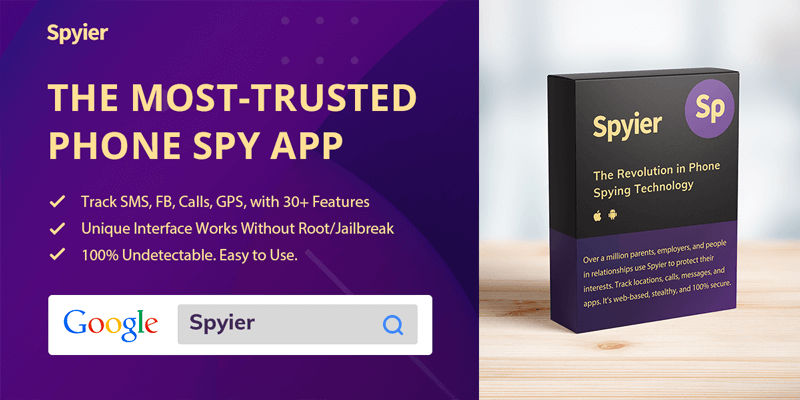 Due to the phenomenal working of Spyier, it is able to break walls of security of Android phones and iPhones without the need to root or jailbreak the device. Therefore, there is no threat to the phone's integrity and no chances of data loss.
In fact, many authority media outlets such as Forbes, Huffington Post, NYTimes, and TechRadar have written admirable reviews about Spyier. Some reviewers even call it a ghost app since it is completely hidden at all times while giving you their data.
Here's an overview of what the app can do for you:
Read messages: Spyier allows you to hack someone's incoming and outgoing messages and iMessages. It can even fetch deleted messages.
Track locations: With the app, you can follow someone's movements on a virtual map. The app hacks addresses, street names, neighbourhoods, and other details.
View call logs: Spyier can hack call logs. Get information such as contact details, call durations, popular contacts, and much more.
Check social media: Spyier can hack social media apps like Facebook, Twitter, WhatsApp, and Snapchat. You can check messages, contacts, display pictures, uploaded media, and more.
Keylog passwords: The app comes with an in-built keylogger tool. The keylogger allows you to hack someone's usernames and passwords.
View media files: Finally, Spyier can also hack the person's phone camera files. You can see their photos and videos and also download them.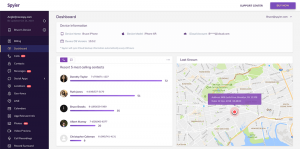 The app offers over two dozen phone hacking features in total – all of which you can access in stealth mode, not to mention remotely.
Other major features include a browser history logger, an installed apps checker, a SIM card tracker, and an events viewer.
1.2. How to Hack Someone's Phone Remotely
We show you how to hack someone's phone remotely with Spyier. Note that these steps are for target Android devices. If you want to install Spyier on iOS, please refer to Part 2 of the article.
To install Spyier on Android, get your smartphone or a computer ready. Then follow these steps:
Step 1: Buy a Spyier subscription plan for Android phones. Enter your email address when it is asked. When the purchase is successful, you will see your login credentials on your screen. You will also receive the username and password in your email inbox.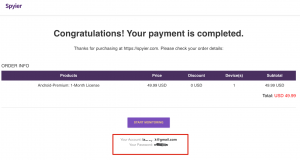 Step 2: Now that you have the login credentials, log into your Spyier account using these. During the first time use, you will need to configure Spyier once and for all. Follow the on-screen guide and install the Spyier app on the target Android phone as suggested.
Step 3: Once the app is installed, you can choose to hide the app icon on their phone. Once you have completed the setup, you will get a message saying 'Installation Completed'. Click on the 'Start' button. Configuration is now complete!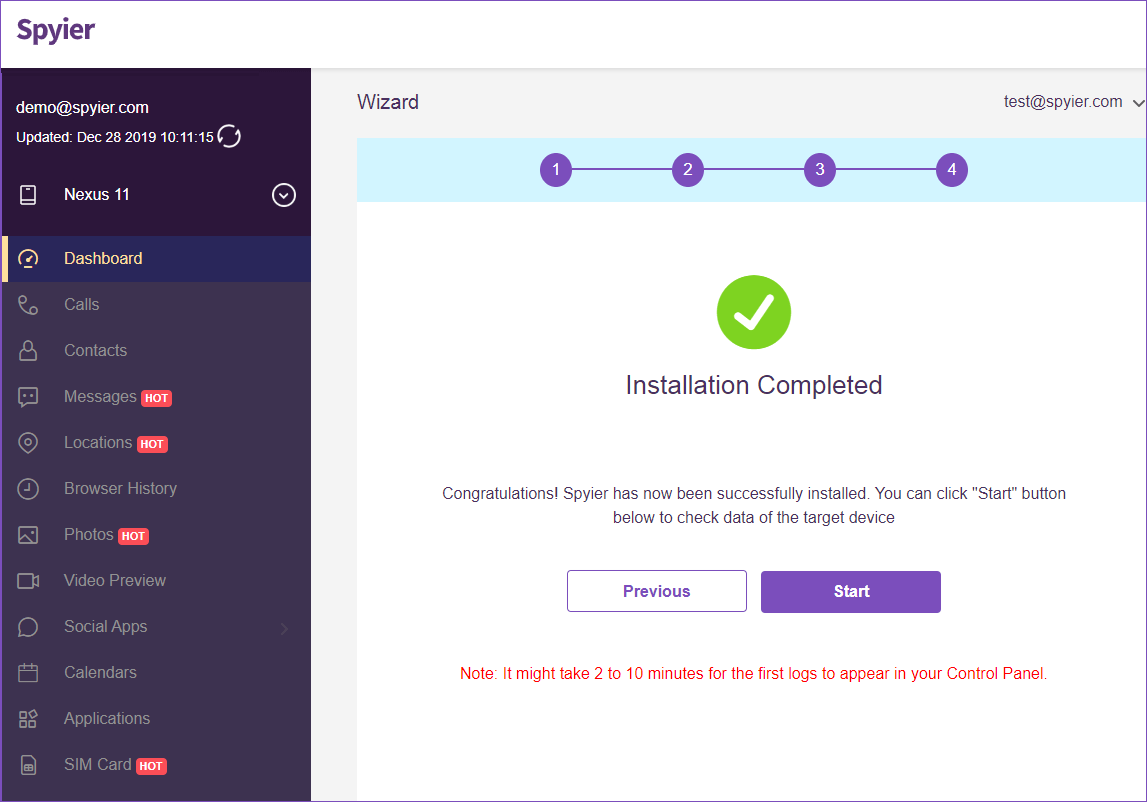 You can now use all of the features of Spyier from this dashboard. All the features are present on the left-hand side with dedicated tabs.
Want to see how Spyier for Android works before you buy it? Here's the free Spyier Android live demo!
Also Read: How to Hack Someone's Cell Phone with Just their Number
Part 2: How to Hack Someone's Phone Without Touching It
The iOS version of Spyier is your best bet if you want to hack someone's device without accessing it physically. Spyier is compatible with all the latest versions of iOS. Read on to learn how to hack someone's phone without ever touching it with Spyier.
2.1 Spyier for iOS – The Remote, Web-Based Hacker
The iOS version of Spyier is a fully remote web-app. That means you can install it and use it without having to download any software! The app works via your web-browser, instead of you having to install it on the target iPhone.
How does this work? Spyier works with the iCloud account linked with the target iPhone instead of directly with the device. As a result, you never have to touch the phone at all! You can forever use Spyier for iOS remotely.
2.2. How to Hack Someone's Phone Without Having It
Interested in installing Spyier for iOS? Given below are the simple steps you need to follow:
Step 1: Buy a Spyier subscription plan for iOS devices. Enter your email address when required. You will see your Spyier username and password on the screen. These credentials are also sent to your email inbox.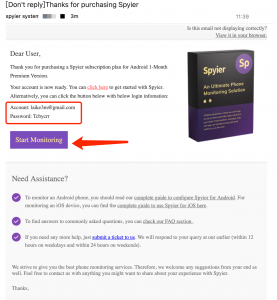 Step 2: Login into your Spyier account from the website. For the first time access, you need to configure Spyier for the target device. You only need to enter the iCloud credentials of the target device in order to configure Spyier.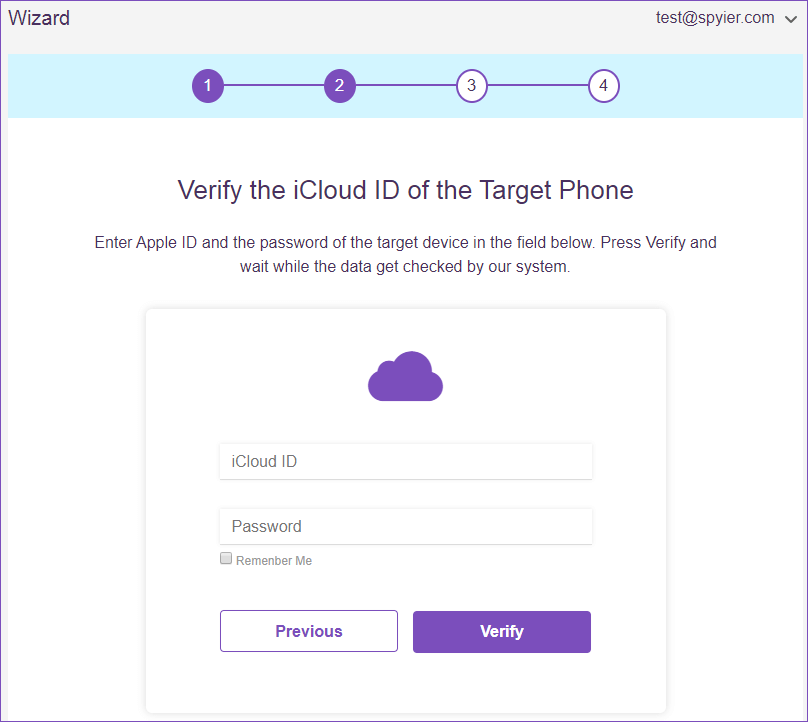 Step 3: Congrats! You have now set up Spyier. You're free to login to the control panel from your PC or smartphone web browser. You can start hacking the iPhone immediately. The various features you have access to are in the selection panel to the side.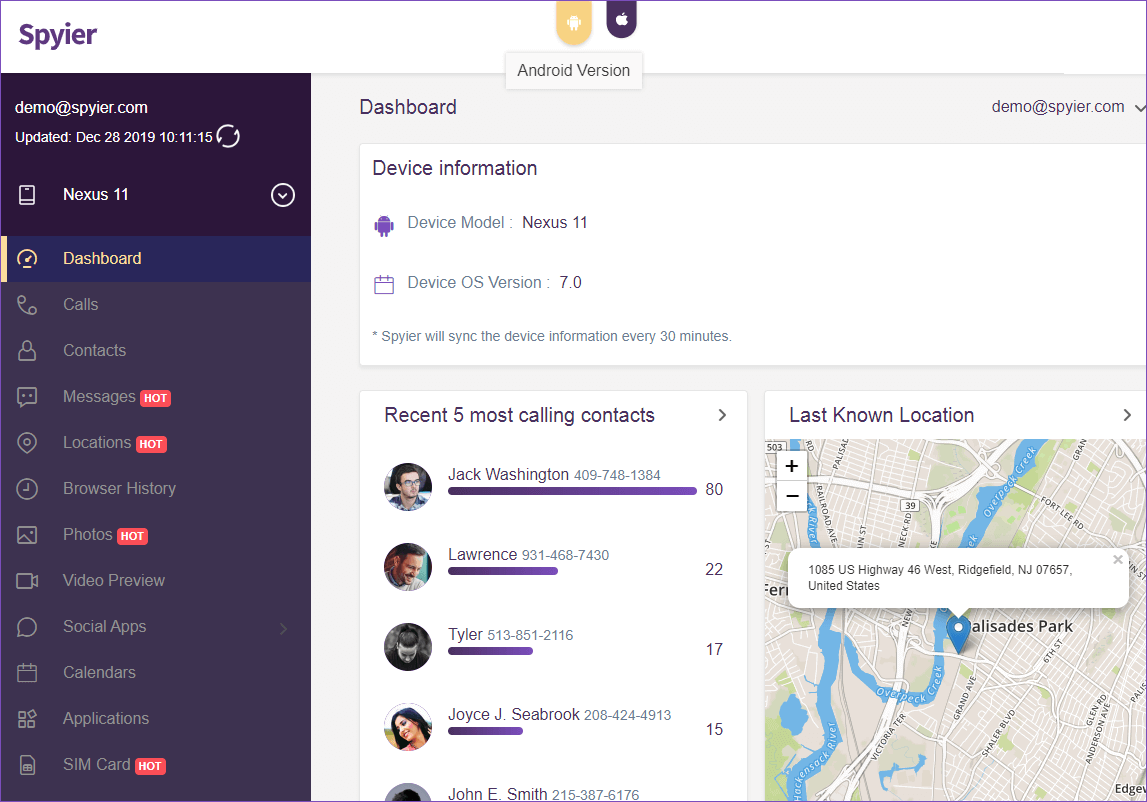 Check out the free Spyier for iOS online live demo here before you buy the app!
Don't Miss: How to Tap A Cell Phone
Part 3: Spyier is a Top-Drawer Phone Hacker
Spyier is one of the best phone hacker apps on the planet. Here's why it makes for an excellent phone hacker:
Spyier is a no-root, no-jailbreak phone hack
Most phone hacking tools need you to root or jailbreak the target phone, which is a bad idea. Spyier, however, is a one of a kind phone hack. It works fully without root or jailbreak. This saves you a great deal of trouble and makes it easier to remain hidden.
The app is trustworthy
Over a million people from 190+ countries use Spyier. Users swear by the app's user-friendly design and its powerful features. The user base consists of parents, people in relationships, and employers, among others.
Spyier is reasonably priced
Spyier is very reasonably priced for what it can do. The app costs only about as much as a coffee and a snack at a café. Most other phone hacker utilities cost twice or even three times as much as Spyier.
Your privacy is protected
Finally, Spyier is a genuine app that safeguards your privacy. Your personal information isn't exposed in any way, nor is it stored on the app's servers. If you use other phone hacker apps you don't have that guarantee.
Check Spyier's live demo to learn more.
Don't Miss: How to Hack Someone's Cell Phone with Just their Number
Conclusion
You asked how to hack a phone, and now you know about the best way to do it. Therefore, the only thing left to do is to try out the method yourself and enjoy every bit of their data on your screen. You can start doing it right away.
Have a great day!
This post is also available in: Deutsch (German) Español (Spanish)