'How can I track my boyfriend's phone without him knowing for free?'
Is that the thought that runs in your mind, on a loop?
You really do not have to feel guilty at all!
With the change in times, it is not just the face of relationships that has changed but also the level of trust involved in them. More and more people in close relationships feel that they are losing out on their partner and find the need for having control over them. And that is where the Spy Apps come in!
So if you are looking for ways to track your boyfriend text messages or wondering how to track your boyfriend's phone, we have got all the answers right here.
Part 1: How Can I See My Boyfriend's Text Messages Without Him Knowing for Free?
Spyier is the ultimate answer to every spy, surveillance or monitoring need that you ever had.
It is a simple, safe, secure and reliable app that does not store or access your/target's data. Being 100% secure is one reason (besides its features) why millions of people in 190+ countries are using Spyier.
Compatible with both Android and iOS, this remote monitoring app can do much more than just tracking calls and messages.
Spyier – A reliable spy friend you can trust.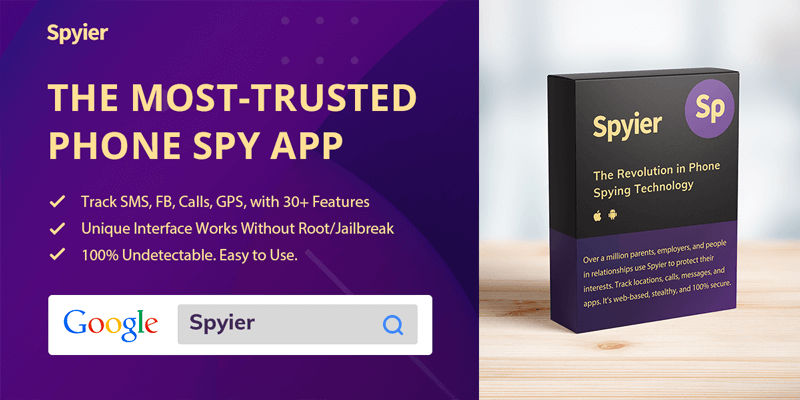 With Spyier by your side, you can track any kind of data on the targeted device. This includes social apps, locations, photos, videos, contacts, browser and much more.
Its USP is that it is 100% undetectable and allows one to track activities remotely. This is because the app uses negligible resources in the target phone and it can be hidden after the installation.
It is extremely easy to use as it does not require root or jailbreak. Featured on famous online platforms, such as the New York Times, Mac World, PC World and Android Authority, the app is fairly trustworthy.
Use it as a parental control app or to see whom your boyfriend is texting to; for employee supervision or to see whom someone is talking to – all, for free.
What is important is to know that you have the control and you are completely undetectable!
Looks interesting? Check out its live demo here.
How to See My Boyfriend's Text Messages and Who He is Texting?
A Quick Suggestion – Skip this section and read the next section if your boyfriend is using an iOS device.
In the case of Android devices, Spyier works as background surveillance and interceptor program. This means, after installation, the spy app icon will vanish. However, it will still work in the background, recording and uploading all the activity taking place on the targeted device.
Since the device neither needs to be rooted nor the app is visible after installation, it is completely untraceable.
Note: Any app that boasts about being able to track Android phone or activities without app installation is FAKE. It is because of Android's design. Make sure you do not waste your money or time on such solutions, just to let them steal your data or do nothing.
Once the app is installed on the target device, its data can be accessed remotely. Here's how to do it:
You will need to

purchase a Spyier for Android subscription to access your boyfriend's text messages

. The Premium plan is suitable for most users as it allows them to track a single device for a month. 

Once you have a plan in mind and you continue the payment process, you will be asked to enter your email ID. This gets linked to your account.

The payment confirmation page will appear after your purchase is successful. Here, you can view your account password. This is generated randomly by the server and is safe to use. However, you can change it later if you wish.

You will also receive an email from the server with your login details and some additional information. There will be a

link to the Android installation guide

, you can refer to it if you get stuck with the installation process. 

When you are ready to move forward, click on "Start Monitoring". Then choose "Android" as the target platform.

Download the Spyier app for Android on the target device and install it. There is no need for rooting in the process.
Login to your account and as you click 'Start', you are ready to see the list of people whom your boyfriend is texting to. You can even read their texts now.
Since the application is web-based, it can conveniently work on any browser.
Looks super-useful? Why not sign up and try it yourself?
Here's how its Android Tracker dashboard will look like –
Also Read: How to Track My Child's Phone without Them Knowing
Part 2: How Can I Read My Boyfriends Text Messages Without Touching His Phone?
Meet Spyier — your spy friend for iOS devices!
Spyier remains one of the best cell phone tracking apps meant for iOS devices. It gives you the best features and extensive compatibility, when it comes to tracking your boyfriend, his text messages, location and more.
It has a long list of iPhone monitoring features and above all, the app does not even require Jailbreak. With it, you can track locations, spy messages and calls, browse photos and videos, view installed applications or even track website history.
The app can be set-up in virtually no time at all. Since it uses the iCloud account, it does not require downloads and jailbreak, hence one can access all the data remotely as well as anonymously. So you never have to touch the target device or the phone!
The Spyier iOS app is compatible with all the devices that use iOS 7 and up.
How to See My Boyfriend's Text Messages Without His Phone?
Step 1: Sign up for free
You will need to register an account and purchase a subscription to use Spyier. Take a look at the pricing page and pick a suitable plan. With Premium, you will be able to access a single iPhone. 
When you have a plan ready, click "Buy Now" to begin. In the pop up window, enter your email ID. This will be used for your account, so enter an active one.
Step 2: Verify iCloud account
You can check your account details on the payment confirmation page. You will see a unique, random password here. It's assigned to you by the server and is accessible only to you. You can change it later if you like. 
The server will also send you an email with some pertinent details. This includes your login information and links to the installation guides. When you are ready to proceed, choose "Start Monitoring". 
Then input the iCloud details of your boyfriend's iCloud ID on the next page.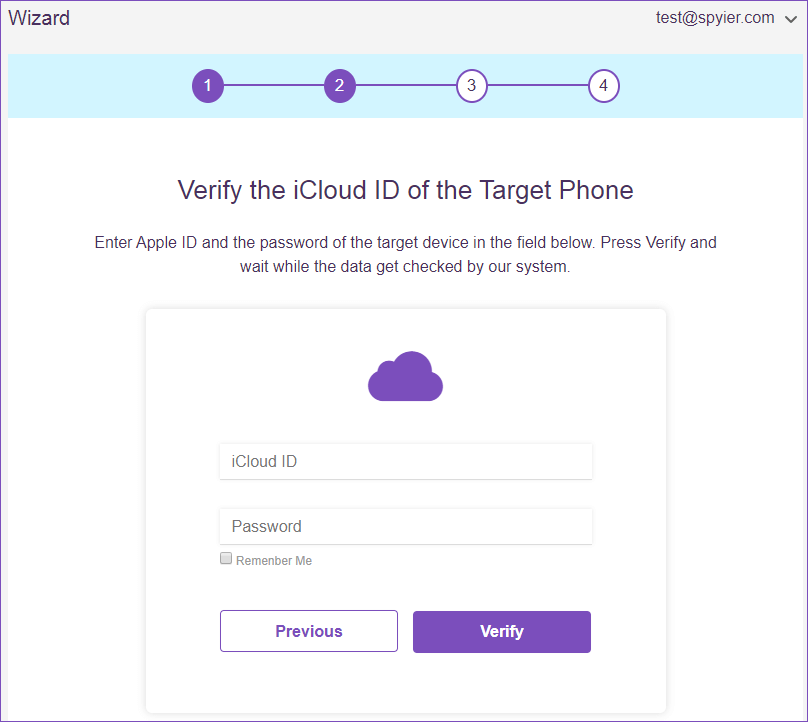 Step 3: See your boyfriend's text messages
Nothing is pending! You can now monitor the target iOS device via Spyier dashboard.
Once the configuration is successful, your dashboard should look similar to this –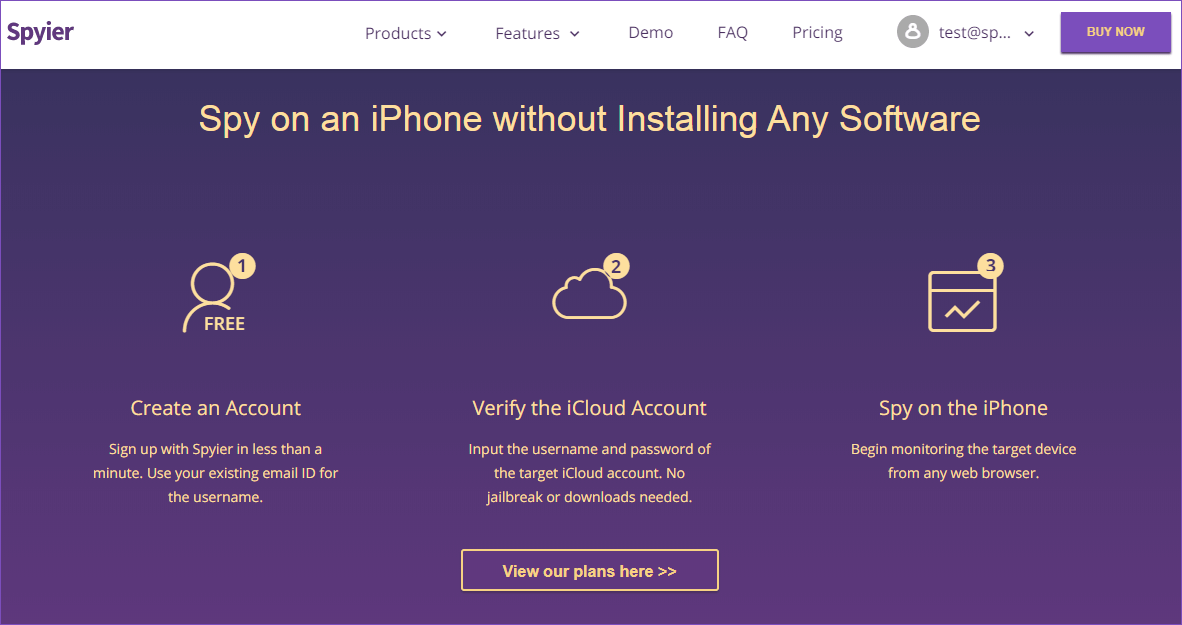 Part 3: How to Track My Boyfriend's Phone Location for Free?
Method 1 – Spyier
Whatever your reason is, Spyier can be your best Spy-friend in this journey.
As told in the same article already, this app is the most reliable, easy and convenient way to do so. To say it more precisely, 'how to track my boyfriend's phone location for free?' won't be an unanswered question once you'll start using Spyier.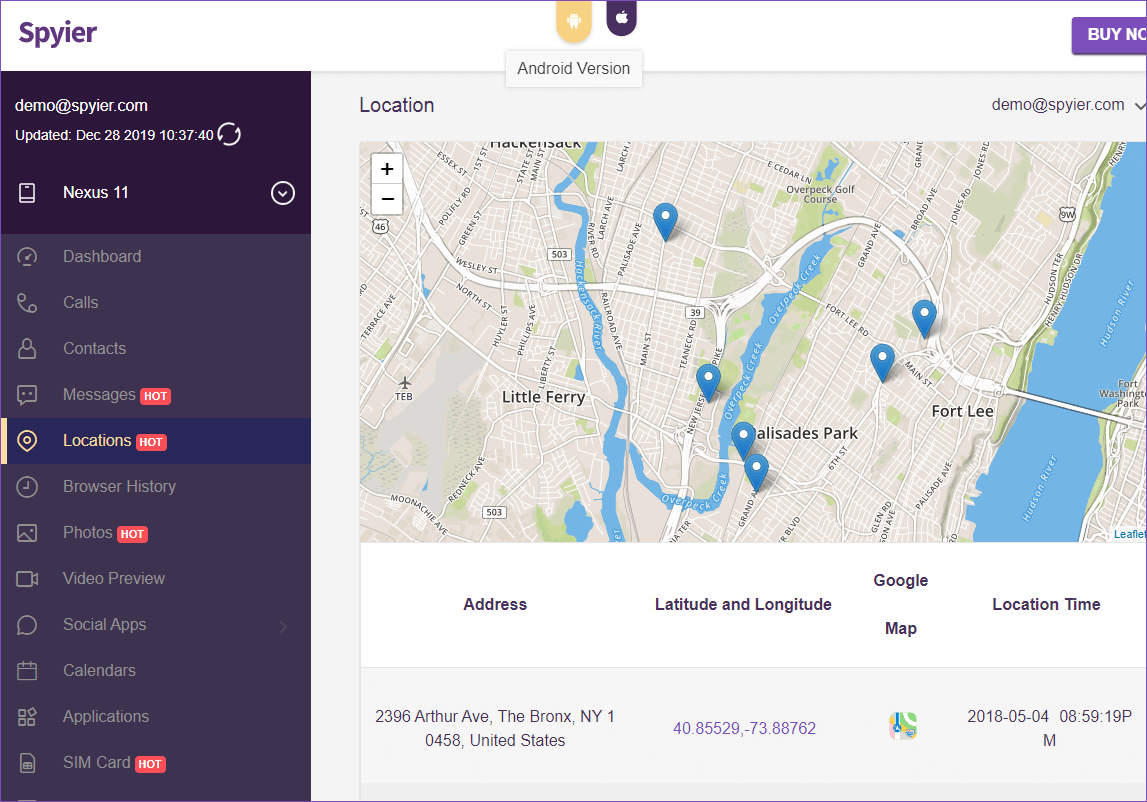 Here's what all you can do with it:
Find the exact location of the target device, based on GPS.
View past location history based on GPS and Wi-Fi.
Track movements of your target device holder with the help of timestamps.
See the exact addresses as well as geographical coordinates.
Quick Tip – You may also do geo-fencing and live track your boyfriend, if using Spyier. It notifies you when the user leaves or enters the created fence. See this –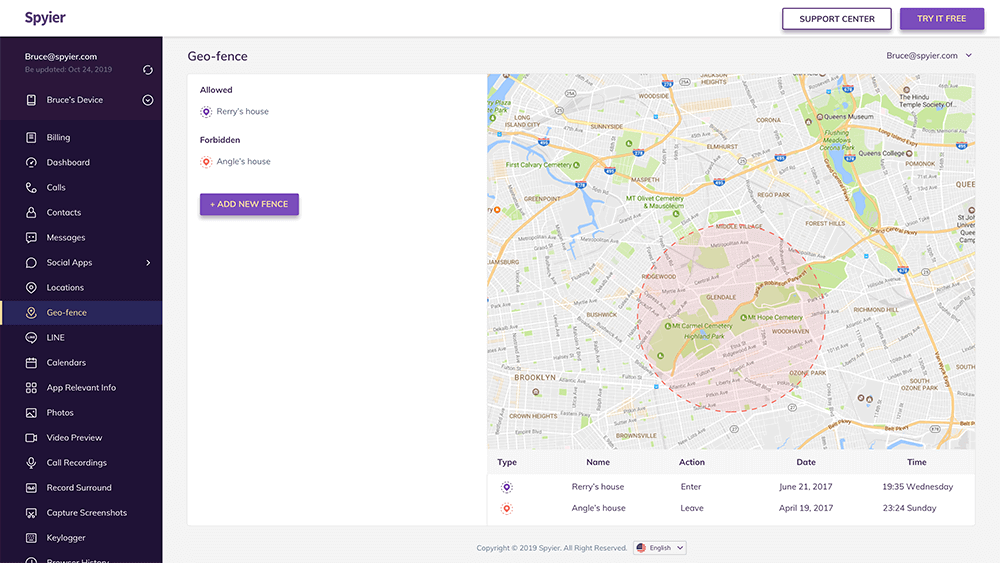 You May Like: How to Track Someone by Cell Phone Number Without Them Knowing
Method 2: Track Your Boyfriend's Phone Using the 'Find My iPhone' Feature
If you are in friend or family list of your boyfriend's Apple account, tracking him becomes very easy. Just use Find my iPhone feature or Find my Friends app to locate him without letting him know about the same.
You may also tracking him using Find my iPhone through iCloud if you have his Apple account's credentials. 'How can I read my boyfriend's text messages without touching his phone' won't be a question, if you do so.
Remember that he must have enabled location sharing in his phone. Otherwise, you won't be able to do so.
Method 3: How to track your boyfriend's phone using Google Timeline
It is required to add your boyfriend's device to your Google account, or have access to his Google account, in order to track him without him knowing for free. Also, switch on location sharing and location history settings in his phone.
When your location history is turned on, you can check the places your device has traveled and also the way it has traveled. For instance, walking, biking or using public transport.
Once done, use Find my Phone feature to check his device's location – LIVE.
If you wish to check your travel history:
Open Google Maps on your Android device.
Tap 'Menu' and then 'Timeline'.
Tap 'Show Calendar' and swipe left or right according to the day you wish to check and then tap on that day.
You can also check all the recently visited places of the target Android phone by tapping on Menu > your places > Visited.
Also Read: How to Track Someone's Phone by Their Number
The Final Word
All of the above-mentioned ways of tracking an Android or iOS device are absolutely free and cost nothing at all. But Spyier remains everyone's favorite since it is easy to use, reliable and completely untraceable by the target device.
So the next time you are wondering how I track my boyfriend's phone without him knowing for free or how do I track my boyfriend's phone through GPS, just go ahead and use Spyier for that faultless experience.