Believe it or not, we are surrounded by such beyond-belief technologies that can make anything possible. Decades ago, no one could ever imagine that one can gain access to other's phones, know about to whom they are calling, and peep into the SMS shared.
At present, doing this is not only possible but entirely safe and can be done by any novice's hands. Thanks to the powerful phone clone apps that make it happen. Read this post and learn how to clone a phone number, SIM card, and text message from miles apart.
Part 1: How to Clone a Phone Remotely
Cloning a phone can be the need of the hour depending upon the circumstances. By doing this, you can watch over and monitor the target phone's data. Though there are various ways to do it, there are only a few ones that allow you to do legally and discreetly.
What is Clone phone?
Phone cloning is the process of creating an exact copy of your targeted phone. The targeted phone's data will be backed up and copied on another smartphone or web-based control panel.
How to clone a phone remotely?
Using Spyier is the best thing to do.
You can clone Android phones or iOS devices, alongside creating SMS clone of a phone using this app. Whether you want to create a Samsung clone or a Huawei phone clone – Spyier lets you clone devices smoothly. With it, you can clone smartphones without any trouble.
Spyier – You tool to Create best clone phones.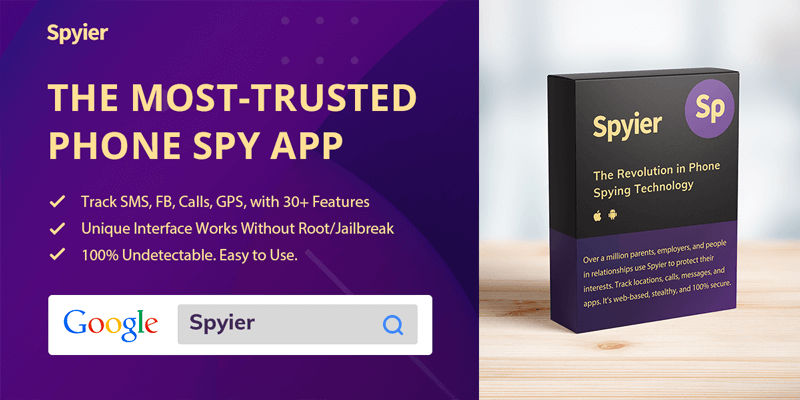 Spyier is a leading phone clone app for anyone who is looking for 100% discrete and dependable phone cloning. With powerful 30+ phone clone features and agile development, Spyier can clone an iPhone or Android device with full conviction.
This solution has been trusted by millions of users across 190 countries when it comes to risk-free and remote phone cloning. By using this remote phone cloning solution, you get timely and dependable assistance related to 'how do you clone a phone' worries.
How Spyier works on for the target's device without them knowing?
As its Android app is ultra-light in size (believe it or not, it is less than 3MB), have bug-free performance, and hardly affects the phone OS, no one can ever find out that the Android phone is cloned. Even the app icon vanishes after installation!
No draining of battery, no need for rooting, remote uninstallation feature are a few more reasons why it will never get you caught while spying.
Spyier's cutting-edge technology lets you avail of all its features without rooting. A less than 5 minutes access to target's phone – for once in a lifetime – will be required to get started with it.
Note: Many fake apps claim to clone an Android phone without the app installation process. However, all these claims are nothing but a way to trap you in online fraud. In the case of the Android phone clone process, app installation will be needed anyhow.
Using the Spyier iOS solution is even easier.
You can clone an iPhone even if you are miles apart from the targeted  device, that too – without any app installation. Having iCloud credentials will do the job. These credentials are necessary for fetching iPhone's backup file and make target's data available to you.
For cloning and monitoring, Spyier has a web-based deployment only. You can get access to the app's control panel from any device and any browser. There is no need to install any app on your own device for doing so.
If you want to gain better clarity over Spyier then view its free live demo and learn more about it.
Can you trust Spyier blindly?
Well, yes. And, our statement is backed by a valid reason, that is:
Phone cloning is a bit risky job and can put is an extreme danger if you become a little lenient. With Spyier, you can be double sure that whatever you are doing is law-abided.
There is no need for jailbreaking and device rooting in the process. Hence, you are out of harm's way with Spyier.
Also, it's totally safe to use Spyier from privacy's viewpoint!
Both iOS and Android solutions of Spyier don't store any of the user data on its server. Hence, all your personal and crucial information is not exposed to the ill sources roaming freely in cyberspace.
What all Spyier can clone?
Spyier is one of the most powerful cloning tools that can do all-inclusive cloning. It can create web-based iOS or Android clone of your target's phone easily. Some of the key cloning tasks performed by Spyier can be stated as:
Cloning Photos or Media Files
Spyier makes videos and photos clicked over the targeted device available to you for viewing. This brings a great relief for parents of teenagers that are worried about what all are being captured by their kids.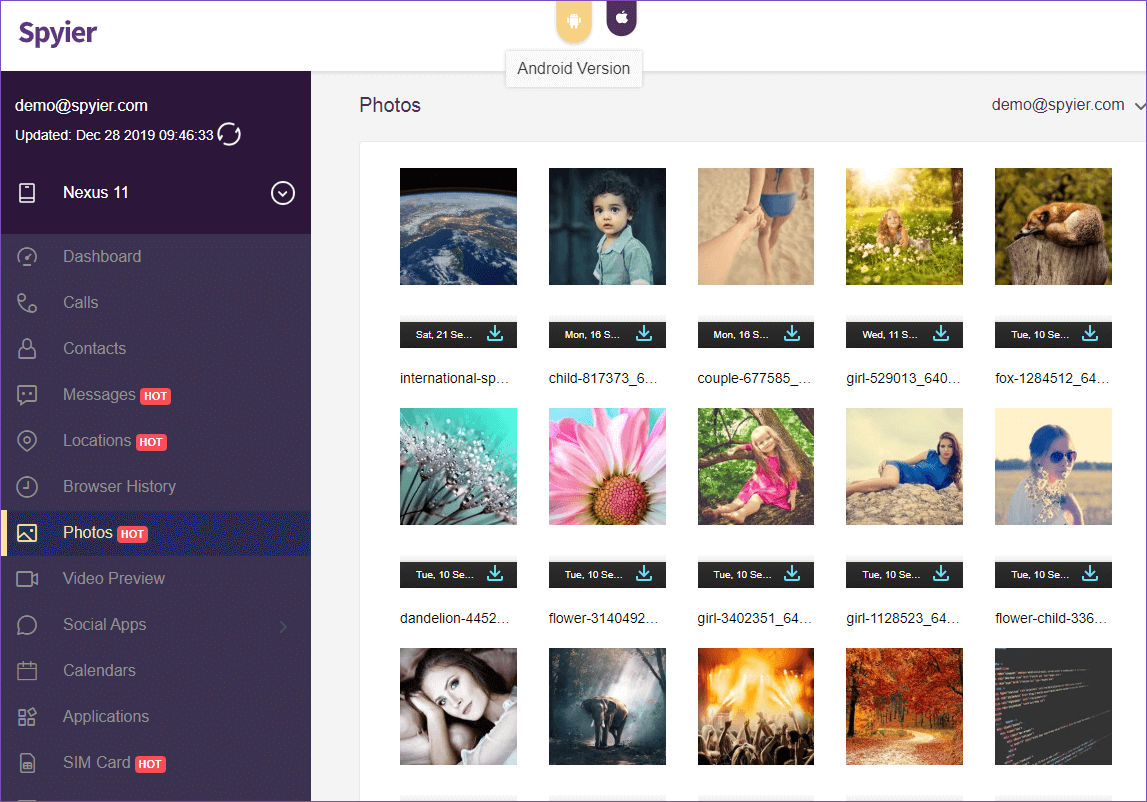 Cloning Of Social Media Platforms 
What social media platform has been used on the targeted device, which post was liked, who all are in the friends' list, which picture has been posted where all of these and many more questions can be answered by Spyier's social media cloning feature.
For instance, here's how Facebook clone of your target phone will look like –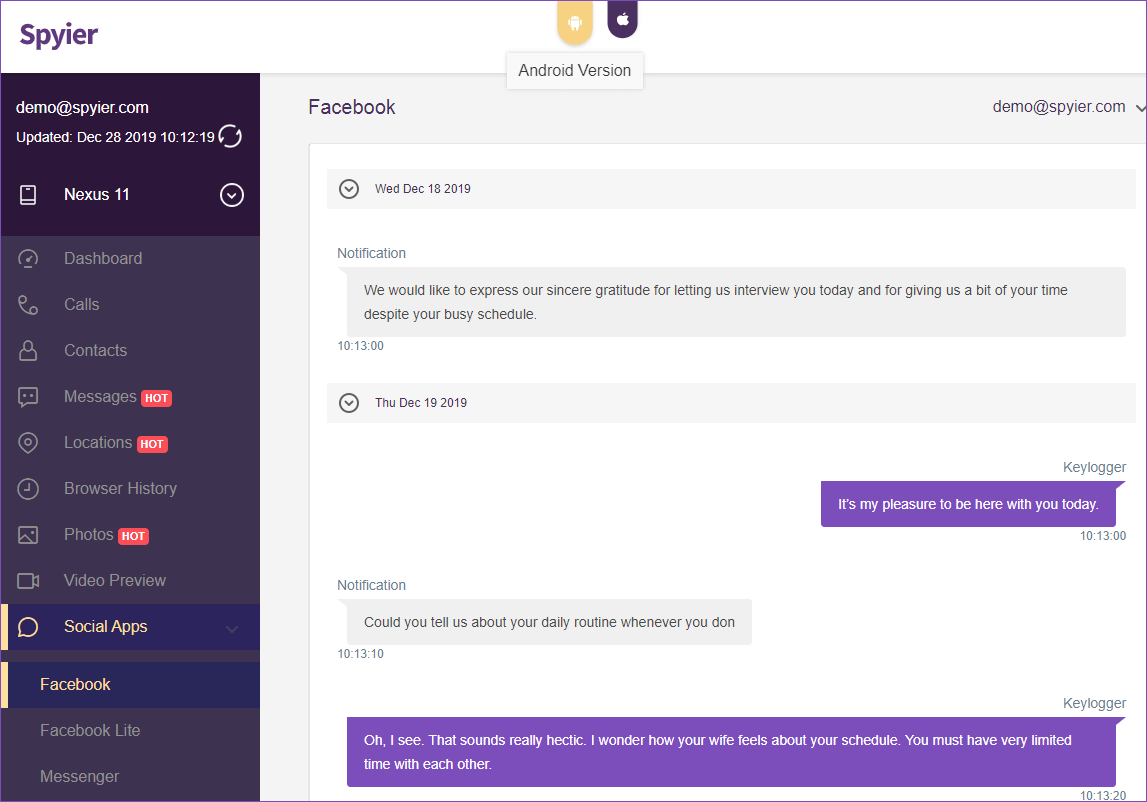 You can keep an eye on what all websites were browsed on the targeted device and content searched on the internet.
Learn about the live GPS location of the targeted device and stay updated about all the whereabouts even if the target doesn't update you by using Spyier's location cloning facility.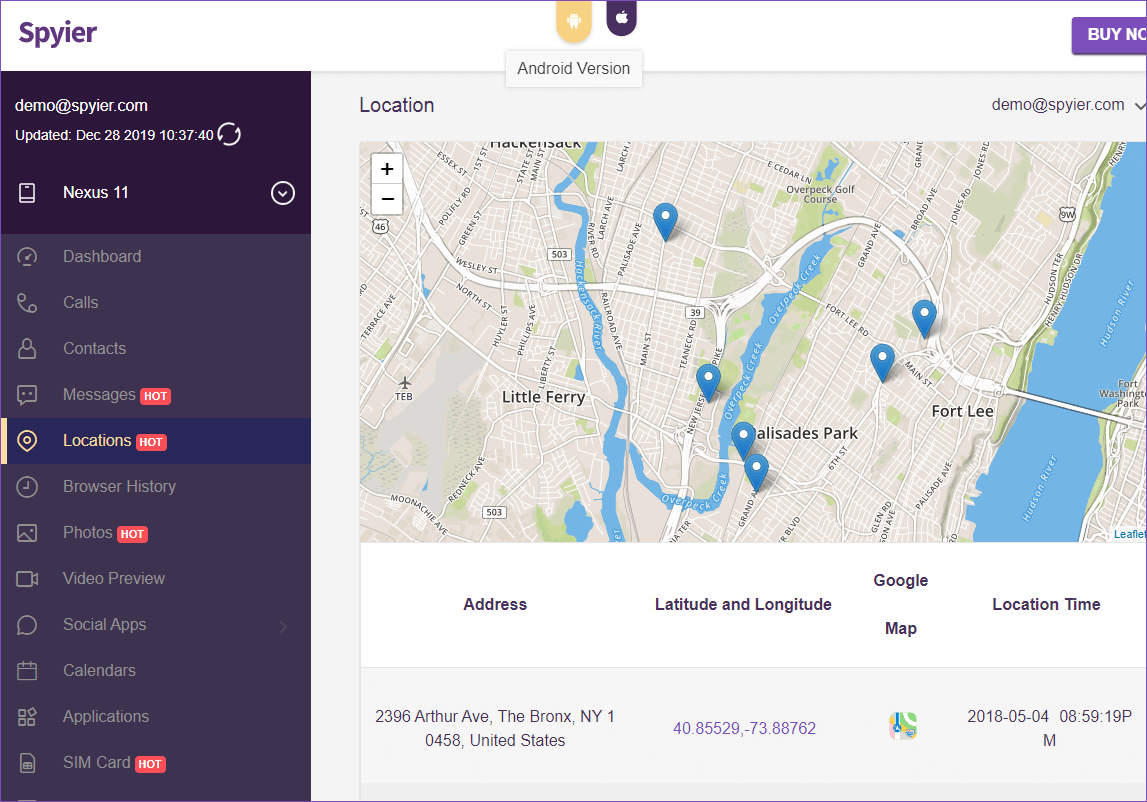 How to Clone Someone's Phone without Them Knowing
Note: This section is about cloning of Android phones. If your Target is using an iPhone, read the next section i.e. Part 2.
Though it may sound outlandish to you, it is possible to clone a phone without letting the target know about it and Spyier's Android app the way out.
Spyier's Android phone clone app runs in stealth mode and allows you to hide the app icon form the app list after the installation is complete. Hence, it leaves no traces and enables the targeted to learn about 'how to check if my phone is cloned'.
Another plus point is that you can uninstall the app remotely. For this, you need to login to your Spyier's account, open the control panel, and follow the un-installation instruction mentioned there.
So, let's learn about how Spyier clone an Android phone.
Step 1 – Getting a Monthly Spyier Subscription 
First, before you can begin cloning a phone, you will need to set up Spyier. And for that, you'll need a subscription to the app. Go to the pricing page to take a look at the various plans. The Premium plan, for example, allows you to clone a single device. 
When you have a plan selected, click on "Buy Now". In the pop up window, you will need to enter your email address. Note that you must use an active email ID, as this will be linked to your account.
Step 2 – Check Your Details
On the payment confirmation page, which you will be taken to automatically after the payment is made, you will receive your login details. The server creates a unique, random password for you. If you wish, you can change this password later. 
You will also receive an email ID with your account details, some extra information, and setup instructions. We recommend reading the Android installation guide first before you start installing the app.
Click on "Start Monitoring" when you are ready to proceed.
Step 3 – Pre-installation Process 
As you need to download the Spyier's app on the targeted Android phone, you need to make it Spyier ready. So, gain access to the targeted Android phone for some time. For this, follow 'Settings' > 'Lock screen and security', enable 'Unknown Sources' and tap on 'OK' process.
Step 4 – Spyier App Installation 
Login to your Spyier account using any of the browsers of the targeted device and look for the app download link in the set-up wizard. Click on the download and wait for the download to get completed.
Find the APK file which will be available either in the 'Notifications' pop-up window or in the 'downloads' folder. Click on 'INSTALL' and 'OPEN' to run the app.
Step 5 – Using and Hiding the App
Once the app runs, give your consent to the legal and Privacy Policy of the. Follow the app installation instructions as directed and give permission to all the requests to clone an Android phone completely. You can choose to hide the app icon.
Step 6 – Start cloning 
Once the app installation and set-up are done, log in to your Spyier account from any browser and open the control panel dashboard. From here, you can choose to clone text messages, calls, or phone number.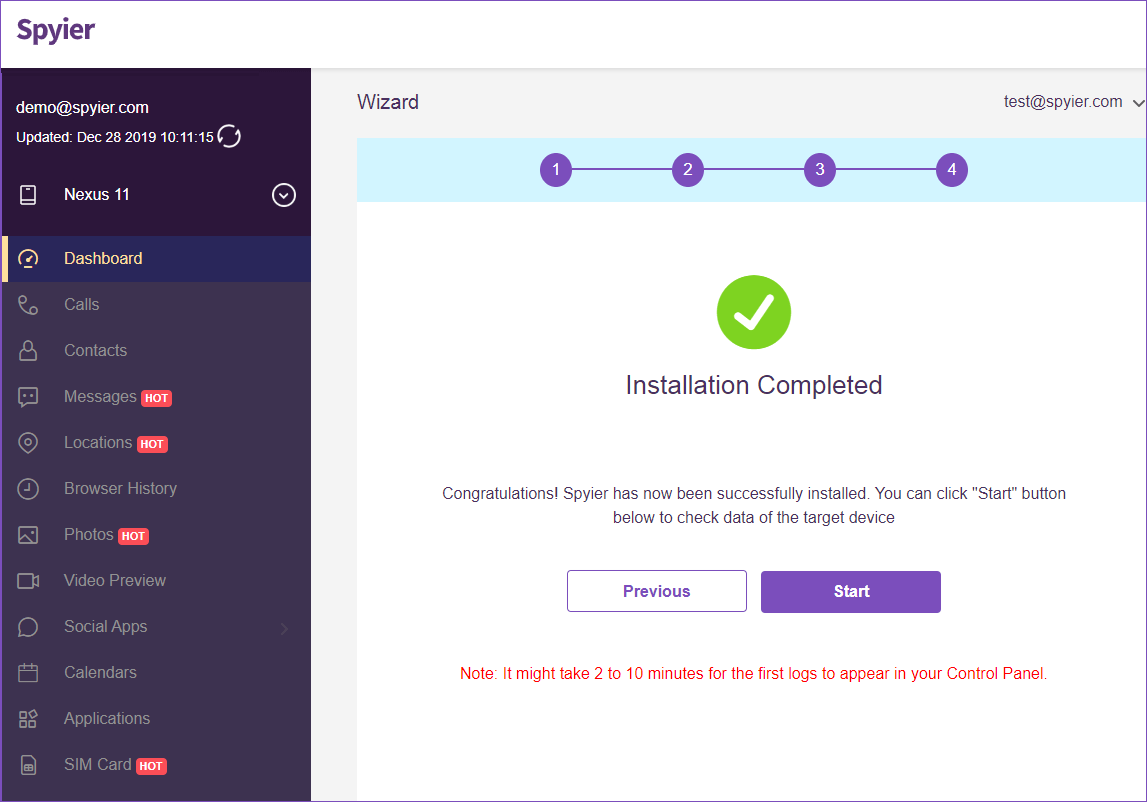 See, it is that easy. If you still want to have better clarity then refer to its Android installation guide here.
Don't Miss: How to Check Someone's Call History Online
Part 2: How to Clone an iPhone
It is a cakewalk to clone an iPhone using Spyier.
As told already, Spyier's iOS phone clone solution has a web-based interface only. That means you don't have to gain access to the targeted device even for a single second. All you need to have a valid email ID, target's Apple account credentials and any browser.
When you clone an iPhone, be doubly sure that:
The two-way authentication on the targeted iPhone is disabled on the targeted device.
The targeted iPhone should have iCloud back-up.
Now, let's learn how to clone an iPhone remotely using Spyier.
Step 1 – Choose a Plan
You will need a Spyier monthly subscription to be able to clone an iPhone. Check out the various plans on the pricing page and choose any one you like. Click on "Buy Now" to begin the purchase. 
In the pop-up box, you will need to input your email ID. Then follow the rest of the instructions and make the payment.
Step 2 – Pre-Installation 
Once you make the payment successfully, you are taken to a confirmation page. Here, you will receive your login details. The system-generated password you see here is secure and unique, but you can change it later.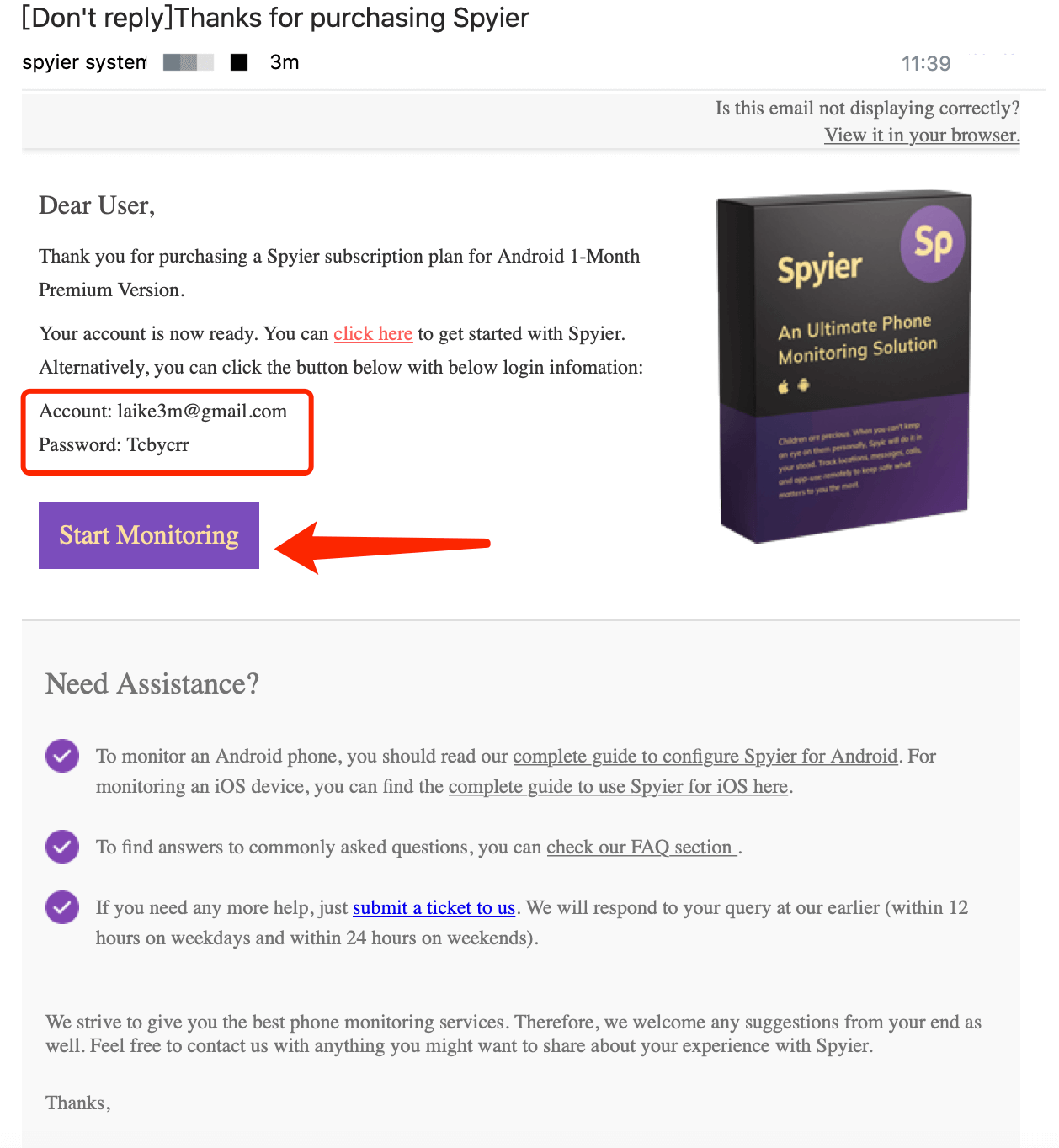 You will also receive an email with your login details and some other information. Click on the "Start Monitoring" button to begin the installation.
Step 3 – Activate your Spyier Account and Proceed to Dashboard
Choose the targeted device type and plan to proceed. You will receive an email in your inbox containing the account activation details and link. Click on the link mentioned in the email and it will redirect you to the control panel of Spyier's web-based iOS app.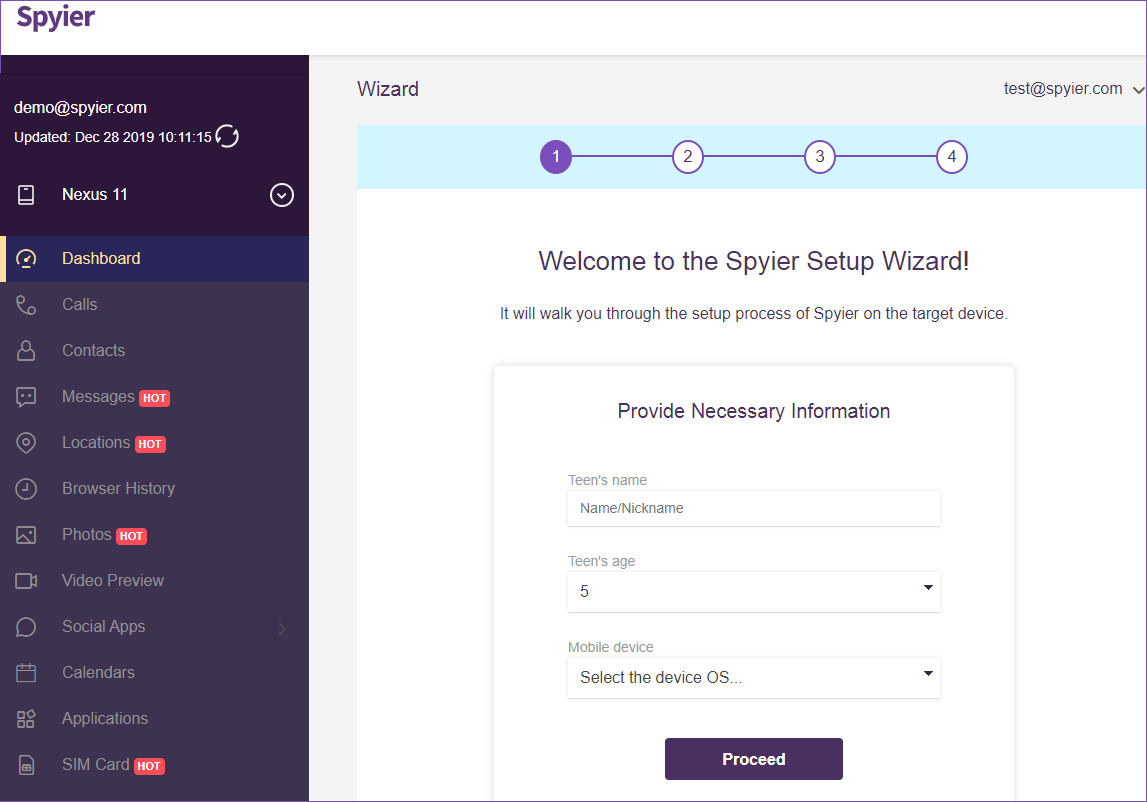 Step 4 – Give Spyier access to Target's Device
Enter some of the key information of the targeted device details like iCloud credentials, passwords, names, etc. on the control panel. Some of these details are optional and hence, you can leave them blank.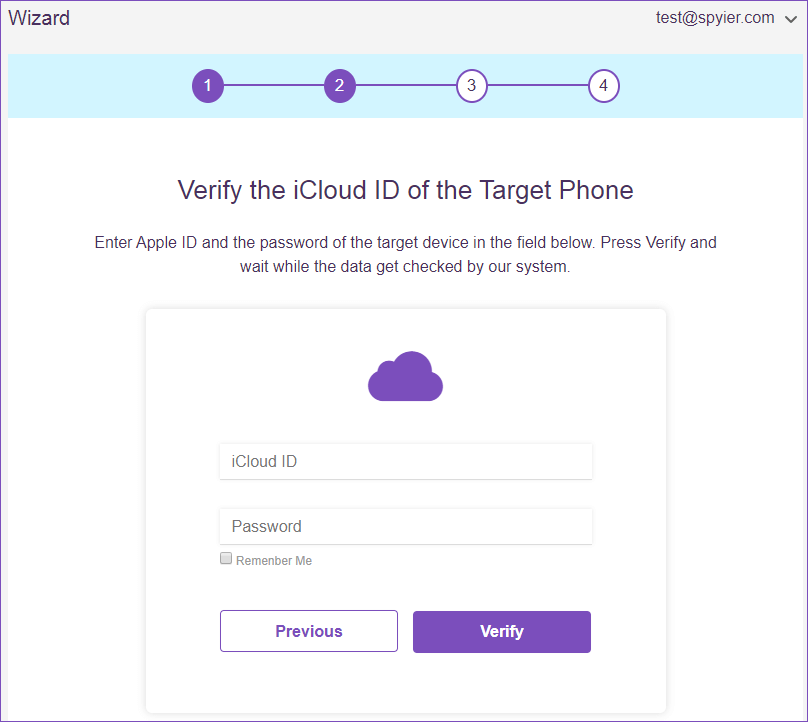 And that's it. The iPhone will be cloned now.
Check this free live demo here and have a better understanding of how Spyier's iOS solution clone an iPhone remotely.
Note – There is no need for app download and installation in the case of Spyier's iOS solution. You can log in from any device and any browser. 
Part 3: How to Clone a Cell Phone?
We are going to talk about our next favorite for cell phone cloning now. It is Cocospy solution!
Cocospy, another leader in the phone clone app can be your ally when you want to find out the best possible way to clone a cell phone remotely. Just as Spyier, Cocospy can work for both iOS and Android platforms without exposing your crucial information out there.
As far as phone cloning features are concerned, Cocospy has the same sort of features set as Spyier has. It also has discreet and dependable performance. All the app and account set-up steps are almost the same too.
Also Read: How to Spy on Someone's Phone
How to Clone a Cell Phone without A SIM Card
Cloning a cell phone without having access to the targeted phone's SIM card is easy.
You can do it by choosing Spyier or Cocospy cloning apps. All these apps have various cloning facilities like call logs cloning, location cloning, and camera cloning that don't demand any SIM card access.
How to Clone a Cell Phone Text Messages
You need not be a teach-nerd and laced with modern tools like James Bond or Iron Man to clone a cell phone text messages. Cloning someone's cell phone's text message can be done in a blink of an eye by using any of the leading phone clone app mentioned above.
Spyier and Cocospy, both these apps have an SMS cloning feature in the dashboard. Just bring this feature into action and you will be able to know about text messages sent/received, timestamp, and even the content of the text messages.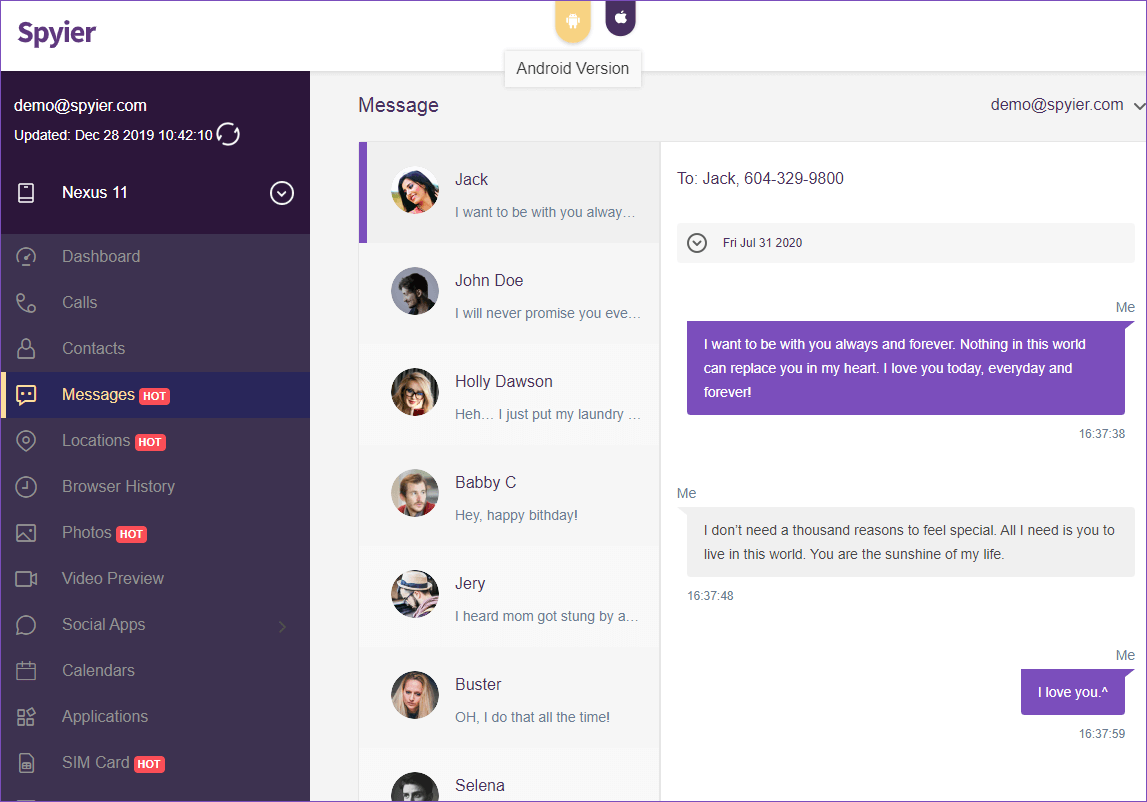 Part 4: How to Clone a Phone without Touching It
Though it may seem a little weird, you can clone a phone without even touching it if the targeted phone runs on iOS.
There are some web-based phone clone software applications that don't ask you to gain one-time access to the targeted iOS device. All you need to have are some key information and a trusted phone cloning software.
Spyier and Cocospy, both can be the best help in this case. They both can do all-inclusive phone cloning without even getting closer to the targeted device.
How to check if my phone is cloned?
If you can clone a phone, others can do the same with you too. How to detect that? Look for these signs:
Check if your bill shows weird call records, which the numbers showing up in the list that you never reached out to.
See if you're frequently receiving voicemails or calls from unknown numbers.
Notice if your voicemails are getting deleting themselves.
Use 'find my phone' or 'find my iPhone' feature to locate your phone and check if it shows more than one location.
If you find anything suspicious, reach out to your cellular service provider.
You may like: How to Spy on Someone's Phone Without Touching It
Part 4: How to Clone a SIM Card
A SIM card is a key component of a phone that works as an identity authentication tool that recognizes the phone number that is using your mobile. It also saves some of the key contacts and messages. In that case, losing a SIM card can lead to many hassles. You can prevent this by cloning a SIM card.
Every SIM has two keys: IMSI (International Mobile Subscriber Identity) and KI (Authentication Key). These keys hold the most crucial information regarding the SIM. If you wish to clone a SIM card remotely then you need to clone these two keys into a blank SIM card.
Can you clone any SIM card?
The simple answer to this question is 'No'.
The three basic types of SIM card algorithms available are COMP128v1, COMP128v2, and COMP128v3. Out of all these three types, the first kind is very easy to clone.
While the latter two are tough nuts to crack as they come with secure firmware. So, you must understand that all the methods mentioned here about SIM cloning is applicable and will bring success only if you are targeting COMP128v1 SIMs.
Now, you must be thinking that how to know whether the targeted SIM is of COMP128v1 type or not. Well, 70% of SIM that we use are of COMP128v.
What needs to be done to clone a SIM card?
As now you are aware of common SIM type that you can clone, we have come up with an online solution that can do this job without facing any unnecessary hassles viz. using programmable cards to clone a SIM card.
To proceed with this solution, you need to meet 4 key prerequisites:
Blank SIM programmable Cards: They are easily available online at very minimal charges.
A SIM Firmware Writer: It is what allows you to copy different numbers over one SIM card.
A SIM reading software
Targeted SIM for at least 30 minutes.
Once you gather all these prerequisites, proceed with the below-mentioned steps:
Step 1: Get access to the targeted SIM once and place it on the card reader. Click 'read from the card' on magic SIM or Woron Scan or any SIM cloning tool you're using. Now, wait for 'connected' to display on the screen and select 'crack SIM' in the toolbar.
Step 2: Download any trustworthy SIM reading software, complete the installation on the laptop, and get the targeted SIM.
Step 3: Follow the software configuration steps required for SIM cloning. \
Step 4: Once the installation and configuration are all done, run the IMSI Search feature of the SIM reading software and wait for the result to appear. Then write down the IMSI number and process with the ICC Search. Write down the ICC number once the result appears.
Once all of this is done, run the KI search and wait till it gets finished.  Once you get your KI results, save the file 'save as' and save your cracked SIM info. Remove the targeted SIM after this step.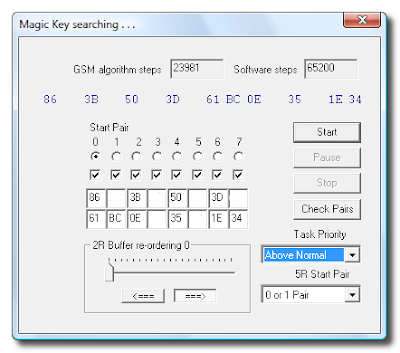 Step 5: Now, it's time to download the SIM-EMU software. This software is required to write settings on the Black SIM card.
Once software download is done, insert the Blank SIM card and run SIM-EMU. Open the configure tab and enter all the details like IMSI, KI, and ICC obtained in step 4.
Step 6: Continue with the SIM writing process by clicking on the 'Write To Disk' button. Name the file as 'SuperSIM.HEX'. Once the writing is done, write the EEPROM file window will pop-up on the screen. Name this file as SuperSIM_EP.HEX as save it.
Step 7: After this, it's time to flash the file on the Blank SIM card. For this, you need to install the card that came with the card writer and all the required files in the mentioned fields.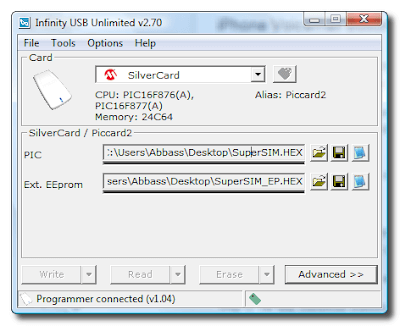 Step 8: Again run the writing task and wait till it completes. Now, SIM cloning is done.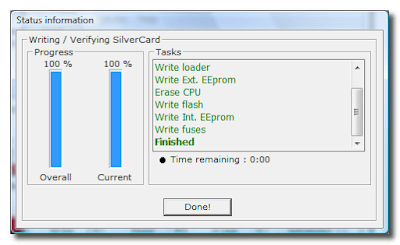 Don't Miss: How to spy on a cell phone without installing software on the target phone
Part 5: How to Clone a Phone Number
So, you want to clone a phone number and hunting the best possible manner of doing so?
A doable and safe way out to clone phone numbers remotely is using the secret menu on the targeted device itself. Here are the steps that you must follow for successful phone number cloning:
Visit any of the trustworthy phone cloner websites to hack the code. Enter the targeted smartphone details like model number and wait for the search result to show up.
Note down the hack code and enter it into the target's phone.
You will be directed to a secret menu where a serial number will be displayed. Note down this number.
Now, take another phone which doesn't have a cellular network and can be used as a cloned phone. Get the serial number of this phone as well by accessing the secret menu on it.
Replace it with the serial number obtained in step 3. You can also do this by using the number changer code facility offered by the website you're using.
Now, change the cloned phone's serial number with the targeted phone's serial number. Phone number cloning is done and you can use both of them simultaneously.
Note: If you just want to see the data on the target's smartphone without cloning the number, use our other suggested options, i.e., Spyier or Cocospy. They'll let you view everything happening on your target's phone without them knowing about the same.
The Final Word
So, by now, you know the best 5 possible ways to clone phone numbers, SIM cards, and text messages remotely. Though all these 5 ways are trustworthy, our vote goes to Spyier for its user-friendliness, high-end security and encryption enabled solution
Also, Spyier ensures that you never get caught in the action. With the purchase of the right subscription, you can clone more than one device at a time. So, Spyier is an undisputed leader when it comes to Android and Apple iPhone clone creation.
Disclaimer: This post tells how to clone a phone without touching it & how to check if my phone is cloned. It is for educational purpose & should be followed for valid reasons only. Never Clone mobiles, phone numbers or SIM cards to misuse others' data for illegal usage.