Did you know that Whatsapp conveys 65 billion messages every day? Your significant other, kids, parents, friends, and probably everyone else you know already use Whatsapp on a daily basis.
As such, there are times when one obviously wonders how to hack Whatsapp by phone number. It could be to know who your partner is talking to. Or, at times, it can be to ensure that your kids are safe in the online world.
Either way, hacking WhatsApp is not as easy as people think it to be. In fact, if you follow this guide here, you will yourself learn all about Whatsapp hacking remotely.
And when I say remotely, I mean it. The person could be in a whole different corner of the world, and you will still be able to get their Whatsapp chats with the method that you are going to learn today.
I know you are probably at the edge of your seat already. Therefore, I won't keep you waiting any further. You should keep reading to find all the ways to hack a Whatsapp account by phone number:
Part 1: How to Hack Whatsapp Account Using Phone Number
Hacking a Whatsapp account can be done with a phone number or without it. With the method that you are going to learn in this section, you will know about the countless possibilities that there are while hacking a Whatsapp account.
Here is this super awesome way through which you can read Whatsapp chats of a person:
1.1 Spyier- Hacking Whatsapp Was Never This Easy
Spyier is one of the most popular WhatsApp hacking apps in the world. It can hack a Whatsapp account on both Android or iOS devices.
Due to its cool designs and features, Spyier is used by millions of users globally. This is not just out of coincidence. The features that are embedded into Spyier makes it stand out from the rest of the Whatsapp hacks available.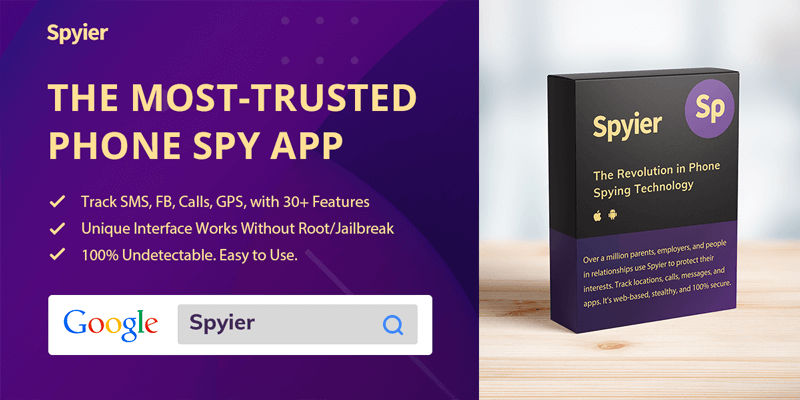 Here are some of the things that make Spyier the best Whatsapp hack available:
Why Millions of Users Are Using Spyier?
Spyier is a user-oriented app that is designed keeping in mind the convenience for the end-user. What makes Spyier so special is:
Web Interface:
When you are using Spyier, you won't have to download any app on your system be it phone or PC. Spyier will work through ANY web browser due to its dashboard interface.
All the features are available here as single click tabs. You won't have to waste hours trying to figure out how it works.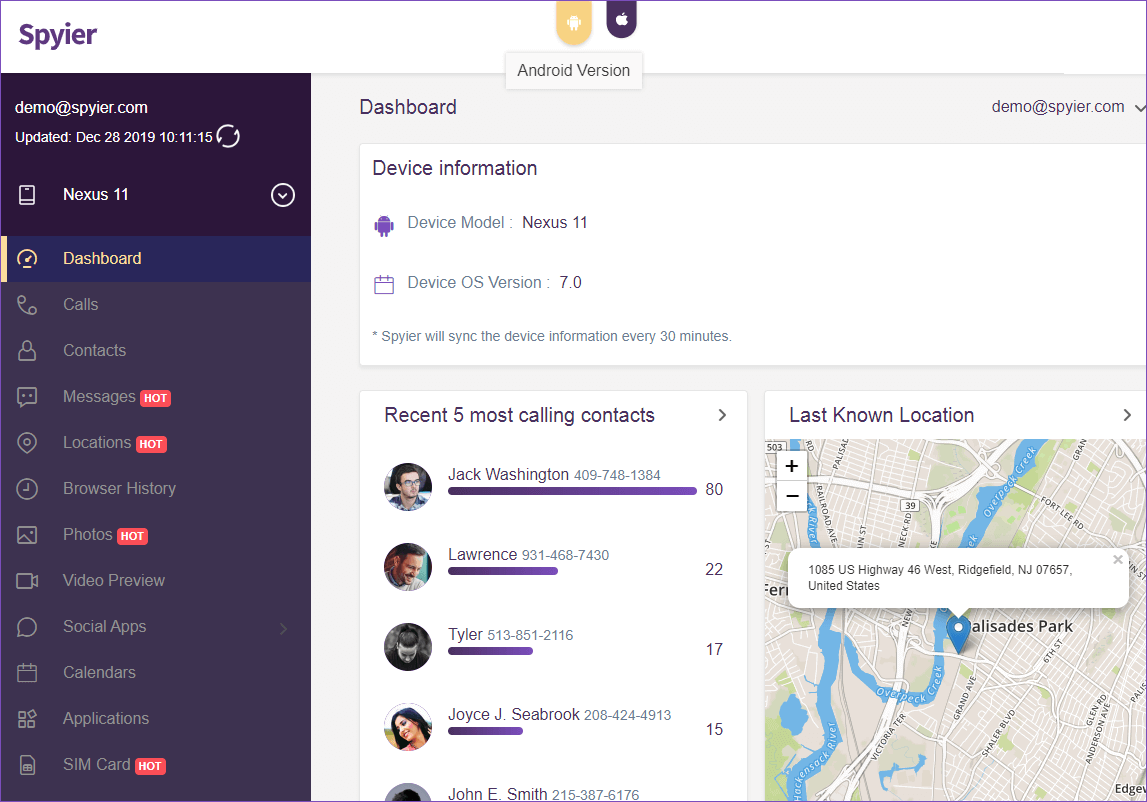 Data Security:
For Spyier, the safety of your data is a top priority. It employes world class security protocols to ensure your data is completely safe.
In fact, none of your data is stored on Spyier's servers. It is only viewable on your web browser and the other device.
No Root or Jailbreak Required:
You won't have to root the target phone (if the person is using Android) or jailbreak it (if the person is using an iPhone). Since rooting or jailbreaking a phone compromises with its security, Spyier makes sure that your privacy isn't compromised.
Stealth Whatsapp Hacker:
You can hack a Whatsapp account with Spyier without getting caught and without the other person even getting suspicious. This is due to the special design of Spyier. You will learn about it in the next section.
As you can see, it is next to impossible to find the same things in a single app. This is why Spyier is the best in the business.
To find out even more cool things about Spyier, you should try out this free Spyier demo.
1.2 Hack Whatsapp Without Getting Caught
As mentioned before, Spyier lets you hack any Whatsapp account without even getting caught. This is because of the high end technology that is employed in Spyier.
To begin with, when it comes to hacking Whatsapp on an iPhone, Spyier doesn't need you to download any app on the other phone. In fact, you won't even have to touch the other phone at all.
iPhone have the iCloud feature prebuilt on the device. Therefore, all you have to do is verify the iCloud credentials of the other person, Spyier takes care of the rest.
When you are going to hack Whatsapp on an Android phone,  installing a phone spy app on the target phone in mandatory whether you are using Spyier or any other spy app.
Spyier understands this and that is why Spyier has a unique Android spy app which is 100% undetectable. You will need to access the target Android phone once to install it. After that, you never need to access it again (not even to uninstall it).
To start with, the app size is less than 2 MB and it installs within seconds. Once installed, the Spyier app icon will vanish from the app menu. Only you can bring it back with a secret code that only you will know.
The app will run in the background without any notifications. It does not even drain any battery at all. And when you wish to uninstall it, you can do it remotely from the Spyier dashboard that opens in ANY web browser. You will never need to touch the other phone ever again.
1.3 How to Use Spyier Whatsapp Hacker by Number
In order to use Spyier to hack a Whatsapp account, you just have to follow these three steps:
Step 1: Buy a Spyier subscription plan for Android phones or iPhones, based on the target phone. Enter your email address when prompted. Once you have purchased the plan, you will see a successful message along with your login credentials.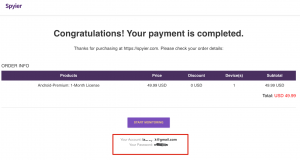 The login credentials are also sent to your email address. The username is your email itself and the password is generated randomly by the system. You can change the later at any time you want.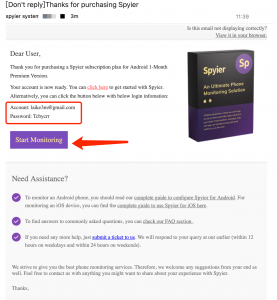 Step 2: Now that you have the login credentials, you can log into your Spyier account through the website. If you are using it for the first time, you will have to go through a configuration process. This process involves:
a.) If the target phone is Android, download and install the Spyier app on the target phone from the link mentioned in the setup wizard.
b.) If the target phone is iOS, you just need to verify the iCloud credentials of the target iPhone. Give Spyier a short while to sync the data.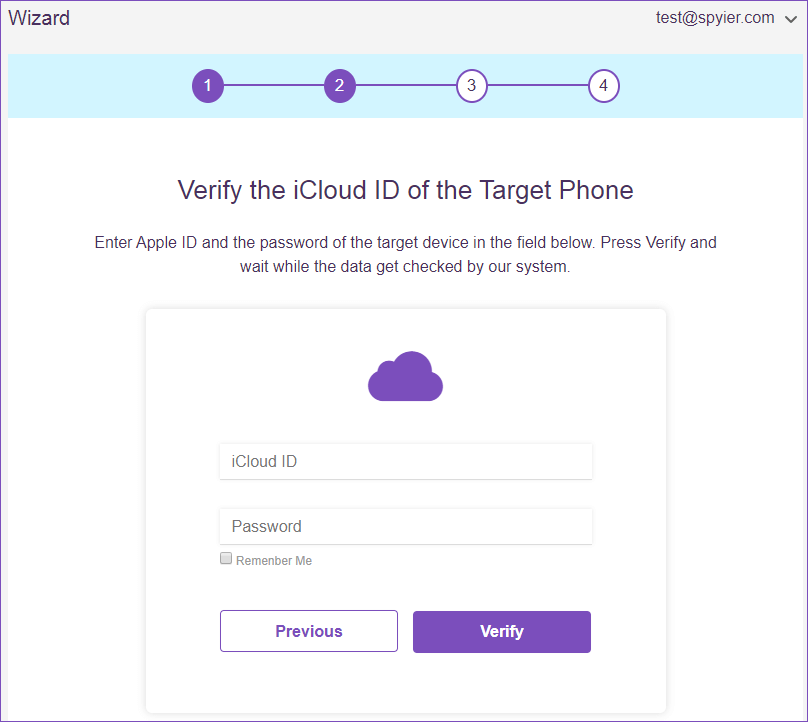 Step 3: Click on 'Start' and you are ready to track the Whatsapp data of the other user. Once you click, you will be taken to your dashboard.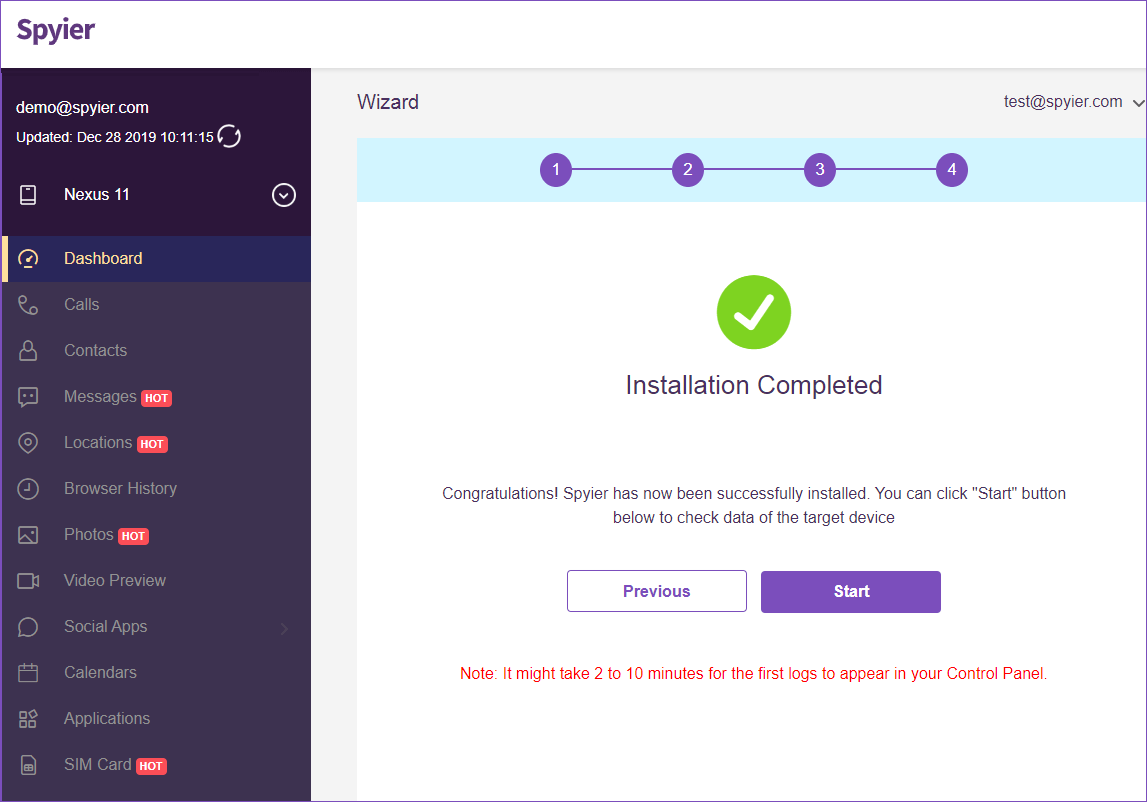 You can see all of Spyier's features here on the dashboard. The Whatsapp spy is available under 'Social Media Spy' tab on the left.
Whatsapp Spy
Spyier's Whatsapp spy is a dedicated module that arranges all Whatsapp chats based on the sender/recipient along with other important details. You can even check the messages that the other user has deleted here.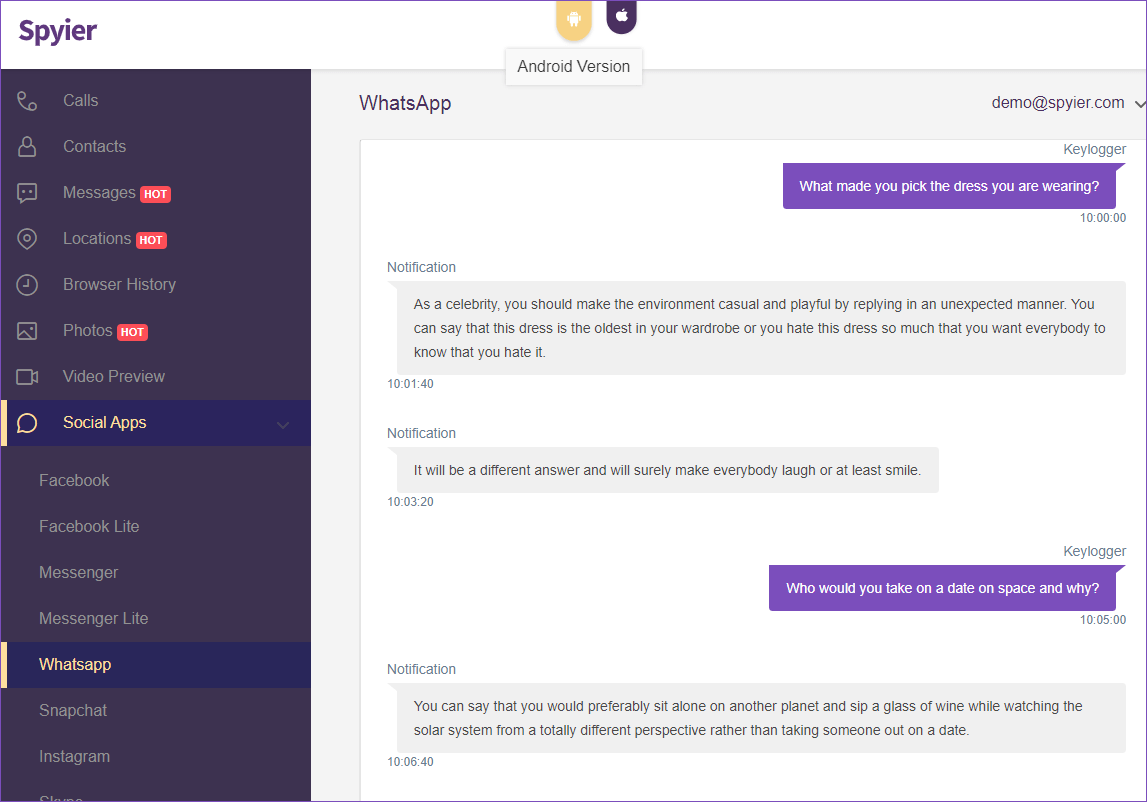 Keylogger
Keylogger feature is another useful feature that shows you all the keystrokes that are made by the user. These logs are arranged by the apps in which they are made.
So if you want to check the Whatsapp messages that the other user has typed, you can view it under this section too.
I know that it can seem hard to believe that something this good is just this simple. This is why, Spyier offers this free demo which requires no registration or even any app installation on your part.
Also Read: Snapchat Hack: No Survey, No Download & No Human Verification
Part 2: How to Hack Whatsapp with Mobile Number
If you think you were just going to learn one way to hack a Whatsapp account, you are wrong. While Spyier is on top of the list when we talk about the best Whatsapp Spy, here is another Whatsapp hacker that works like magic.
2.1 Cocospy- Spy on Whatsapp Without Getting Caught
Cocospy is the perfect solution to hack any Whatsapp account that enjoys the most users in the world. I first learned of Cocospy reading awesome reviews in big media outlets like Forbes, TechRadar, PCMag, etc.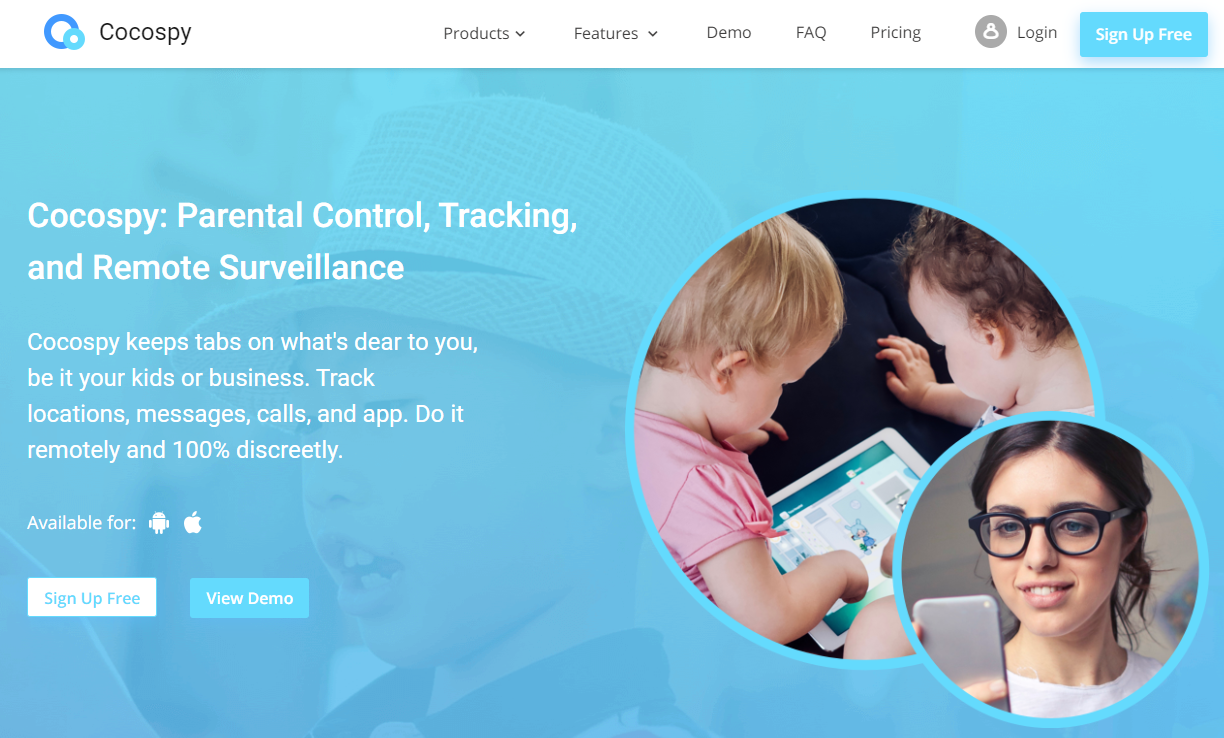 I thought to myself- 'there must be something good about Cocospy.' And when I started using it, I realized there were a LOT of good things that Cocospy comes with.
Along with the fact that Cocospy works for both Android and iOS, it doesn't even require you to root or jailbreak the other phone in order to hack its Whatsapp data. Further, just like Spyier, Cocospy also works in a stealth mode and never gets caught hacking a Whatsapp account.
Some Of The Good Things That Come With Cocospy
Let me tell you a few features about Cocospy that you will enjoy:
User Support Team:
Cocospy is not just an app, it is a brand that is used by millions of people. This is why they have an established user support team that handles queries of people 24×7.
Innovative User Interface:
Cocospy has a dashboard that is beautifully designed keeping in mind the comfort of the user. It is not like the boring hacking apps that you see in movies.
No Technical Knowledge Required:
You don't need any knowledge of programming or anything else to use Cocospy. It is as easy to use as you use a normal web browser. In fact, it is used through the web browser itself so there is nothing to worry about.
Pricing:
Cocospy comes so cheap that it makes one wonder how does it even manage to offer so much for so less? It is like they are practically giving it away for free.
35+ Additional Features:
Cocospy has more than 35 features that you will just enjoy using. From hacking any social media app to recording someone's phone calls, Cocospy does it all.
If I started listing out every good thing about Cocospy, it might take a while. So why don't you make things a little easier for me and check out the Cocospy demo?
Endnotes
Figuring out how to hack a Whatsapp account isn't hard. The only thing you need to make your mind about is whether you wish to use Spyier or Cocospy. They both work well and would give you any Whatsapp data within minutes.
Therefore, there is nothing you will gain by waiting. Try these methods right now and thank me later!
This post is also available in: Deutsch (German) Español (Spanish)