Instagram Spy App
Keep tabs on someone's Instagram account with Spyier with just a few clicks.
Access their Instagram photos and see who they're talking to with Spyier.
View all sent and received messages.

Check follower/contacts information.

Check Instagram photos and videos.
3 Simple Steps to Spy on Someone's Instagram

Pick a Plan
Click "Get Spyier" and choose one package suitable for your needs.

Get Spyier Set Up
For target Android devices, download and install Spyier. For target iOS devices, input the iCloud credentials.

Start Monitoring Instagram
Log in to your Spyier account to view the target's Instagram activtiy.
Pick a Plan here >>
Get Full Access to Someone's Instagram Account with Spyier
You can quickly and effortlessly access anyone's private Instagram account by using Spyier. The app allows you to not only monitor someone's activity on the official Instagram app, but also to find their login credentials. To start monitoring, simply get Spyier up and running.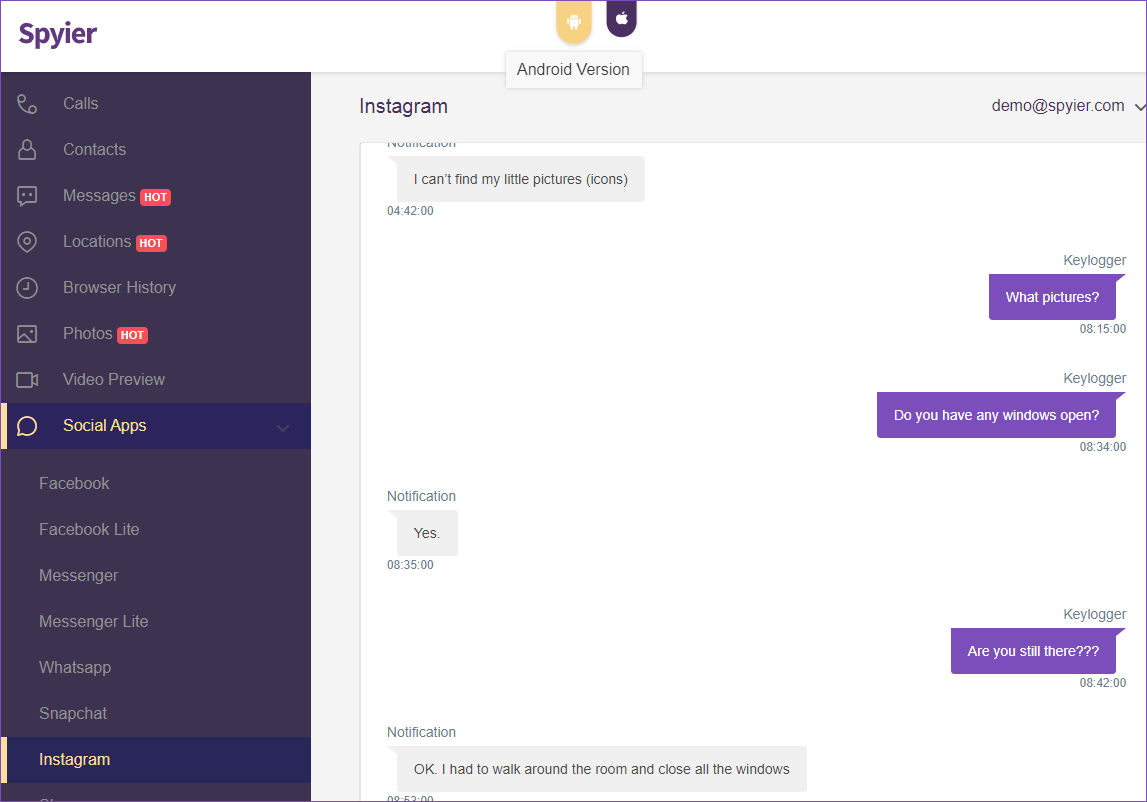 Once you have Spyier installed, access the dashboard remotely from any web browser. In the selection menu to the left, click or tap on the "Instagram" option. This opens up the Instagram window. Here, you can view all the messages sent or recieved on the target phone on Instagram.
The chat log updates in real-time if you click on the refresh button. The page can display up to 100 entries, with 10 being the default. Every message is accompanied by a timestamp, so you can tell eactly when the messages were exchanged. Also, you'll get to see who the target was talking to. If you want to more information about them, check the Contacts screen.
Spyier will archive all messages for you automatically. Further, because of this auto-archive ability, the app is also capable of retrieving deleted messages! Also, you have the option of downloading conversations directly to your hard drive and printing them out.
Spying On Instagram Can Come In Handy
Does someone you know spend a great deal of time on Instagram? You may contstantly see them uploading photos and exchanging messages. It's giving you some cause for concern. Spyier can ease your worries:
Check on Your Kids
Are your children on Instagram? It's a known fact that the platform attracts perverts, sexual predators, and scam artists. You can keep your children safe by checking on their Instagram use and making sure they aren't talking to someone they shouldn't. You can also check if they're uploading appropriate photos.
See Your Spouse's Instagram
Do you think your partner is cheating on you, and maybe talking to someone they shouldn't be on Instagram? You can get some peace of mind by using Spyier to check on their Instagram use. You can take a look at your partner's photos, followers, and private messages and determine if they're faithful to you or not.
Spyier is an advanced spy app that offers remote as well as discreet access to anyone's Instagram account. You can set the app up in a matter of minutes and start monitoring Instagram risk-free. Download our program today!
Spyier is a no-root, no-jailbreak solution
Spyier has a default version that works without root or jailbreak. You can monitor Instagram on target Android devices without rooting. Instagram monitor for iOS devices has been discontinued recently, but we hope to get it back up again soon. Contact our team to check for an update.
Access Instagram Without Getting Caught
With Spyier, you can monitor anyone's Instagram use without being found out. The app is super-discreet. After you install Spyier's Android version, you can hide the app's icon. Thereafter, it'll run in the background. Spyier isn't resource-intensive. It doesn't need much juice or memory. It works without slowing the phone down. All this makes Spyier for Android undetectable. The iOS version is web-based, making it virtually undetectable.
You may like: