Facebook Messenger Spy App
Monitor someone's Facebook use. Check messages, photos, and contacts.
Who are they talking to on Facebook? Find out with Spyier:
Read private and group messages.

Access uploaded or exchanged photos and videos.

Check contact names and display pictures.
3 Easy Steps to Start Spying on Facebook Messenger

Pick a Plan
Click "Get Spyier" and choose one package suitable for your needs.

Install Spyier
Install the app by following the on-screen instructions.

Check Facebook Activity
Log in to the Spyier dashboard to monitor Facebook.
Pick a Plan here >>
Access Facebook Messages in a Hassle-Free Way
Spyier offers a simple, hassle-free way to monitor Facebook messages. The app can remotely track Facebook on any Android device, including smartphones and tablets. Spyier is discreet and works without rooting. Just set up the app to get started with the FB monitoring.
Once you install Spyier, log in to the dashboard. Then tap on the Facebook option in the selection menu to the left. This opens up the Facebook window, where you can see all incoming and outgoing messages. The screen also gives you access to various other details.
You can check what the person is talking about on Messenger. This includes both private as well as group chats. You can also check information about their Contacts. You get details like names, display pictures, and email addresses.
All chats come wiht timestamps, so you know when a particular conversation happened. Further, you can view and download media files too.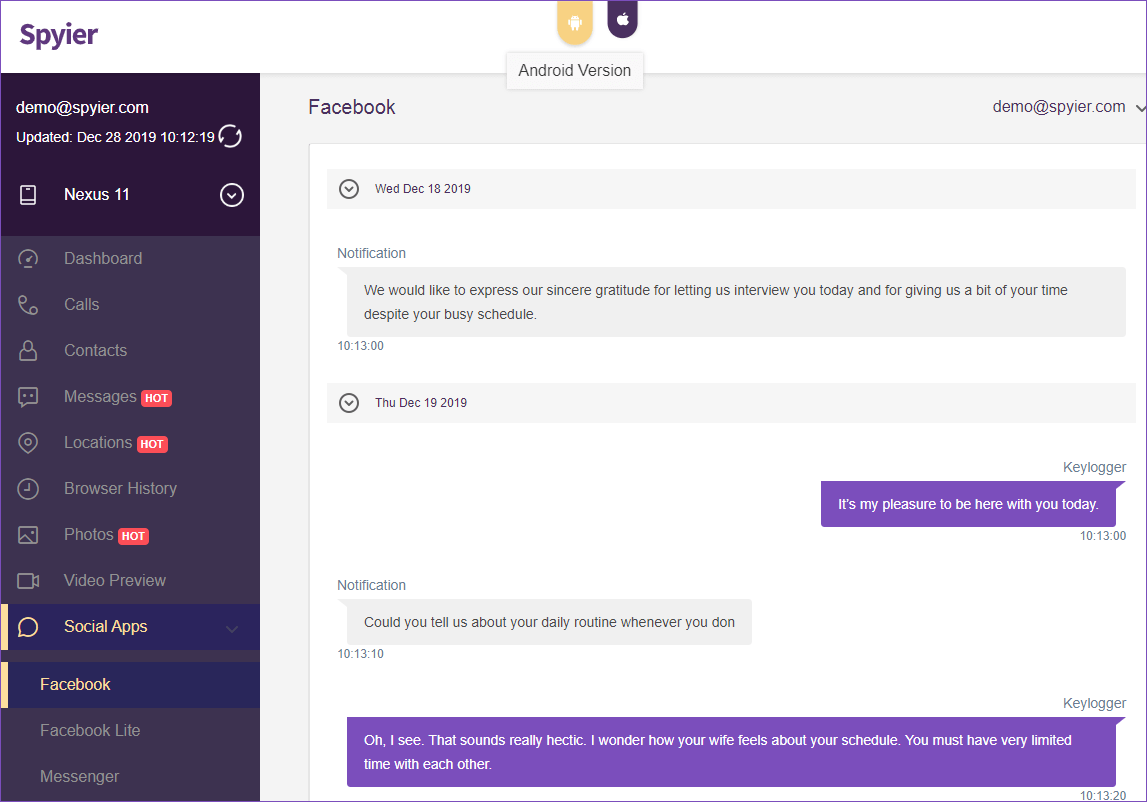 Their Facebook Activity Tells You if You Should Be Worried
If someone close to you is giving you sleepless nights, their Facebook conversations may provide the information you need to gain peace of mind.
Monitor Facebook Without Root
Spyier is a cutting-edge app that can monitor Facebook without you having to root the target device first. Most other spy apps in the market require root. Note that Spyier doesn't offer a Facebook spy feature for iOS. It was discontinued because jailbreak was necessary. Jailbreaking is dangerous and voids the warranty. However, Spyier CAN monitor WhatsApp on iPhones and iPads.
Use Spyier Risk-Free
Spyier lets you monitor someone's Facebook invisibly! You can hide Spyier once you install it. The app will run in the background, without draining the phone's battery or slowing the device down. The user will never suspect Spyier their FB use is being monitored.
Facebook Monitoring for Employers
Do you have a Facebook company page? Monitor your staff's messages in secret to see how they respond to queries and requests for assistance from customers. You can find who's actually working for you and who isn't.
Also, if you're worried that someone is passing on your company secrets, then a look at your employees' Facebook activity might help you pinpoint the culprit. If someone is exchanging messages with a competitor, they're probably the mole.
Facebook Monitoring for Parents
Is your child spending too much time on Facebook? Kids these days are constantly online on Facebook Messenger. Unfortunately, Facebook isn't always safe for children.
It's a known fact that bullies, scammers, perverts, and sexual predators use Facebook to find and target vulnerable children. You can keep your child from harm by monitoring their Facebook usage. Spyier also allows you to limit their screen time.
Spyier is simple to install and use. You can monitor Facebook remotely from your web browser conveniently and in a stress-free way. The app is secure as well as reliable. Over a million people worldwide make use of Spyier. Download Spyier for your monitoring needs now!
You may like: