SIM Card Tracker
Get SIM card-related details like the location and IMEI number.
Use Spyier to monitor the SIM card and get relevant details:
Find the phone carrier and the IMEI number.

Check the network-based location of the SIM card.

Sign up for a SIM Card change notification.

Set up Spyier in a jiffy via your phone or PC.
3 Simple Steps to Start Tracking the SIM Card
Sign Up Free
Sign up for Spyier with your existing email ID.
Set Up Spyier
Get Spyier working with the target device. It only takes a few minutes
View the SIM Card Details
Check the SIM card details from the Spyier dashboard.
Create an account for free
By signing up, I hereby agree to the Privacy Policy
Check Live Demo Here >>
Track Someone's SIM Card Remotely
With Spyier, you can track someone's SIM card remotely from your web browser. You just need to setup Spyier to get started. Spyier for iOS or Android can be installed in minutes. You don't need any technical skills, just a phone or a computer.
Once you've set up Spyier successfully, you can start tracking someone's SIM card. Log in to the dashboard from your web browser. Here, look for the "SIM Card" option in the selection panel to the left. Click or tap on the option to load up the SIM Card window.
The SIM window is where you track the card. You can get details such as the phone carrier (network operator), the IMEI number, and other relevant details. There's an interactive map showing an approximate location of the SIM, based on the network. Finally, you can ask to be sent an email if the user changes their current SIM card.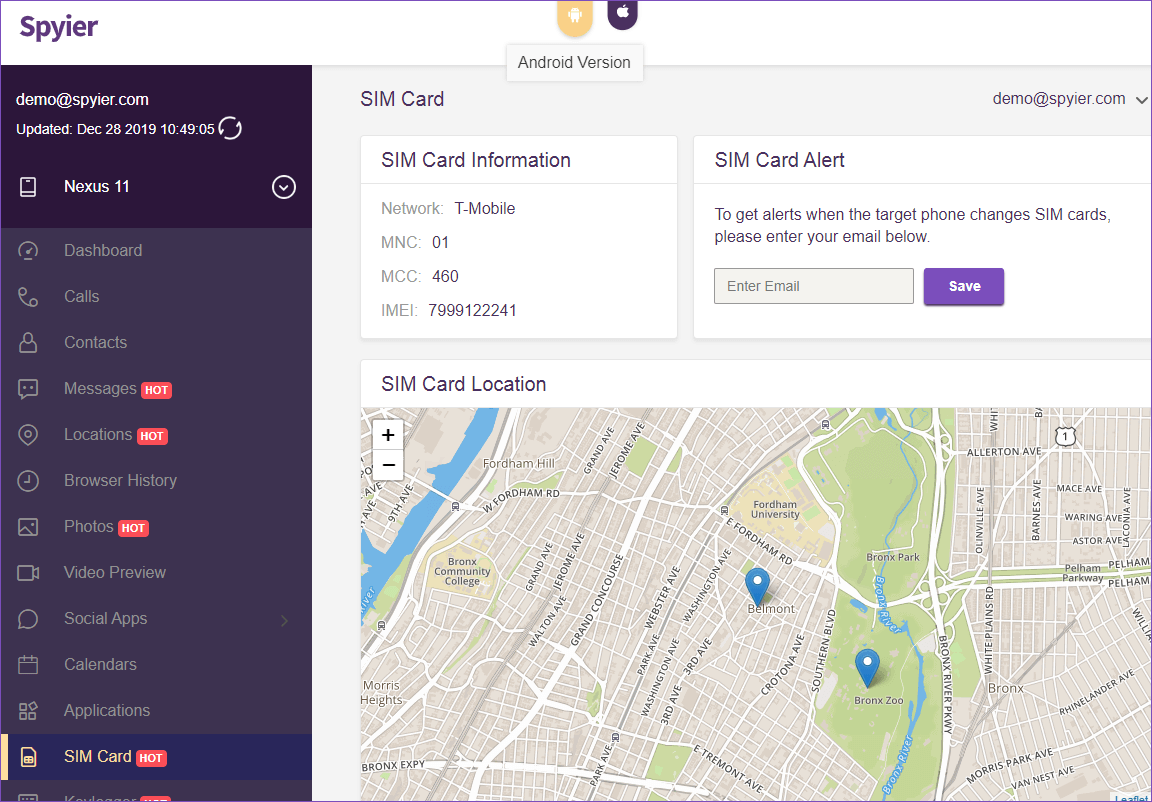 Why Track Someone's SIM Card?
Spyier's SIM card tracker can be useful in a several scenarios. If you end up losing the target device, for instance, you can still track it remotely with Spyier. You can share the IMEI number with your phone carrier to track down your phone.
If you're supervising someone, you can tell if they're messinng around with the phone. If you sign up for a SIM change notification, you'll receive an email if your child or employee changes the phone number without informing you. Spyier can record and share the details of the new SIM Card with you.
Lastly, the SIM card tracker can also track a device's approximate network-based location. If the phone's GPS isn't accessible, this SIM card tracker might work.
Spyier is affordable, reliable, and discreet. Join over a million users by installing the app now!
Access the SIM Card Without Root or Jailbreak
Spyier is one of the most advanced apps in the market. It can track both iOS and Android devices without any special tinkering. You won't need to root or jailbreak to use the SIM card tracking feature.
Check on the SIM in Stealth Mode
You can use Spyier to monitor anyone's SIM card worry-free in secret. The iOS version is web-based. There are no app downloads and so it's completely undetectable. You can hide the Android version after you install it. It's small and doesn't use much battery. It also runs in the background, making it impossible to detect.