The thought of your husband cheating on you is devastating in itself. It might conjure all your love, trust, and blind faith. But to put him on the stands and seek answers, it is important for you to be sure and not to misjudge him.
Here, we have the top 20+ signs your husband is cheating & having another affair.
Alternatively, in the case, you need a way to monitor and catch your cheating husband, scroll down to the last part of this article. It talks about Spyier – the cell phone tracking app that could help you in this. If willing, check out its free live demo right away.
20+ Signs Your Husband is Cheating
1. Guilty Conscience
No matter how gracefully your husband hides behind his smile, he will always have that sense of guilt reflected all over his face. He is aware that his affair is not justified and would seek reasons to stay away from you so as to avoid being conferred about his expression.
2. Play the Blame Game
One that has done something wrong will picture others as a wrongdoer too. He will accuse you of everything and anything. Cheaters tend to shift the focus from them on to their partners and save themselves from the face-off.
3. Judgments on Every Conversation
If your husband is having an affair, he is most likely to put your relationship under the lens and turn judgmental. He will portray as if the relationship is wrong and moving on was the only option left to live a happy life.
Also Read: How to Catch A Cheating Boyfriend
4. Be the Good
Another way of rationalizing is to turn the opposite.
Suddenly all the bad turned out to be good and amazing. Your husband has never been this nice before, and you are just so happy. However, no matter how blissful your marriage is, a dramatic change in the behavior might be a sign your husband is cheating.
5. The Early Morning and Late Night Shifts
All of a sudden, your husband's habits change. He leaves early, returns late and circumstantially works on weekends too. Skipping meals, having dinner outside the home just add up to the signs of a cheating husband.
6. Business Trips – Longer Than Ever
Husbands that are having an affair tend to stay away from home as long as possible. When unstable shifts do not seem to satisfy, he will stay out for trips, calling them official. Don't get trapped in his sugar-coated words. It's high time to check his cell phone and spy on him.
7. Concerned About His Looks
Does he check himself often and smile for no reason nowadays? Well, this is not for you but his other companion, definitely the most important one. So, do not get flattered that he is trying to impress you.
8. Ping-Click-Ping
Do you find your husband hitched with his phone all the time? Wondering, is my husband cheating? Sorry dear but it's true. Your husband is actually cheating on you and the fact that he spends more time online than offline is the proof for it.
Don't Miss: How to Catch a Cheater: 10 Cell Phone Spy App Online Tricks
9. Cash Running Out of Hand
Until a few months ago, you were his cashier but now, his finances remain secured and locked. It also might happen that he runs out of cash every now & then. Odds are he is spending more – Not on him/you, but probably on his unofficial partner.
10. Remembrance Suffers
One of the most common signs of a cheating husband is he, forgetting things too often. It could be your favorite dish/color, anniversary/ birthday, or a pickup/drop! How about planting a cell phone tracking app and locate his path?
11. Changed Passwords
Have you just found that your husband has changed the safety lock of his cell phone and social media accounts for no legit reason? This might be a warning sign your husband is cheating. It's not just his digital data but also his life, being protected by a third-party password.
12. He forces You to Engage Socially
Rewind your marriage a year back and your husband would not want to miss the sight of you when he is at home. Suddenly, he now advocates you to start meeting people and have a social life, weird no? Definitely and it is not just unnatural but also indicative.
13. Intimacy A Past
Cheating husbands, many times, do not get sexually involved with their partners. It is just unusual that your husband avoids any sort of physical contact. It's not that you have turned different but your husband.
14. No Proper Answer
One who cheats hates to be confronted. So every time you question him from being late or what is he doing, the most probable answer would be, don't disturb me, I have a lot to do. Relatable?!
15. An Unknown Special Friend
Out of the blue, your husband has this special friend, he never mentioned before. Every time his phone rings or a message pops, it is from that special friend. Is your husband cheating?! Guess you know better.
You May Like: How to Catch Cheating Spouse Text Messages
16. Don't Touch My Phone
A new rule just slides in between the two. You, all of a sudden, are not allowed to fidget his phone or laptop. Why? It's confidential! What do you think? It is the device content that confidential or he, having an extramarital affair?
17. The 'Our' time is No More Ours
Another vital sign of a cheating husband is of poor involvement in your relationship. Even if he is away from his work, spending time with you, he is distracted. He might be with you physically but his mind is lost somewhere else.
18. Defense on the Radar
It's been long since you two shared a meaningful conversation. Either you two are fighting or one is complaining and the other just listening. What's worse? Your husband is now defensive and aggressive.
19. You Are No More Special
There isn't any surprise date or sudden outing. Birthdays and anniversaries are just a formality. Apart from that, hardly do you two hang out.
20. Lies That Lie Ahead
And the ice breaker lies. You find your husband lying to you about things that you actually know, aren't the truth. After all of the hardships and the vows, he has started hiding things and above all playing with words, only to convince you.
Don't fool yourself thinking, he is just too stressed to be true. It is, in fact, an indication that your husband is cheating on you. And you may also find that he even wants a divorce.
21. Your Instinct
Instincts are not always wrong. If you subconscious, out of nowhere, tells you that he might be cheating, listen to it. It must have noticed the signs of a cheating husband that your heart is not letting you see.
Is my husband cheating for real: How to Confirm?
If signs your husband is cheating are very much visible, you must be willing to confirm if it's true. Of course, you wouldn't want to risk your marriage life, on a simple hunch. So, confirm it with Spyier.
Spyier – A Sure-shot Solution to Resolve your Doubts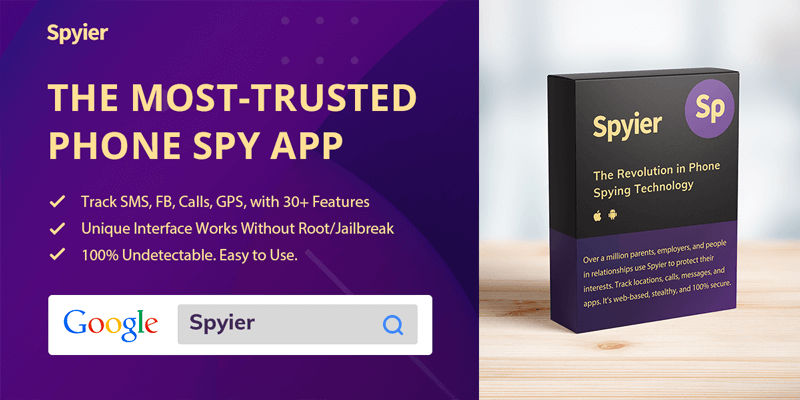 Spyier, one of the leading cell phone spy solutions, works in stealth mode & lets you track your hubby, without him knowing.
Unlike other spying apps, Spyier DOES NOT require rooting or jailbreaking for ALL its features. Its powerful technology lets you utilize all its capabilities without hassles.
Also, you just have to follow a simple procedure to get started with cell phone spying using Spyier – that too, of 5 minutes at most!
Android target phone needs a manual access (just for once in lifetime) as you'll have to install an app. However, Spyier iOS solution just requires iCloud credential as it fetches phone's data through the device backup file.
Android app can be uninstalled remotely in one click.
Spyier neither drains much batter nor consumes much space (Android app's size is less than 3 MB while iOS solution do not require app installation at all). So, there is no way that your husband could even get a clue about tracking the app.
Note: Any Android cell phone spying solution that boasts about its no-app monitoring capabilities is FAKE. Android's operating system makes it impossible to do so. So, if anyone makes such promise, run away or you'll lose money/data.
Is it Safe?
100%! Spyier doesn't store users' data on its server. Therefore, it can't access users' data. It is totally secure. Its superhero-like capabilities and trustworthiness have made it a favorite of millions of users in 190+ countries.
How Does Spyier Help in Confirming the Signs of a Cheating Husband?
With Spyier, you can keep an eye on all your husband's engagements, no matter where and what. You can –
Check his text messages and social media data (Facebook, Messenger, Whatsapp, Snapchat, Instagram, Skype, Tumblr, Tinder, Wechat, LINE, Viber, and so on)
Monitor the apps installed on his phone, and browser history.
Keep track of his key log through Android Keylogger.
Track his location, calls, contacts, photos and videos.
Want to utilize all its features? Sign up for the Spyier Solution and try it out on your own.
How to tell if your husband is cheating using Spyier?
Step 1: Spyier Purchase
If you wish to use Spyier, you'll need to purchase a monthly subscription on the official website. If your husband owns one device, you can monitor it with the Premium plan. If he owns several ones, you will need the Family subscription. 
Choose your desired plan and click on the "Buy Now" button. In the pop up window, you will need to enter your email address. Then follow the rest of the purchase instructions. 
Once you make the payment, you will be taken to the payment confirmation page. This page will contain your login credentials, including a system-generated password. This is a random, unique password, and it's safe. But you can change it later if you wish. 

The system will send you an email at the same time with your login credentials. The email also contains some useful information about Spyier and a link to the Setup Wizard.  
Click on "Start Monitoring" whenever you're ready to begin installing the app.
Step 2. Device-wise Setup
Follow the instructions as per your device:
When the target device is an Android Phone:
i. In your husband's phone, change settings following the Android installation Guide.
ii. Install the Spyier app, from the link given in the set-up wizard page of your Spyier dashboard.
iii. Open the Spyier app, follow the set-up instructions and hide the app.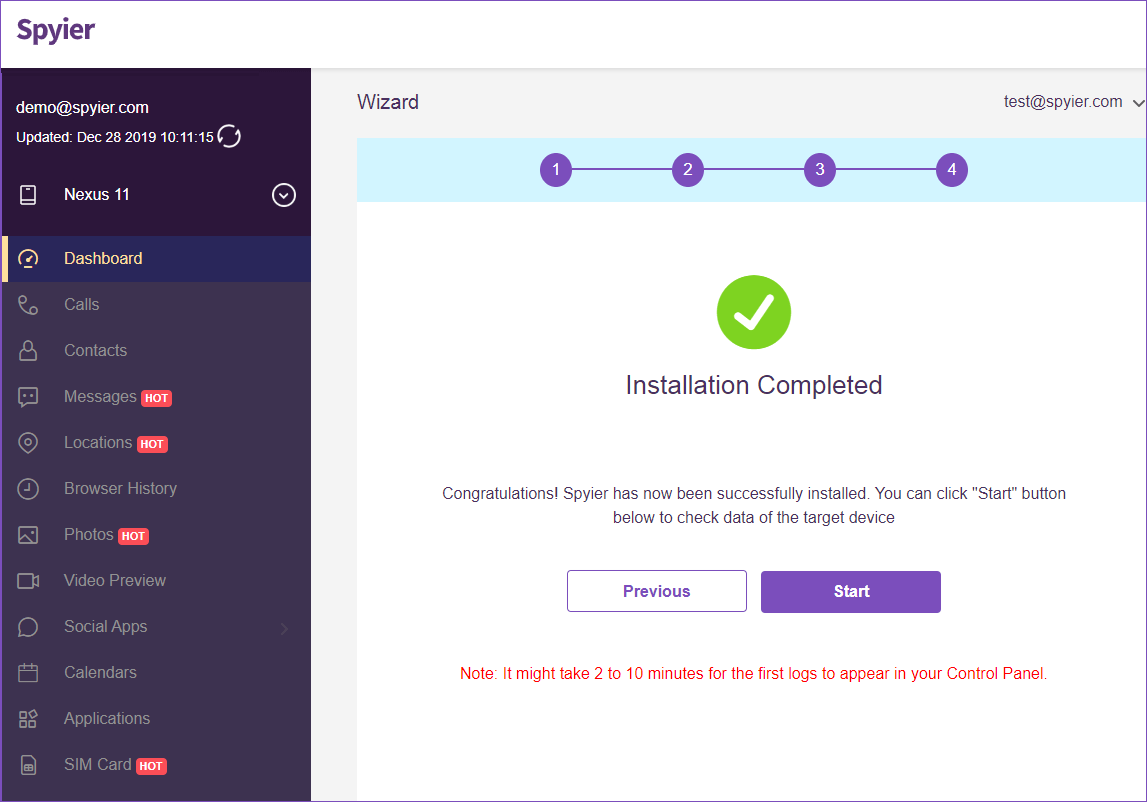 When the target device is an iPhone:
i. You must have received an email after Spyier sign up. Open that email, click on the link and you'll be directed to Spyier's web-based iOS app.
ii. Verify iCloud credentials and choose the target device to complete the process.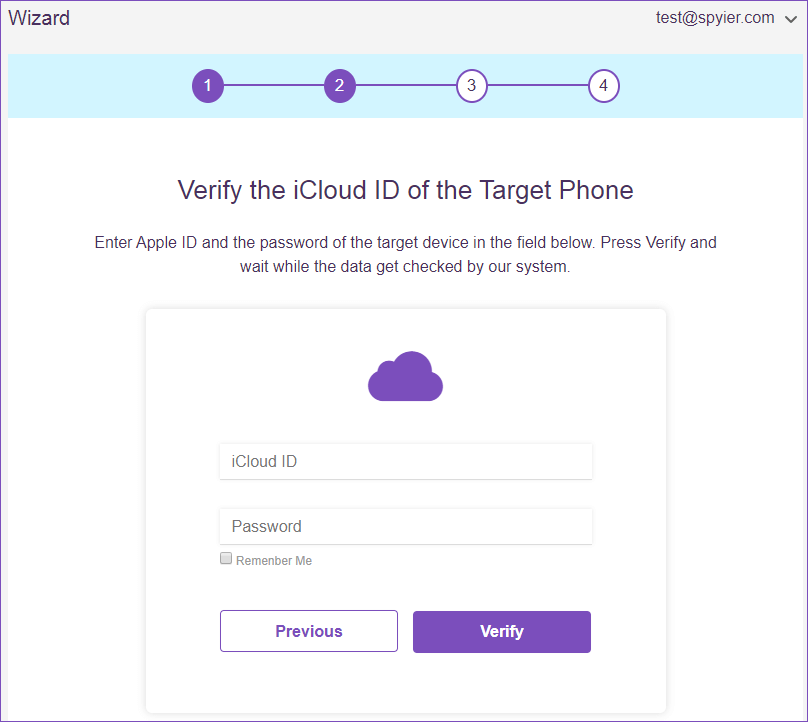 Step 3. Start Monitoring your Husband's Activities
We've already told you in the previous section – about what all you can monitor using Spyier. Now, go to your Spyier account using any device or browser (no need to have access to the target device anymore!).
By now, your husband's cell phone monitoring has been started. So, start spying and figure out is cheating.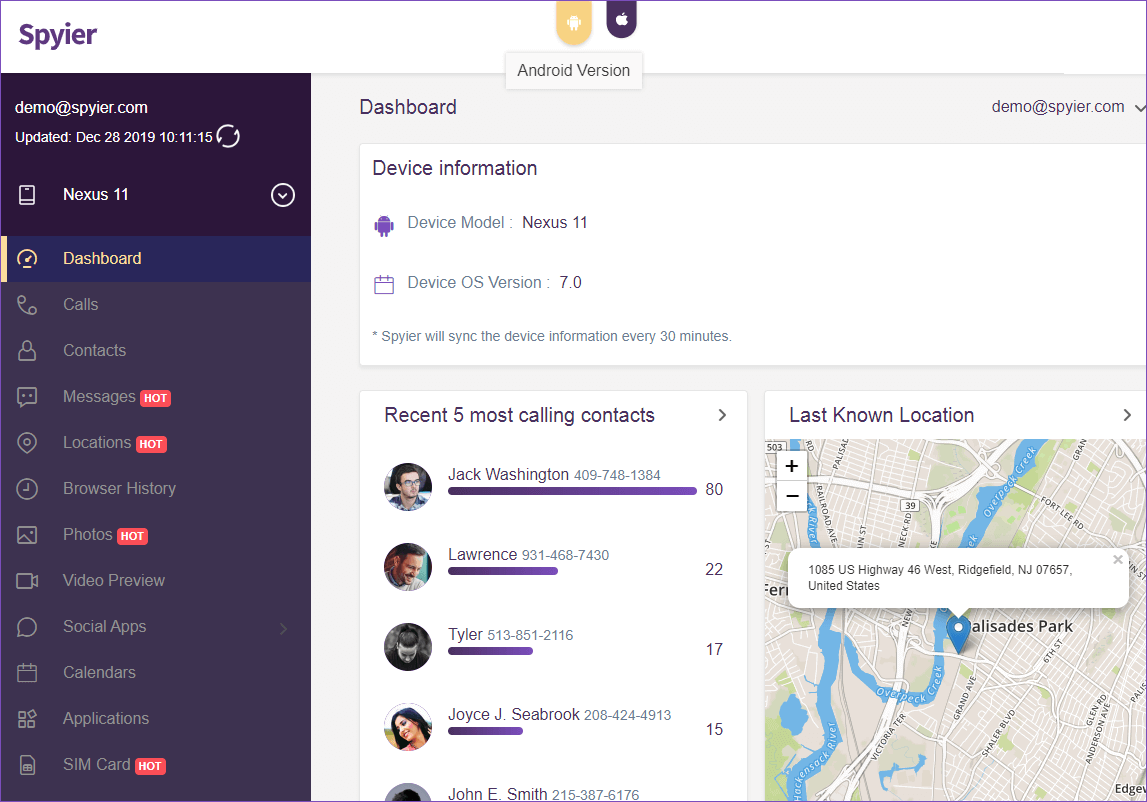 A lot on your plate now, right?
If you aren't sure about its capabilities yet, walk through the free demo of Spyier and install it on the go to validate signs your husband is cheating on you.
This post is also available in: Español (Spanish)