'I have been in a five-year long marriage, which started out as being good. However, lately I cannot stop this nagging suspicion that my husband is cheating on me. How can I catch my husband cheating and know for sure?'
Queries like this are common and millions of women ask the same question from all over the world- how to catch a cheating husband? I understand the pain you are facing and let me bring you one good news- this guide is going to answer the question for you.
In order to catch your cheating husband, the first thing to do is to look for red flags. Often people who cheat tend to display signs that can be suspicious. However, even so, there are also men who can cheat without leaving a clue.
Read this guide to find out the perfect way for catching your husband cheating along with evidence of the same. Don't worry, there is no need of any costly investments or hiring a private detective. Here you go:
How to Catch Your Husband Cheating?
Catching a cheating husband is no rocket science.
There are some signs that can confirm your doubts. However, it is always advisable to find out whether or husband is cheating on you actually or it's just you getting paranoid. Discussing it all before that may ruin your relationship for no reason.
Part 1: How to Know If Your Husband is cheating?
Let's get started with understanding those signs your husband is cheating on you:
He has lost interest in you.
Once he used to go ga-ga over your looks, admire you without any reason, don't think twice to throw a surprise for you, and always remain into you. Now, he hardly sees at you, don't bother about your looks, and even forgets your wedding anniversary. Be worried.
He is more aware of his looks.
Though he is least bothered about you and your looks, he is paying more than usual attention to his looks. He is spending more time in getting dressed and giving his wardrobe and looks a makeover. This shows he is looking out somewhere else.
He doesn't go under the sheets with you
So, there is hardly any sex life existing between you two. It's time to find out the reason.
He stays clung to his phone always
He is all the time texting or talking over the phone, not letting any touches his phone, and has become very protective towards his phone. If this is how your husband is behaving, you must gear up yourself to catch him red-handed.
Also Read: How to Catch A Cheating Boyfriend
Part 2: How to Catch Your Husband Cheating?
Signs your husband is cheating matched your spouse's behavior?
It must be heart-wrenching and you will be shaken from the core. But, it's not the time to sob under the pillow. Rather you must gather proves against him and confront the misdeed.
Instead of thinking much about how to catch a cheater, get into action. And, we have an easier and cheaper method for you than hiring a private detective. Just get the latest feature-rich cheating husband app, Spyier and let it do the job for you.
Spyier – Your clandestine weapon in the battle
We know that catching a cheating husband red-handed is a tough nut to crack. There will be a lot of emotional and mental storming going on. However, a smart move of getting high-end cheating husband app, Spyier can make this mêlée a cakewalk.
Spyier is where human acumen and AI meet to make remote monitoring easy and risk-free task. It will assist you throughout your catching a cheating husband's journey without even letting him know about it.
With more than 30 remote monitoring features and 100% discreet operations, Spyier has gained the trust of millions across the 190 countries. While it's at your service, it never saves your data on its server. Hence, you are not vulnerable to any of cyber frauds with Spyier.
Whether your husband is using an iPhone or Android, Spyier can track his phone activity comprehensively and help you find out the truth.
While its iOS solutions come with web-based deployment, its Android app can work as an undercover agent for you. In both cases, you will get jailbreak/rotting free access to your husband' s phone and take note of his every activity.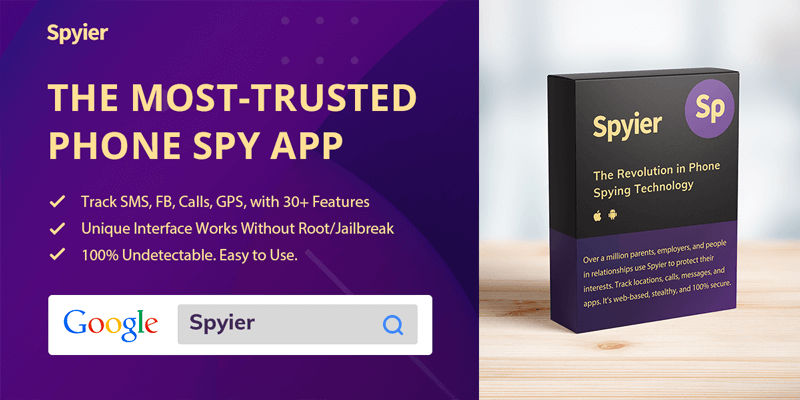 Catch a cheating husband through his iOS-based device without him knowing!
Barging into its iOS operating system is not easy. Though jailbreak the device is an option if you want to gain unauthorized access to an iPhone, it is not something which is risk-free. You can end-up corrupting the device or permanently losing the saved data.
Instead of facing so many hassles, the ideal way is to use Spyier's iOS solution. As it works by fetching the data recorded on the iCloud account of the targeted person, there is no need for device jailbreak or OS tempering. Hence, you will always play safe with it.
Spyier is a web-based solution; there is no installation or set-up required to bring it into action.
A Spyier account, iCloud credentials of the target, and any of the device/browser to access your Spyier account are more than enough. Through the iCloud login information, Spyier gains access to the device backup of your target and gets the information that you need.
Catch a cheating husband through his Android-based device without him knowing!
To provide you some sort of dependable, comprehensive, and risk-free remote monitoring on target device, Spyier for Android offers you an ultra-light, user-friendly, and feature-rich app to you.
Spyier app is too tiny to imagine i.e. just 3MB. It drains almost no battery, requires no rooting, needs just 5-minutes one-time access to the target's phone and can be uninstalled remotely from the control panel.
With its bug-free performance & high-end stealth technology, Spyier goes unnoticed as soon as you start using it. The app icon won't show up after installation itself.
Point to be noted: Installing an app is the demand of Android's OS as its design doesn't allow monitoring phone without app installation. Hence, ignore any fraud innovators who promise to catch him without an app. Rather than helping, they will increase your troubles.
How to Catch a Cheating Husband on His Cell Phone?
Loved the features that we explained in the previous section and think that Spyier can help you in catching the cheating husband?
Just follow the below-mentioned steps to get access to these features now –
Step 1 – Get a Spyier Subscription
First things first, you need to get a Spyier subscription for using its features. When you buy your Spyier subscription, you will be prompted to enter your email. Once the purchase is successful, you will be able to see your login credentials on the screen and in your email.
The password is system generated and completely random to keep things secure. You can change this password at any time later.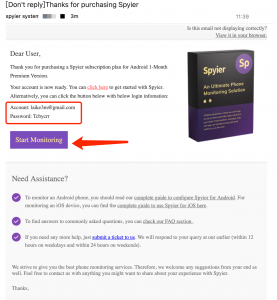 Step 2 – Setup Spyier
Now that you have the login credentials, use those to login into your Spyier account through the website. When using Spyier for the first time, Spyier will redirect you to a setup wizard which will configure Spyier for you.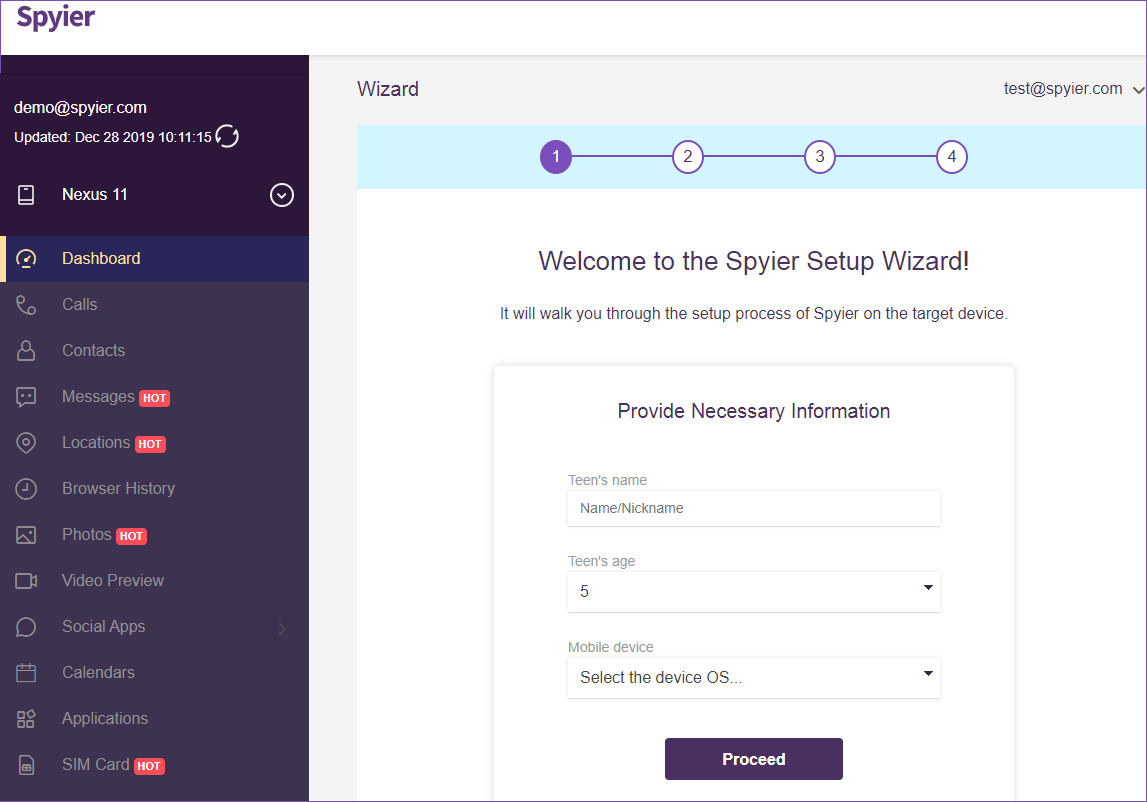 Step 3 – Bring Spyier on the floor
i. For tracking your husband's iOS device.
If your husband is using an iOS device, you can enter the iCloud credentials of his device in the Spyier setup wizard when it is asked.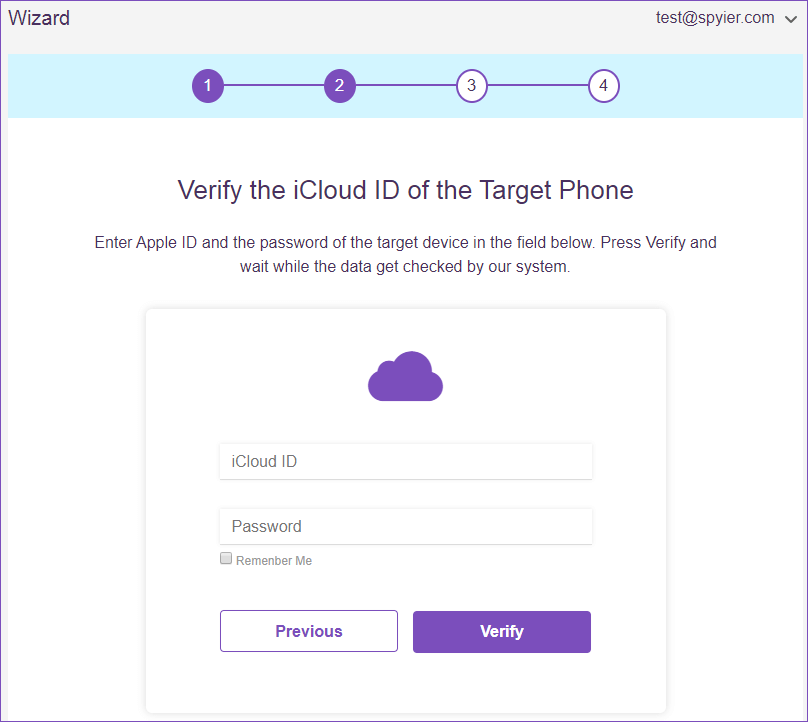 ii. For tracking your husband's Android device.
If your husband is using an Android device, you will need to download the Spyier app on their phone. The link to this app can be found in the setup wizard.
Spyier's Android app installation guide provides detailed information on how to prepare the target Android phone and install the Spyier app on it.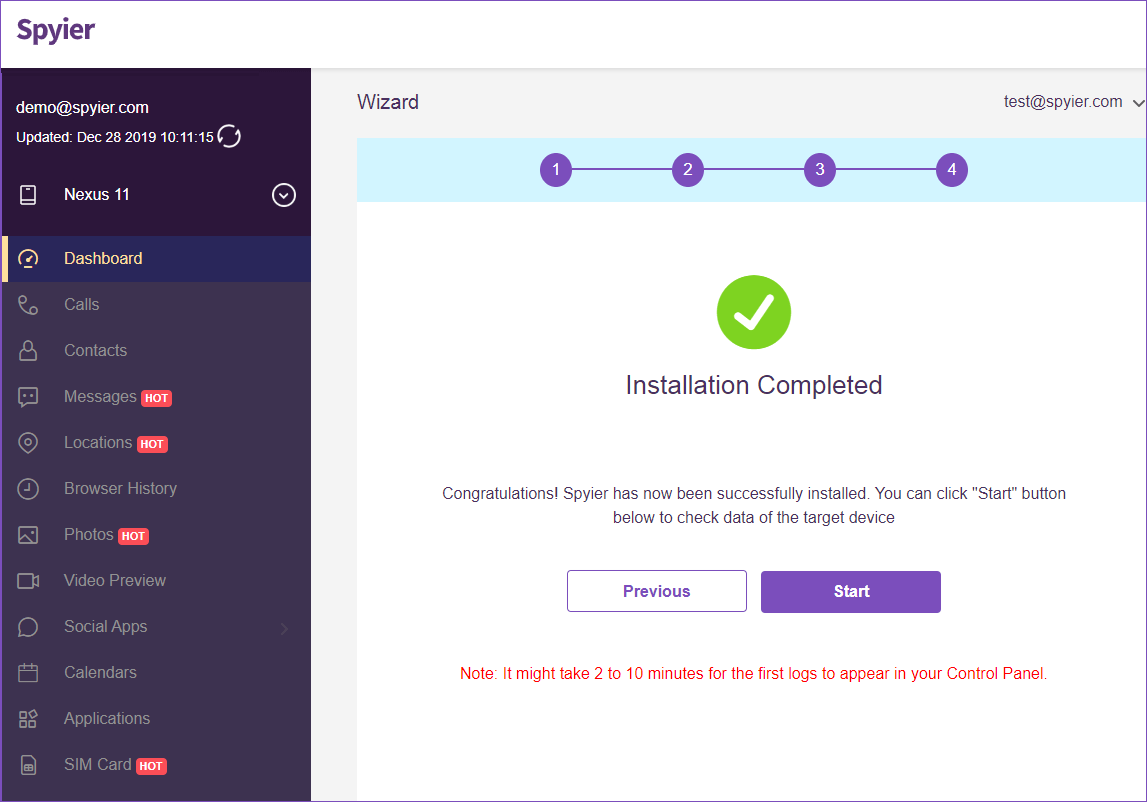 Once the configuration is complete, you can then start using all the features of Spyier. Click on the 'Start' button to begin monitoring your husband's smartphone through Spyier's dashboard.
This free demo of iOS and Android devices will help you have a better understanding of how things work at Spyier end.
Don't Miss: How to catch someone cheating on Facebook
What else you can get from your husband via Spyier
Note: To learn how to get started with Spyier, read the next part that covers it all in detail.
Your husband's phone is the goldmine of his activities, contacts, and conduct. Spyier gives you across-the-board remote access to your husband's phone.
Before we proceed, you may take a quick free live demo of this solution to try hands-on it before deciding whether or not to use it.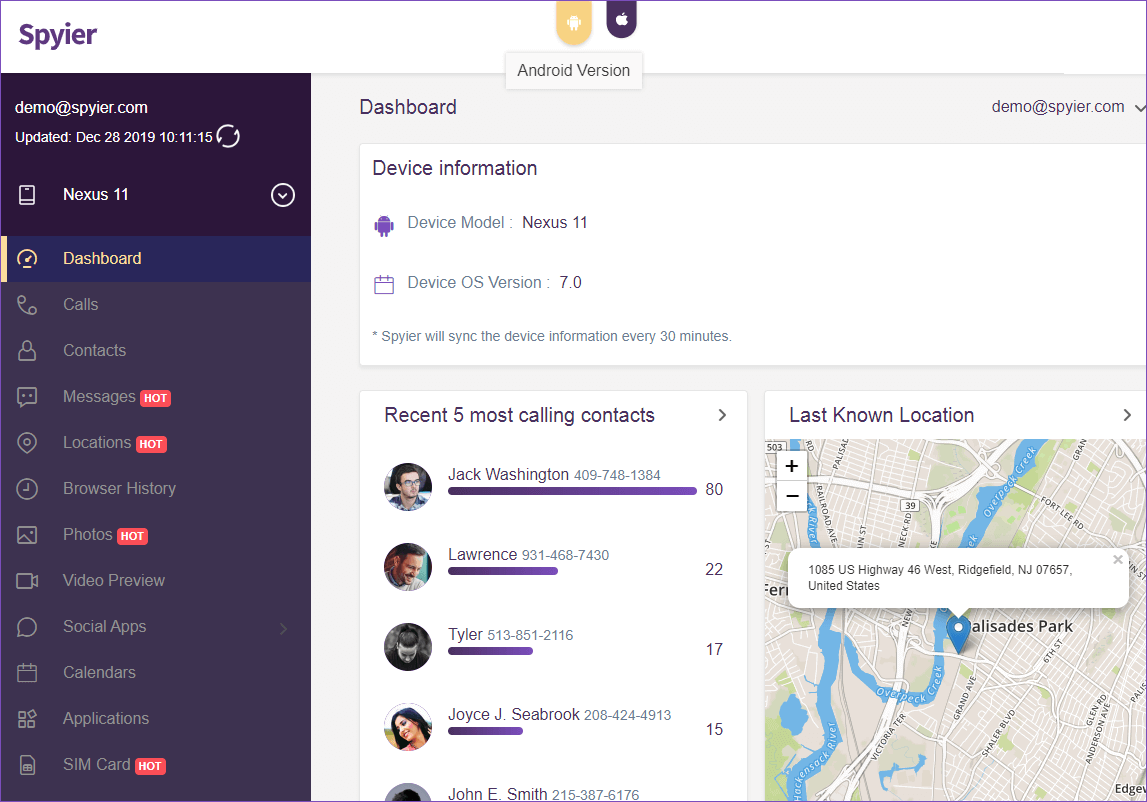 Here are its best features that'll help you in spying efficiently –
Get a sneak peek of his texts and IMs.
Spyier offers you an ultimate SM/IM tracking facility that lets you know with whom, what, and when your husband is texting. The data will be rendered live and as it is.
Also Read: How to Catch Cheating Spouse Text Messages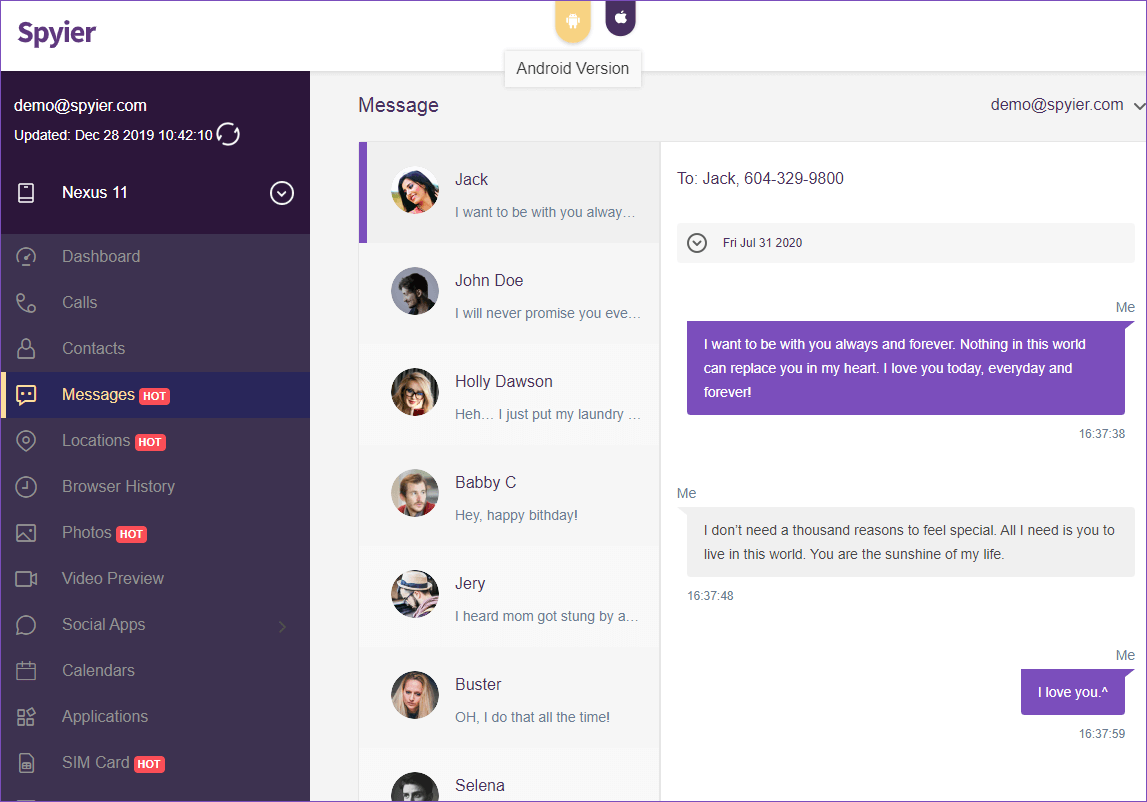 Not just messages, you can track Facebook, Instagram, Snapchat, Whatsapp and more such Social Media platforms.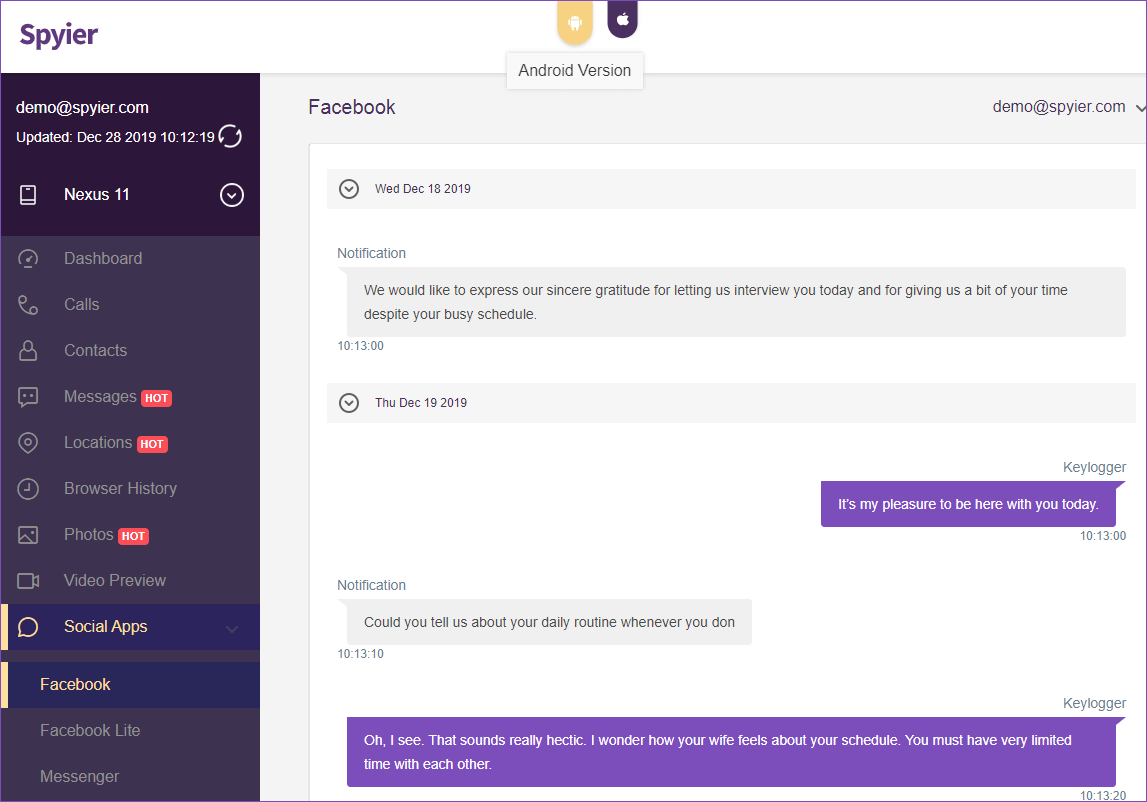 Spyier Keylogger lets you track each and every text that is being typed through your husband's device. It could be a message, a password, an email ID, or anything.
Check the call history and contacts.
If you are wondering how to find out if your spouse is cheating then the best way is to check his call history and contact lists using Spyier.
Keep a tab on his online activities.
Maybe he is not cheating on you in the real world. He is finding your paramour in the virtual world. In that case, use Spyier and find out about his social media accounts, internet usages, and browsing history.
Find out about the apps he is using.
You do not need to meet someone in person to start an affair. There are dating apps for this as well. Spyier lets you know which all apps are installed on your husband's phone and how he is using it.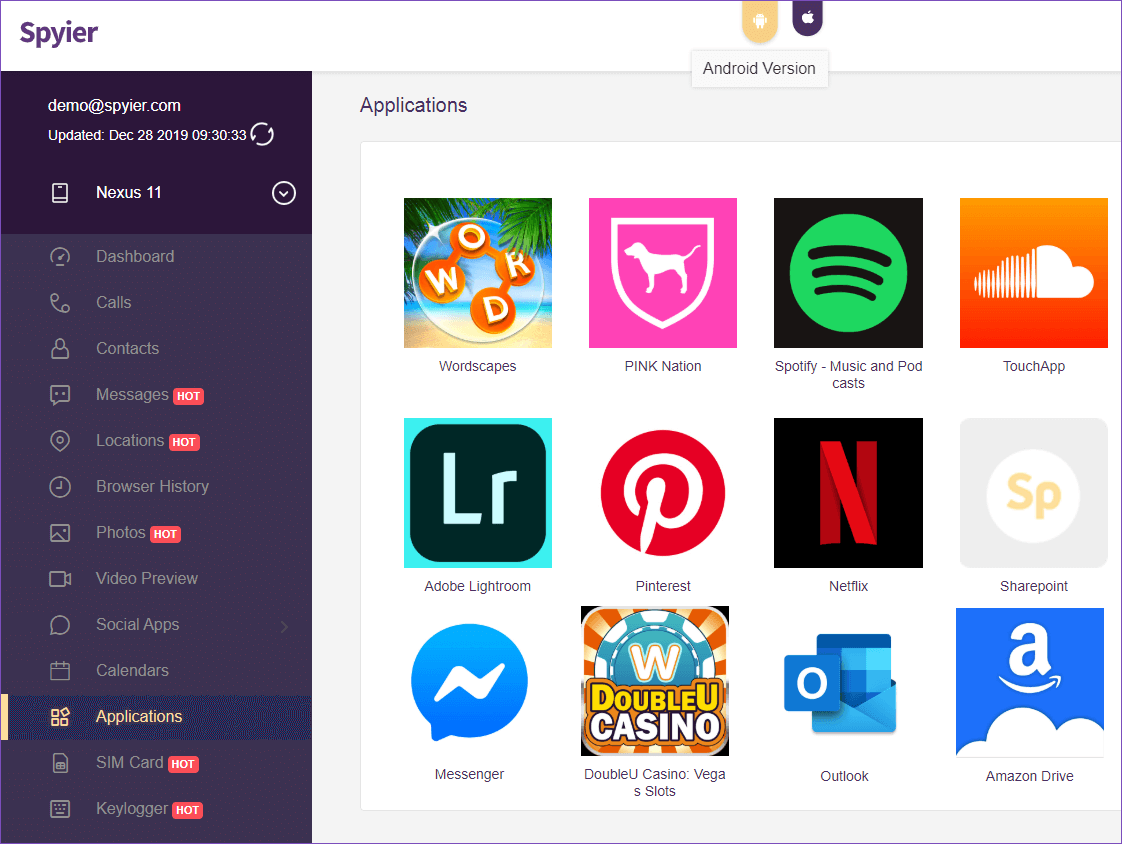 Track his media exchanged activities
If he is cheating on you, he must be sending/receiving his new love interest's pictures/videos. Spyier will find out this for you.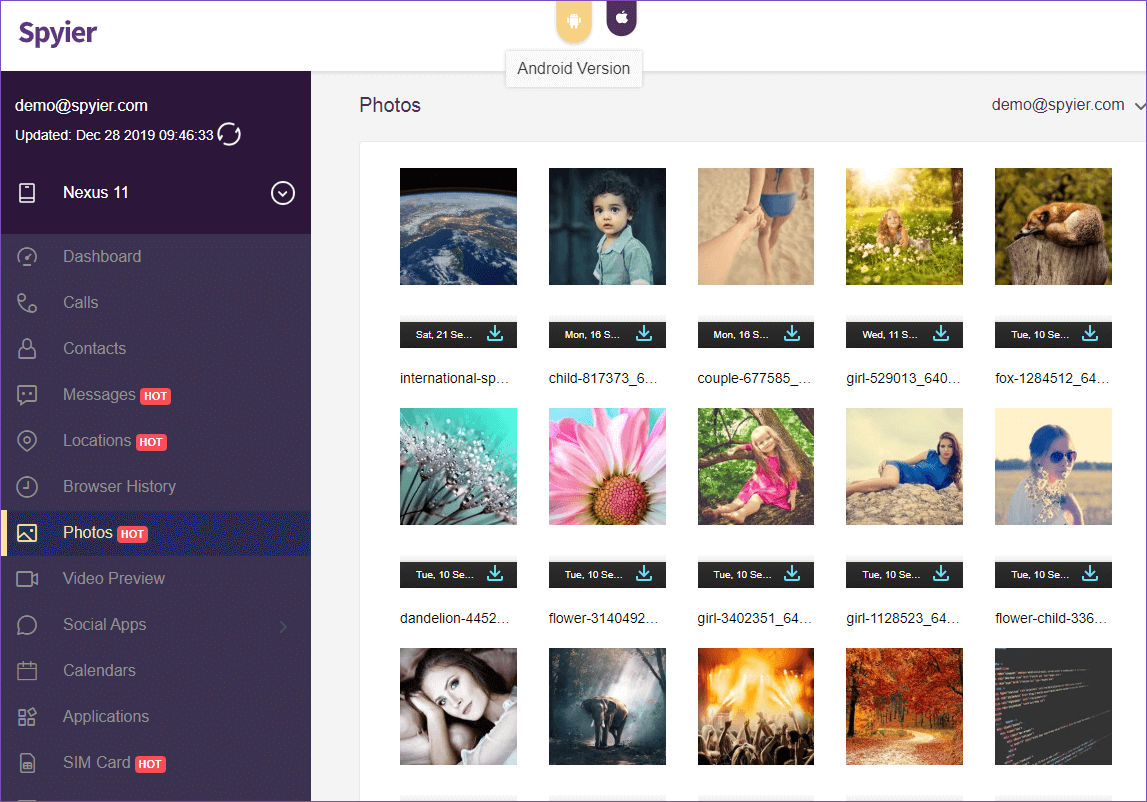 Keep an eye on his live location.
A cheating husband can find endless excuses to meet his new love interest. That late-night meeting can be a secret dinner date. Using the live GPS tracking feature of Spyier, find out his live location without letting him know.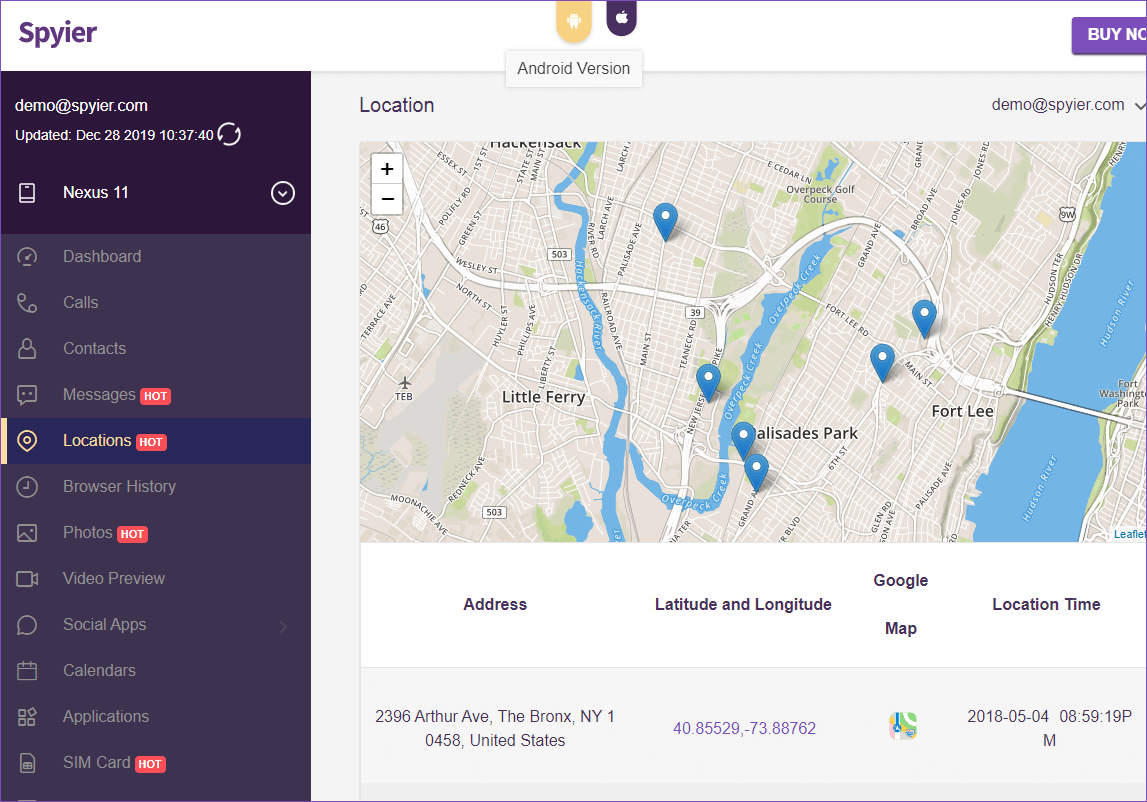 The Final word
Catching a cheating husband was never as easy and risk-free as it is with Spyier. It lets you gain full access to your husband's phone and monitor his activities from miles apart. If used, you've found out the truth.
So, if confirmed that your husband is cheating on you, the truth must have broken you into pieces. But, it's time to get relieved from that despondency and confront it with your cheating husband.
How?
Just tell him that you know what he is doing behind your back. We know that he won't admit his mistake that easily. So, show him the activity logs fetched using Spyier. On showing proof of his misdeeds, he can't turn an eye blind eye towards it.
Doing so will help you make the right decisions on time. It is any time better than ruining your life or staying in doubt.
This post is also available in: Deutsch (German) Español (Spanish)