The spouse, glued to his phone all day long and busy texting someone, may freak you out. It may give rise to a brainwave that he's cheating.
Well, we would suggest you not to remain girdled by qualms & kill your relationship. Be twofold sure by reading the cheating husband's text messages. Through his text messages, you'll able to know whether he is actually cheating on you or not.
How to Catch Cheating Spouse Text Messages?
Can you ask your spouse or husband to hand over his phone to you and let you read his messages?
We know that no one permits to access his/her phone to anyone even if you are their life partner. In that case, it is achievable to spy on cheating spouse text messages with the web-based solutions only.
Read the article further and know the best way for how to catch a cheater through text.
Part 1: How to Get Your Spouse's Text Messages
So, this is the time to fulfil our promise and tell you how to get your spouses text messages without his knowing.
All you need for this is a Spyier account.
Now, let us tell you why and how. Thereafter, we'll explain the procedure to spy on cheating spouse text messages through Spyier. You can directly sign up for it, and get started, if in an absolute hurry.
Spyier – Your Magic Wand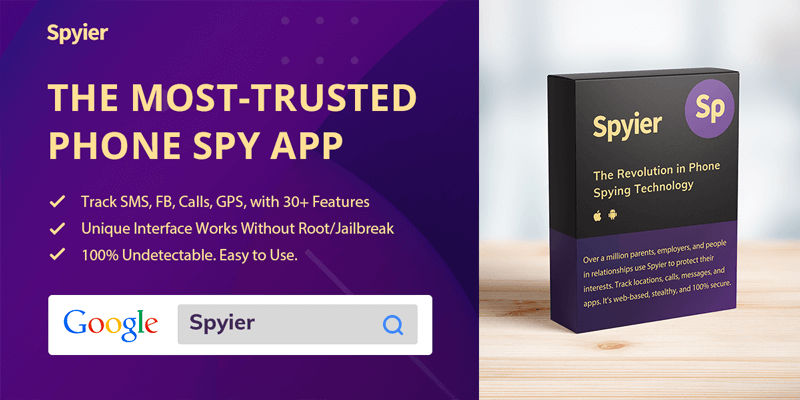 An upshot of top-notch technology, Spyier is a reliable, trustworthy, and advanced way into the cheating spouse text messages remotely. Using this, you can not only read the messages but also can learn about who the sender is and what text was send at what time.
We are not the only one who backs Spyier. There are millions of patrons in 190+ countries who have the same affinity and assurance for it. The key ones can be affirmed as:
Stealth Mode that helps you read cheating spouse text messages without him knowing
With Spyier, you are never going to be caught in the act.
If you are bringing Spyier for iOS into action, it works remotely on a web-based deployment. It will just need the iCloud credentials of your target phone, as these credentials help the solution if fetching the text messages for you from the device backup.
While in the case of Android, the app runs in stealth mode and remains clandestine as long as you want. The user-friendly interface and bug-free performance further make using it a cakewalk.
Note: Yes, it needs an app for spying Android phone's messages, because of OS's design. Any Android monitoring solution, promising to let you track such data without app installation on the target device, is FAKE. To save your money and data, STAY AWAY FROM THEM.
Spyier Android app's light-weight design (< 3 MB in size) makes its performance further noteworthy. It won't drain the target phone's battery and will require just 5-minute access to that phone – for once. After that, ever its icon will vanish.
Remote uninstallation of the Android app is possible in one click from your Spyier account's dashboard, making things even smoother for you.
Peerless performance
Spyier stands out of crowd because of its impeccable performance and built. Its operations are 100% discreet and risk-free.
Additionally, Spyier's advanced and cutting-edge technology removes the need for jailbreaking or rooting for using any of its features. So, unlike other third-party apps, it is not risky but super-efficient.
Tasks that it can perform
If you are thinking that Spyier can be used just to read cheating spouse text messages then we would like to tell you that it's just the tip of the iceberg. It can do a lot more than this.
The app has more than 30 monitoring facilities that can keep tabs on call logs, social media platforms (WhatsApp, Facebook, Instagram, Line, Snapchat and many more). You can also check this guide about how to catch someone cheating on Facebook.
It also allows keeping a check on browsing the history, location, camera, and app installation activities happening on the targeted mobile phone.
Alongside this, its Android Keylogger is a ground-breaking feature that can help you get to know about every single keystroke made on the targeted device.
In short, it is a whole phone monitoring and tracking assistance.
View its live demo to understand the solution better: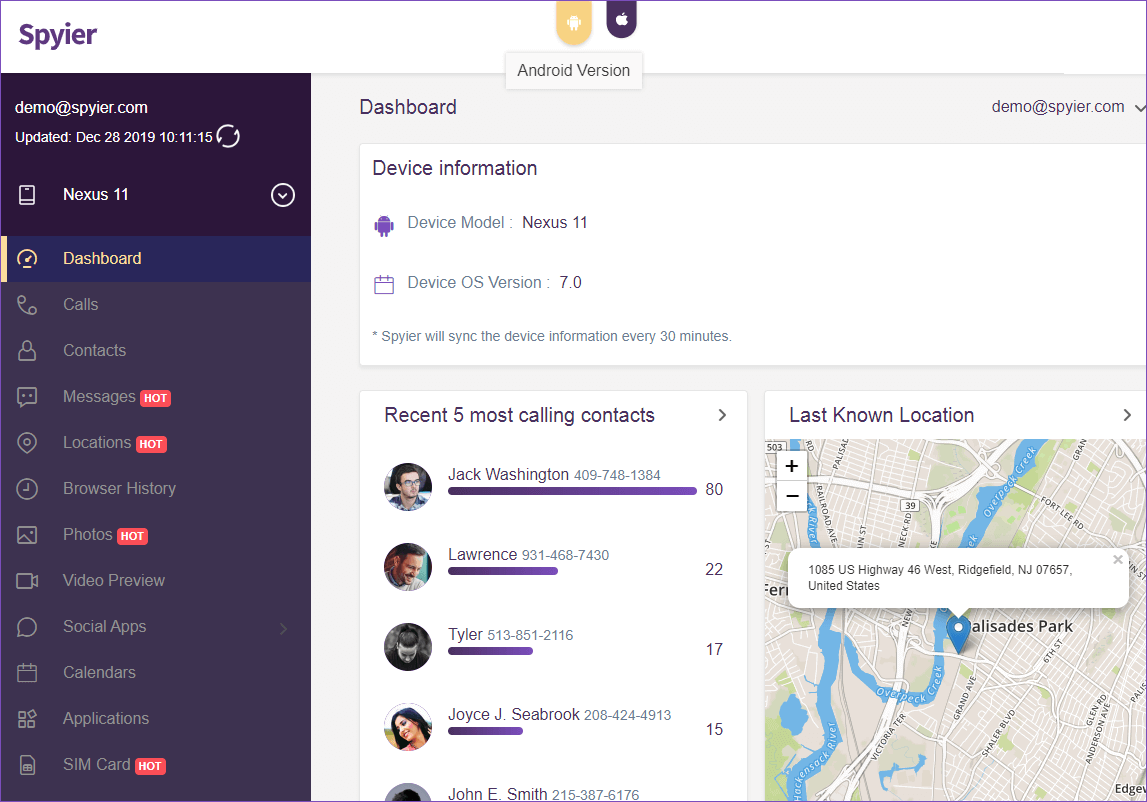 A Quick Note: Worried about the security of the target's data? Spyier does not store or access any data of the target's device. We adhere to all standard privacy rules to ensure that your data never get comprised.
Don't Miss: How to Catch Your Husband Cheating
Read Cheating Spouse Text Messages for Free
To learn about 'how to get your spouse's text messages' you need to bring Spyier at your service. It can be done by following the below-mentioned steps –
Step 1 – Get a Spyier Subscription
First things first, you should get a Spyier subscription plan in order to avail its features. The plans are actually quite cheap and the features provide way more than your money's worth. Enter your email address when prompted during the subscription purchase.
Once you have purchased your Spyier subscription, you will get a purchase successful message on the screen, along with your login username and password. The password is randomly created and you can change it later. These credentials are also sent to your email.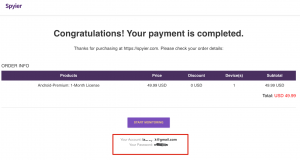 Step 2 – Configure Your Spyier Account
Once you have Spyier login credentials, you can login into your account through the website.  You will be taken to your dashboard where all the features of Spyier are present. When accessing the dashboard for the first time, you will need to go through a setup process.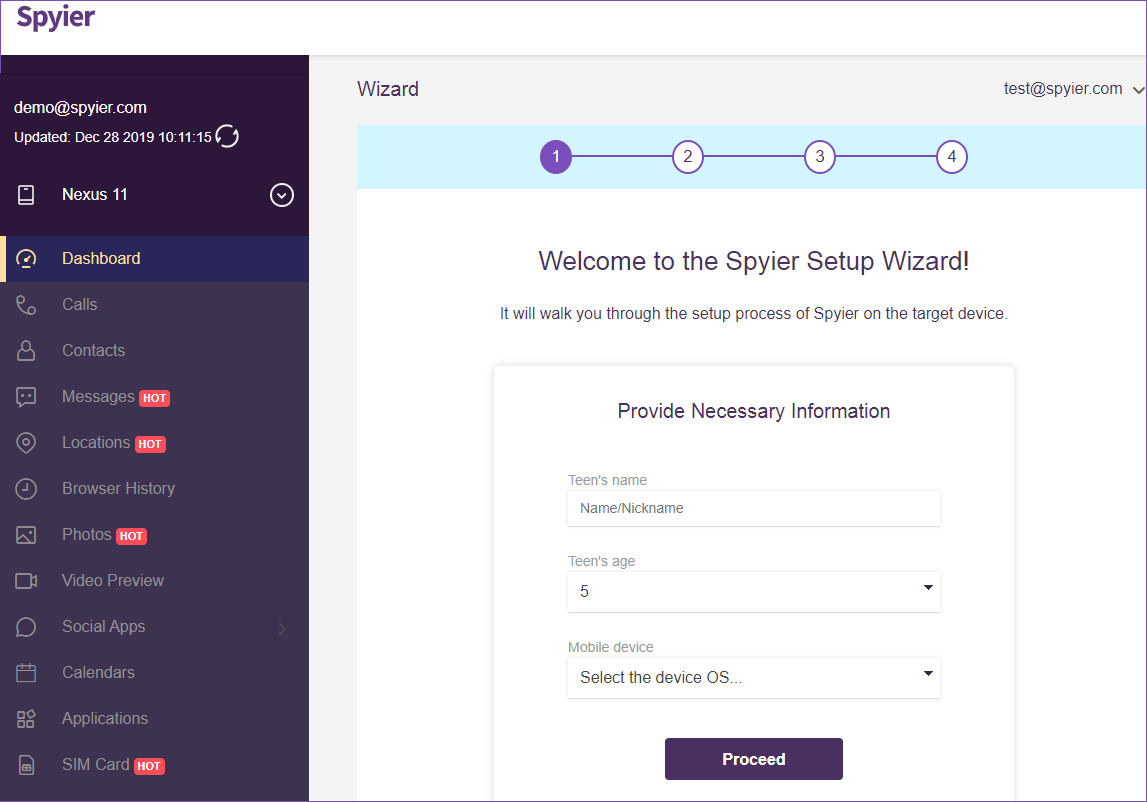 If Your Spouse is Using an iOS Device:
In case your partner is using an iPhone or an iPad, you can verify their iCloud credentials with Spyier. Since they already have iCloud on their device, you won't have to install any added app on it.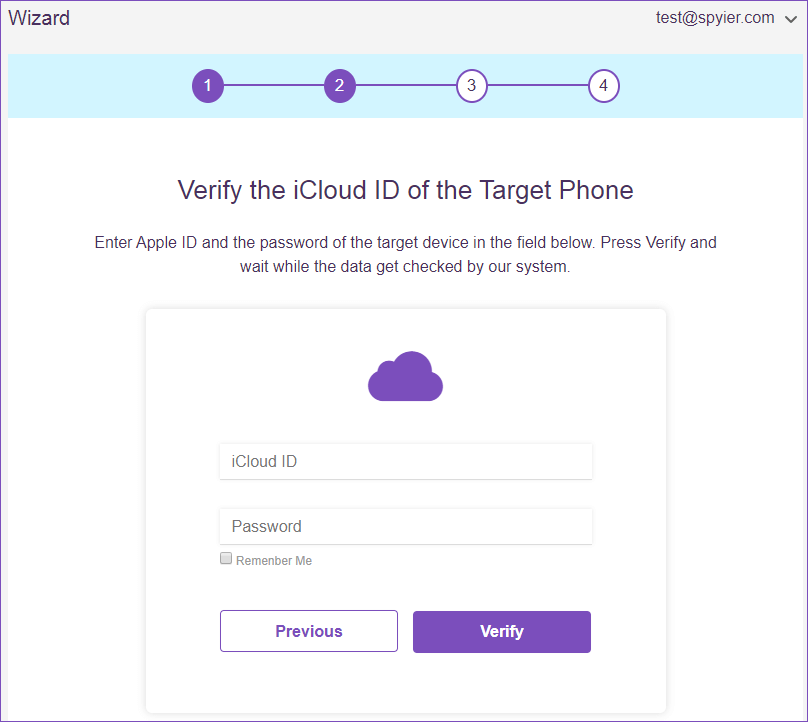 To have better clarity over this, don't forget to check the free live demo for iOS here.
If Your Spouse is Using an Android Device:
In case your partner is using an Android device, you can install the Spyier app on their phone. As mentioned earlier, this app is designed to be completely hidden on their phone.
For this, first, follow the pre-installation instructions as given in this Android Installation Guide.
Once you have prepared the Android device for app installation, you can download the app from the link provided in the Spyier setup wizard.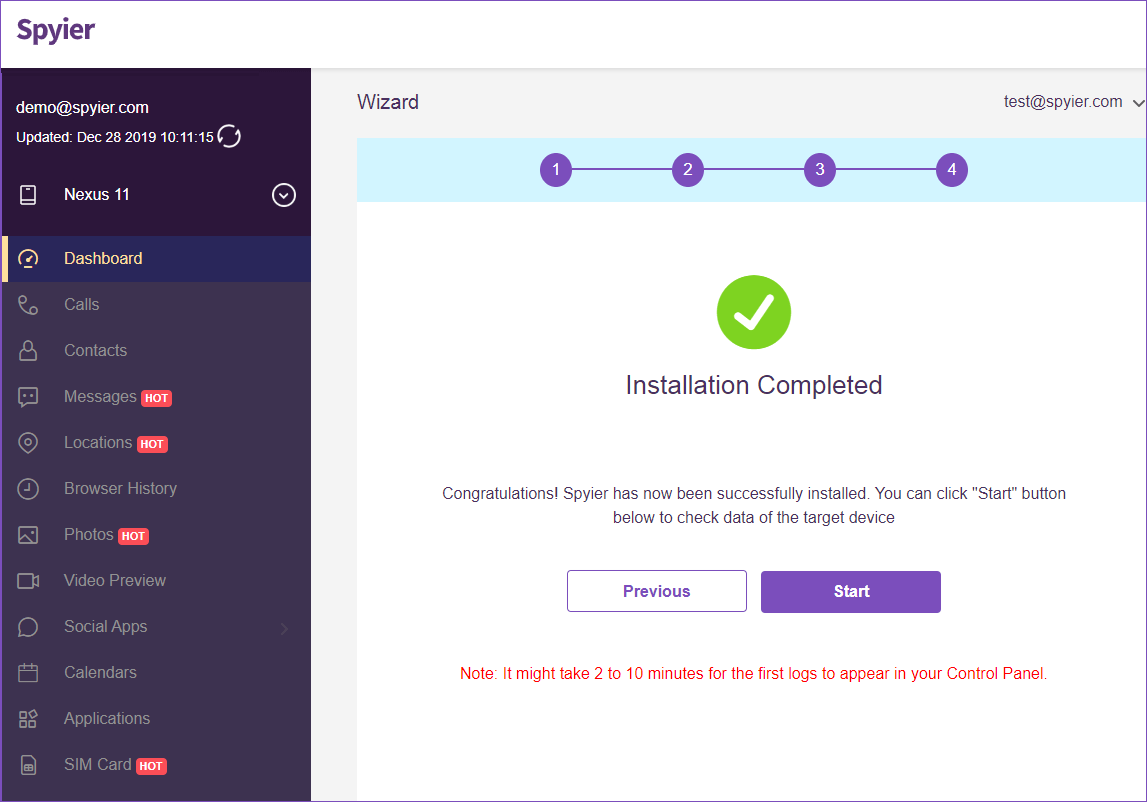 Step 4 – Read cheating spouse text messages freely
Though Spyier's dashboard fetches a lot of data from your spouse's phone, we will focus on how to catch cheating spouse through text messages.
For this, you don't even need to touch his phone now. Just log in to your Spyier account using any browser or device!
Now, navigate to the 'Messages' tab and it's done.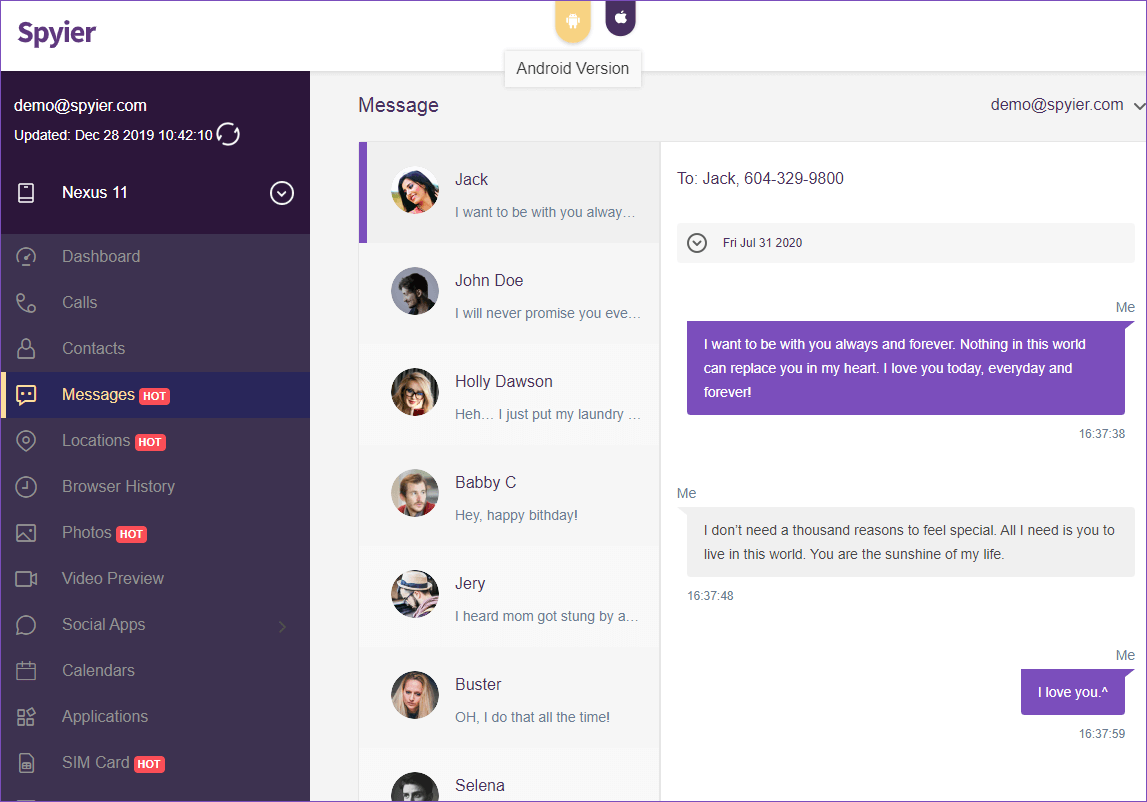 We bet making your husband's favorite pancakes are more messy and tedious than this. It's not even a 5-minutes job.
Also Read: 20+ Signs Your Husband is Cheating
The Final Word
If you find out that your husband is glued to his phone and never let anyone touch it, something is surely fishy. Rather than staying in doubt, just go ahead and read his text messages by using Spyier and save your marriage.
This post is also available in: Deutsch (German) Español (Spanish)