Do you believe that your partner is cheating on you? Just the thought of them cheating on you with someone can be painful. But what's even worse if you not knowing for sure. Are they actually cheating or are you just being paranoid?
The guesswork can prolong the suffering. To eliminate the guesswork, you need to catch a cheater red-handed. If you think they're in touch with someone suspicious on Facebook, you need to read their messages to find out for sure.
How do you catch someone cheating on Facebook? It's actually not as hard as you might think!
In this article, we're going to offer two different solutions on how to catch someone cheating on Facebook:
In Part 1, we explain how you can catch someone cheating on Facebook by using phone monitoring software.
In Part 2, we show you how to catch a potential Facebook cheat by befriending them by creating a fake profile.
Part 1: How to Catch Someone Cheating on Facebook
The fastest, most discreet way to catch someone cheating on Facebook is by using spy software. We recommend Spyier. This is a powerful phone monitoring solution that's used by countless people in relationships worldwide.
Spyier has an excellent reputation in the market. It's often featured on major platforms such as the New York Times, TheGuardian, Mashable, and TechCrunch. You can use the app to monitor Facebook on Android as well as iOS devices.
1.1 Spyier – Access Facebook & Messenger on the Sly
What can Spyier do for you? It gives you a sneak peek at someone's Facebook use. You'll found out in a jiffy if they're cheating:
Read messages: Think they're sending out messages to a secret lover? You can read their personal messages to find out. Every message is accompanied by a time and date entry, so you can tell when a conversation happened.
See group chats: Is your partner a part of any group on Facebook? You'll be able to read their group messages with Spyier.
Access deleted messages: Do you believe your partner has deleted any sensitive messages because they want to hide their cheating behavior? Spyier allows you to retrieve and read deleted messages.
View media files: With Spyier, you can view all pictures and videos the person may have uploaded to Facebook or received from there. If they've sent out any private pictures, you can view them.
Find contacts: With Spyier, you can check the person's contact information. Read names, check display pictures, view contact information, and other personal details.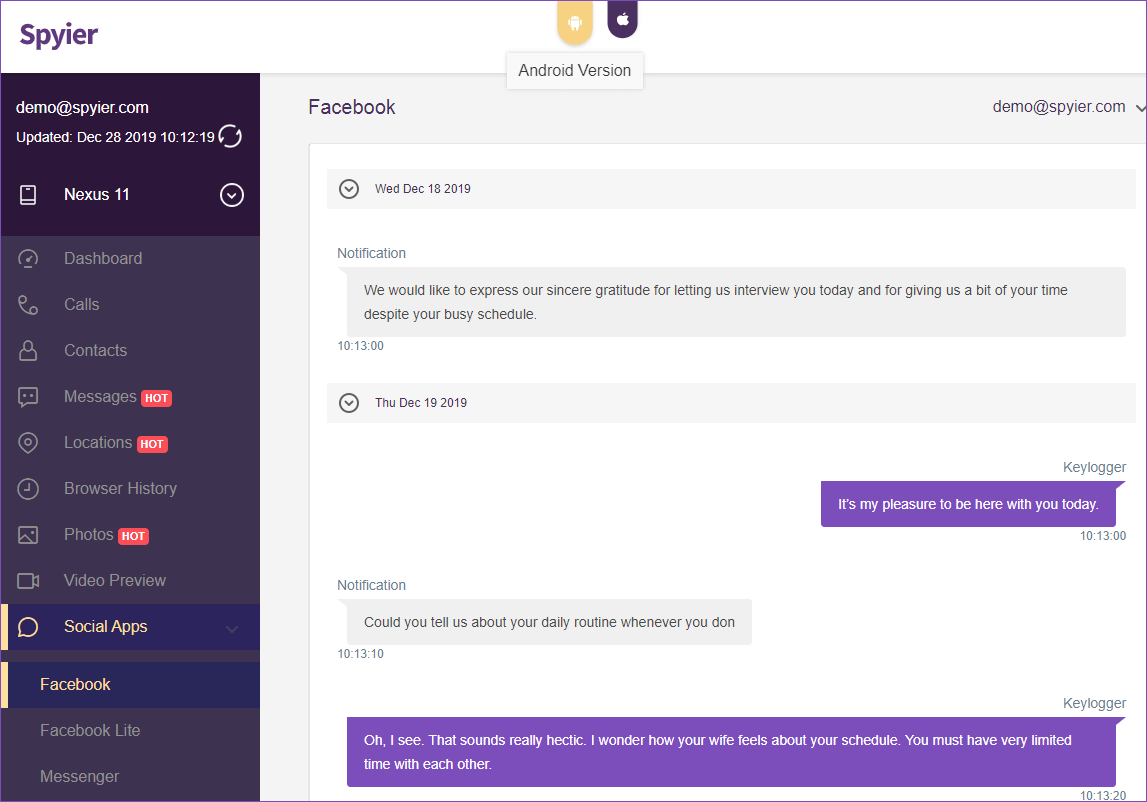 In addition to spying on Facebook directly, Spyier also comes with a keylogger tool! Here's how this in-built utility can help you:
Find login credentials: The Spyier keylogger records every keystroke made on the target device. When your partner enters their Facebook username and password while logging in, this information will be recorded for you.
Log in to their account directly: You can use your partner's login credentials to access their Facebook account. You can read their past messages, check their feed, view their contacts, and much more.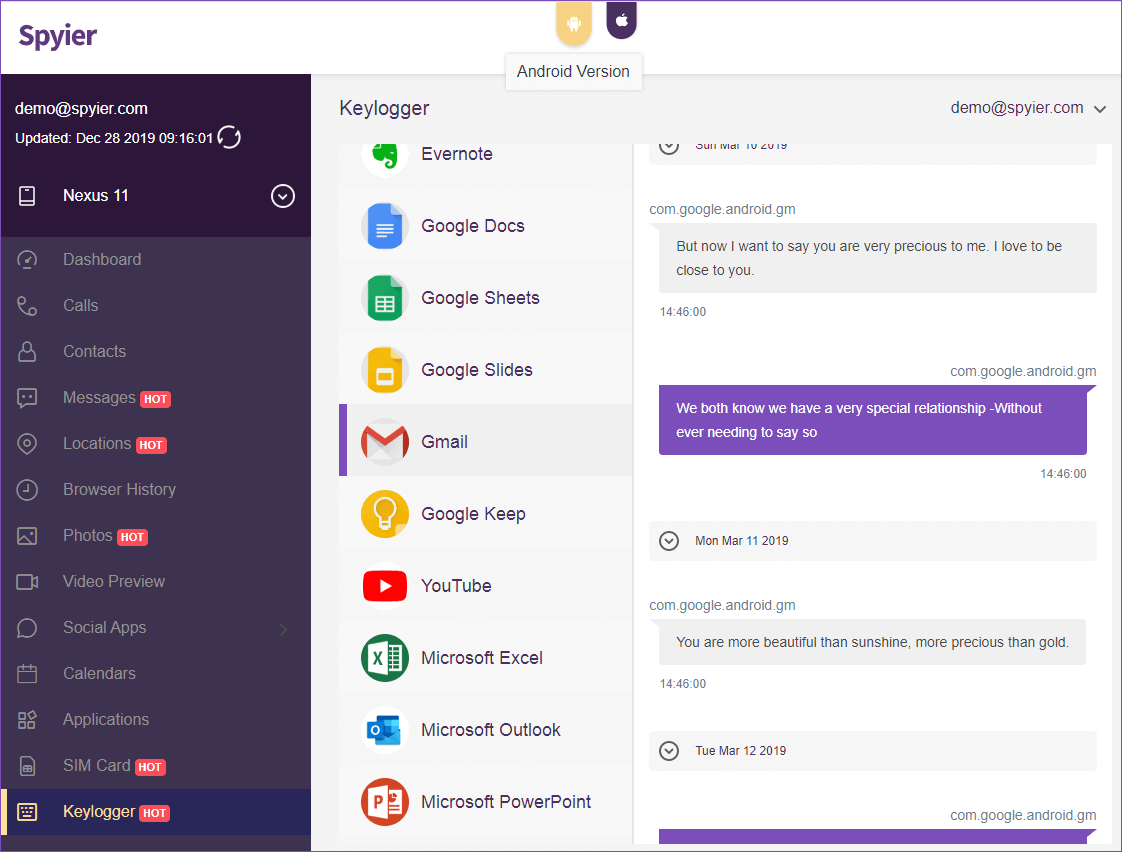 If you choose to log in to their account directly, be aware that Facebook may notify them of the attempt. If you want to be discreet, it might be a better idea to just use Spyier.
1.2 How to Catch a Cheating Spouse on Facebook
How do you tell if your wife or someone else is cheating on Facebook with Spyier? All you have to do install the app. Then you can check their messages from any web browser.
You'll need your smartphone or laptop with a working Internet connection to set up the app. It only takes a few minutes. You don't need any special technical skills.
If you want to spy on Facebook on a target iPhone or iPad, you'll need the iCloud credentials of the account linked to the device. And you'll need physical access to the target Android smartphone or tablet for 5 minutes to set up Spyier.
Here are the steps you need to follow if you want to install Spyier:
Step 1: Get a Spyier subscription and enter your valid email address. You will receive your login credentials once the subscription purchase is successful. These credentials are also sent to your email as well.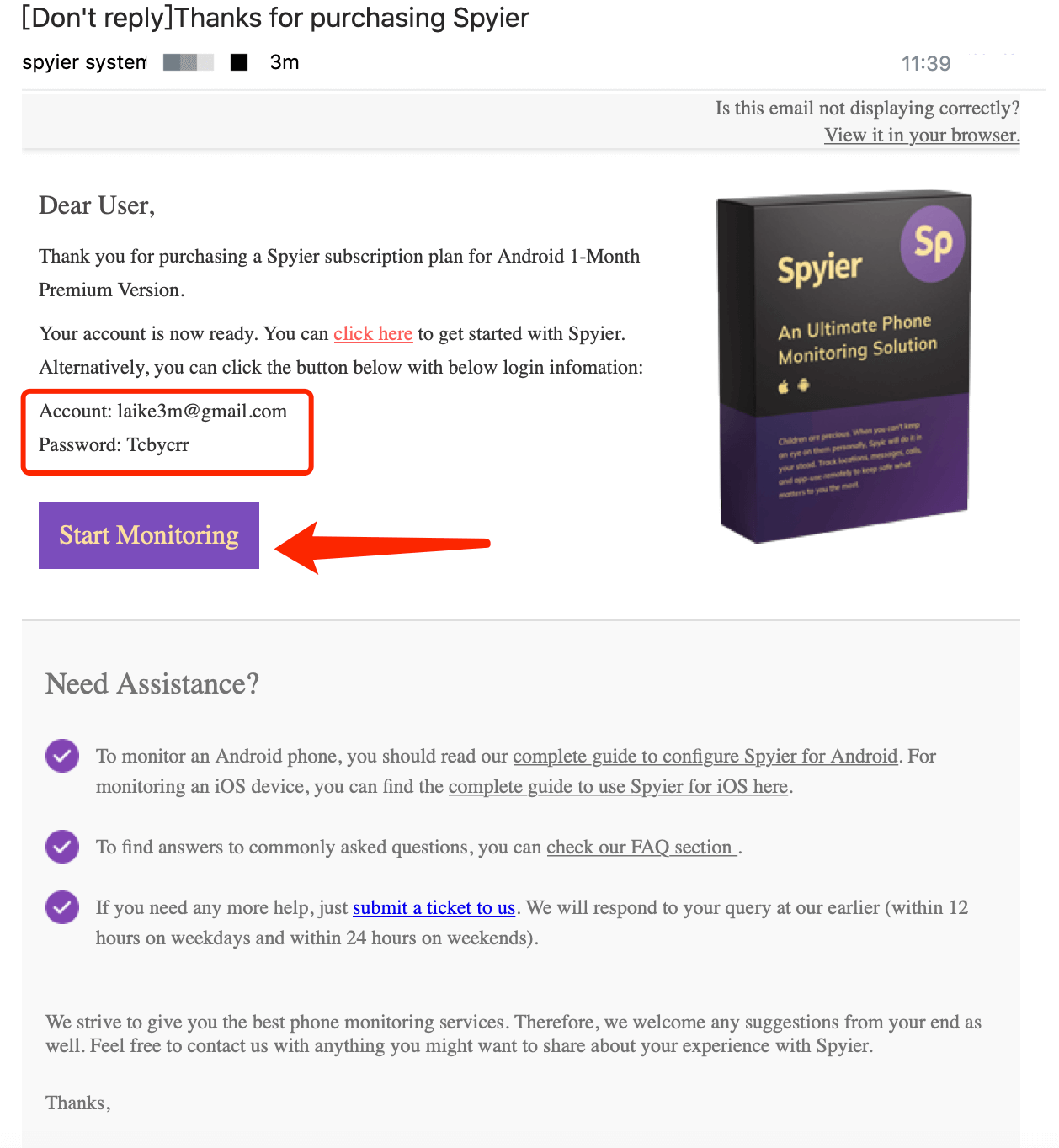 Step 2: You can login into your Spyier account through the credentials provided to you. When you login, you will be taken to your personalized dashboard. During the first time access, you will have to go through a setup process to configure Spyier.
To use Spyier to monitor Facebook on an iPhone or iPad, enter the iCloud credentials of the linked account. Then wait for Spyier to sync with the device.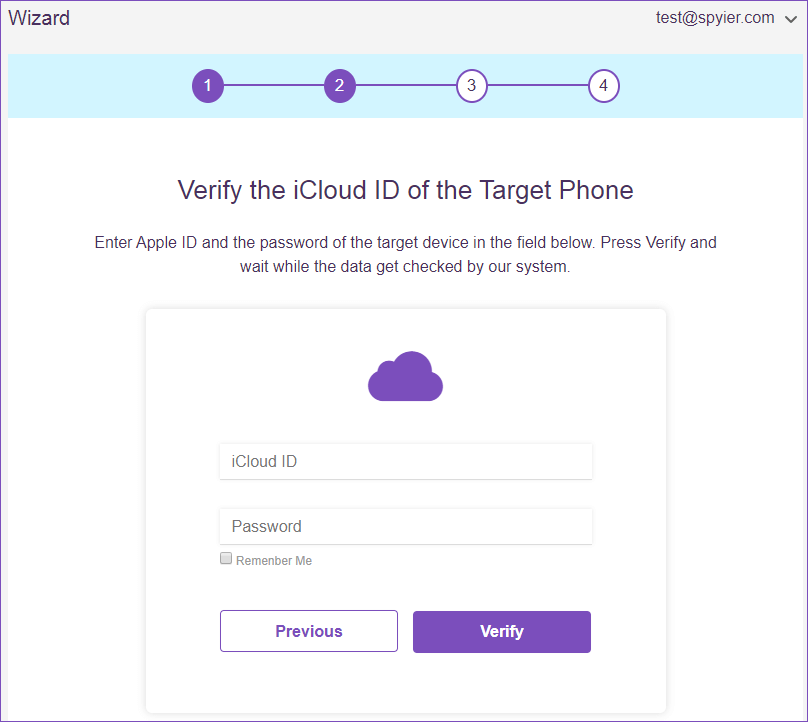 If you want to install Spyier on an Android smartphone or tablet, download and install the Spyier app on the target device. You can hide the app after you install it. Give the app a few minutes to sync with the phone.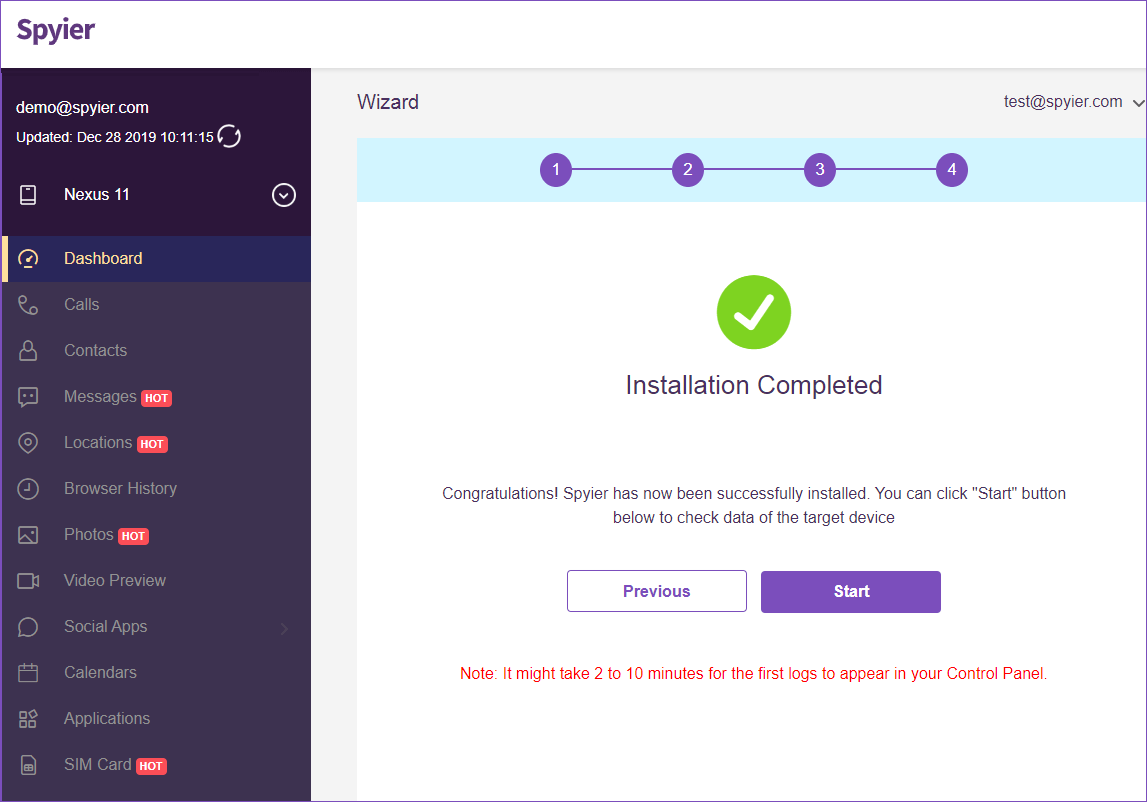 Step 3: Congratulations! You have now installed Spyier successfully. You can access Spyier's dashboard from your PC or smartphone.
The dashboard gives you an overview of the device activity. If you want to monitor Facebook, go to the "Social Apps > Facebook (or Messenger)" option in the selection panel to the left.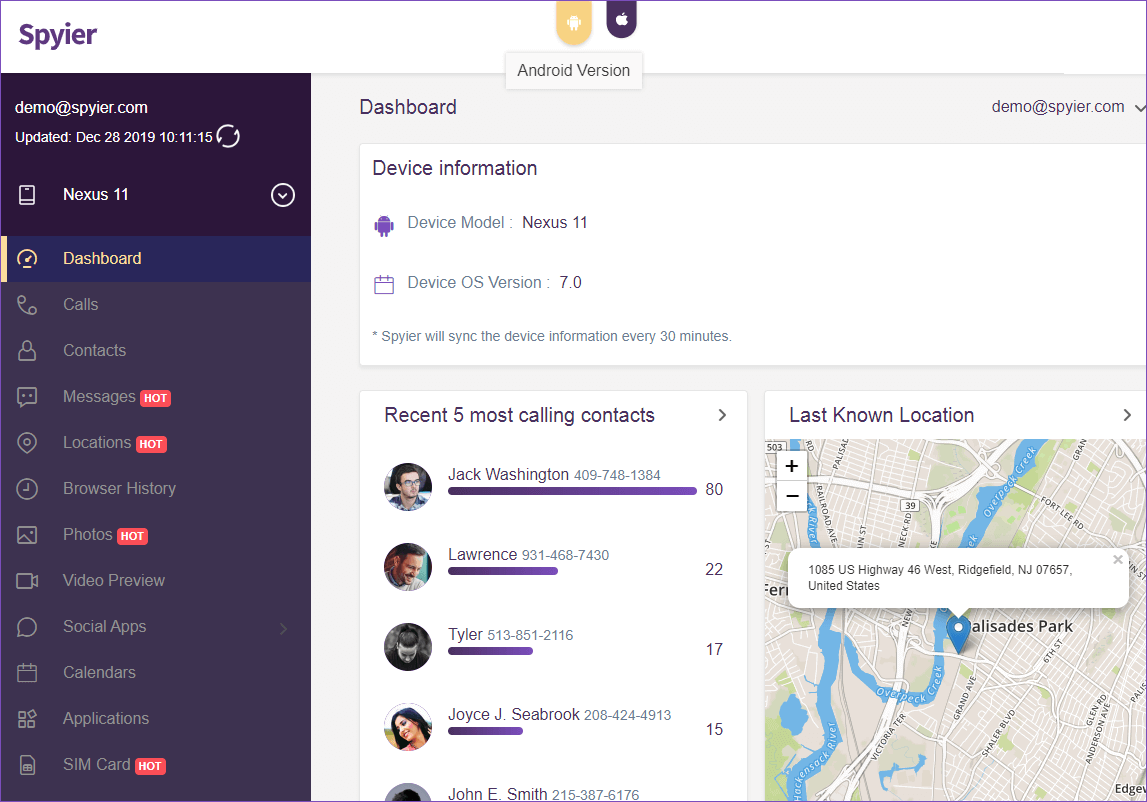 Want to see how the Facebook Messenger spy feature works before you try the app? Check out the Spyier free live demo here!
1.3 Why Spyier Makes for the Perfect Facebook Cheater Catcher
You can't go wrong by using Spyier to catch cheating spouse text messages. Not only does the app allow you to find cheating on Facebook signs, but it's also discreet and pocket-friendly:
Your partner will never know you're using a spy app
Spyier is a 100% hidden Facebook spy solution. That means you don't have to worry about being found out by your partner.
The iOS version of Spyier is a web-based app. It works via your web browser, without you needing to download and install any software on your partner's device. Instead of working with the iPhone directly, the app works via the linked iCloud account.
As Spyier for iOS works without any software and is fully web-based, the app is impossible to detect.
The Android version of Spyier is a small 2MB app. You can install it on your partner's Android smartphone or tablet and then hide it. The app will run in the background without your partner finding out.
Spyier's Android version is tiny, hidden, and works without draining the phone battery. This makes it next to impossible to detect.
Spyier is super-easy to set up
You can set up Spyier with little to no hassle. The app is one of the only spy applications in the market that run without root or jailbreak. This makes it stress-free to set up and use. You can install the app and use it from any web browser.
Spyier is packed with awesome features
In addition to Facebook monitoring, Spyier offers an array of excellent phone monitoring features. You'll be able to monitor your partner's text messages, call logs, calendar events, GPS location, emails, notes, and a whole lot more!
The app is trustworthy
Lastly, Spyier is one of the most trustworthy solutions in the market. Over a million people all over the world use Spyier. The app is user-verified and 100% virus-free. It also has a strict privacy policy. Your personal data is never stored on the servers or shared with anyone.
You can purchase a Spyier monthly subscription for an affordable monthly fee. Also, you get over a dozen phone monitoring features in addition to the Facebook spy feature.
Also Read: Snapchat Cheating: How to Catch a Betrayal Spouse on Snapchat
Part 2: Facebook Secret Conversations Cheating
The second solution we have for you is not as effective as Spyier, but you can use it if you don't want to purchase a spy app right now. It also doesn't involve tinkering with your partner's device.
What's the second solution exactly? It's creating an attractive Facebook profile, befriending your partner, and getting them to confess to cheating.
You might even want to try flirting with them directly. If they seem eager to hook up, it's a sign that your partner isn't all that averse to cheating and that they aren't the faithful type.
Here are the steps you may want to follow:
Step 1: Create a fake Facebook profile of the opposite gender. Upload attractive photos to it and make it as real as possible.
Step 2: Send your partner a friend's request.
Step 3: Get your partner to start talking with your fake persona. Evaluate their replies and see how open they seem to be. You can choose to befriend them and then find out if they're cheating or try flirting with them directly.
Conclusion
To sum it up, you can catch someone cheating on Facebook by using Spyier. The app allows you to monitor their Facebook account and messages secretly. The app is powerful, affordable, and risk-free to use.
You can also make a fake separate account and get your partner to confess to their cheating behavior that way. But this method isn't as effective as the first one.
This post is also available in: Deutsch (German)