So you have been having sleepless nights wondering, 'Is my girlfriend cheating on me?'
It will give you some respite to know that most of the men and women in a new relationship find themselves in a similar dilemma. What is unique is that this is followed by a bigger challenge – 'How to catch your girlfriend cheating?'
Whether you are in a new relationship or old, a cheating girlfriend is an emotion that is indescribable and very frustrating, without a doubt.
How to Catch Your Girlfriend Cheating
Wondering how to find out if your girlfriend is cheating?
Here are a few signs you should check for while trying to find an answer:
Do you feel she is interested in someone too much?
Does she avoid talking about the same individual to you?
Is she often too busy to find some time for you?
Is she too occupied with the work and office?
Does she suddenly have a list of new friends and you do not know them?
Is she often distracted?
Has she suddenly become too possessive about her phone?
If most of the above questions have a 'Yes' as an answer, its time you consider ways how to catch your girlfriend cheating?
….because in all probability, she is!
Also Read: Snapchat Cheating: How to Catch a Betrayal Spouse on Snapchat
Part 1: How to Catch Your Girlfriend Cheating
You can probably thank the innovation and technology for this one thing!
Use it to your advantage and never let your girlfriend even know you are spying on her. She will never have a clue you doubt her. How? Well, read the following section to know.
Spyier solution – To Keep an Eagle Eye on Cheating Girlfriend without her knowing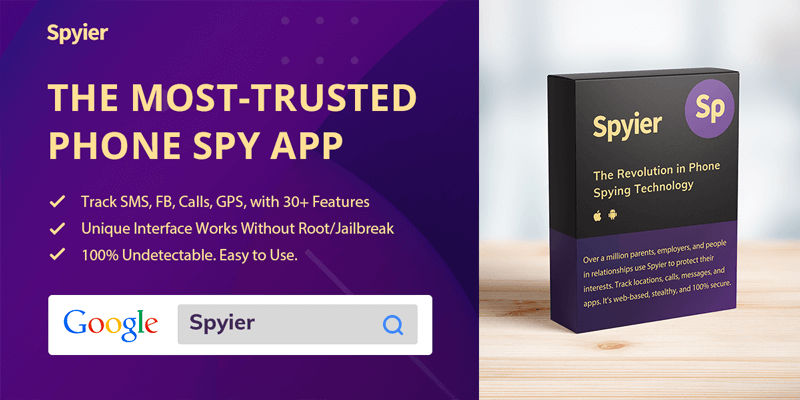 Spyier is the new-age, most reliable phone spy solution that can be used to track SMS, phone messages, calls, GPS, social apps, etc. of the target mobile phone. One of the biggest advantages of Spyier app/solution is that it does not require jailbreak or root.
It does not just end here. Spyier has millions of users in over 190+ countries and is the leader in this market. Use the app to read WhatsApp chats, check call logs and details, browse through the contact list and also the browser history.
Besides being very easy to use, Spyier is 100% undetectable, fully compatible with iOS and Android devices and allows the user to monitor activities of the target phone remotely.
Concerned about the privacy of your/her data?
Relax, because: Spyier offers standardized privacy protection to its users and is known to make privacy its number one priority. Since the user's personal data is not stored on Spyier's server, it cannot be accessed by anyone including the developers themselves.
The Spyier iOS solution requires no app installation and takes very little time for setup. It does not require jailbreak either, but just her iCloud credentials. Thereafter, it gives you access to all the data remotely and anonymously from the device backup.
It works well for any iOS device that uses iOS 7 and above.
Spyier is an excellent choice to spy on an Android device too, since it does not require the device to be rooted and is also 100% untraceable. The app works as a background surveillance and interceptor program for Android devices.
** The OS Design of Android is such that an app has to be installed on the target device for data monitoring. Ensure that you do not trust anyone who claims to monitor without app installation. It has to be a fake solution and you will lose your money & privacy with it.
Here's how Spyier Android app works without her knowing –
The app can be easily installed and takes less than 5 minutes in all.
Spyier does not occupy much space in a device since the size of the app is less than 3M.
The app icon can be easily removed or hidden after the installation since the app works in stealth mode.
It can also be easily and remotely uninstalled via a single click in the control panel.
You really do not have to worry about losing your battery; it doesn't drain too much battery.
Overall, Spyier's full-proof stealth technology won't ever get you caught while you're trying to catch your girlfriend cheating.
How to Use Spyier to catch your girlfriend cheating?
Step 1: Sign up for a Monthly Subscription 
First, you need to sign up for a monthly Spyier subscription. Head over to the pricing page and pick any desired plan. With Premium, you can monitor a single device. With Family, you can monitor multiple. 
When you click on "Buy Now", a pop up box will appear. This is where you enter your active email ID. Complete the purchase process by following on-screen instructions. 
Step 2: Install the App 
When your purchase is successfully completed, the purchase confirmation window will appear. The system will generate a unique, random login password for your account here. Your email ID becomes the username. 
Moreover, you will receive an email with your login details, some useful information, and a link to the installation wizard. Click on "Start Monitoring" when you are ready to begin installing the app.
Then, choose your device (OS  of your girlfriend's phone) and reach the dashboard.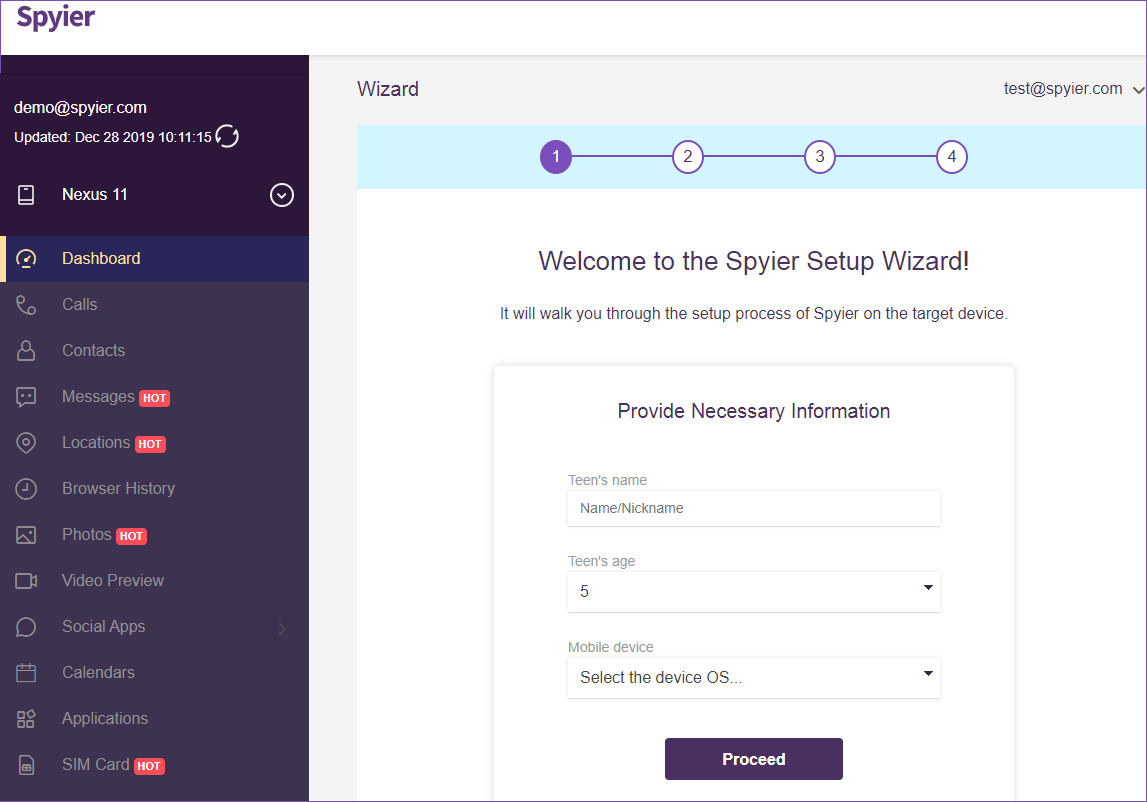 Finally, follow the following steps as per your device –
When your cheating girlfriend has an Android device
Complete the pre-installation requisites by following instructions, as given in the Android installation guide.
Download the Spyier app on the Android device using the link given in the setup wizard and install it.
Follow the steps as suggested in the app.
When your cheating girlfriend has an iOS device
Do not lose heart if your girlfriend is using an iOS device. Spyier can help you with that too!
Verify the iCloud account (you will have to add all the details of the target device) in your Spyier dashboard itself.
You are now ready to target your girlfriend's iOS device with the help of Spyier Dashboard.
Step 2: Using the app for tracking Cheating Girlfriend's Activities without her Knowing
You don't need access to her device anymore. Just go back to your Spyier account and spy on her mobile data. The application can work on any browser or device since it is web-based. View the live free demo to understand how Spyier works.
From text messages to Facebook, from Instagram to phone calls, from location to Android key entries, from device photos to videos, Spyier has made everything available to you. So, go ahead and catch girlfriend cheating!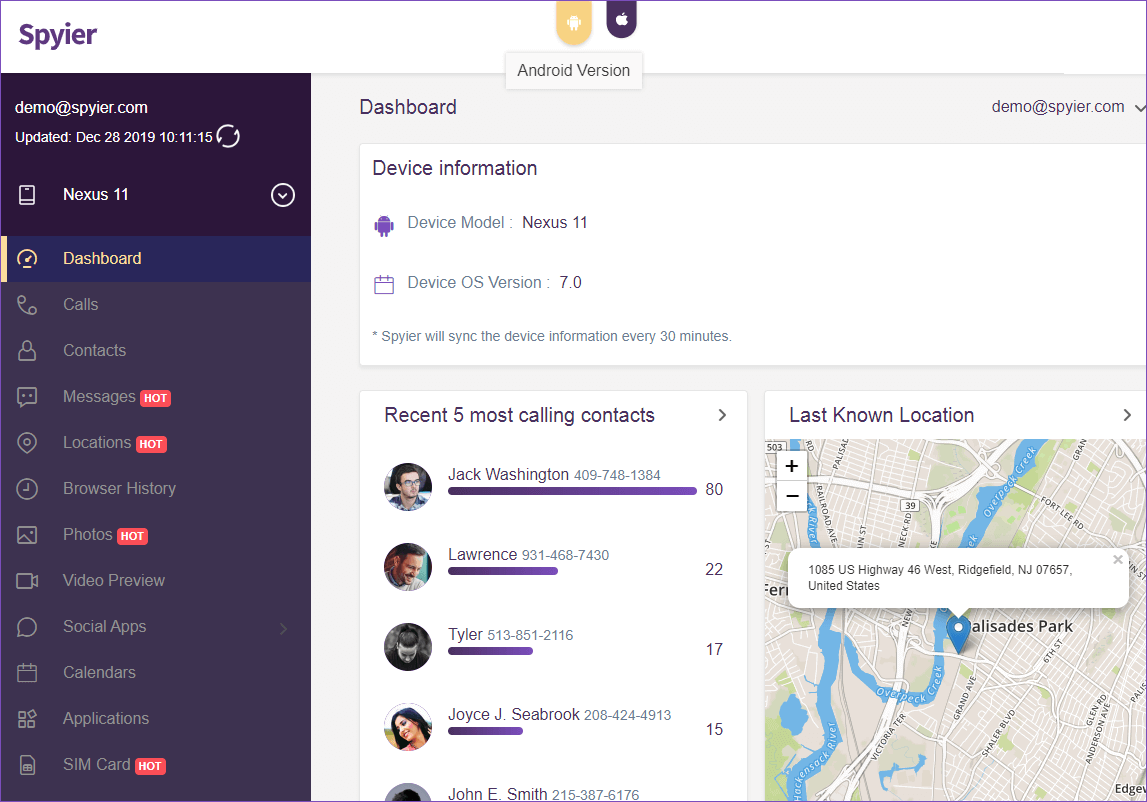 Ready to start spying? Sign up for Spyier today.
Don't Miss: How to Tell If Your Girlfriend Has Slept with Someone Else
Part 2: What Do You Do When You Catch Your Girlfriend Cheating?
'Is my girlfriend cheating on me?' must not be a question anymore, because you've all the details before you by now. Ponder over the data and ensure whether or not it all indicates cheating in actual.
At times, it is just over-thinking and suspicion that kills the Cat. Ensure that you are not one of them. And remember, there is a difference between a cheating girlfriend and one who believes in having space in a relationship.
If you really think your girlfriend has strayed, it's time to talk to her. It will either give your relationship a fresh start or you'll have to decide to move on. Both ways, you won't remain in frustration or doubts. So, go ahead and do it.